I'm sure I'm very affected by all this Disney talk
Elaine has asked me to put together a brief guide on driving to DLP. We've only done it once, so not the most experienced, but hopefully this may be useful to someone:
TRAVELLING TO DLP BY CAR FROM UK
There are many benefits to driving to DLP. Crossings from the UK are well organised, the roads reasonably easy to navigate and best of all you can go at your own pace and load your car with everything you think you'll need!
COMPULSORY ITEMS REQUIRED TO DRIVE IN FRANCE
Hi-Vis Vest
Red Warning Triangle
Headlight/beam Convertors
Replacement bulbs *please see
post #12
*
If you don't have European GB number plates (with blue stars above the GB sign) you will need a GB sticker/magnetic badge for the back of the vehicle.
The vest and warning triangle need to be kept inside the car, not the boot. The idea being that in the event they are needed, the vest can be put on before exiting the vehicle.
Useful information on driving in Europe and current items required can be found
here
SUGGESTED ITEMS TO HAVE
First Aid Kit
DVD Player for your angels in the back!
DOCUMENTS/INSURANCE

Make sure you have your full driving licence(s) and registration document for your vehicle.
Contact your car insurer to tell them you're travelling in Europe, which may increase the premium slightly.
It's also worth considering European Breakdown Cover for the duration of your trip.
Remember your Passports!
PLACES TO STAY OVERNIGHT BEFORE/AFTER CROSSING IN UK
Ashford is located just off the M20. Minutes from junction 9 there is the conveniently located Eureka Retail Park. Within the park there is a Premier Inn and Travelodge. Places to eat include, McDonalds, Burger King, KFC, Beefeater, Pizza Hut and Frankie and Bennys. McDonalds very handy for an early breakfast if getting an early crossing. There is also a Cineworld.
Other hotels in Ashford include the Ashford International Hotel and Holiday Inn. A large Sainsburys is located near the centre of Ashford where you can fill up with petrol/diesel.
See more more useful information about Ashford
here
courtesy of Lisa C
CROSSING USING EUROTUNNEL – FOLKESTONE TO CALAIS, 35 MINUTES

You can book online and find further information
here
When booking the crossing you choose a departure time, currently there are 4 per hour. Check in will close 30 minutes before departure time. However, one major benefit with Eurotunnel is the flexibility to change your departure time if you happen to be early or late. You will be moved to the next available crossing free of charge, which takes the stress away if you happen to be delayed in traffic. Provide your car registration number when booking. This and your chosen payment card, debit/credit card, will be required to identify you when checking in. You'll also get an email with a booking reference. Take this along too. On the crossing back, our car registration was recognised automatically and our name popped up on screen for super fast check-in using a touchscreen at the booth.
The Eurotunnel Terminal is located on M20, junction 11a - this is approximately 20 minutes drive from Ashford. All lanes are very clearly signposted directing traffic to check-in booths.
You will be given a hanger with a number/letter on it telling you which lanes to follow. You hang this on the inside mirror on the windscreen.
Simply follow the lanes to your train, where you will be guided to the train and shown inside. Here's what it looks like: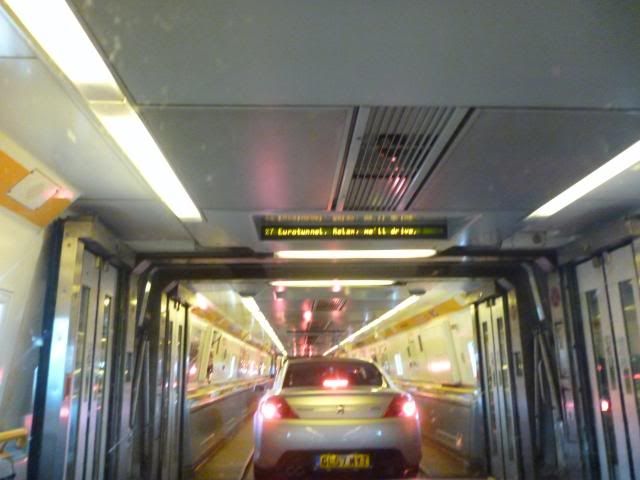 Once on the train carriage doors will be closed and safety announcements given. There are toilets available every two carriages. The crossing takes approximately 35 minutes. You can get out your vehicle if you wish although there is not much room, or anywhere to go.
On arrival you will be guided off the train.
Driving directions to DLP from the terminal can be found
here
The route to DLP is mostly motorway, and very straightforward. The speed limit is slightly faster than in the UK 130km/h (80mph approx). It is worth noting that the speed lowers in wet weather. Keep an eye on the road signs.
Remember, all the exit lanes from the motorways will be on the right hand side, which will be the 'slow lane'. Some of these lanes will route off the motorway, so check the overhead signs well in advance or you might end up off the motorway before you know it!
The route above will take you on toll roads. Pass through toll booths to pick up a ticket, and then pay for this further up the motorway. Currently the toll price is 20.40E each way. Payment can be made in Euros or by debit/credit card and attendants are available. If you happen to go to a booth without attendants, don't worry. Simply insert your debit/credit card and the barrier will lift - no need for your PIN.
The journey will take about 3 hours. Parking bays/rest stops are plentiful for stretching your legs. These are signposted as 'Aires'. Many are like services in the UK with filling stations, some are just rest stops.
As you approach Disneyland, the signs will guide you to your chosen hotel.
If you stay on-site at any of the Disney hotels, parking is free of charge.
The Hotel Santa Fe has an Esso filling station which is also handy for picking up snacks. Diesel is gazole and unleaded is sans plomb.
For some general driving tips see
here
Camping/Caravanning/Motor Homes info can be found
here
courtesy of cap'njack.