I'm so happy, I could BOUNCE!
Welcome to another franandaj trip report, and yet another F&W TR! If you haven't followed along on one of my TRs, welcome to craziness with a side of too much food. If you have followed along before, I'm glad you decided to come back! Normally when I do a Trip Report, I like to start the report before I leave, get people interested in following along and then resume the report when I get home. For some reason this trip was different. Maybe I didn't have enough time to get it started before I left, but also something made me want to title this trip report based on something that happened on said trip. Well boy let me tell you, there came a point in the trip where it became clear *what* the name of the report was going to be centered around; the only question, how exactly was it going to be phrased? As you can see I finally settled on the title, but here were some of the runners up.

Revenge of the Scooter
Rogue Scooter
The Scooter who didn't love me
The Curse of the Red Scooter
That Darn Scooter
2017: A Scooter Odyssey
The Tale of Two Scooters

You'll have to wait until the story unfolds to find out all the details, but it begins with an entertaining story to start off the entire trip. Consider that foreshadowing when we get there. I won't say that this was a trip of a lifetime, but it was certainly a trip to remember. I had hoped that it would be a carefree week of fun and frolic where I came back relaxed and energized for real life, but sorry to say that did not happen.

For now, let me introduce ourselves, we are Alison and Fran, married almost a decade, been together over 20 years. Both of us are Disney loving musicians who also happen to have a bunch of cats. Oh yeah and we're major foodies.




If you've come here looking for thrills, riveting commentary, and exploding helicopters, you may want to look elsewhere. We do get our fair share of rides this trip, but for the most part, we came to enjoy Food & Wine, so the bulk of the report is going to be about food porn, with some other stories thrown in for good measure. Our last trip to WDW was in March during the Flower and Garden Festival where we spent a couple nights at the Boardwalk Villas following a cruise on the Fantasy.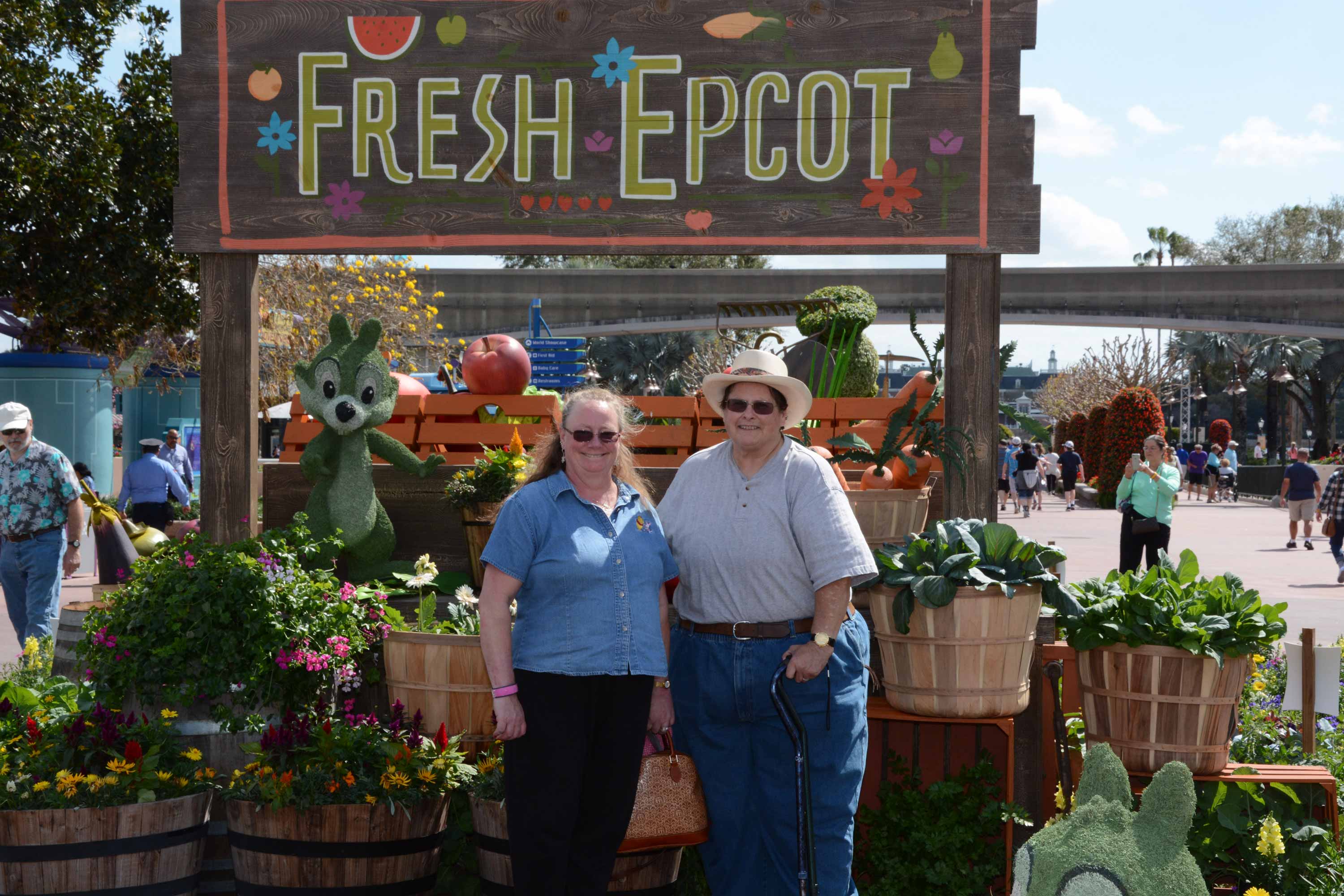 We weren't supposed to be back at WDW, but due to unfortunate matters, we were unable to take the Eastbound Panama Canal Cruise that we had planned for this same time frame. Since we had to cancel that, I wanted to do at least something, and we decided that a trip to WDW was probably the most affordable thing to do. I mean the APs are paid for, the DVC room is paid for, we had a small flight credit left from some plans we had to change earlier in the year, so our only costs would be the remainder of the flights and our food. We have to pay for food at home anyways…

So it was only a little over four months out that I started planning this trip. The only resort available was SSR. One of my homes, and not a bad place to stay. Not ideal for F&W but I suppose I was lucky to find anything in DVC for eight nights at four months out! I made dining reservations and within a month, the F&W special events opened up, and I snagged a few of those. About a month later I booked our FP+ and then it was just time to sit back and wait two months for it to happen!

Those who have followed along before, know that we always face a huge challenge to get ready to go and then actually get out the door. This time was no different, except that we even started earlier, but still faced obstacles. I started actually packing suitcases on Saturday which would have been Day -3 in this timeline. All my clothes were hanging in the closet of Olga's room (long story, just call it the guest room) and some of Fran's clothes had been picked out as well. That day I packed one suitcase with some of our stuff and felt pretty good about it. I always spread each of our clothes out amongst the four suitcases just in case one gets lost, that way we don't lose "the suitcase with all the underwear" or something equally important. Although if you're @Steppesister, I guess underwear is not all that important!
So anyways, we had our Fall band concert on Sunday October 22nd and that's kind of how we plan the timing of our trips. We don't like to miss rehearsal so we try to leave after the concert when the band gets the first rehearsal off for good behavior. Since the second Tuesday after the concert was Halloween, we got two Tuesdays off and didn't have to miss any rehearsals.

Readers following along for a while will also know that we have recently become the proud grandparents of five little kittens.




Just two weeks before we left, little Amelia (the fluffy gray one) was lethargic and not at all playful so we took her to the vet and it turns out she was severely anemic and almost died. So two transfusions later, she came home a happy camper and when she went back for her follow up the next week, we enrolled her in the "kitten plan" which includes all her shots and spaying. Since all the kittens turned eight weeks old on Monday, the other four got to go in the day after the concert and that took up the entire afternoon, like 1PM to 6PM! Not to mention that the entire morning was spent with our contractor putting a new scooter lift on the back of the car so that we could ride to the airport with two scooters and all our luggage. You may remember the story of the scooter lift from the bonus features on my last TR (If you didn't read about it I tried to post a link but it didn't work, here is the page)….then wait until I get to the story about the scooters! But I get ahead of myself. With Monday spent working on automotive and feline chores I was able to throw more stuff into two more suitcases that evening (while dinner cooked and I talked with my Mom on the phone) before collapsing into bed.


Day 0


Tuesday morning Fran had to go to the DMV and get the car registration sorted out so we didn't get ticketed while the car was parked at the airport. You see even though we moved three and a half years ago we still have not changed the addresses on our vehicle registrations and this year we didn't get the renewal in the mail and the car registration expired in October. So while she was at the DMV, I got out the fourth suitcase and began filing that.

Oh yeah, and this was the day that the Trader Sams at the Disneyland Hotel released their Haunted Mansion Tiki Mugs Part 2, so you know we had to go out there and get the "two per person maximum". And since I know you all want to know what it looks like, I stole a picture from the Interwebs. Just like last year's only the etching is in green. The ones from Florida have red etching.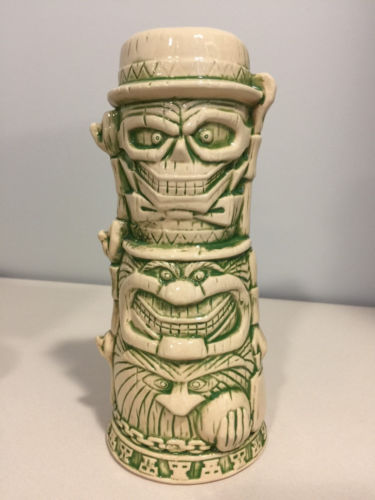 After that I insisted we concentrate on finishing packing! Well that and picking up last minute prescriptions that we needed. The temperature reached 106 that day and I was glad to stay inside. I even had to take a small nap as I practically got heatstroke being out at Disney and the pharmacy in that sort of weather.

We finally finished packing the suitcases somewhere around 10PM and by the time that I fed the cats and kittens, loaded my scooter inside the car as well as the suitcases, it was midnight. Have I mentioned that feeding the cats has become ridiculous now?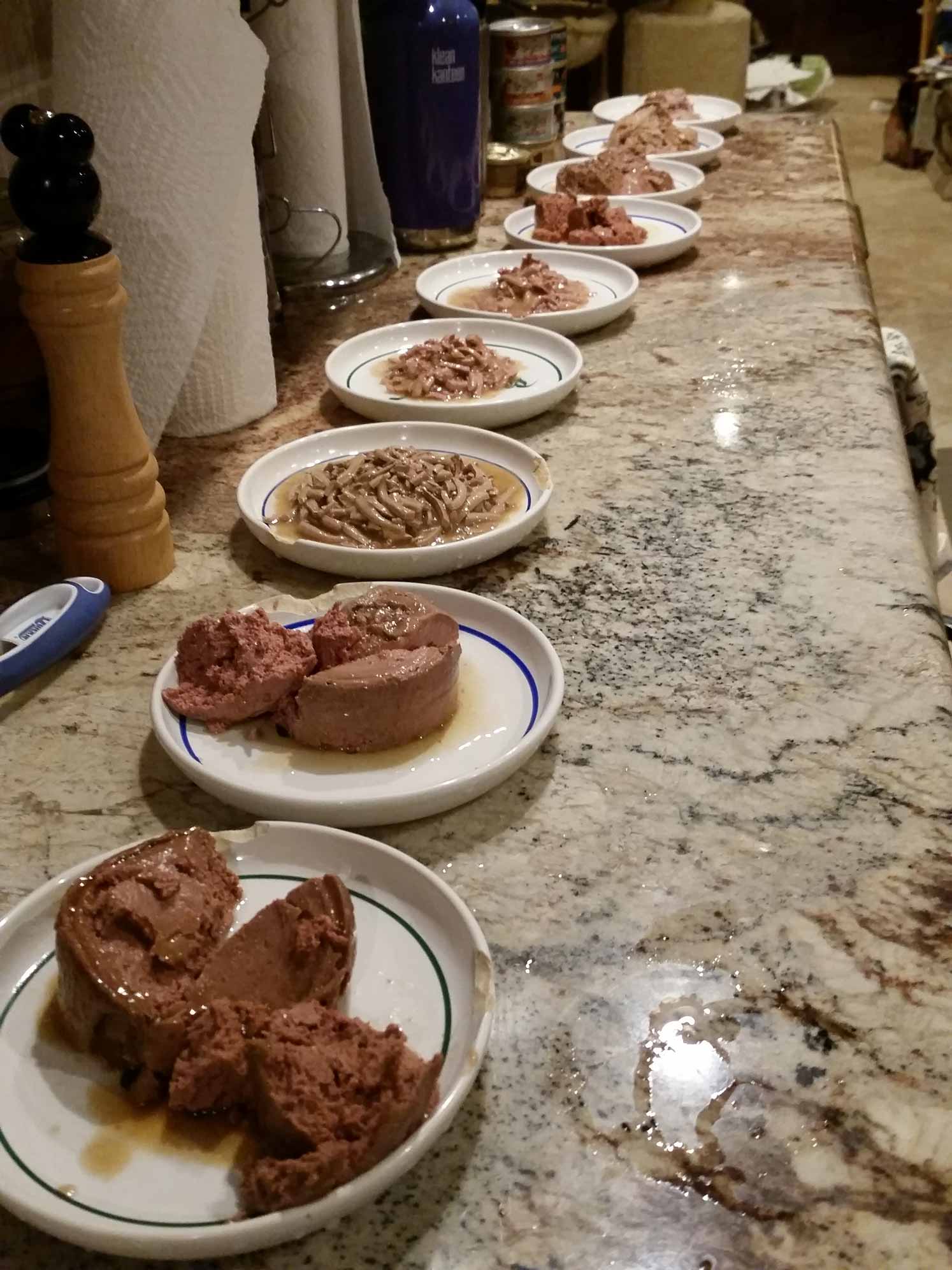 Even though they are still nursing, most of them have learned to eat both wet and dry cat foods, and they eat quite a lot!

We both went to sleep, at least I think that she did. I'm sure that I passed out as soon as my head hit the pillow.


Be back soon with our travel day!