Welcome Home, fellow Riviera owners! Find reviews, info and other fans here!
Note:
The Skyliner will be down for routine maintenance 1/23/22-1/28/22.
Times and offerings have not been updated
post-Covid. The restaurants, pool and Skyliner are all opening with modified experiences and times. Members have reported there is no bus service from the front of Epcot to Riviera.
See our
Be Our Guest
list in post #3 of this thread to see who
else will be there while you are and posted your info to be added to the list!
​
MORE PICS
Front of Resort
Porte Cochére
Hallway 1
Hallway 2
Lobby
Front Fountain
Kid Section of the Lobby
GENERAL INFO


Direct Phone
(407) 828-7030
Map
(Orlandothemeparknews.com)
​
DISboards Info Page
Floor Plans, Points Charts, Video Room Tours etc.
DISboards Aerial Photo Thread
Last Aerial Photos Before Opening
Mosaics on Path to Skyliner
Pic of Peter Pan Mosaic
Mosaic Vlog
ROOMS
The Riviera has a total of 341 villas. All except the Grand Villas and Tower Studios offer Standard or Preferred Views.
Coffee Makers: All 2-bedrooms, 1-bedrooms and studios have coffee makers that use the filters pictured below. Tower Studios and Grand Villas have Keurigs.
Studio, 1-Bedroom & 2-Bedroom Coffee Filter Picture
(Courtesy of polynor)
VIEWS
A helpful Dis'er created a view map from reports of views. You can find more info
here
.





• 12 Grand Villas (3-bedroom)
DIS Video Tour
360° Video Tour

• 148 2-Bedroom Lock Offs
(1 Bedroom + Studio with connecting door)
360° Video Tour
• 90 Dedicated 2-Bedrooms
• 29 Dedicated 1-Bedrooms
DIS Video Tour
360º Video Tour
Photo Tour
• 38 Dedicated Deluxe Studios
360º Video Tour

• 24 Tower Studios
(2-person, lower-point-cost studios with only a pull-down bed )
DIS Video Tour
360° Video Tour
DINING
Topolino's Terrace
Breakfast: 7:30 am - 11:00 am
Breakfast a la Art with Mickey & Friends
Painter Mickey Mouse, Writer Minnie Mouse, Sculptor Donald Duck, Ballerina Daisy Duck and sometimes Goofy on the patio, in their artist outfits.
1 Table Service Credit / Pre-Fixed Menu $41 Adults & $24 Children
Menu


REVIEWS & MORE PICS
DIS Opening Day Breakfast Review with Vlog
disneyfoodblog.com Review & Food Pics
allears.net Vlog (including Breakfast)
Dinner: 5:00 pm - 9:30 pm
2 Table Service credits
See the reviews to hear about the cheese cart and the fresh napkin experience.
Menu


REVIEWS & MORE PICS
DIS Opening Night Dinner Vlog
DIS Opening Night Dinner Review & Food Pics
disneyfoodblog.com Review & Food Pics
allears.net Vlog (including Dinner)
Lounge
No reservations required for the lounge. Full menu available.
REVIEWS & MORE PICS
disneyfoodblog.com Review & Drink Pics
allears.net Vlog (including the lounge area)
Primo Piatto
7:00 am - Midnight
Breakfast • Lunch • Dinner / Indoor & Outdoor Seating
Mobile Ordering
Menu
There are also many chairs and tables along the lawn and water to enjoy meals. The food is served from an open kitchen on real plates and there are Freestyle Coke machines and a pre-packaged gelato case. Primo Piatto has multiple entrances, accessible from both outside on the main lawn and from inside after taking the stairs from the lobby.
REVIEWS & MORE PICS
Outdoor Seating
Cashier
DIS Opening Day Lunch Vlog
disneyfoodblog.com Review & Food Pics
allears.net Vlog (includes Primo Piatto)
Bar Riva
11 am - 9 pm
Open air, poolside bar with sandwiches, salads, burgers and drinks
Disney Dining Plan not accepted.
Menu
REVIEWS & MORE PICS
DIS Vlog (including wings & drinks)
disneyfoodblog.com Review & Food Pics
allears.net Vlog (including cocktails, monte cristo, etc)
Le Petit Cafe
6 am - 10 pm
This nod to the cafe in Aristocats offers coffees and pastries in the morning, desserts after noon and cocktails, wine, beer, charcuterie & desserts after 4 pm.
Disney Dining Plan Snack Credits for some coffees & pastries
Menu
REVIEWS & MORE PICS
disneyfoodblog.com Review & Food/Drink Pics
all ears.net Vlog (including Almond Cold Brew with house-made honey almond cream)
The Gelato Cart
Located inside the locked pool area of the Riviera Pool.
The Gelato Cart
The Gelato Cart Menu
AMENITIES & RECREATION
Voyageurs' Lounge
Located next to Le Petit Café, this lounge resembles a library and features books and memorabilia related to Walt's European travels.
MORE PICS
Seating
Display Cases
La Boutique
La Boutique offers the usual sundries plus Riviera-specific merchandise and a print on demand kiosk that will allow you to order the art commissioned for Riviera and on display around the resort.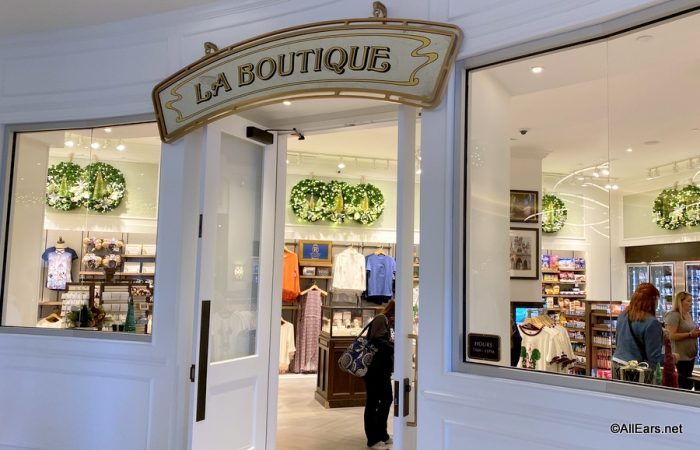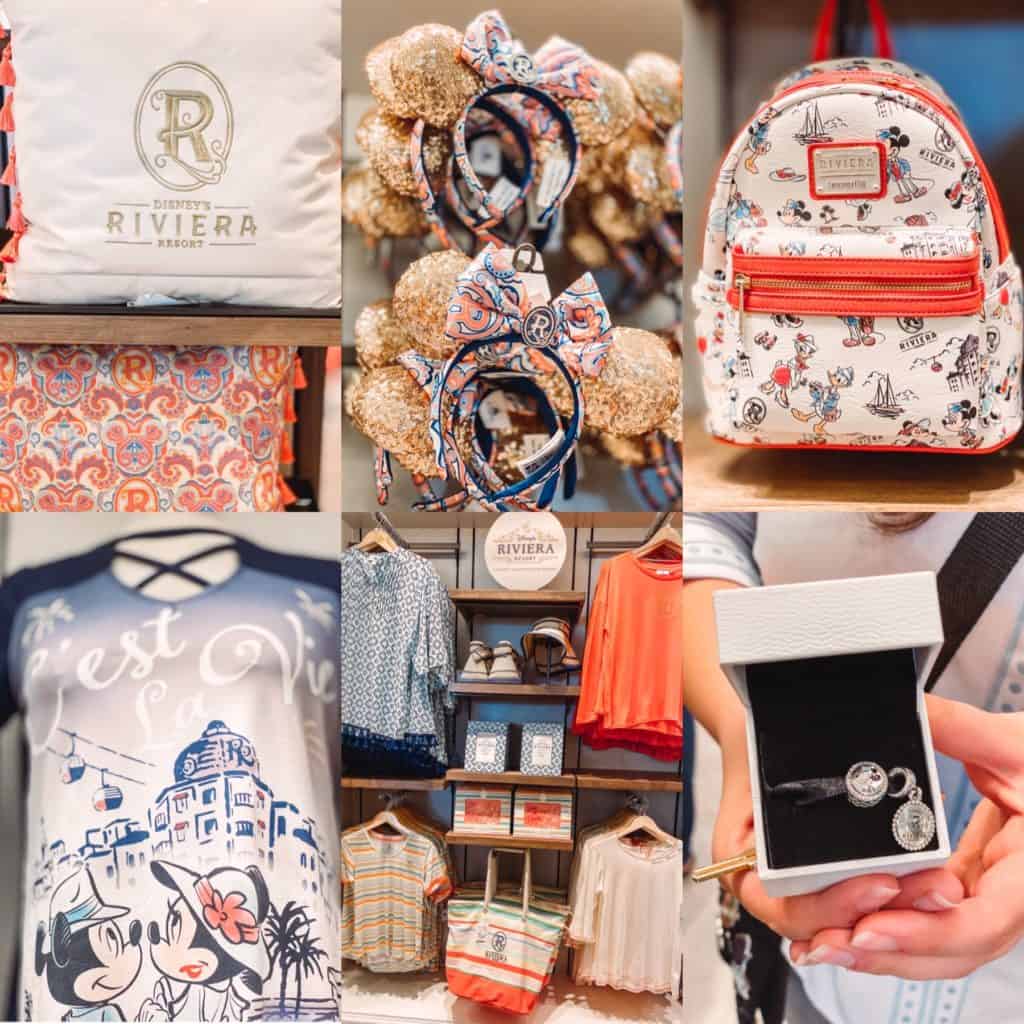 LA BOUTIQUE GROCERY ITEMS
La Boutique has a selection of grocery items. Pictures of everything in La Boutique can be found
HERE
(Page 74 of this thread as taken May 2021)
MORE PICS
Riviera-Branded Suitcase
Mickey, Minnie, Donald, Daisy Plushes
Morgan & Pete Shop Riviera Merchandise Vlog
Riviera Pool & S'il Vous Play
7 am - 8 pm
The Riviera Pool features zero entry, a hot tub, towel service, a tower slide, a gelato cart, a giant Connect 4, cornhole, and the S'il Vous Play splash area. S'il Vous Play is for children under 48 inches.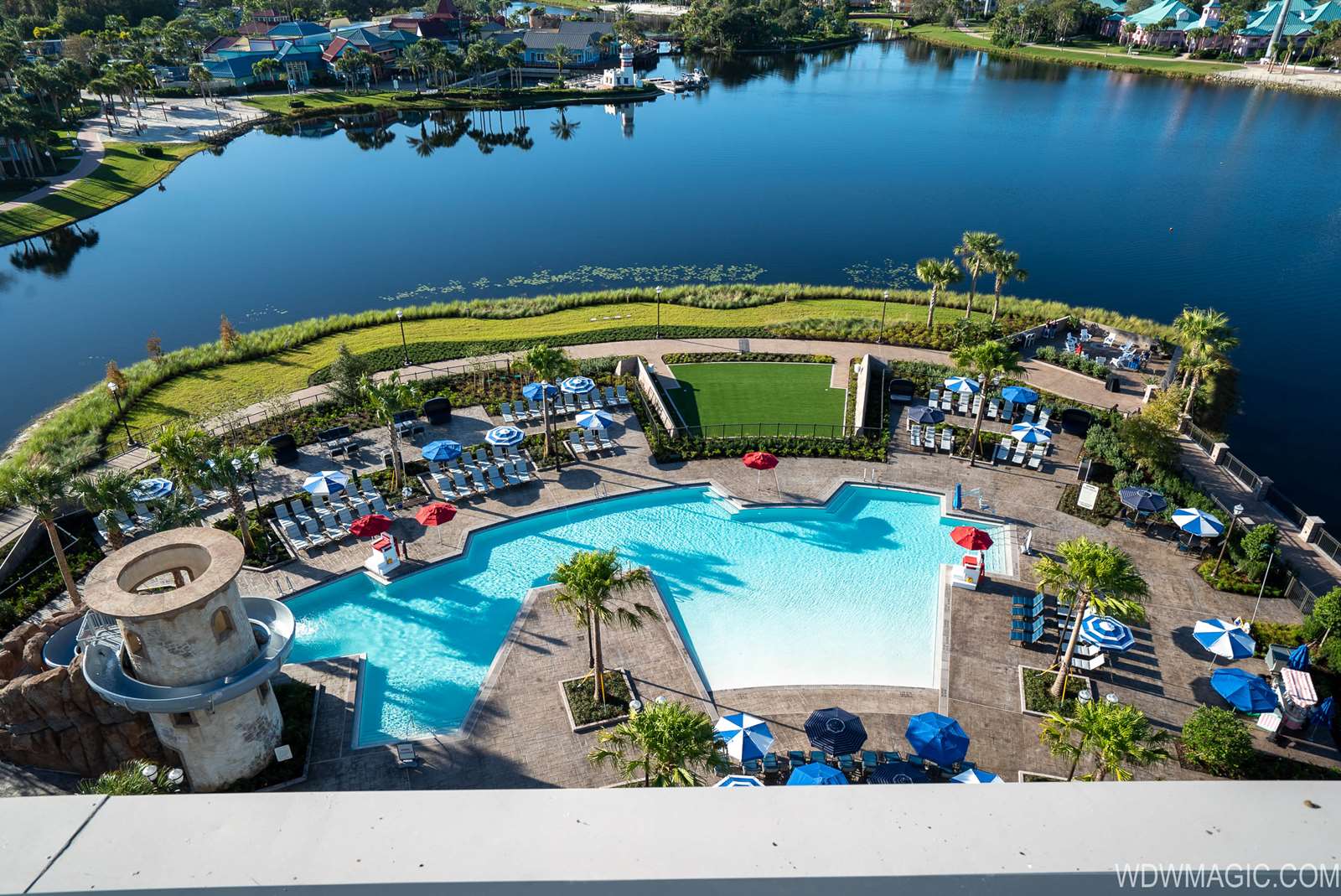 MORE PICS & VIDEO
Resort Review Vlog with Slide POV at 10:20
Zero Entry Area
Towel Service
Seating Area
Connect 4 and Cornhole
More S'il Vous Play
Beau Soleil Pool
7 am - 11 pm
The smaller pool features a hot tub (same as at the Riviera Pool), 2-person covered lounges and other types of seating.
MORE BEAU SOLEIL PICS
Hot Tub
Entry Gate
Lounge Area
Jumbo Covered Lounger
Athlétique Fitness Center
Open 24 Hours
PHOTOS
thepointsguy.com 1
thepointsguy.com 2
allears.net
Eventi Room & Other Activities
The Eventi Room will offer painting and other types of paid classes as well as activities such as the Skyliner Scavanger Hunt (see the Recreation Guide).
The Art Collection Search is available from the DVC desk in the lobby. The art itself is available for print on demand from a kiosk inside La Boutique.
Activity / Movie Lawn
During the day giant inflatable games such as foot snooker will be available and will switch over to movies in the evening.
Movie Screen on Lawn
Foot Snooker
Main Lawn
Bocce Ball Court
Giant Chess & Chair Swing
Fire Pit
Located near the lake walking path, it offers marshmallow roasting.
Laundry Room
All 1- and 2-bedroom and grand villas have their own washer and dryer, but there is a laundry room on the 4th floor of the East Wing.
Follow this link for the status and availability of the washers and dryers.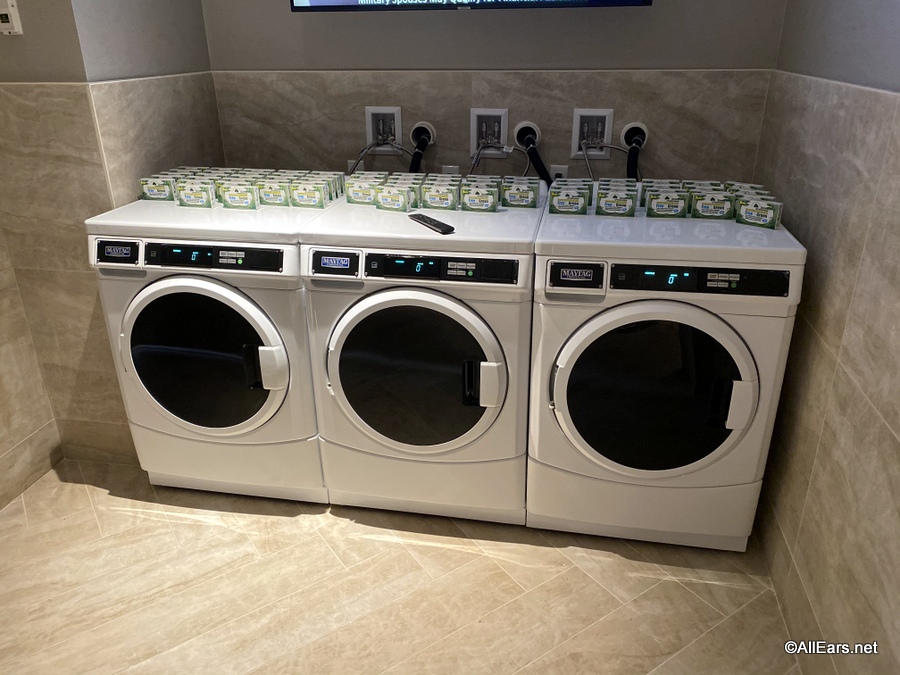 TRANSPORTATION
Disney's Skyliner
Generally 8 am - 10 pm or 15 minutes before an early park opening to an hour after park closing, but hours will vary based on park openings and closings.
Riviera Skyliner Station
There is a covered walkway between the station and the resort on the side that exits coming from Epcot and going to Hollywood Studios. There is an uncovered portion (heading into the front of the station pictured below) on the side that exits from Hollywood Studios and going to Epcot. The Riviera Station does not have a separate line for accessible boarding, and the line will be slowed or stopped to accommodate guests who need it.
Epcot
9-10 Minutes
The uncovered part of the path to the front of the station leads to boarding for Epcot which is a direct trip (by way of the Boardwalk Turn Station) to Epcot International Gateway with no transfers required.

Hollywood Studios
The covered path on the back side of the station leads to boarding for the Caribbean Beach Station (2-3 minutes) where all passengers must exit the gondolas to transfer to the Hollywood Studios line (7-8 minutes).
MORE SKYLINER INFO
Detailed Pics of the Station
Pic of Pathway to Station from Above
Disney's Guests Riding Promo
DISboards Gondola Thread
Bus
NOTE: Current member feedback is that there are no buses from the front of Epcot to Riviera so please plan accordingly.
Riviera has a covered walkway to a covered bus stop with dedicated bus service. Cast members told allears.net the only time Riviera Resort might share a bus would be a shared ride to the water parks and/or Disney Springs with guests of Caribbean Beach Resort.
PRE-OPENING / OPENING INFO


Marketing Video
The Art of Inspiration
Disney Parks Blog Stories
Cast Member Costumes Reveal
Meaning behind RR Monogram Sign
Creating the mural in Bar Riva
Opening Day Ceremony
(Minnie Speaks!)
Thank you to the DIS, disneyfoodblog.com, mouseplanet.com, micechat.com, wdwmagic.com, disneytouristblog.com, disneygeek.com, thepointsguy.com, worldofwalt.com and allears.net for all the great images and info!
Last edited: