Welcome to the new GF FAQ thread!
Please read the first page of the thread for details and tips for the resort, gathered by DIS posters over the years. As times, schedules, and activities change, we will try to update as quickly as possible so that you have accurate information.
Disney's Grand Floridian Resort and Spa was opened in August of 1988 as WDW's fifth resort hotel, and is considered their flagship resort. The GF is a deluxe resort with 900 rooms, and is situated on 40 acres along the white sand beaches of Seven Seas Lagoon, southwest of the MK. The beautiful white building features red gabled roofs, gingerbread trim and a five-story Grand Lobby, with an art nouveau stained glass ceiling and enormous white chandeliers. It is styled in a turn of the century Victorian theme; the atmosphere is elegant and refined, but not overbearing – it's Disney, after all! Children are welcome here, and there are plenty of activities for all ages.
The Grand Floridian Resort and Spa is a smoke-free resort; smoking is permitted only in designated outdoor locations.
Copyright Disney
Grand Floridian Resort & Spa
4401 Floridian Way
Lake Buena Vista, Florida 32830
(407)824-3000
Check in/Check Out
3:00 PM (ET)/11 AM (ET)
Payment Methods
Cash, Check, Debit card, Disney gift card, Visa, MasterCard, Discover, American Express, JCB
AMENITIES & SERVICES
Room Service
• 24-hour room service
• To order, touch Dining Options on your guest room phone.
Disney's GF Spa & Health Club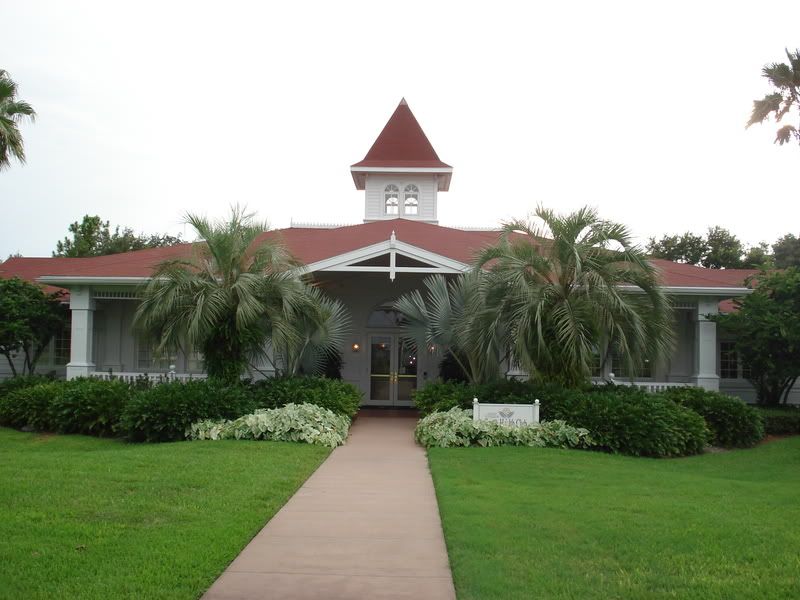 The Spa is operated by Niki Bryan Spas, http://relaxedyet.com/gf_treatments.asp
Disney's Grand Floridian Spa is staffed by trained professionals offering body treatments, therapies and massages developed to rejuvenate, invigorate and nourish.
Reservation and treatment hours are 8:00 a.m. to 8:00 p.m. Please call (407) 824-2332 to learn more and make an appointment.
The Health Club is a full service gym available at no extra charge to guests of the GF. A wide range of equipment is available, including treadmills, stair steppers, upright and recumbent cycles, elliptical cross trainers, Smith machine, cable crossover and free weights. The Health Club also features a full circuit of Life Fitness and Precor strength equipment.
Guests must be 14 years of age to use the gym, guests 14-17 must be accompanied by an adult.
The GF health club is open 6:00 a.m. to 9:00 p.m. daily.
Personal training available by appt.
Babysitting & Childcare Services
Mouseketeer Club is a supervised activity club that accommodates children ages 4-12.
Reservations required, open 4:30 p.m. - midnight.
In-room babysitting provided for a fee by Kids Nite Out, for children ages 6 mos. to 12 years.
To make a reservation for either Mouseketeer Club or Kids Nite Out, contact the Front Desk or concierge.
IVY TRELLIS SALON
Located on the second floor of the main building.
Open 9 a.m. – 6:00 p.m.
Offering a full range of salon and barber services, including hair cut, color and styling.
Call (407)824-3000 or the Front Desk for an appt.
http://relaxedyet.com/gf_salon.asp
Lobby Concierge Assistance
• Available to GF Resort guests, located in the main lobby
• Open 7 a.m. – 10 p.m.
• Services include park tickets, dining reservations, show seats, etc.
Parking
• Self-parking is available in the self-park lot.
• Valet parking available for a fee.
Laundry
24-hour self-service laundry rooms are located in each building (except Sugar Loaf) with a couple washers/dryers each.
Soap/softener/dryer sheet: $1; Washer: $2; Dryer: $2
Dry cleaning & valet laundry service available for a fee, call Housekeeping from your in-room phone for details & pick-up.
Internet Access (for a fee)
High speed dial-up available in room, $9.95/24-hours
Guests with Wi-Fi enabled PC or laptops may purchase a Wi-Fi access card from the Business Center.
**Here is a link to a sticky thread regarding internet access at the World:
http://www.disboards.com/showthread.php?t=2427181
Business Center
Located within the Convention Center, open 7:00 a.m. – 5:00 p.m. daily.
Provides fax, photo copy, mail and computer services for Resort guests.
Convention Center
Offering 40,000 sq. feet of flexible meeting and function space.
Planning a meeting? Please call Disney Meetings at (321)939-7129. For meetings of less than 100 attendees, you can also use the Meetings on Demand Planner.
Services for Guests with Disabilities
Mobility and medical equipment use
Accommodation of special requests, including allowances for service animals
Telephones/TTY for the hearing impaired
Wheelchair-accessible rooms and bathrooms
Valet parking
Room Amenities
• Satellite TV (includes Disney programming)
• High-speed Internet access (for an additional fee)
• Coffeemaker
• Refrigerator
• Iron and ironing board
• Hair dryer
• In-room wall safe
• Newspaper delivery
• Voice mail
• Turn-down service
• Pack 'n Play Playard available (full crib available upon request)
• Laundry facilities/services
• Robes
• Make-up mirror
• Phone in bath area
• Microwave available upon request
• H2O toiletries
Important Numbers:
407-824-3000 GF
407-824-2332 GF Spa
407-939-3862 Victoria and Albert's Reservations
407-824-2474 GF Private Dining
407-934-4004 Disney's PhotoPass
407-824-1775 GF Itinerary Planning Office (Club Level Guests ONLY)
407-621-1991 Tennis Court Bookings
Buildings
Sago Cay:
Garden/Marina View, Lagoon, Theme Park View
Sugar Loaf:
Club Level Rooms
Conch Key
Pool/Garden/Marina View, Lagoon, Theme Park Views
Boca Chica
Pool/Garden View, Lagoon, Theme Park Views
Big Pine Key
Pool/Garden, Lagoon, Theme Park Views
Main Building
Club Level rooms and suites
Transportation
Resort monorail, located on the second floor of the main building, provides direct transportation to the MK, CR, TTC & Poly.
Monorail to Epcot: take the resort monorail to the TTC, transfer to Epcot monorail.
Boat service to the MK & Poly, dock located on Seven Seas Lagoon.
Bus service, located just outside the main building, to AK, DHS, DTD, Typhoon Lagoon & Blizzard Beach.
Informational Links
For a look at the previous FAQ, click here:
http://www.disboards.com/showthread.php?t=2427062
; you can access the one before that here:
http://www.disboards.com/showthread.php?t=2158108
http://www.disboards.com/showthread.php?t=2158108
Here is a link for an aerial map of the GF:
http://www.bing.com/maps/default.aspx?v=2&cp=nr1ny6860wqf&style=o&lvl=1&tilt=-90&dir=0&alt=-1000&scene=5219444
Great tool for determining travel times and directions from any point in WDW to another:
http://www.wdwinfo.com/wdwinfo/transportation/transportation1.cfm