Welcome to the Disneyland Hotel (Anaheim) FAQ Thread
​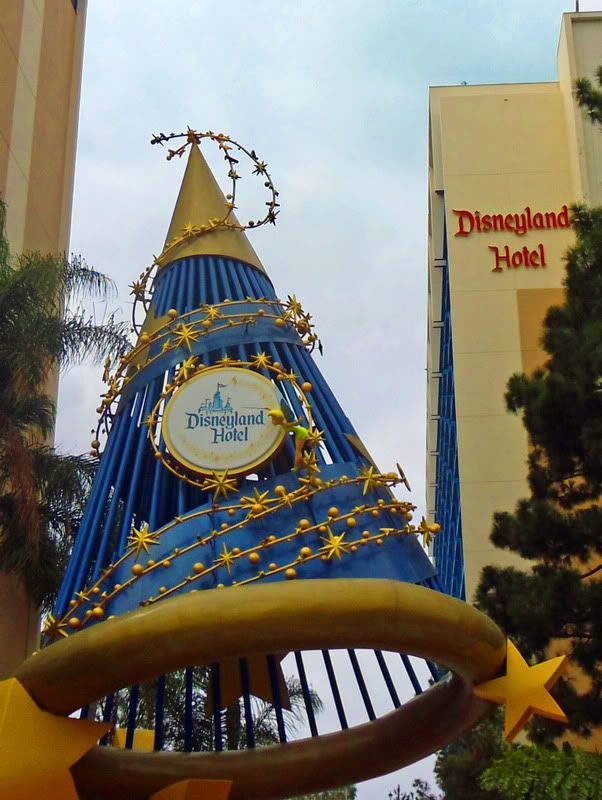 Hi all! The Disneyland Hotel in Anaheim is wrapping up its remodel / renovation. So I've started a new superthread in order to keep track of the updates. Please feel free to post your photos, questions and information here.​
Quick Facts:
Resort:
The Disneyland Hotel
Address:
1150 W Magic Way, Anaheim, CA 92802
Tel:
(714) 778-6600
Fax:
(714) 520-6099
Hotel Operator:
(714) 520-6099
Official Website:
http://disneyland.disney.go.com/disneyland-hotel/
Reservations:
(714) 956-MICKEY or
www.disneyland.com
or your favorite travel agent
Opening Date:
October5, 1955
Location:
Disneyland Resort - Anaheim, California
Rooms:
990
Check In / Out:
Check in: 3:00pm Check out: 11:00am. Guests check in in the lobby of the Fantasy Tower, located on the north side of the hotel
AAA Rating:
In August 2011, the hotel received a AAA 4-Diamond rating for the first time.
Introduction: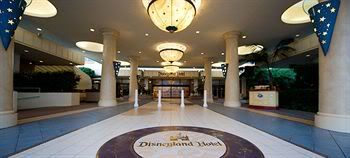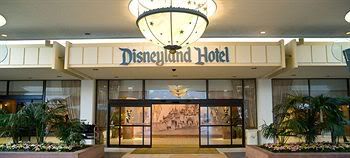 The Disneyland Hotel is the first hotel in the history of the Disney Parks & Resorts universe (although originally it was owned and operated by Hollywood producer Jack Wrather, and eventually bought by Disney). The hotel has been remodeled numerous times since its original opening; in present day, none of the original opening day buildings remain.
Currently the Disneyland Resort comprises three towers that offer standard rooms and larger suites; a conference/convention center; dining, shopping, a pool area and other recreation.
It's just a short ten-minute walk between the Disneyland Hotel and both Anaheim parks: Disneyland and Disney California Adventure. Additionally, the hotel is adjacent to Downtown Disney in Anaheim, and a short walk to 1 of 2 Disneyland Monorail stations (the other one is located inside of Disneyland).
Resort Renovation 2009 - 2011
A resort-wide refurbishment program began in 2009 and is scheduled to be completed by the end of 2011 (partially in preparation for the re-introduction of the remodeled Disney California Adventure park, and partially because it was long-past due).
The remodel includes:
• Redecorated standard rooms with Queen size beds, flat-screen TVs, and completely updated furnishings, fittings, carpets, etc.
• Re-theming and re-naming of the three hotel towers. The Towers are now named Frontier (south), Adventure (east) and Fantasy (north / lobby check-in), and each Tower lobby features décor appropriate to the theme.
• Addition of themed suites, including Frontier, Adventure and Fantasy suites (to complement the existing Mickey Mouse penthouse suite).
• Remodeled pool and recreation area, which includes two new water slides that feature original Disneyland park signage at the top. Each of the two slides tunnel through a monorail "train."
• Two new dining locations, both featuring Tahitian architecture from the 1950s and 1960s: Tangaroa Terrace is a counter service restaurant that serves casual dining, and a new bar, Trader Sam's Enchanted Tiki Bar (based on the Jungle Cruise's head salesman, Trader Sam).
Essentially, the remodeled new look seems designed to invoke a nostalgic, retro/modern feel, featuring fans' favorite aspects of the original Disneyland Park, complete with a kitschy 1950s inspired "Disney blue" color and tiki-themed recreational touches.
What time can I check in and can the resort store my bags?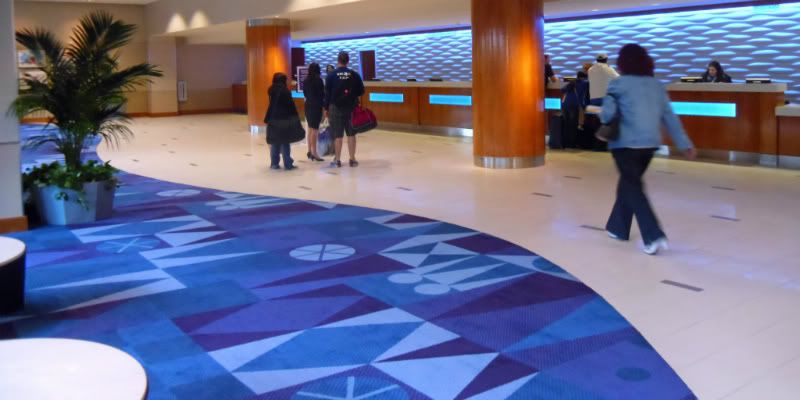 Rooms are officially available from 3pm but you can check in at the front desk as early as you like. You may get lucky and find that a room happens to be ready earlier, or otherwise Bell Services can store your bags while you head off to enjoy the hotel facilities or the theme parks.
Check-out is by 11am, although you can request a free later check-out time (up to 12 p.m.) as long as the room is not need urgently for other guests. Again, Bell Services will store your bags until you are ready to depart.
What is the layout of the hotel?
The layout is basically a self-contained square, formed by the hotel towers and conference areas, and containing dining and recreational areas within. The main lobby / registration / check in is located on the 1st floor of the Fantasy Tower.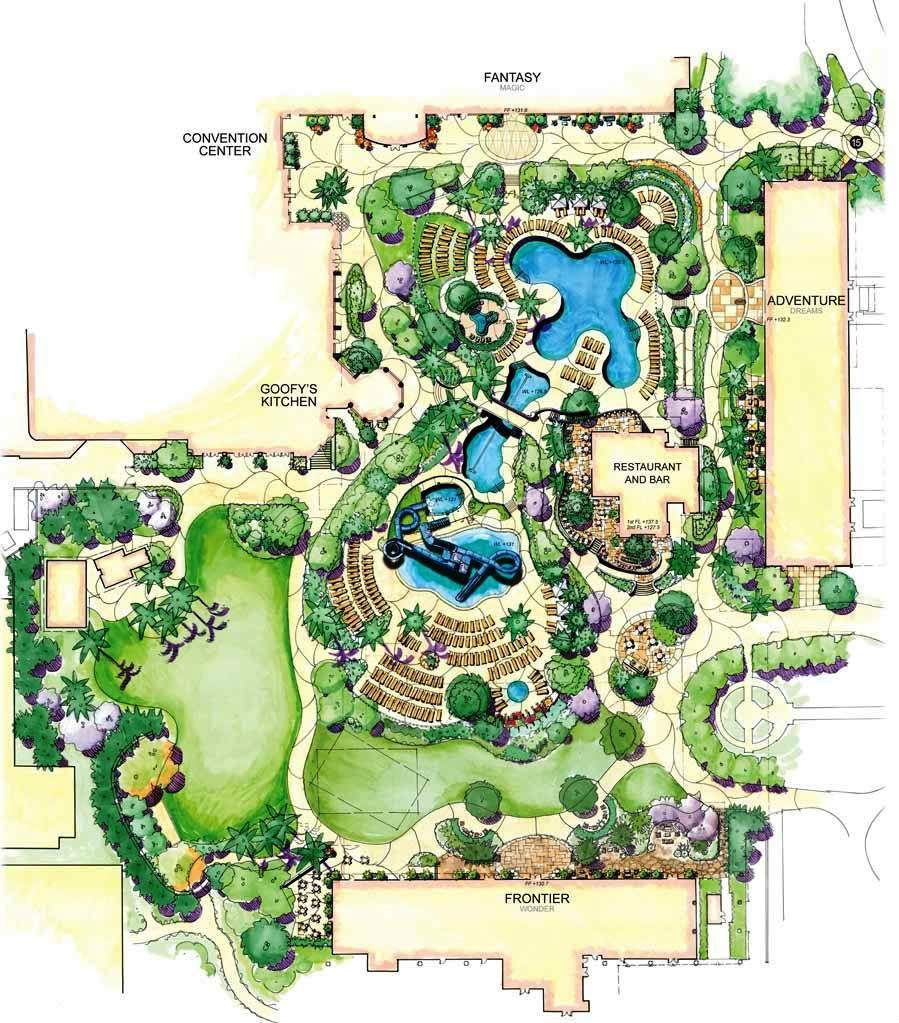 What types of room are available?
There are now five room categories:
Standard, Resort View, Pool View, Concierge
and the
Suites
.
Standard View rooms can overlook woods, courtyards, garden areas or parking lots. Pool View gives you a view the square. King Bed rooms contain just one King-size bed instead of two queens and are located throughout the resort. Disability Accessible rooms are also available. Suites feature 1-, 2- and 3-bedroom configurations. The Suites are located in different Towers throughout the hotel, often in keeping with that Tower's theme.
How much does it cost?
Room prices vary by weekday/weekend, season and room type. There are likely to be updates to the tiered pricing structure upon completion of the remodel.
Because the dates / offers range, below lists a wide range:
• Standard View - $215 – $300
• Pool / Resort View - $230 - $325
• Upper Level Resort Pool / Resort View - $245 - $365
• Concierge Level Pool / Resort View - $430 - $480
• (Prices will be updated based on thread feedback)
If you book room-only with Disney you will pay a one room/night deposit in advance and the balance upon arrival. Cancellation with a full refund is possible up until six days before arrival, or 45 days for package bookings.
Some discounts, such as AAA and Disneyland Annual Passholder apply, but these are limited and often sell out very quickly once the rates have been released.
Additionally, The Disneyland Resort hotels recently changed the way they charge for the resort fees. It is now a flat fee of $15 / day and it covers parking, use of the fitness center and daily Internet charges.
Can I see Disneyland fireworks from the hotel?
Sometimes, but you are better served watching fireworks from inside the park. If you are hoping to be able to see the Disneyland fireworks from your DLH hotel room and you are staying in the Adventure Tower (best tower to see them), you MUST be on the Downtown Disney side (not pool view) and 5th floor or higher. Floors 2-4 have a "treeline" that blocks the fireworks view.
Can I request a particular location or room type?
Some people prefer to request one Tower or the other and it's always best to make your requests along with your initial booking. You can also try faxing or phoning the resort a few days before you arrive (no more than five days) as a reminder, but please be aware that Disney will not guarantee any locations apart from on specific medical grounds.
Generally speaking, because of the shape/size of the resort, all Towers have fairly equal access to the pool / dining / recreation area, as well as equal distance to Downtown Disney and the Parks. However, the closest rooms to Downtown Disney and the Park entrances are in the Fantasy and Adventure Towers.
What are the rooms like?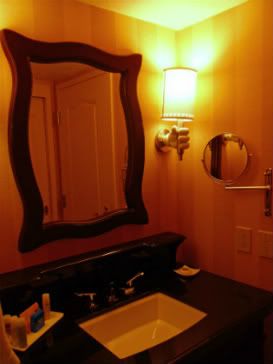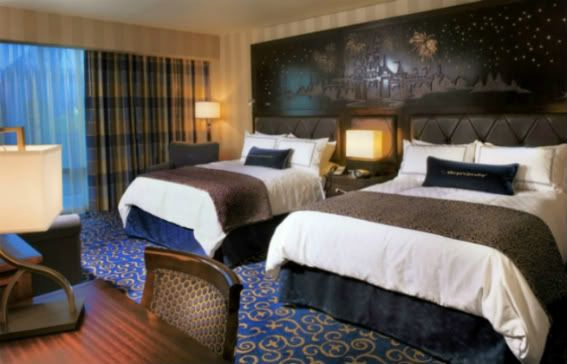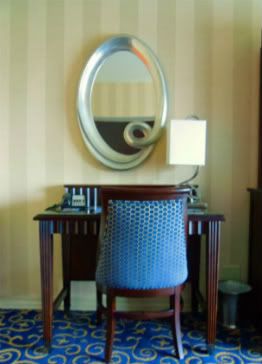 Standard rooms range in size from 364-415 square feet, and feature either a king-size bed or two queen-size beds. Rooms accommodate up to five people. All rooms include: phone, TV, clock, small fridge (no freezer compartment), bathtub/shower, toilet, table & two chairs, air conditioning, cabled and wireless internet access, small wall-safe, coffee maker, hair dryer, iron & ironing board, clothes hanging rail. Since the remodel, all rooms now feature a Magic Kingdom-style headboard, which lights up and features music. A nice added touch. Video of the new rooms:
•
http://www.youtube.com/watch?v=8kmYjViM4Us&feature=related
Some disabled-access rooms are available which mostly feature one King-size bed, a roll-in shower and wheel-chair height accessible facilities such as safe, wash basin, etc.
Is smoking allowed in any of the buildings?
No, smoking is no longer permitted in any part of the Disneyland Resort, apart from specially designated smoking areas which are clearly marked on the resort maps.
What are the dining options?
Steakhouse 55
— Fine Dining (table service)
Open every day for breakfast and dinner. Although Steakhouse 55 is known for its
dinners and particularly its steaks, many fans also rave about its lesser-known breakfast experience.
Also, for a private dining experience, The Oak Room can be reserved for parties of up to 24 people.
​
Tangaroa Terrace
– Casual Island Dining (counter service)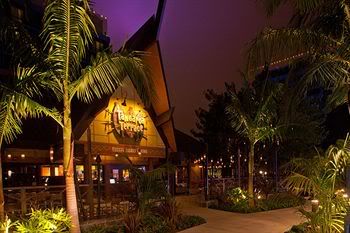 Enjoy a tropical setting complete with tiki torches and island music for
breakfast, lunch or dinner. Indoor and outdoor seating (with pool views)
are available, as are grab-and-go options.
​
Trader Sam's – Enchanted Tiki Bar
(bar and appetizers)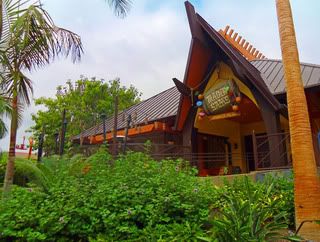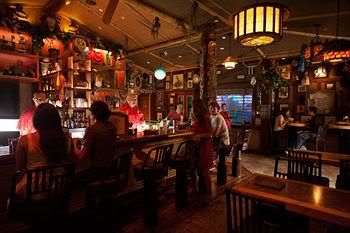 The newly-opened bar features exotic wares collected by Trader Sam,
the world-famous Jungle Cruise's "head" salesman, as well as vintage,
island cocktails and Asian-inspired bar food. Indoor and outdoor seating
(with pool views) are available, and live music is often performed outdoors at night.
Warning: indoor seating is very limited.
​
Goofy's Kitchen
— Buffet/Character Meals (buffet)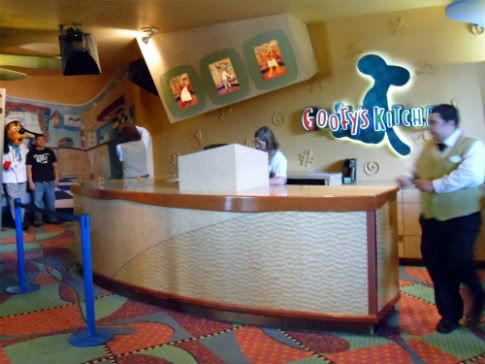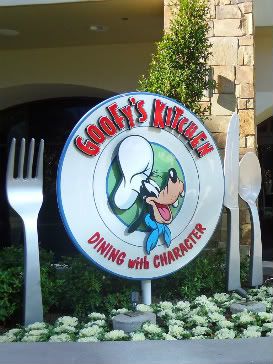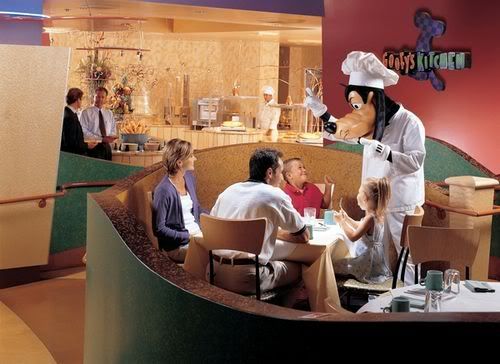 All-you-can-eat buffet with the Disney Characters during breakfast, brunch or dinner.
​
The Coffee House
(counter service)
A wide selection of premium coffees and pastries. Great to drop in for a quick bite prior to heading off to the parks in the morning.
What options are available for recreation?
Pools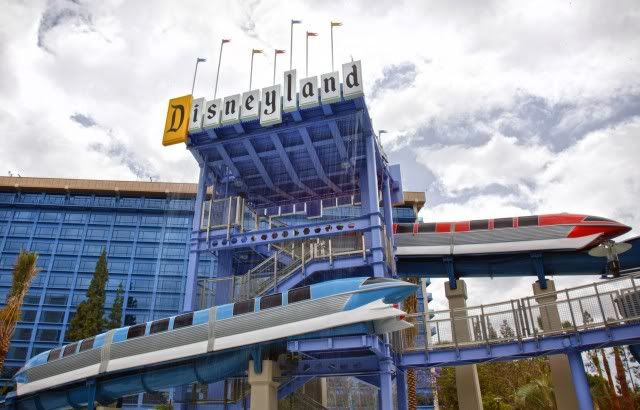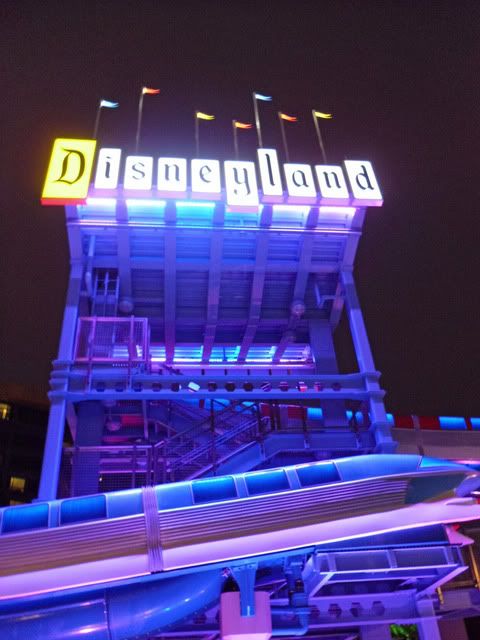 The new pool area has a retro Disneyland look and feel. There are 2 slides at the Monorail waterslide, as well as a smaller kiddie slide. Poolside cabanas are available at an additional charge, and they feature wireless Internet access, refrigerators and flat- screen televisions. More information and photos of the pools are available in post #3 in this thread.
Fitness Center
Team Mickey's Workout Room is the on-site fitness center and is available to all hotel guests. The Center features exercise bikes and treadmills, free weights, and various other weight machines as well as TV monitors.
Spa & Child Care
Additionally, guests of the Disneyland Hotel can also utilize (for a fee) child care in Pinocchio's Workshop, and spa facilities at the Mandara Spa, both located at the Grand Californian Hotel.
Can I get early entry into the parks?
Yes, in certain situations. The Disneyland Resort offers a "Magic Mornings" program which currently offers early entry into Disneyland park on certain days (currently Sunday, Tuesday, Thursday and Saturday). Check with the hotel to see if your tickets/package allow Magic Mornings, because it is not currently offered every day of the week.
It is rumored that upon completion of its major overhaul, Disney California Adventure park will also begin participating in the Magic Mornings program.
What are the transportation options?
The Disneyland Resort in Anaheim is what they refer to as a "pedestrian park,"
i.e., there is no tram transportation between the hotels and the parks. However, the Anaheim resort is much more compact than Walt Disney World in Florida, and therefore the parks and Downtown Disney tend to be about a 10-minute walk from the Disneyland Hotel.
As mentioned above, Disneyland park guests can also take the Monorail into the park. The out-of-park Monorail station is about a 5-minute walk from the hotel. However, one must have and show a park admission ticket in order to be allowed entrance into the Monorail station (i.e., it is a different transportation system than in Florida, where anyone can hop on a Monorail without a park ticket).
Got any photos of holiday decorations?
Here are photos of the Christmas trees in each tower lobby from the 2011 holiday season:
http://www.disboards.com/showpost.php?p=43577798&postcount=167
All photos are publicly available online, or else have been submitted/use permission granted. If you have photos you'd be willing to share with the thread, please notify me by private message, or feel free to post within the thread.