I'm so happy, I could BOUNCE!
The $6,688 Disneyworld Trip
​
Welcome to another franandaj Trip Report. You might be wondering about the title...don't worry, we will get to that eventually, but for now you'll have to be content to follow along. Before I get to the introductions, for those who don't already know who we are, let's get into a little bit of background as to how this trip came about and why it was planned in the manner that it was.


So a while back, say 2018, we had decided that we weren't going to visit WDW in 2020. We had two trips planned for 2019, we had visited the World for a day and a half in 2018 before a cruise. We went with my parents for over a week last March, and we came back in October of 2019 for a bonus trip due to a conference we had scheduled in Orlando. Knowing this, between December 2018 and February 2019, I rented out all our remaining points for our September 2019 UY. We were a little short on cash and since we weren't going to need them anyways, it was a great way to make a win win situation. Right?


If you were following along on the last TR with the conference, you'll have realized that Fran was not pleased with the brevity of that trip to WDW. Perhaps it had to do with the fact that our previous trip had been with my parents. On that trip, she didn't get to do exactly what she wanted to do, you might remember that she feigned illness to go back to the room, and then I GPS tracked her all over Epcot shopping and "doing her thing." Well, take that experience of her freedom limited by family in tow, and combine that with a trip where we only had 4 full days in the parks, and that's a frustrated Fran. She wanted to shop at her leisure, visit Trader Sam's maybe more than once, get a lot of caramels in Germany, and so many other things. But with only 5 nights and needing to catch up on sleep from a couple stressful weeks before we left, she didn't get hardly anything-she-wanted-to done. So she laid down the law.
"We are NOT skipping a visit to WDW in 2020!!!"
Now this was a bit of a problem because when we had made that decision, I had already rented out all our 2019 UY points. So we needed to borrow from 2020, not a big problem, we sort of have enough points to go around. But there was another situation. We don't visit between May and September, it's just too darned hot. We have a cruise in April, and we don't like to travel more than twice in one month. We have a weekend at the Grand in March, plus she needs that time to work on the taxes. Band Concerts usually take place in late October, plus we've been to F&W in 2019 and 2017, I wanted a change.


It was either going to be February or November. I really didn't want to wait until November to tell the truth. I kinda wanted to come back sooner too! So I began looking at DVC accessible one bedrooms with availability. It was really hard to find one where we didn't have to switch three times in a 10 day period. I searched all the way from the last week in January until the last week in March, and pretty much the only period I found was Feb 3-13 at SSR. We could have the one bedroom that whole week plus.


Well, we pulled the trigger, booked it, booked the airfare and the trip was set. I really wasn't too interested in making a bunch of plans, we didn't want to be tied to an itinerary and just kinda wanted to wing it. I just wanted to be there. We started looking up restaurants that didn't require ADRs and there were a few that sounded really good. Of course we made our 1900 Park Fare reservation, and I was able to snag a reservation at 'Ohana one night at 7:50PM which was better than the 9:30 reservations that were available every other night.


Back in November Michael (@Flossbolna's husband) told me about a Midnight Magic event (which conflicted with my 'Ohana reservation), and I booked that too. We had basically decided that we would play app roulette, wake up in the morning, see what places had availability and book them if we wanted. I also came up with a compromise for 'Ohana. What I really wanted was the Bread Pudding, and since you can get that at the Tambu Lounge, I told her that if we got the Bread Pudding before the reservation, i would cancel 'Ohana.


Then we heard that Le Cellier would be hosting a brunch during our time there. We booked that one right on the spot for a late Saturday morning during our trip. Then I started thinking, we don't want to play app roulette on Saturday night cause that will be busy. We know that one night we want to eat at Jaleo, so let's just do that one on Saturday night. And Jill mentioned to me that Beaches & Cream reopened in their new remodeled space, so that went on the list. A couple weeks before we left, Scot texted me and asked if we wanted to eat at Yachtsman with him and Vinny. This unplanned trip was starting to become pretty planned now!


And then a couple days before we left, I decided that since we would be staying at Saratoga Springs, I might as well book a spa treatment there. It was during that time that I was trying to nail down our meet ups with Pam and her Mom, but I got it all figured out, or so I thought. That was the extent of the plans, well a few FP+ here and there, but that's about where I left it. There were still quite a few nights without ADRs and the opportunity for flexibility.


So now onto introductions….I'm not quite sure what to say, so many of you know both Fran and I and our travel styles and such. I may or may not enjoy some ice cream from time to time…..





I was once attacked by giant bugs.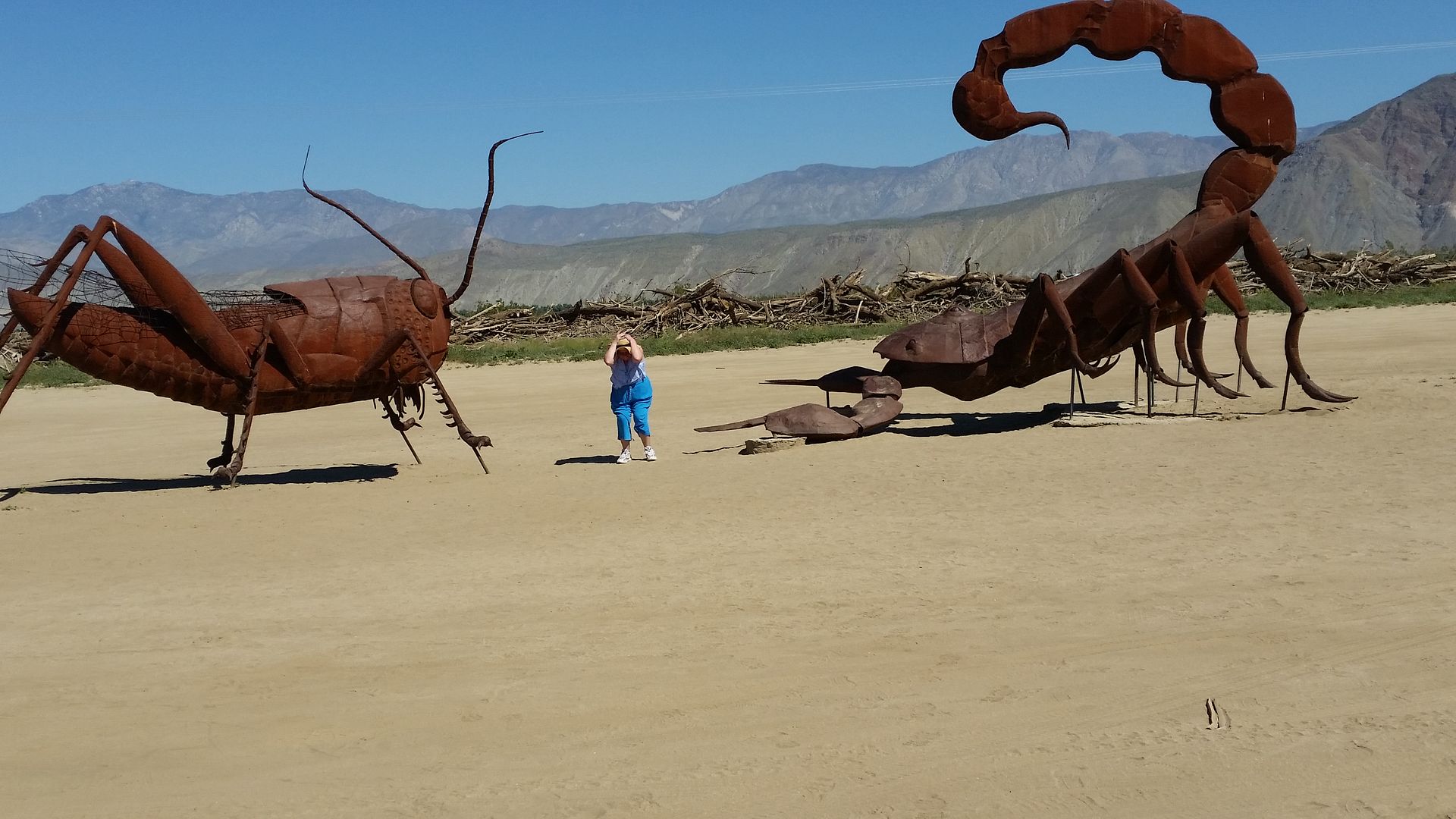 I may also keep some strange company





I play in a band, and against my better judgement began marching again 2 years ago.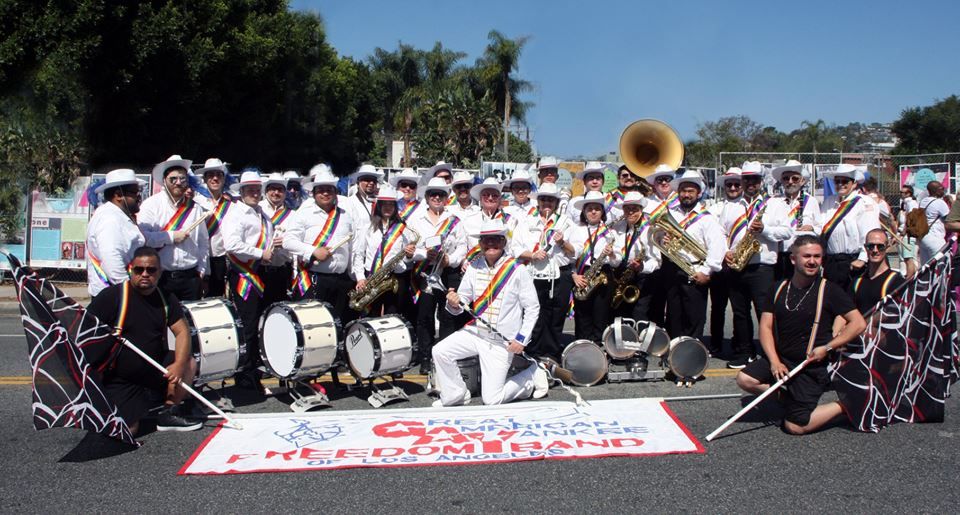 OK, well enough about me, now onto Fran. She may or may not enjoy her tiki mugs and might possibly be willing to wait 4 hours in line to get one.
The kitties really like her a lot!
She likes her cars, this is us with our 1959 Ford Ranchero at a Car Club Event





Well...enough about us! Let's get on with the trip at hand. If you have followed before, you'll know that the day before, I almost always get no sleep, am a total mess on the plane trip and the day before is entirely chaotic. So let's see if this trip is anything like the others…..


The day before we left went way better than planned! Even though Fran didn't give me her clothes until that morning, I was pretty much all packed by 1:00PM, read that PM (with the exception of a few things that were still in the dryer.) We needed gas in the car and I wanted to try and find an arthritis cream that our Dr. had recommended Fran try. I had to go to three stores to find it and I made the mistake of being in a grocery store two hours before the Super Bowl. I never saw so much beer and potato chips flying out the door!


I was able to wrap up the packing and even got the scooters and suitcases in the car before we ate our dinner. It was sort of late, but only 7:15 which is when I normally like dinner. We always argue because Fran likes it sooner.


Before completely packing up the suitcases I did this.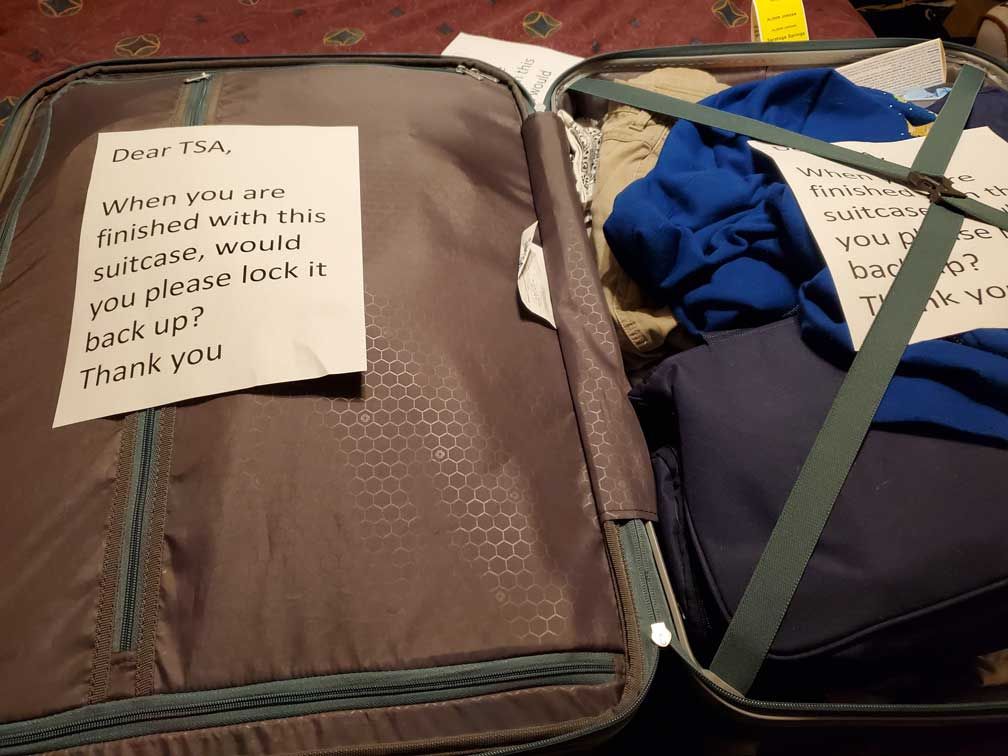 Every single time we fly the TSA searches my luggage and they never relock the locks. There are thieves out there, and I don't want them stealing my stuff! I carry my jewelry and meds in my carry on, but still there is stuff in there I like!


But just to get ahead of myself a little bit here. They searched every one of my suitcases and you know what? They locked every single one of them back up! How many of you get your bags searched and not locked back up?


Anyways….I'm still trying to figure out how late it was when I went to bed. But I think it was around 10:30 or 11PM. So without further Adieu, let's get this party started!


Day 1


The Alarm went off at 5AM. It was still dark out. Normally we close our bedroom curtains at night to keep the morning sun out, but we left them open in case we over slept. We didn't bounce right out of bed, but we didn't linger. I had picked out my travel outfit in advance so that was easy. And pretty soon I was feeding the kitties. Fran hadn't put her carry on together the night before, but that actually came together rather quickly as well.


We were on the freeway before 7AM for our 9:40 flight. That was a good thing. While the freeway traffic wasn't really bad, we got to the airport proximity by 7:40. It took nearly half an hour just to get to our terminal! We did the normal get out the scooters, have a sky cap look at my ID, check the luggage. While Fran waits, I go park the car. The economy lot is MUCH farther away now. It took me a solid 40 minutes to go, park, wait for the bus, and get back to the airport.


As I'm approaching the airport on the shuttle bus, I get a call from a 407 number. My caller ID (which I love!!!!) says Disney Institute. Huh. That's been gone for years, decades, maybe.


But I'm on my way to Disney and if they're calling I better answer it!


I've had this call before. There is a problem at SSR and they are going to need to transfer me to a different resort.



Aaaagh!



When I booked this trip, I actually wanted just about any other resort, if possible, but it just wasn't, no availability for an HA room for all 10 nights as I mentioned earlier. However, once I booked at SSR, I began to see the benefits. We could just motor on over to Disney Springs. There's a lot of new restaurants I want to try, and many are QS. Plus I realized that they have a spa, and I had booked a nice milk bath treatment with a sugar scrub and massage. By the time the trip rolled around I had embraced my SSR reservation, and now this woman wanted to take it away from me!


However, she wasn't just talking about moving us to OKW (which I would have taken in a heartbeat!) Or BW or BC villas. She was going to send us to the Riviera! On SSR point values! By this point in the conversation I had exited the bus, and was going up the elevator. I told her about the spa reservation and she got hung up on that one. Once I exited the elevator I found Fran as fast as I could and gave her the short version of what was going on. She thought it sounded great, so I told the lady I would work out the spa situation later and we'd take the room. She said that she would handle switching my Owner's Locker, grocery delivery, and luggage to the new resort. And we headed to security.


No box cutter nightmare here, and soon we were heading to the gate. I had brought us lunchables to eat on the plane, but I wanted something else so I got a fruit cup. I got a Sprite zero for Fran. I ate my half of the fruit cup waiting to board and she finished hers once we were in our seats. We ate the first lunchable while waiting to take off.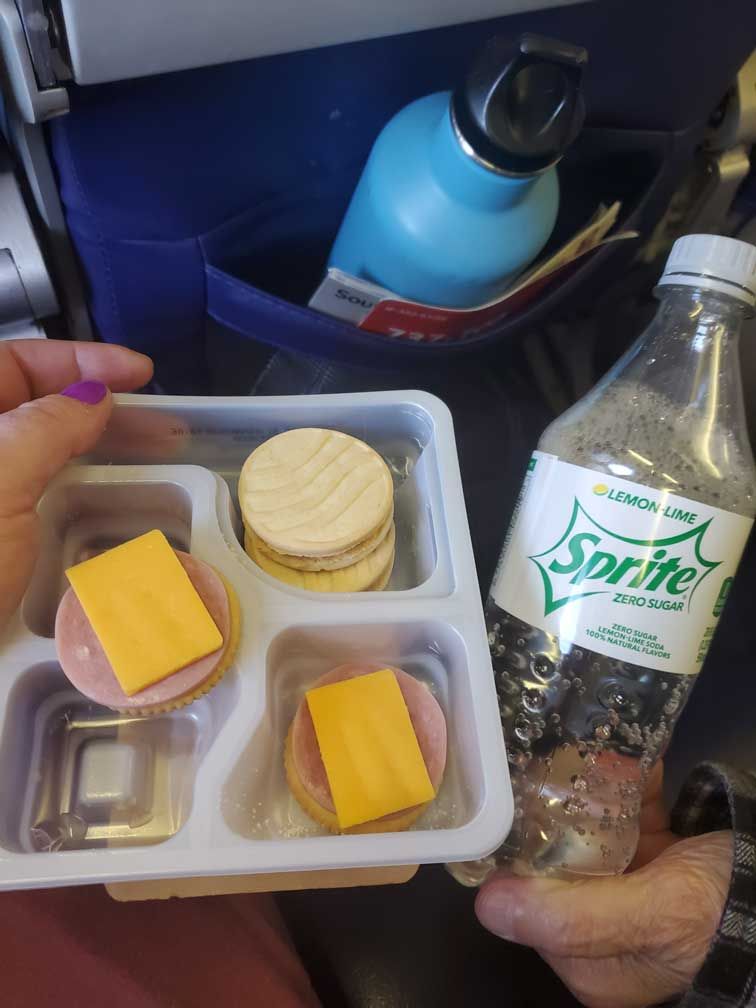 We were both starving (no Mickey D's on the way to the airport) so as soon as we leveled off we ate the second one.




I always get so fun struck when I can see my house from the plane. OK maybe I didn't actually see my house, but I did see my neighborhood and could make out the busy street that runs behind my house. See that little yellow circle that's the proximity of where my house is located.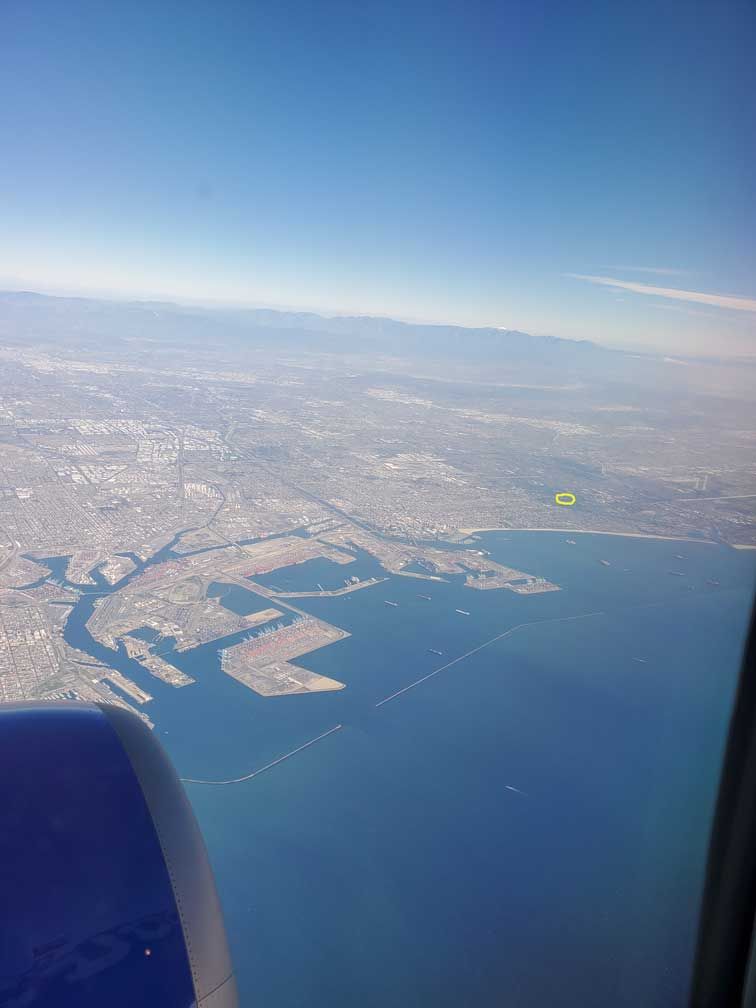 Luckily the flights were uneventful and I just played my game most of the time. We had about 45 mins of useable time in Dallas between flights and we used that to potty and get some food. We got Chinese. It tasted kinda funny. I guess that's Texas airport Chinese food for you. Doesn't taste like California Chinese food. We didn't finish it and ended up dumping it at the airport in Orlando.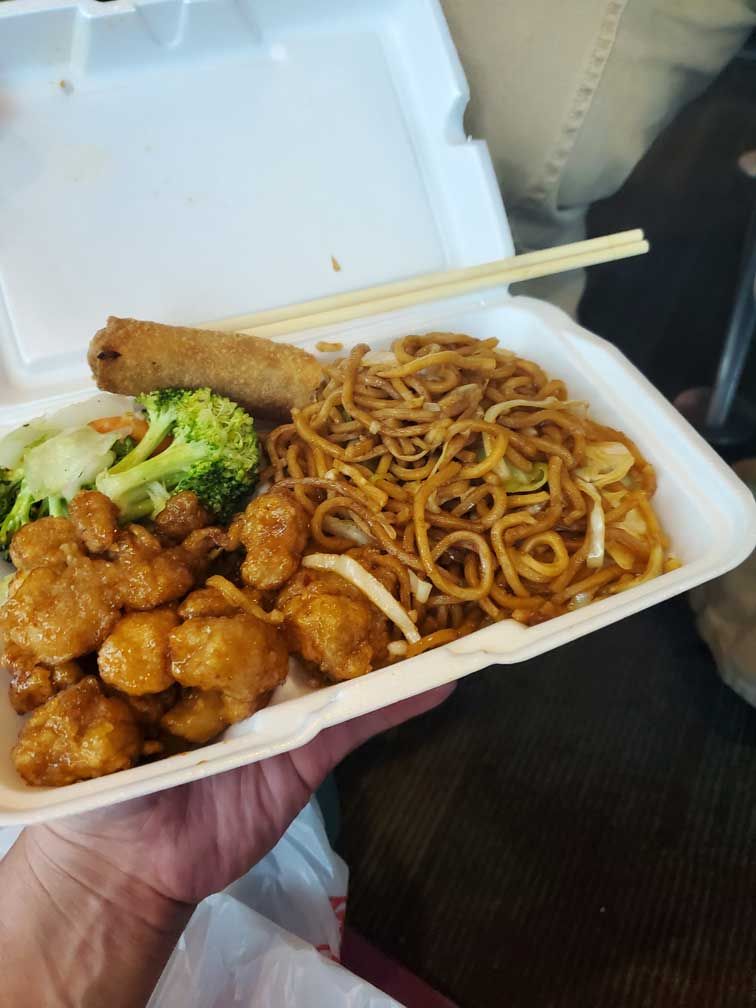 Then we boarded the final leg to Orlando. No problems, plane was on time. Both flights were completely full so there was no refund on the third seat this time either. Oh well, so worth it for our own comfort. I used my free drink coupons for a glass of wine.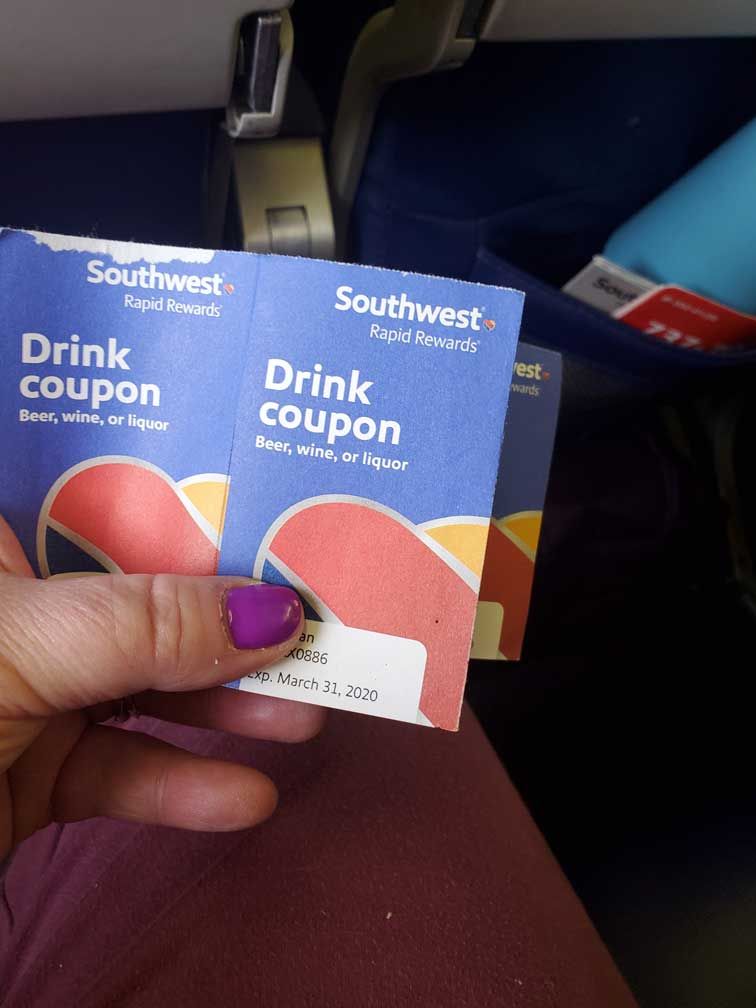 And we began our descent.




We arrived just on time, picked up our scooters at the gate and headed out. There was only a small mishap at the DME check in. Their scanners were down and they were checking manual confirmations. I had left mine at home. Normally I make a little folder with all the details and confirmations from our trip, and place those in sheet protectors, but I didn't have the time for that. It wouldn't have mattered anyways because the confirmation would have been wrong. It thought we were going to SSR when only eight hours ago our plans were completely changed.


Our new plans were sorted out and pretty soon we were on our bus to our new home for the next week or so. Throughout the day in between flights I was communicating with various friends. Amidst the congratulations on the upgrade and other messages there was some speculation as to Disney's motives in changing our plans. It was Michael @Flosbolna's husband who echoed my thoughts. "They likely are using the SSR renovations as a handy excuse to move Guests they feel are most likely to spend on Riviera." Well, we will see. I have my 1000 points and don't really need anymore, but it will be nice to experience this brand new resort at SSR point prices.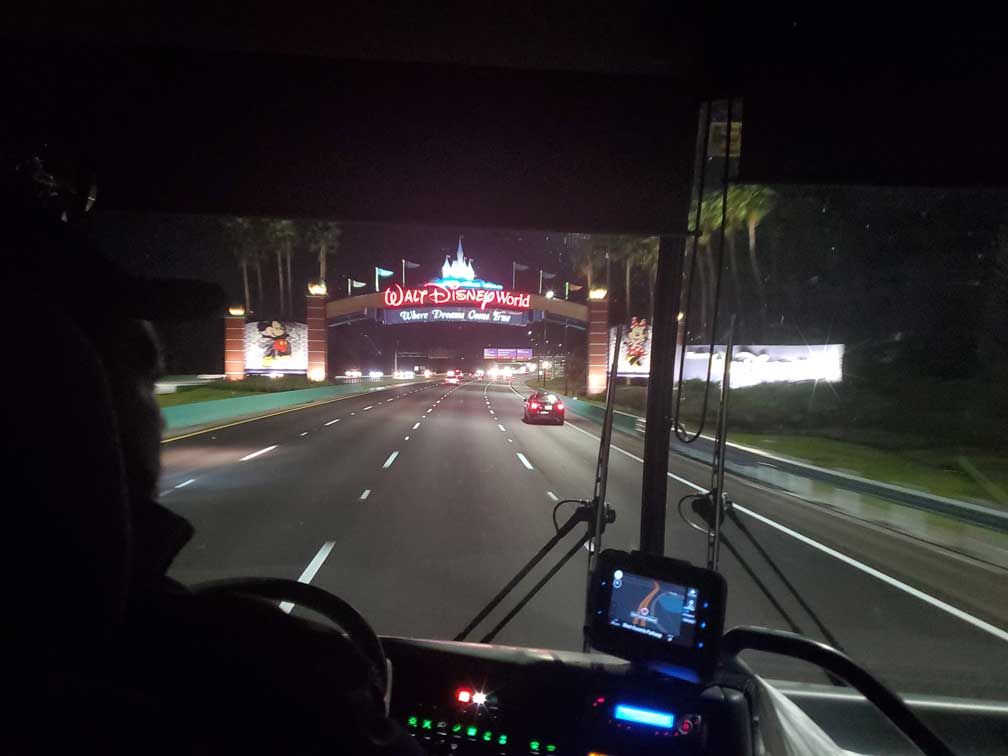 [Continued in Next Post]
Last edited: