Hi all!
I just got back from a weeklong trip to Shanghai and Hong Kong where we visited Shanghai Disney for 2 days and Hong Kong Disney for 1 day. It was a whirlwind trip and I'm super exhausted but excited to share some details and tips for future travelers.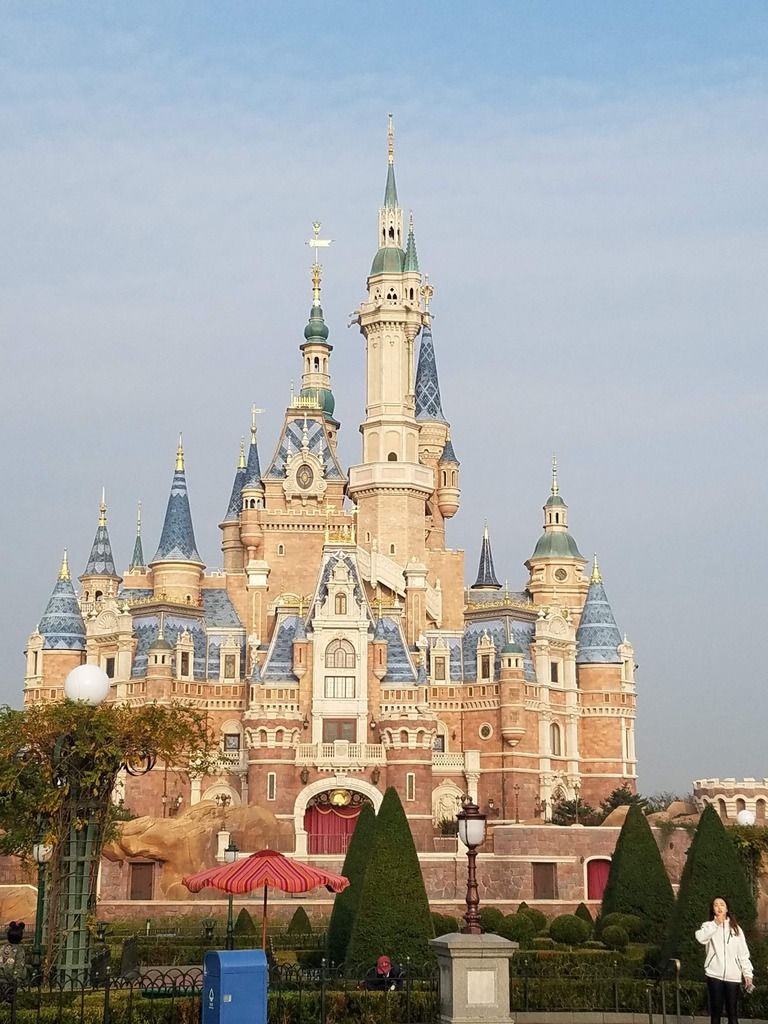 About Me:
I'm Edward and I'm continuing my tour to knock off all the international Disney Parks. I'm totally Disney fanatic and former DCP culinary cast member so I'm obsessed with food! Joining my is my partner in crime, Paul, who entertains my Disney-fandom but pretty begrudgingly. Anyone willing to fly around the world to visit a Disney park for 3 days is a keeper! Paul works in the airline industry so we were able to get our flights pretty cheap but we had to fly standby on all our flights so we weren't exactly sure which times (or countries!) we'd have to fly around from.
Travel Details:
We stayed 3 nights in Shanghai at the Disneyland Hotel. We got a great deal on the room at $200 per night -- I was so surprised and happy to see that a night here was cheaper than a moderate in Florida! For our Shanghai portion, we made use of the 144-hour travel visa as Hong Kong was our second destination so we did not need a proper visa. The line for the 144-hour visa upon arrival was a very very very slow moving line and a lot of passengers were upset as many had connecting flights. Be prepared (fill out the blue arrival form) and manage expectations. We left LAX at 9:30 am Sunday and arrived in Shanghai at 3:30 pm Monday.
Arrival:
We took a taxi to the hotel and it was very quick and cheap. The hotel was about 20 minutes away and I think the fare came out to about $18 USD. We checked in and dropped our bags -- we were informed that though we had a king bed requested there were none available so we would spend a night in a double room then they would move our bags to a king room for the final 2 nights.
We spent the evening walking around Disneytown which is about the size of Downtown Disney in CA, perhaps a bit smaller. The clothing shops were not too exciting and we were mostly interested in the food anyway. We discovered that most of the food places only accept a card you pre-load with cash -- no one would take straight cash or a credit card. Also, each transaction deducts a 10 yuan processing fee so it was a bit annoying. We ate at the food hall (dumplings, katsu, noodles) which was very good and very cheap. We returned to the room and went to sleep.
Hotel Thoughts:
The Disneyland Hotel was very nice but small in comparison to the other Flagship hotels around the world. Everyone was very nice and spoke enough English to help us around. I'm Chinese (but born in Texas and speak exactly 0 words of Chinese) and people would always start conversations with me in Chinese and I'd sheepishly reply "only English, sorry!". We ate at the quick service (Ballet Cafe) several times for quick pastries and drinks but the table service was really expensive for what it was ($45 USD breakfast) so we opted out. The rooms were very similar to the Disneyland Hotel in California and had the lovely Tinkerbell light up touch on the headboards which was a nice touch. The indoor Triton pool was really nice and empty and the grounds were very nice with lots of open green spaces.
Day 1:
We booked the hotel online but waited to arrive to buy tickets. When we did, we were given the option to choose an attraction day and time for a bonus fast pass. Roaring Rapids was closed for refurb so we opted for Tron on day 1 and Seven Dwarves on day 2. We were given plastic cards as tickets to sign and our pictures were taken to verify our identity. The park officially opened at 9:00 am but I had seen online that often guests were let in early. The first bus from the hotel left at 7:55 with buses arriving every 5 minutes so we got on around 8:15. We arrived at the Disneytown entrance around 8:30 and they were letting guests in to the park but holding them back right past the ticket entrance. I had read the they required passports for entry (which made me REALLY nervous holding our passports in the park all day) but were were NOT required to show our passports at the gate, just the tickets we had signed and received the day before. Also, I was nervous about the wifi as we did not purchase a VPN but we found that the park wifi was strong enough to support the app. The best way to get on the network is at the hotel and then auto-connecting in the park. If you connect just in the park it asked for a local number to send a wifi code to.
At about 8:40 they left everyone run free. There really weren't that many people in our hotel-only line, probably like 35 people. Most people banked left to Tron but we headed all the way over to the other side of the park for Soarin'. I hadn't planned on riding since it was the same as EPCOT but since we already had FPs for everything else, we figured why not. We crossed over (it was probably a good 15 minute walk) and stopped for a few pics. The general public was not let in yet so the park was totally empty. We were the 3rd people in line for Soarin and while the ride is exactly the same (except the ending is in Shanghai), there was also a different warning spiel. The ride takes place in a Mayan (technically "Arbori") temple so there's a weird mystic woman who can transform into animals that told us to keep our seatbelts on -- all in Chinese so it was fun trying to figure out what she was saying.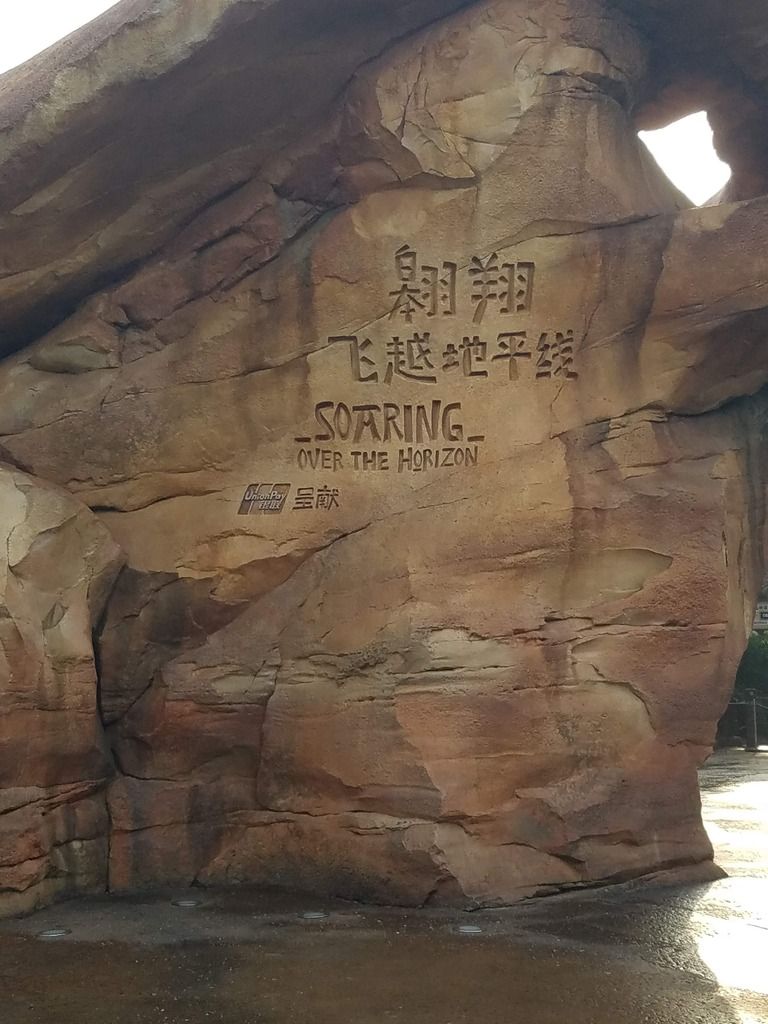 So when we got off the ride, it was about 9:05 and I was fully expecting the park to be swarmed with people -- well, it wasn't. Like at all. Spoiler for the rest of the day, it never got crowded. Maybe because it was a Tuesday, I'm not sure, but the park was extremely empty. We headed over to Pirates and walked on, no wait. It was amazing! It was like old school dark ride + newest tech. It was fantastic! After that we walked over to Peter Pan which we had a FP for (booked through the app). On the way, we saw that Seven Dwarves had a 5 minute wait so we decided to do it. Indeed, it was a 5 minute wait -- exactly the same as the FL version except the end (where the witch is outside the door) is removed and it's just a small dwarf hut instead.
We used our FP for Peter Pan (although standby was only 5 minutes). It was great as well. It updated the ride to include some new scenes and the ride mechanic was really smooth. I was surprised that the vehicle actually went quite fast and was even sort of thrilling.
We made our way over to Tron for our FP but, notice a trend?, the wait was only 5 minutes. And this was at about 10:00. We used the FP anyway and got on. The ride was amazing! It has a REALLY fast launch and then the inside "show" part of the ride was amazing as well. It takes a bit to get comfortable -- the first ride I was lying on my stomach and it didn't feel great -- but so much fun. We had run into some sizing issues in Japan so I was worried about Paul as he's 6'3 and on the larger side but he fit all rides (Shanghai and HK) no problem.
At this point we slowed down a bit but the park was still empty. Waits were mostly still 5-10 minutes but we decided to take a break and ate at Remy's (yummy insta-ready donut!).
We had accomplished all the headliners and it wasn't even noon yet. We decided just to walk around the park and take in the sights. I had heard about a passport you can buy and get stamped around the park. I'd highly recommend this as it gave us some purpose to our wandering. Especially since the park was so empty we found ourselves just walking around a lot.
We walked back through Toy Story Land but none of the rides seemed appealing -- the same off-the-shelf rides as Paris and HK. We did, however, stop for our first snacks, roasted corn with "weird stuff" on top (bacon, corn, spicy mayo) and Mickey Ice cream bar that was vanilla with chocolate ears.
We walked back through Fantasyland and rode Pooh's Honey Hunt (aka re-themed Tea Cups) which I was NOT thrilled about (I can't do spinning rides) but the theming was super cute. After that, we rode Pooh with a FP. This is the same Pooh as FL (not the amazing Japan version) but it filled some time. I quickly realized that we'd have a lot of time to do things one, twice or more and to do things that I had thought we'd skip because they were the same as other parks, hence us riding Pooh. Another thing we noticed was that about 50% of the smaller restaurants/kiosks were closed for the whole day. Many of the other larger restaurants didn't open until 11 or 12 and closed at 3.
We went to the Marvel building and met Black Widow. There's also a "Become Iron Man" experience that was just kind of a video game so we skipped it. I think at this point, we rode Tron again -- 5 minute wait. We stopped for another snack at Mickey and Pals on Mickey Ave. Seeing dumplings at a Disney quickserve was so neat!
We headed over to the Pirates stunt show, Captain Jack: Eye of the Storm. I had read mixed reviews but since we had time I wanted to check it out. This show was very language-dependent. The pre-show, which is actually half of the show, was a slap-sticky vaudeville act with a bunch of pirates and I had no clue what was happening. Once we got in the show building, there was a little more action but still very language dependent. The final set piece had Jack fighting a captain in floating hurricane that was neat but ultimately wished I had skipped the show.
By this time, we had a bit of time before the parade which I definitely wanted to see so we rode Pirates again (no wait). I tell ya, the ride just got better and better! The parade was set to start in about 40 minutes so we picked a spot and just sat and rested for it to begin. The weather was great, I had a light jacket and during the midday it was almost too warm but as the sun started to go down it was a little chilly. The parade was great -- Mickey's Magical? Express -- it was train themed and really cute. I liked the emphasis on Mulan -- she had her own float and dancers and everything.
The sun started setting on day 1, but the night was just beginning! Stay tuned for part 2!