Welcome to my trip report! First, let me introduce the cast of characters:
First, me. Self-proclaimed lover of the magic, Disney freak, Mom, hard working professional, animal lover:
Next comes DH. Great husband, Dad, home-body, enjoyer of golf, reluctant but mostly game Disney traveler (picture taken from our balcony at the BC):
Then there is my first born. kind, animal loving, thrill seeking, social, sometimes surly 11 year old: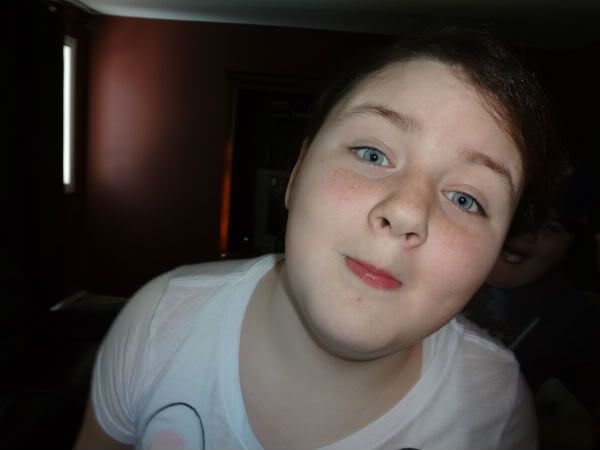 The youngest. Loving, funny, animal loving, heat and sunblock hating, (foreshadowing for the title of our trip report!) pool loving, kiddo :
I have been planning this trip for about 10 months, soon after we returned from our Cuba holiday last May. I have found that planning the Disney trip was a vacation in itself, and the Disboards were an incredible help. Big thanks go out to all the lovely, friendly folks on the Yacht and Beach Club FAQ thread. They are the most helpful, and funniest people the interwebs have the pleasure of hosting! The pics on page 1 of the thread convinced me from the beginning that the Beach Club was the place for us. I remember seeing the entrance to the resort when we drove by during our off site vacation in 2009, and thinking how lovely it looked. Seeing the pool clinched the deal for me! During a family get-together shortly afterwards, I mentioned our trip plans to DH's cousin and her husband, who expressed an interest in going at the same time. I pulled up the pictures and the deal was struck! I had booked a regular garden view room, but the cousins booked Club Level. I was thinking about them being able to go into the lounge, and our kids being excluded, and I thought that it would SUCK. So, I bit the bullet and upgraded to CL and started getting excited about that! Shortly thereafter, the cousins said that they switched their reservation to a one bedroom suite at the BC Villas. Once I got the idea in my head that we would have all the CL amenities, I couldn't back down so the search for a discounted rate began! We thought about spending the money on the Villas, but then we would have a kitchen, and dishes to wash, and who needs that on vacation??? LOL Plus our kids hate to sleep together and wouldn't be happy on a pullout for sure, so we didn't need the hassle. So, we stuck with our original reservations, and boy we were happy to do that, especially once we got the discount!
All my planning is in my pre-trip report, but to summarize, I planned many rest days in our 10 day trip, because the last trip we took, my DD asked every day, "Is today a rest day???" I got park tickets for all 10 days and didn't add the Waterpark and More option because I knew I could add it there if I wanted to, and I thought that Stormalong Bay was pretty close to being a waterpark anyway!
However, once we got there, I was completely shocked by my kids' reactions to being in Disney! More about that later... I also took great care with our ADRs, and made them for 8 so that both families could go. I had five early mornings planned: one for each of the parks, and one for Universal. All other days were scheduled rest days. But you know what everyone says about the best laid plans... LOL
Monday, April 30th, day before travel... Here are a couple of pictures that I took that morning on the way to work. Obviously we were SUPER HAPPY to be heading to Disney!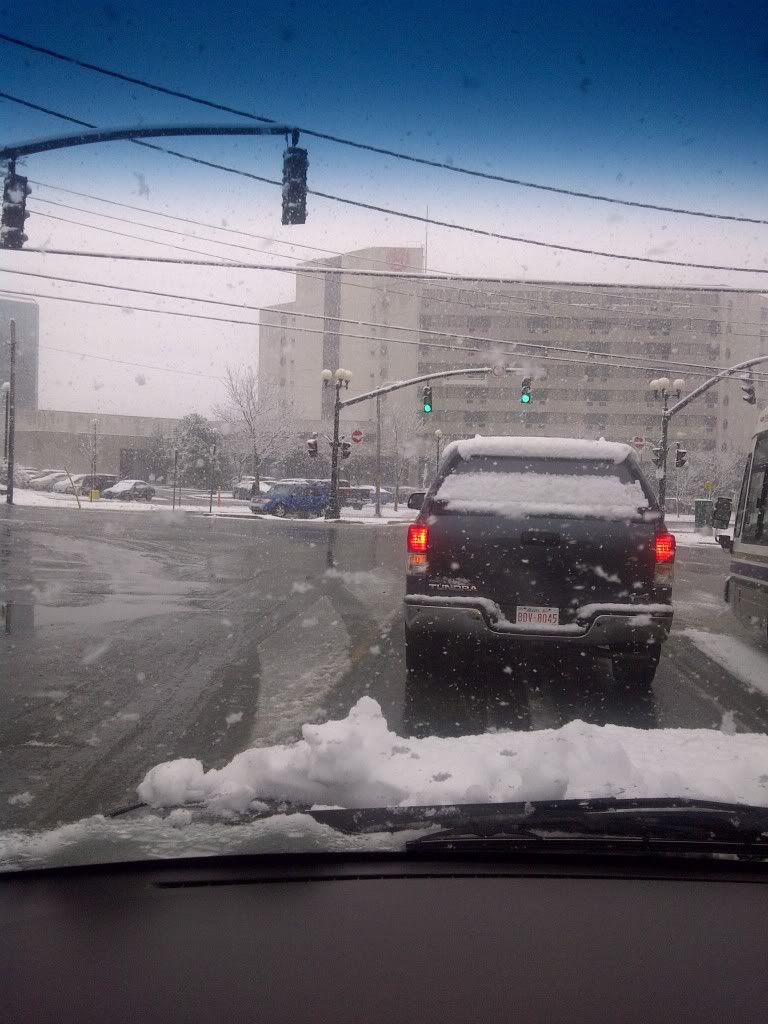 I took the day off so I could tidy the house, pack, and pick up some last minute items. Of course, I had to pop in to the office for "a minute" which turned into 3 hours. A coworker took me out for a nice lunch at noon and my phone rings - it's the school. It's DS, with the dreaded, "My throat hurts and I can't swallow." OMG. Ran from lunch, and called his doctor. His wonderful assistant just told me to come on in, and that someone in the practice would see him. We walked in, and walked straight in with a doctor. A quick glance, and we walked out with chewable antibiotics that we could take on the plane! DS's summary of the taste: first, dry cardboard, then wet cardboard, then strawberry. LOL Had to run the rest of my errands with DS in tow which slowed me down, but the trip was still on! DS told me that if it turned out that he couldn't go, he would stay with his grandmother and give his ticket to DD's BFF so we could still go and have fun. What a kid! Of course, I told DD and she thought about hiding his pills so that this plan would come to fruition. (She was just kidding. I think!!)
While we were getting ready, the kids started bickering a lot. I told them that if they fought through the trip, the next trip I'm planning was going to be with DH and myself. DS came to me later and told me that he and DD had spoken, and they both promised to not fight during the trip, because I had worked so hard to plan and pay for the trip, and I deserved a good holiday. Couldn't ask for anything more than that! It was a true Disney miracle.
We were up almost all night getting ready, and had to set the alarm for 3:20 a.m. to make our 6:00 a.m. flight. Very little sleep for all concerned! Oh well, we'll sleep on the plane. Not!
Next up: Travel Day and our happy arrival in the Disney Bubble!
Index to Posts:
Installment #2: Travel and Disney Bubble Arrival:
http://www.disboards.com/showpost.php?p=44926285&postcount=26
Installment #3: Day One, Part Two! Maelstrom, Teppan Edo, Soarin':
http://www.disboards.com/showpost.php?p=44926509&postcount=27
Plus Extra First Night Flower and Garden Pics:
http://www.disboards.com/showpost.php?p=44930609&postcount=37
Installment #4: Day Two, Part One! Disney Hollywood Studios and Weaponry Acquisition, plus Beaches and Cream and SAB:
http://www.disboards.com/showpost.php?p=44937693&postcount=48
Installment #5: Day Two, Part Two! Tutto familglia at Tutto Italia and Soarin' with the golf ball trick:
http://www.disboards.com/showpost.php?p=44945623&postcount=58
Installment #6: Day Three! Cape May Character Breakfast and our "No Rest" Rest Day at Typhoon Lagoon:
http://www.disboards.com/showpost.php?p=44957883&postcount=74
Installment #7: Day Four, Part One! Crystal Palace Breakfast, Magic Kingdom Day, with challenges for the uber planner:
http://www.disboards.com/showpost.php?p=44984853&postcount=88
Installment #8: Day Four, Part Two! Sunken Treasure by the Pool and EMH evening with DD at Epcot:
http://www.disboards.com/showpost.php?p=45004568&postcount=99
Installment #9: Day Five! Rest Day for Real, with 'Ohana and Wishes on the Poly Beach:
http://www.disboards.com/showpost.php?p=45020762&postcount=113
Installment #10: Day Six! Day on the Dark Side - Universal Rocks!
http://www.disboards.com/showpost.php?p=45035545&postcount=119
Installment #11: Day Seven, Part One! Animal Kingdom plus a moose sighting at home:
http://www.disboards.com/showpost.php?p=45073666&postcount=131
Installment #12: Day Seven, Part Two! Boma dinner and a rainy EMH at DHS with DD
http://www.disboards.com/showpost.php?p=45094975&postcount=143
Installment #13: Day Eight! Heat overload and Epcot Morning for some; SAB and Biergarten supper:
http://www.disboards.com/showpost.php?p=45132057&postcount=153
Installment #14: Day Nine! Sunstroke, DHS and Downtown Disney:
http://www.disboards.com/showpost.php?p=45153071&postcount=159
Installment #15: Day Ten, Part One! Solo AM EMH at MK:
http://www.disboards.com/showpost.php?p=45206715&postcount=174
Installment #16: Day Ten, Part Two! Magic Kingdom with the family, and a super special magical moment:
http://www.disboards.com/showpost.php?p=45243732&postcount=183
Installment #17: Day Ten, Part Three! Les Chefs de France and a crabby pants, and a huge scare at DHS:
http://www.disboards.com/showpost.php?p=45283851&postcount=196