Hi Everyone!!!
I am so excited to finally start my planning journal. Honestly, this wedding has been in the works for the past 14 months and I have finally passed our one year mark!!!
**Now that I have a few posts I will place links in here so you can jump ahead at your leisure:
Tentative Wedding Weekend plans
Wedding Colors/Dress Ideas/Venue
Photo/Video Choices and a Mini-Meltdown
Ceremony Music
Save The Dates
Photographer is Booked/Package Details
Disney On Ice Mini TR
Hunt for Just Married buttons and a stop in France
Wedding Dress Success!
Slight Change of plans...
E-Shoot Recap and Preliminary Budget
Engagement Shoot Sneak Peak
Revised Wedding schedule
Engagement Shoot Pictures
Wedding Registry Party at Crate & Barrel
Guestbook, Officiant, and other mini-updates
Sisterly Drama and I picked out my flowers!!
Less than 6 months to go!
Bridesmaid dresses, floral, cake, and other little things
Secret Honeymoon and other mini updates
Reception Lunch Menu picked!!!
Tuxedos for the boys, table signs for the guests, and Disney fun for me!
60 days to go and not enough time
WEDDING TRIP REPORT:
First up, Vendor Reviews!
Quick Recap of the weeks leading up the wedding
July 4th - Welcome Party Drama - EPCOT - Part 1
July 4th - Drinks, Drinks, and more Drinks - EPCOT - Part 2
July 4th - Beauty sleep?? I think NOT! - EPCOT - Part 3
A little back story first:
I'm Shana. Grad Student, Customer Service Rep, full-time goof-ball and Disney fanatic
. I am 24 years old and I just started grad school for a masters in psychology. I moved to Florida almost 6 years ago from Germany. My father was in the military and my mother is German so we moved back and forth a lot. Anywho, I have always loved Disney but didnt realize how much until I moved to the Disney Capital
I would say my favorite movie is Cinderella (which comes out on Blu-Ray on my birthday... Coincidence? I think not!) and my favorite characters include Remy, Woody (because thats my last name), Minnie and Daisy. The newest addition to my favorites is Merida, as I just saw BRAVE at the movies last night.
Sean is 29 and currently works as an Office Manager at a university. He is a gamer, Star Wars fan, and amateur foodie. He didn't really care for anything Disney until he met me. He said that he always thought Disney was strictly for kids but I showed him otherwise. Needless to say, he was the one who bought us our first set of annual passes and we go to Disney, at least, one a month.
How we met:
Simply put, online! I never really thought much of online dating but one day, I just decided to try it out. I tried eHarmony during one of their "free weekends" and didnt really think much would come of it. On the last day of the free weekend nothing had sprouted so i decided to give it an extended try and signed up for a one month membership. On my birthday, I had about a week left on the membership and I got a message from a guy that was, honestly, the opposite of anyone I had ever met or eve dated before but I was very intrigued. I didnt write back until the day after my birthday and from that point forward we couldnt stop talking. We spent the next week emailing back and forth. From there it went to Skyping, texts, and phone calls. After about 3 weeks of this we went on a date. We have not been apart since!!
By the end of our second month of dating we went on two mini-vacations together, by the end of the third month we said I LOVE YOU to each other, and by our 6 month dating anniversary he flew all the way to Germany with me to meet the rest of my family.
The proposal:
Being that the way we met wasn't traditional, neither was the proposal. We had talked about getting married before but just sort of in passing. We knew we would get married eventually but had no intent of doing so any time soon... or so I thought! It was two weeks before Valentines Day and I had been throwing hints at Sean that I would like jewelry (he always asks me exactly what I want because he thinks he is a bad gift giver and that I will not like what he gets). He asked me what kind of jewelry and I said "I don't know... be creative". After a day or so of back and forth I told him that, if he does get me jewelry, that I would like a necklace or a bracelet, since I didnt have a lot of those. Next think I knew was him asking me to get dressed on a Friday evening and that we were going somewhere. When I asked where, he said to the jewelry store since he was too overwhelmed with the choices and that I should show him the style I like. We arrived at Kay's about 45 minutes before they closed and were the only people in the store. As i was browsing for something big and sparkly
he pointed to a case and said "What about something like this?". He was pointing at the case with wedding bands and engagement rings and I looked at him and asked "You know what you are pointing at, right?". He laughed and said yes. All of the sales assistants (all ladies) were smiling and looking at me waiting for me to say something. Then... the unexpected! He took my hand and said "I know you wanted something special, something that you would have thats memorable and would last forever; you wanted me to be creative..." By this time i knew what was coming. He looked at the case of sparkling diamond engagement rings and asked me if I would marry him! Obviously, I said yes!!!
Now, remember when I said that he wanted me to go with him and show him what style of jewelry I liked best? That's right, he pointed at the case and said I can pick out any ring I wanted. I asked if he was kidding and he said he wasn't but I shouldnt go overboard
I picked out multiple rings and told him that these are rings I liked but he made the final decision.
The ring was ready to be picked up on Valentine's day where we went on an amazing dinner and then headed to the Magic Kingdom where he proposed in a more "traditional" way in front of the castle.
Valentines Day 2011, almost a year and a half after we started dating, I wore my engagement ring for the very first time.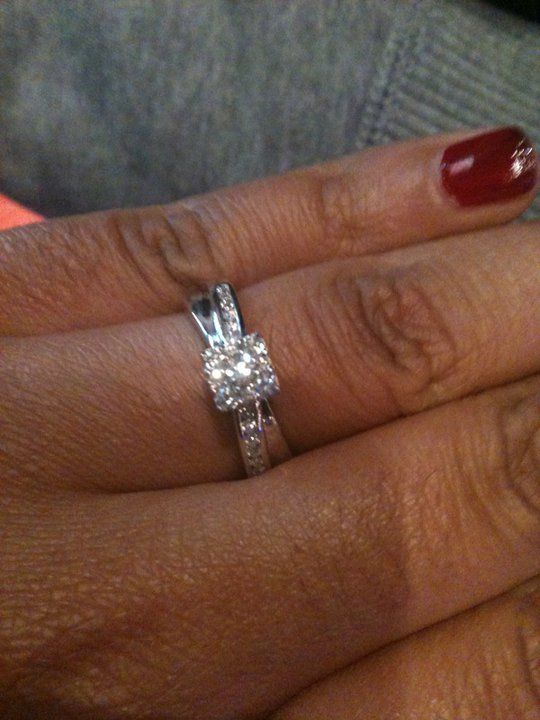 I know this isnt your typical engagement story but nothing about us is and I wouldnt have changed it for the world!
When we got engaged we initially set out to have a long engagement, but 2 months later we were in full blown wedding mode. At the time, we decided that we do not have a budget for a DFTW so we picked out a beautiful location at a country club, caterer, and photographer for a spring 2012 wedding. About 4 months later, we unexpectedly had to move as Sean had to change jobs and buy a new car, which depleted a lot of the wedding fund. Luckily, we had not yet sent out invitations, as we just decided to put the wedding on hold. Now, here we are a little over a year later planning the wedding we knew we wanted all along: a Disney wedding! I think having to "redo" the wedding a year later made me realize what I really wanted and what I didnt.
As we still didnt really have a DFTW budget we decided to go with a Swan and Dolphin wedding and I could not be happier. Sean never really chimes in when it comes to the wedding but he is ecstatic that we are having it at the Swan, as he feels like Disney is such a big part of our relationship.
Our date is 7/5/2013 at 4:00pm... LET THE PLANNING BEGIN!