Tuesday, 09.09.2008
And we're off … 12:40 pm boarded our flight from Sarasota to Atlanta without a hitch.
4 hour layover in Atlanta; time was well spent in Delta Crown Lounge.
7:30 pm settled in our seats for a long 9 hour 40 minute flight to Rome, Italy. Movie was Leatherheads which I thought was a boring movie but George Clooney was easy on the eyes for the late night flight.
Wednesday, 09.10.2008
Arrived in Rome, Italy around 11:30 am Rome time. Passport process no problem, the woman didn't even look at us, just stamped our books.
Went to baggage claim and waited and waited and waited. Oh, yea, we're in Italy now, just go with the flow.
An ABD rep, Daniel, was in the baggage claim area to greet us and loaded us in a black Mercedes van. For the drive from the airport to the Bernini Hotel I could have sworn we were on Space Mountain, luckily there were no inverted loops. There are lane lines painted on the roads but I have no idea what part they play in the overall driving experience in Rome. One big road with cars, trucks, vespas, bicycles sharing all of it at once. Incredible. I did open my eyes occasionally to see the sites. Seriously, I tried to look everywhere. The terrain, that part not covered by industry, was hilly with brown, dry vegetation. It looked just like Napa CA in the summer. Zoom, we past the decaying walls of the Coliseum, chills. Arrive at the Bernini in one piece but a little keyed up from the roller coaster ride.
We booked one pre-night stay via ABD. Check in was effortless. Signed some papers, received our keycards and away we went to room 220. Good room with a patio outside. Bathroom was adequate, large tub with removable hand-held shower head. No storage space in bathroom. Toilet leaked (near the floor) sometimes when being flushed. Again, go with the flow, it's an old building; it wasn't a monumental problem for us so we just lived with it. I thought the hotel room was a little pricey for the condition of the room but I eventually found out that's the way it is in any major tourist city in Europe.
All my electronic devices; phone charger, camera battery charger, curling iron, clothes iron, iPod stereo did fine with just an adapter. No converter was needed because they all were equipped with a range of voltage.
Unpacked, hit the local ATM (2 are very close to the hotel) and proceeded to try a local pizzeria for late lunch, early dinner; Pepe's, out the front door and diagonally left from the hotel. Good pizza, better wine and friendly staff that spoke English. Did not take credit cards but we asked first so we didn't have a problem with it. Most of the sidewalk pizzerias are open-air holes in the wall and there are many of them. Walk-in, grab a table and wait. Eventually a waiter will take your order, serve you and then let you slowly enjoy your meal. Even though the place is buzzing and the streets are humming they will not rush you for the table turnover. After about an hour, we asked for our check and proceeded to walk the streets of Rome close to the hotel. Found the Hard Rock Café, the American Embassy, other restaurants and hotels. Did stumble upon a museum the
Palazzo Barberini
and went in for a look see. The Hotel Bernini is located in the Piazza Barberini and the museum is quite near, around to the left and up the hill. It set the mood for what was about to be a remarkable whirlwind tour of Rome.
We weren't really hungry yet but had a little more vino rosso in the hotel lounge later that evening and then hit the bed by 8 pm. We had been awake since 6 am the day before, about 34 hours with only brief cat-naps on the plane.
All in all a long day but a problem-free start to our holiday in Italy.
Thursday, 09.11.2008
We had the day to ourselves until the Welcome reception and dinner at 5:30 pm.
Breakfast was included in the pre-night stay booked with ABD. The Bernini's breakfast dining room is very nice and the buffet was quite extensive: juices, fruit (like canned fruit in syrup) or fresh, yogurts, cereals, breads, pastries, scrambled eggs, hot sausage, cold Italian sausages and prosciutto (deli meats), cheeses and a never ending supply of coffee. Best of all they had Nutella at the breakfast buffet for my toast!
After breakfast we ambled down to the hotel lobby to see if anyone from Disney was around. There we met fellow adventurers Mary Ann and Fred from Clifton Park New York. I had 'cyberly' met Fred previously on the Disboards forum so I knew that we'd be on the trip together and both arriving a day early. They were waiting for a Disney Adventure Guide to bring them some clothes and toiletries because unfortunately the Conley's baggage was still in Philadelphia. They returned to their room and we then met Mandrake (pronounced with a short a, like a reggae sounding 'man' ; dra, roll that drr followed by short a ; key) Gregori. He welcomed us and gave us a map and free bus passes for a bus tour of Rome. We chose not to do that adventure.
When Fred and Mary Ann came back to the lobby we discussed doing the
Ostia Antica
site together and without further ado we were off for our first solo (non-guided) adventure. We had a wonderful day and enjoyed the archeological site. Ken was a little uneasy in the Metro (subway) but he survived and was glad he made the effort. Ken isn't really claustrophobic but really dislikes having strangers close and crowding/pushing him – a given on a crowded subway. The site is located outside of Rome a subway and train ride away. Cost 1 euro each way per person. It was a warm sunny day and we walked only about half the ruins because of time restrictions. We still had the train/subway ride back to Rome and then we needed to get ready for the Welcome Reception and Dinner.
We gathered in the hallway outside the breakfast room on the mezzanine level or maybe 1st floor of the hotel. Prosecco was being served and all of the new adventurers were gathering. The guides, Vinnie (Vincenzo) and Mandrake (Marco Mandrake) introduced themselves, outlined tomorrows events and we proceeded to the dining room for an introduction to everyone and our first 'together' meal. The food was adequate and the wine never stopped … a good combination. One person from every couple/group stood and told why they chose the Viva Italia tour. It was a good start to a great holiday.
Friday, 09.12.2008
Today was the first time we heard "Adventurers, Andiamo!" and I still hear it in my sleep! It was the 'battle cry' for the entire week of the Italian Blitz.
Coliseum, Forum, (morning) Spanish Steps and Trevi Fountain (afternoon) all in one day.
Definitely not adequate but we touched on all of them with the most time being spent at the Coliseum. Our local guide was Louisa. We all have these Whisper Radio Receivers hanging on our neck with an earphone while the guide describes the historical significance of the different monuments and artifacts. It is a good system if the equipment is working because you can gawk and wander yet still hear the explanation of various items.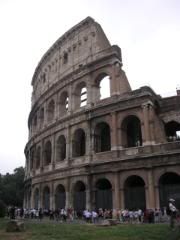 We had lunch together at Re Degli Amici. 4 different pizzas at each table of 6, 1 slice of each pizza per person. Very tasty. I found that the Italian pizza has very light dough which yields a thinner crust. We had burned quite a ew calories walking so the carbs were a welcome lunch. On to the Spanish Steps, Trevi Fountain, a tasty gelato treat as a group and then the rest of the day and evening was our own.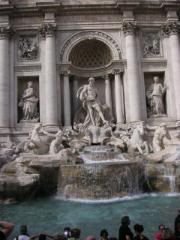 We joined two other couples for dinner at
Peperone's
. The restaurant is just up the Via Veneto from the Bernini Hotel. We sat in the glass enclosed 'sun' room on the street instead of going into the restaurant. I ordered the evening's special of Sea Bass. It came Italian style, bones and all. The maître de kindly offered to take it to the side board and 'prepare' it for me. All was good after that.
We were treated to a spectacular thunder storm during dinner. It really was kind of exciting seeing the lightning while sitting in the glass house. The rain came to a drizzle and we made the 10 minute walk back to the hotel without much ado.
Ken and I went up to the hotel's rooftop terrace for some piano music and vino russo. Flavio, the piano player, asked for requests and we stayed up there for about 2 hours. It was empty. A lovely evening to end a whirlwind day.
Saturday, 09.13.2008
Breakfast started at 7 am and we left for the Vatican at 7:30, at our leisure of course
.
Today's schedule included the Vatican Museum, the Sistine Chapel, St. Peter's Basilica, and the Square. The Pope was in France so we knew Disney hadn't scheduled a visit with Benedict.
We woke to an overcast day with the threat of rain. Tour groups go in a side entry and although we had Disney 'Fast Passes' it was still a slow go to get in the building. It was very crowded maybe because it was a Saturday or because some big cruise ships (their excursions) were in town. The artwork collection is huge and I know we didn't even see a quarter of it. The Sistine Chapel is a shell of a building with Michelangelo's ceiling masterpiece the main attraction. The Vatican guards are very serious about silence and no pictures being taken in the chapel. I tried to feel the spirituality of the chapel but just couldn't reach it. It is a museum now and nothing more (for me), although the Pope does hold services in there for special occasions. St. Peter's Basilica is absolutely beautiful and humongous; so much history. The Pieta was the main attraction for me in this building. I wanted just to stand there and stare at the artistry of the carving, lines, smoothness, facial features, sadness, etc.
A side personal commentary: the Catholic Church organization through history has been governed by men seeking wealth and power but, I believe after seeing Vatican City, if it wasn't for the Roman Catholic Church the world would be deprived of some monumental works of history and art. True, creative geniuses will always find a way to showcase their works but the Church has kept the art preserved and alive through the centuries.
We gathered on the square for the usual group photo shot and then had the rest of the afternoon to ourselves.
Ken and I headed for the Via del Corso area for lunch and the 'shops'. We ate at
Vitti's
in the Piazza Lorenzo. Tables outside and in, many locals were eating there so we figured it must be good. We enjoyed our meal although we just ordered salads, coffee and a bit of chocolate.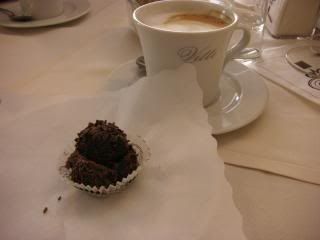 We did shop and shop but it got to be a bit overwhelming. So many things to look at and so many little alleys to meander. All the big name designers were on the Via del Corso. I enjoyed ducking into the local shops and just enjoying the hubbub of Roman streets. We were back at the hotel by 5:30 to get ready for our group dinner at Mariano's that evening. Bus departed at 6:30. None of the group meals in Rome were particularly 'foodie' note worthy. Good food just not fantastic. We had a good time and our hostess was charming and tried to please us all.
Our guides then gave us the option of going back to the hotel or following them for a surprise. I won't go into this since I really don't know if it is a surprise for all groups and I wouldn't want to spoil it for anyone. I would think it was a surprise for adult only tour groups but you never know.
Luggage pick-up was at 7 am the next morning so we went back to the room about 11 pm and started the chore of packing up.
The days in Rome were jammed packed and over way too fast.
ps: I am a point and shoot picture taker not a photographer. Thankfully our guides were taking better photographs.
More pictures of entire trip.
Viva Italia '08