Retired and going to Disney.
Recommendations or experiences for a light-weight, portable, wheelchair ramp to use for rental car or SUV?
I own a Fold and Go Heavy-Duty Wheelchair that weighs 55-lbs.
I don't own a car and I will rent a rental car when not flying to my destination like WDW.
I can deadlift my Fold and Go Heavy-Duty Wheelchair when folded into the rear of a rental SUV halfway into the rear until it tilts inward. Then with the front two wheels down, it is lighter to lift and push it the rest of the way in.
When all four wheels are touching the rear of the SUV flooring, I can just push and roll it in the rest of the way and lock the wheels when done.
It is much easier to remove using gravity as my friend.
But I can't do that with my upcoming two-week vacation to see the Fall leaves in the Smokey Mountains and Blue Ridge Parkway.
Five weeks ago today, I was vacationing in Kissimmee, Florida timeshare condo after a mandatory evacuation from Daytona Beach, Florida. I slipped and I hit the tile floor after a shower very hard landing my full weight on my dominant left hand.
I treated my severe wrist sprain in hopes it would get better to visit WDW.
After two weeks, I reluctantly drove back home in Atlanta.
It was not easy. It took a very long time. I rested at almost every rest stop.
A couple of days ago, I gave in and visited an urgent care center to find out why I still couldn't rotate my wrist normally after five weeks.
I was worried that I had more than a severe sprain. I worried about torn ligaments.
The urgent care center physician said I had broken my radial bone, but the x-rays couldn't show ligament or tendon tears.
So, next Wednesday, I have an appointment with a specialist to check to see if I have torn ligaments or torn tendons or broken bone complications that are still keeping me in pain when picking up things or turning my wrist a certain way.
Okay, I'll stop my pity party.
I'm glad I can use the local rail and bus system to get to the medical office.
Since I need two hands to lift my 55-lb. Fold and Go Heavy-Duty Wheelchair, I am Googling lightweight, portable wheelchair ramps.
I wish I could find a lighter weight ramp the size of my wheels.
I saw this ramp for special tricycles, but it either needs a car hitch or a heavy steel ramp holder.
Easy Load Ramp System (ELRS) providing unencumbered, safe loading and unloading wheelchair to and from a transporting vehicle for persons with limited mobility as well as those persons of able body.
http://www.easyloadrampsystem.com/Products.html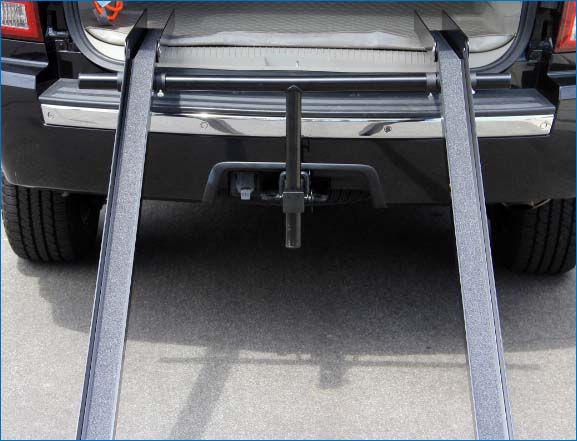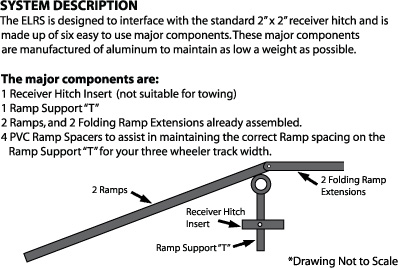 I also saw this hand made ramp, but it looks too bulky for me to put together with my non-dominant right hand.
This video no longer makes this ramp which I really liked. It was light enough and sized for a lightweight wheelchair like mine.
It would be nice if I could find two ramps the size of my wheels that could fold together or slide together with some kind of a bar to tether to the rental SUV protruding lock latch to keep it from sliding out.
The ramp could be heavy-weight plastic or light-weight metal.
I was thinking o sawing a pipe in half. Then the wheels would always follow the curve. I don't know how it would fold for storage or how to connect the two ends to hold the 55-lbs.
Anyway, anyone with ramp experiences loading an unoccupied wheelchair into an SUV or even a car trunk?
I hate missing going to the Smoky Mountains to see the Fall colors and explore Tennessee, North Carolina,
South Carolina, and Georgia Mountain driving around.
And I'm tired of typing with one hand and afraid of slipping or falling down and many other issues I can't talk about.
If I can't find one above, I may buy this one below, but I want a smaller width for my smaller wheels.
Ruedamann 8' Adjustable Portable Aluminum Wheelchair Ramp,Telescoping
1.Size: 8 ft
2.Product size : L8' x W8.3" x H2"
3.Folding size: L53.9'' x W8.3'' x H2''
4.Product net weight: 23.1 lbs
Non-skid holes surface
Non-skid holes surface design on the wheelchair ramp,can be kept outside and exposed to bad weather.
Stainless steel lock&Anti-skid pad
Stainless steel lock on the sides secure the wheelchair ramp firmly.
The anti-skid pad at the bottom of the wheelchair ramp which can effectively prevent skid.
.
Last edited: