Our WDW adventures and "Magical" Happy Halloween Double Dip Cruise. October 2008: Pre-trip Report - 84 Days to go!
I have debated long and hard about whether to write a pre-trip report, or any trip report for that matter, as I constantly wonder who in their right minds would want to wile away their precious hours reading my endless waffle, but then I realised that having spent so many happy hours (days, and probably even weeks) reading all the wonderful trip reports posted on the DIS, I should really make the effort to reciprocate. It is possible that the endless waffle I write may ultimately be of interest and amusement to some, and may even be useful to other first time cruisers, travellers from the UK, bored individuals with too much time on their hands and insomniacs. I have myself learned so many invaluable tips and gained so much advice from reading the trip reports of others. If nothing else I can use it to create a record of my planning and preparations, not to mention my headaches, stresses and strains, trials and tribulations and total downright panics (and believe me there will be many) during the countdown to our departure date.
Before I start this endless waffle, which as I mentioned earlier some readers may find is a marvellous cure for insomnia (along the lines of "start reading this and find yourself falling asleep in seconds"), I suppose it makes sense to introduce the crazy crew who you will be sailing with and give you some details of the trip.
We are a family of 6 from Wales in the UK:
Firstly there is myself,
Sarah, aged 43
(yikes), midwife, mother and total Disney nut. I love everything Disney, but have a particular obsession with Pirates of the Caribbean (both the rides and the movies). I collect Disney Pins, mainly POTC related, and I only ride indoor coasters!
The other crew members are:
DH Tony, aged 45
– extreme coaster freak, Disney addict, can eat for the UK and loves American sized portions.
Sarah and Tony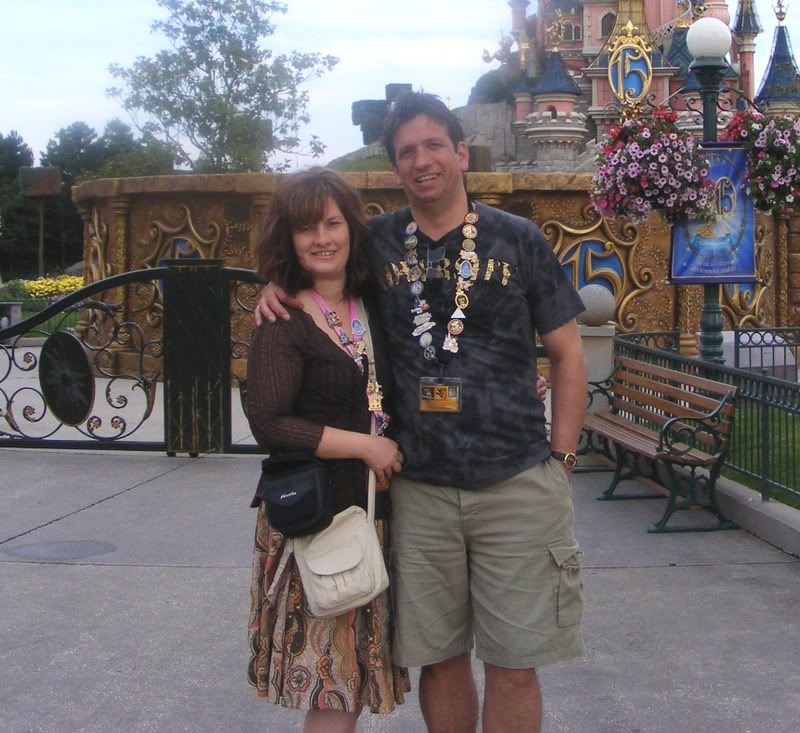 and our 4 wonderful kids:
DD 1 Taryn, aged 17
– Disney and Tim Burton addict. Loves movies, musical theatre, drama, writing and art. Loves any excuse to dress up, especially Halloween. Doesn't do extreme rides.
DD 2 Louise, aged 17
– another Disney addict, favourite character Princess Jasmine!
DS 1 Daniel, aged 14
. Self confessed computer geek and YouTube movie maker. Nintendo player and Tim Burton fan! Doesn't like heights. Loves Disney but won't admit it to his school mates ("MUM, please don't play that Disney CD in the car if my mates get in!)
DS 2 Stephen, aged 18
(will be 19 ATOC) Loves extreme coasters and theme parks, and Arsenal Football Club.
Left to right as you look at this photo we have Tony (DH), Daniel (DS, now 14), Taryn (DD, now 17), Louise (DSD now 17) and Stephen (DSS, now 18)
This will be my 6th Florida trip, 4th Orlando trip and 11th Disney trip, if you include our many trips to Disneyland Paris.
So now down to the very important details re. when and where:
The Trip
:
October 18th – October 25th : A wonderful 6 days in Orlando, visiting WDW.
October 25th – November 1st : "Halloween on the High Seas" Double Dip Cruise on the Disney Magic - our first Disney Cruise.
November 1st – November 3rd : Back to Orlando - shopping and relaxing before flying home.
As I write this first intallment we are exactly 84 days from our date of departure, and the excitement (and the panic) is really starting to build ......