It takes faith, trust & pixie dust!
This is more of a Northwest Trip Report, but with the Wonder being in Seattle this summer, I thought others might be interested in my non-cruise trip to Seattle.
We are very blessed to have wonderful neighbors that we have become very good friends with. In fact, we have taken all of our Disney cruises with them and several trips to Disneyland.
My DN and I regularly walk around our neighborhood for exercise and to talk about our day's trials and tribulations with our daughters/husbands/family/work, etc. We both have special medical needs children who require a lot of our time. During one of our walks one night, DN brought up the idea of getting away for a girls only trip. The idea sounded very intriguing. As time went on the subject was brought up again in February. My DD was going away to Diabetes Camp for a week in June and DN's oldest daughter would be home for summer from college to help care for her other daughter. The timing seemed right. DN's husband had free miles on AA that would be expiring before he could use them, so he offered them to us. It was decided that we both wanted to go to Victoria BC to see the garden. So, our Girls Escape to Seattle was born.
Our plan was to fly very early into Seattle (2 and a half hour flight from Phoenix) and spend Tuesday in the city. We then made reservations for a Victoria Clipper cruise package to Victoria BC with a city tour and Butchart Garden for Wednesday. We would spend another day in Seattle on Thursday and head home in the early evening.
Day 1 - Free at last!
Tuesday, June 12, 2012
Seattle
Don't get me wrong. We love our husbands
and our children
very much, but we were looking forward to a few days of worry free vacation from our everyday challenges. Let the fun begin!
We had a 6:10 AM flight out of Phoenix Sky Harbor Airport, which meant that we had to leave our houses at about 4:30 AM in order to make our flight. We left on time, found a spot in the parking garage next to Terminal 2, checked in for our boarding passes, waited for security, found our gate, loaded the plane and we were off on our adventure.
We decided that while we wouldn't' go "cheap," we weren't going to "blow the wad" either. So, instead of booking a shuttle from the airport or renting a car, we took advantage of Seattle's mass transit system and rode the light rail train from the airport to Westlake Center. From there, we hopped on the monorail and rode it to Seattle Center which was very near our hotel. We stayed at the Best Western Plus Executive Inn. It was a nice hotel very close to the Space Needle and Port 69, where we were to catch the Clipper to Victoria.
When we arrived at the hotel, we checked our bags with the front desk and went exploring. We started by walking down to Port 69 and checking in for our Victoria Clipper cruise and got our boarding passes.
Our first glimpse of the Space Needle.
We passed the Olympic Sculture Garden on our way to the pier.
We then proceeded to walk along the waterfront. Since we got such an early start, we were kind of hungry for lunch so we decided to eat at Anthony's Bell Street Diner. I had the New England Clam Chowder in a sour dough bread bowl with a Caesar salad. The chowder was very good and the bread was even better. While it was overcast and gloomy when we arrived it wasn't raining. However, it did rain quite heavily for a few minutes while we were eating lunch.
After lunch it was just "misting" a little so we walked down towards the Aquarium. We passed the new ferris wheel, but it was not opened yet.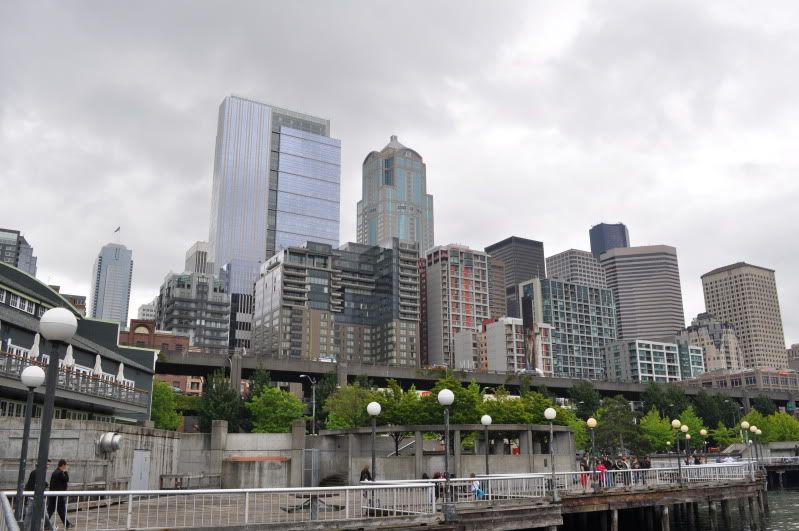 We purchased Seattle CityPASSes which got us admission to several things we wanted to see, including the Aquarium. I have been to some big aquariums before: National, Monterey, South Carolina, and Aquarium of the Pacific. I have to say that the Seattle Aquarium was very nice. I saw some specimens of anemones that I hadn't seen before as well as some fish that are native to the Northwest Pacific coast. We especially enjoyed watching the otters try to crack their abalone shells against the side of their tank.
After the Aquarium we walked further down the water front to the Ye Olde Curiosity Shoppe. We didn't find anything too interesting there and decided to head towards Pioneer Square. Pioneer Square was very picturesque.
One of the tours we wanted to take was the Underground Tour. I was a little skeptical because I thought it was going to be about haunted corridors underground, but in reality, it was a very entertaining and interesting tour of how Seattle was built and how the tunnels actually came to be and why. It was fascinating. I highly recommend this tour to anybody visiting Seattle.
After the Underground Tour it was getting towards late afternoon so we decided to check out Pikes Place Market. It was around 5:00 by the time we got there so most of the vendors were getting ready to close their stalls. We did see the fresh sea food that was available, but didn't see any fish throwing. We also saw the beautiful flowers available for very reasonable prices. I wish there would have been a way to bring them home with me.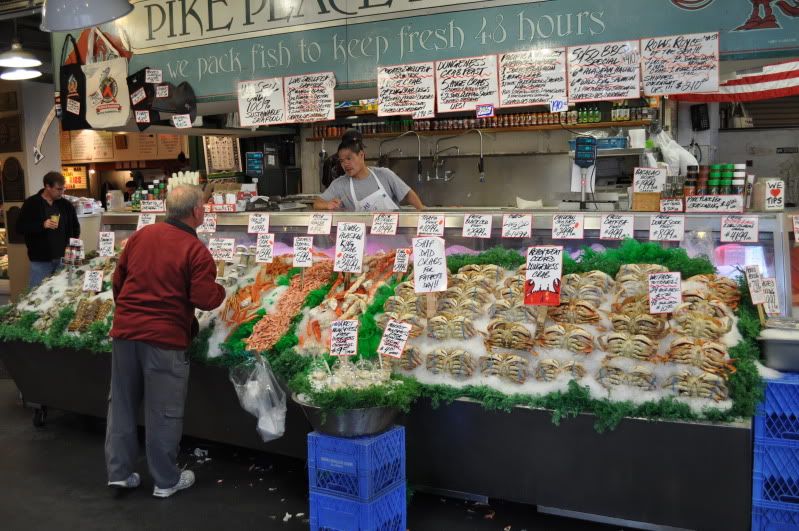 We then headed to dinner. On our way we passed a French bakery, so we popped in and got some chocolate filled croissants for breakfast the next morning and a panier to eat then. The clerk at our hotel recommended Local 360 as a great place to eat. He was right! This restaurant procures all of their products from sources within 360 miles of Seattle. DN had a rabbit gratin that she said was very good and I had a hamburger that was one of the best I've ever eaten, and their fries were amazing. We were very happy with our decision to eat there. Again, if you're in Seattle, I highly recommend this place.