<font color=green>I would have gone down to recept
Well, here it is at long last! My first WDW pre-trip report.
I thought I would start writing it when I got to
9 months
to go, as this is a time-frame I can get my head around
The Cast:
Me - Juliette, 41 year old mother of 3, part-time teacher and Disney fanatic.
DH - Kev, 42 likes Disney but doesn't
love
Disney iykwim.
DD - Olivia, 12
DD - Jessica, 8 (nearly)
DD - Emilia, 4
My 3 Princesses at DLP, The Disneyland Hotel 2009: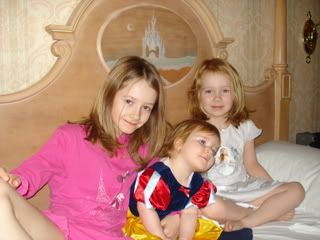 How it all started...
I wanted to take each of my children to Disneyland when they were 4 or 5 years of age. We went to DLP in 2005 and then again in 2009. When were were ready to leave, my eldest started crying, saying she didn't want to go home. I promised her then that I would take her to Disney again and started making plans for the next visit when Emilia would be 5 - 2012.
I started saving and plotting and researching...and decided that we would go to WDW instead of DLP!

The 'Trip' so far...
Booked:
29th Oct - 12th Nov
Flights with Virgin from Manchester
OKW, I bed villa
14 day Ultimates
Free DDP
Total Price £5750
Still to organise:
ADR's
(Cinder's Mum booking these)
MNSSHP
(booked for Friday 2nd November £303)
MVMCP
(booked for Friday 9th November $303)
BBB
(Booked 'middle' package for two youngest on 7th Nov at 9.50am at MK £68)
Touring Plans
(subscribed cost £6)
Photopass
(Now done £62, then cancelled, refund processed and now prepaid for photopass and photobook $149.99
)
Haunted Carriage Ride
New suitcases
(friend has said I can borrow hers)
Manchester Hotel, possibly Premier Inn
(Booked 2 rooms at the Premier in Ft for £64)
ESTA's
(done on 13th Aug, $14 per person)
Passports for Olivia and Jessica
(posted on 20/07/12, cost £98)
Insurance
(Nationwide cover £120)
Garden Grocer order
(no longer doing this)
Get Nationwide credit card for 0% commission/charges
(done)
Book Magical Express
Car Hire
(£200)
We have been saving £2 coins since the Summer of 2009, so hopefully that will take care of 'spends'.
(COUNTED AND VERIFIED ON 27/05, TOTAL £1280)
I really can't wait to go, it will be the trip of a lifetime for us. I have to also say a big THANK YOU to the Dis members who have answered all of my silly questions - you know who you are.

And the best of it?
The kids have NO IDEA we are going.
Anyway, that's it for now. I will update as I get things sorted.
Thank you for reading. xxx
Juliette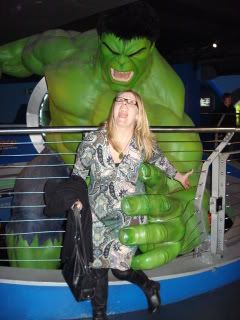 Just a quick update:
The total cost was just under £7500
This included: flights, accommodation, free ddp, tickets, MNSSHP, MVMCP, BBB, Premier Inn, insurance, car hire, photopass and photobook, ESTA's, passports, all tips, spending money.