Hi all!
I've disappeared a bit from the DIs in the past few months: after they opened up registration for APs for Star Wars land preview and I got that booked, I got busy with work and then the trip happened, then my husband and I went to Germany/London to visit family and celebrate my birthday, then we got back and my work continues to be busy and my husband started a new job and basically, life is insane.
But I wanted to write up my trip report, cause it was a great trip--especially Star Wars land!


Updates to this report may be a bit less frequent than my other reports, but hopefully still enjoyable.
And now that I've got a little bit more time, I'm hoping I can catch up on all your TRs that I've missed!

So...without further ado: MNSSHP, Star Wars Land, and a LOT of SotMK - An Aug 2019 Trip Report!

First up, introductions!

I'm Tiffany. Just turned 32, and while I'm a librarian by education, I currently do federal records management, since records management is where the pay is, and I gotta pay for Disney! Favorite princess is Sleeping Beauty, but I also love Mary Poppins and Beauty and the Beast and Rapunzel. Favorite ride: uh...how can I pick just one? Haunted Mansion, Slinky, Millenium Falcon, Flight of Passage (if I didn't have to do the pre-show every time), Tower of Terror...so many! I love the theming at Disney--it just makes me happy.


Also with me on this trip (for the first two days): my husband Trevor! He's 33. He loves Star Wars, but has grown to love Disney--his favorite characters are Boba Fett, Vader and Stormtroopers, and on the non-Star Wars side, Grumpy. His favorite rides are Haunted Mansion and Star Tours--he doesn't really like coasters or thrill rides, but I did get him to try Big Thunder Mountain and Space Mountain and I don't know that he'd call them favorites, but he definitely likes them. I think the only rides he won't ride at Disney are Everest and Rockin Roller Coaster and most of the time Tower of Terror. And I don't mind riding solo, and he doesn't have any problem entertaining himself, so it works out really well.


(it's blurry, but otherwise, this picture is a great snapshot of his personality--exuberance about fire, grumpy t-shirt...
You'll get lots of non-blurry pictures of him later)


ANYWAYS. Backstory for this trip, 'cause I'm always interested in how people decide to go. For our big trip last September, we'd bought me an Annual Pass, and it didn't expire until Sept 14th. I did one trip this February with my Mom, so I'd definitely gotten my money's worth, but I wanted to go again on a solo trip before the pass expired. But Trevor and I decided it wouldn't really be wise (from a financial standpoint) for me to go again--like, we have the money but it had been earmarked for other things and it's not like anyone needs to go to Disneyworld three times in a 12 month period, right? Right. So I'd resigned myself to be responsible.

And then they announced Star Wars land previews for annual passholders.



How do I not go after that!?

I joined the thread here on the Dis that was stalking the registration page and managed to get myself registered for the Monday, 5 pm slot.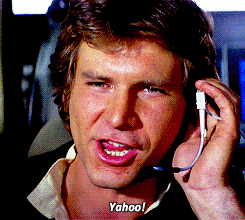 I figured that way I'd only overlap with one other group (the 3 to 7 pm group) AND get to see Star Wars land at night (stay tuned to see how THAT worked out).

Trevor, being the awesome husband that he is, and more importantly, the big Star Wars fan that he is, insisted that I go. To be fair, it didn't take all that much insisting. I stalked Priceline and got a blind express deal at All Star Movies for $83 a night wtih tax, but only if I stayed for 6 nights. Well, if you insist! I also had enough airline points to cover one flight, so buying the other flight only cost me $95. Lookit me, being all budget-conscious. LOL HAHAHAHA that didn't last long. I would head down early early Friday morning, and leave Thursday afternoon.

Trevor was not an annual passholder, so he couldn't come with me to the preview. I did try--I called and asked if we bought him a pass if I'd be able to add him to my reservation and have him come with me, but they said no.
We were a little wary of paying what, $1100 or so for a pass just for the preview? But since they said no it was a moot point anyways. But then out of the blue Trevor was like "hey, I could take Friday off work and come down with you for the weekend!" Which was more than slightly unexpected for my "I mean, I like Disney, it's fine..." husband, but more than welcome! I love doing Disney with him.

Trevor couldn't miss more than one day of work, so we had to book him a flight back early Sunday morning (the other flights on Sunday were RIDICULOUSLY expensive). And he didn't have an annual pass, so the next step was to figure out his tickets. Luckily, that first Friday was the very first Mickey's Not So Scary Halloween Party! I was originally planning to go to the second one, on Tuesday (if I went at all, though honestly, of course I was going to go), but with Trevor only coming Friday and Saturday, we decided Friday, even with it being the first party, would be a better bet, cause then Trevor could get in at 4 pm (or 2, if we found a friendly DVC member) and we wouldn't need to buy a full day ticket. Then for Saturday, we decided to buy an "after-5 pm" convention ticket and spend the early part of the day sleeping in, enjoying Disney Springs, and maybe exploring a resort or two.

Huzzah! I spent the next 2 weeks (since that's really all we had!) figuring out my plans and trying to snag fastpasses. I was checking the app CONSTANTLY, and had lots of reservation finders going for ADRs. Lots of excitement.
And before I knew it, my alarm was going off at 3:40 am, and I was turning to Trevor saying "can we go to Disney today?" and he was saying "yes!"