Welcome to my trip report! I'll be using this report to tell you of the fantastic trip we had to WDW, sharing as many pictures as possible (fair warning – I'm not a photographer.)
To give you some background…
We are a Canadian family of three – Mom, Dad and Teenager. My husband and I both visited WDW once as children, and I had the good fortune to go to a conference at CSR in 2010. As a family, this is our fourth trip to WDW. You can read about my last two trips by following the trip report links in my
signature.
My husband and I love WL and my son loves CR, but for this trip we decided we wanted to be near Epcot so we chose the Yacht Club. We also chose to stay Club Level because we stayed CL for our last two trips and as they say, once you go CL you can't go back.
I don't have a good picture of myself from this trip (some bad ones may surface later in this report), so here is a picture taken at the airport waiting for our 2010 trip to begin. The excitement you see pretty much sums up how I feel about Disney.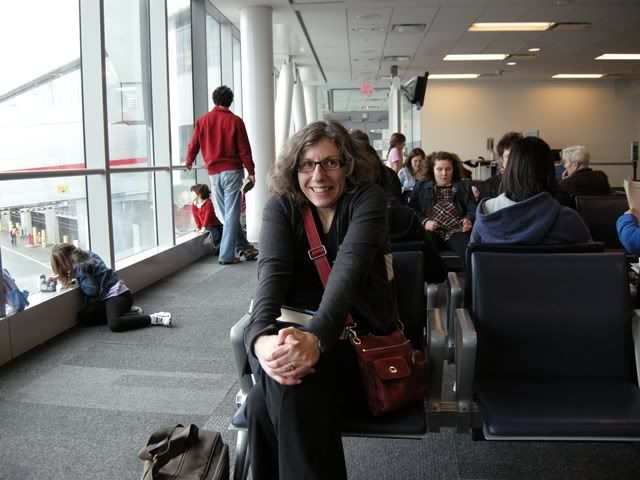 Our family history is that we go to WDW once every three years. In 2004 we decided to take the trip of a lifetime to WDW, planning to do Disney only once. We figured that financially we could manage a moderate resort and planned to stay at POR FQ. I called Disney and received my first glimpse at their fantastic customer service. The agent on the phone was quick to point out that we could actually afford to stay at WL and so we upgraded to a Deluxe. We loved WL and loved being a short boat ride away from the MK.
Three years later, in 2007, we decided maybe we should go to Disney one more time (that would be it, just once more). I had just landed a new job so we decided to celebrate by upgrading to CL, staying once again at WL.
Then three years later, in 2010, we got the Disney itch again and decided okay, just one more trip to WDW (really, truly, this would be our last trip to WDW). Due to the 40% room promotion that was available at CR but not WL, it worked out to be $1000 cheaper for us to stay at CR so we excitedly booked a CR CL room and had an amazing stay with a room overlooking the MK (check out the pictures in my 2010 TR). The theme for our 2010 trip was to eat our meals at as many different resorts as possible. When we arrived at the Boardwalk for one of our meals we loved the look and feel of the Epcot resorts. We took one step onto the boardwalk and all three of us looked at each other and said "next time, we are staying here!"
Fast forward to early 2011 and my husband looks at me one day and says "you know, we don't have to wait three years, why don't we go back in 2012." That was good enough for me; I immediately jumped on to the DisBoards and began planning.
I change jobs more than some, so once again I was looking for a new job and we decided to wait until I had a signed job offer before we booked. At the beginning of April I landed a new job and the planning began in earnest. On April 9, 2011 I booked us airfare to arrive in Orlando on March 10, 2012.
Each year in March Canadian schools close for a week (or two) for March break. This is a busy time to go to WDW, but it is a good time to take a week away. Flights from Toronto to Orlando can be very expensive, so by booking our flights nearly a year in advance we save $500 over what we had paid to fly down in 2010.
April 2011, was too early to book a package for 2012, so I booked a CL room at the YC, knowing that worst case scenario we would have a full price room with beds to sleep in. And then, I waited…and scoured the DisBoards…and waited. Eventually the 2012 packages were released, but I didn't book one right away. I decided to wait for a good promotion.
In August, I was beyond excited when I read on the DisBoards that free dining was about to be released. August 9 was a grueling morning when I sat on hold for nearly an hour waiting for an operator to book me free dining. I was crushed when I had to give up my planning control to my husband as I asked him to continue to sit on hold so I could go to work. He did a perfect job of booking us free dining at the YC CL. We are not fans of the free dining program but I was thrilled to get the savings on our vacation.
I still hoped to get a room discount, instead of free dining, so I continued to watch the discounts board and was again beyond excited in December when I read that a room only discount was being offered. We were going to be able to save 35% off our room which would work out to more than the free dining savings. Yay! It was a challenging phone call as the operator couldn't grasp that I wanted a CL room at the YC with a Standard view. At first she wanted to give me a club level room but kept asking me at what hotel. Once she understood I wanted the Yacht Club she wanted to give me a Standard non-CL room. It took quite a few minutes for her to understand I wanted a CLUB level room at the Yacht CLUB.
By booking a room only discount, we paid for our tickets up front and one night's hotel room and then nothing else was due until we were at WDW. We didn't have to worry about the 45-day full payment deadline.
So there you have it, the background for our trip. After all that, I waited and counted down the days until March 10 arrived.
Next up, our travel, arrival, and the start of a great trip to WDW!
(I promise future updates will have much less text, and more pictures!)