LIFE BEGINS AT 50 - THE PREQUEL
Back in May of 2006, it began to dawn on me that I was going to be 50 years old in January 2007, just 7 months away. I was 181/2 stone, totally unfit, and hadn't had a holiday abroad for the last 4 years. We hadn't been to America since 2002. That was the second year running that we had been, and the kids were getting a bit blasé about it all, so we decided then to have a couple of years away from it. We did a year in Spain, then bought a caravan in Whitby, North Yorkshire, so have spent the last 3 summers up there. I truly love the place, but the weather on each of our 3 main holidays was nothing short of abysmal, so we decided that we would make my 50th year special, and go back to Orlando.


We have been three times in total, the first time back in 1991 was the year my DW and I got married. I never dreamed back then that I would ever go to America, but my late father in law & my super human mother in law broke the news to us one Christmas eve that they were paying for not only my wife Lisa and I to go, but would be taking our 3 year old son, and both my older kids from my first marriage. We were also joined by my sister in law and her partner, together with his son. We stayed at a place called Days Inn McCoy and the holiday was almost ruined before it began, when I snapped my Achilles tendon just a month before we left. I finally got permission to go, with my leg in plaster up to my knee. In hindsight, it wasn't such a bad thing, as our party got pushed straight to the front of all the queues due to my disability. I even went water skiing with a plastic bag over my pot.


The highlight of that holiday will always be the first afternoon parade in the Magic Kingdom. I will never forget sitting there in my wheelchair in tears as Mickey went past. I spent much of that holiday hobbling around, trying to get the autographs of all the characters - for the kids of course. And the last night at the Magic Kingdom was heartbreaking, as we looked at the castle for the very last time. I vowed then that I would return one day.

Well it took 10 years, but in 2001, we finally got back to Orlando. This time there were 22 of us, staying in a 9 bedroom mansion on Formosa Gardens. This included all 4 of my kids (yes there was a new edition, now 7 years old) together with the older 2's partners, my 8 year old grandson, the mother in law and sister in law with her son aged 8, and then my brother & sister in law with their two kids and 4 family friends. We had two huge mini-busses to get us all around, and we all had a fabulous time.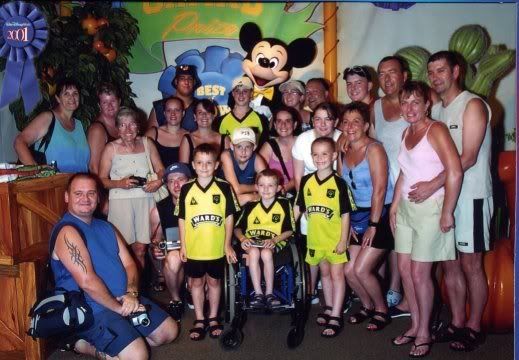 A year later, 9 of us returned to Formosa Gardens, in a slightly smaller, but equally beautiful mansion. Again, we had a great time, but it was becoming noticeable that the kids were losing interest in the characters. My grandson has major heart problems, which mean he will soon have to have a heart / lung transplant, and as he has to be pushed around in a wheelchair he was often given special attention by the characters. This produced some wonderful moments, especially during spectromagic. The boys were all around 8 or 9 now though, and perhaps it was not cool to have a cuddle with Mickey any more. I was 45 for Gods sake, and I still needed a cuddle with Mickey. Any way, we decided to give the boys a break from Disney, to re-ignite their enthusiasm.

So back in May 2006, my passion was totally re-ignited, and I needed to get back to Orlando. My Grandsons illness meant that he & my daughter would not be able to make it, and my two other sons were in relationships now, so that just left my DW, my youngest son Ben and myself. A villa on Formosa wasn't quite as appealing for just 3 of us, so we decided to go for the full Disney experience, and stay on site. Never having considered this before, we were total novices, and we initially looked at staying at Fort Wilderness in a cabin. We also looked at All Star Sports, thinking this may attractive to my DS12. But as we began looking through the brochures, we became totally drawn to Animal Kingdom Lodge. This was to be the best decision we ever made. We shopped around and finally got a good deal through Holiday Hypermarket, to travel with First Choice. We opted to upgrade our flights to Star Class Premier, which again, would prove to be a very wise decision.

So having opted for luxury, we decided to really go for it. It was going to be a one off total luxury celebration of my 50th birthday. We immediately decided that we would fulfil our ambition to swim with dolphins, so booked Discovery Cove, with the Busch Gardens and Seaworld option included. We also pre booked the 14 day Ultimate Disney pass and 14 day Universal one too. I also discovered the discussion forums, which were to prove invaluable in our planning. I spent every available minute reading other people's experiences and suggestions. This led to me booking a night in the Hard Rock hotel, so we could have front of line access for 2 days at Universal and also led to us booking other exciting things like the Ultimate Tour at Busch Gardens and the Sharks Deep Dive at Seaworld. It also led us in the right direction for where to eat and how to book our ADR's.

As the months passed by, I decided I needed to lose weight, and boy did I lose weight. 41/2 stone dropped off me, leaving me at a sylph like 13 stone 10 lbs in just 4 months.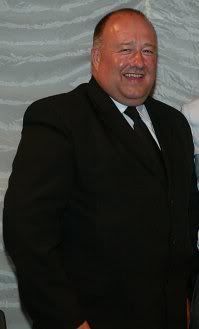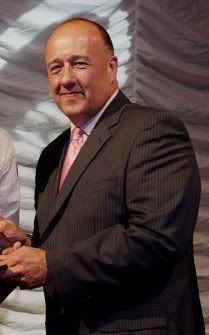 My actual birthday in January was a tremendous affair, with over 200 guests attending my big bash. The planning that went into that event helped to pass on the time. We eventually drew up our itinerary, and even that became a full Technicolor document, but everything was planned to perfection, to allow us to fit everything in that we ever wanted to do, while allowing us plenty of rest time to recover along the way. Eventually the big day, July 25th 2007 drew close, & we had the excitement of picking up our tickets & making sure everything was packed & ready, as we prepared to set off on the adventure of a lifetime.