FINALLY!

I can FINALLY start my own PJ on here!!! I have been lurking these boards for an unnatural amount of time, and I'm so crazy excited to start my own planning journal!

About Us
First of all, my name is Kait (22), and DF's is Scott (23). We have been together for eight years, and I have been absolutely obsessed with Disney for as long as I can remember! DF, family and I make very frequent trips there, and it is our second home
. I sometimes feel bad, because when DF and I began dating, he had no chance. His only choice was to love Disney along with me, and thankfully, he actually loved it, all on his own!

We both graduated from college this past year, and he works as a Ramp Agent for Southwest Airlines (which means free airfare, YAY!) and I just recently got a job at a doctor's office as a receptionist. We have been to Disney World way too many times to count….our first time together was when I was 16 and he was 17…and on this last mini trip, he proposed!

Before I go on, here's a picture of the two of us on one of our many trips (I can't remember which one)




And here's another one of us at Halloween two years ago...we obviously both love Disney!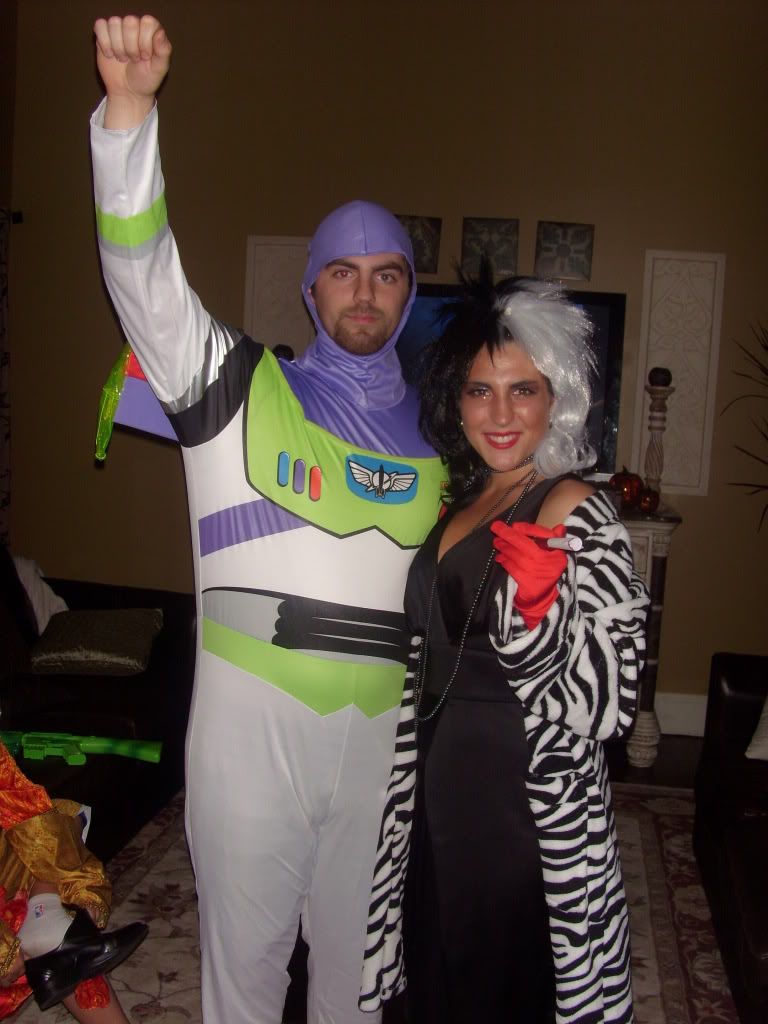 The Proposal
So, we went to WDW in July to help move friends down to Orlando, and I was hoping and praying for a proposal then, but it didn't happen. Then, we went down with my family and a very large group of friends and I was REALLY hoping it would happen then, and it didn't! Then we went back AGAIN for the Food and Wine Festival and it didn't happen AGAIN!!! The other day, he asked me if I wanted to go to WDW for one night since I was starting a new job and might not be able to go back for a few months. Of course, I said yes! I would NEVER turn down an overnight trip to the World! And now, we get to the good part…the proposal!

We arrived in WDW, took Magical Express to the Pop Century and went straight to Epcot. My first clue was that he insisted on carrying a backpack around. He always wants me to carry mine, and I noticed that this was strange, but didn't put two and two together! He had also been acting sort of funny all day, walking around with his hand in his pocket, being very quiet, etc. We walked through all of the countries without stopping to look around, but when we got to Morocco, he asked if we could look around a little bit. (Morocco is my favorite country in the World Showcase). DF asked if we could take a picture, and I was being a royal pain in the butt asking why, since he never wants to actually take pictures! So we stood outside of the archway and had someone take our picture….twice…and nothing happened. After that he was REALLY in a bad mood. He suggested we go to Magic Kingdom, and once again, I was being a big pain saying I didn't want to go to MK yet since I wasn't done at Epcot, but once he told me Space Mountain was a five minute wait, I was all for MK. We took the monorail to MK, and like always, when we got there we headed straight for Tomorrowland through the Noodle Station. When we actually got into Tomorrowland, DF asked if we could get a photopass of the two of us in front of the castle on the Tomorrowland bridge, so we headed that way.

The photographer took 2 pictures of us, then DF said he wanted one on my iPhone, so I set the camera up and gave it to the photopass guy. As soon as I got next to DF, he said my name, and I knew exactly what he was doing! It was very simple and sweet…and I could tell he was nervous…but he said, "Kait, I love you. Will you marry me?" Of course, I said yes! The photopass guy got a ton of pictures…most of which I am not crazy about due to my weirdo faces…but I was so happy!! Of course, I immediately took him to Guest Services to get our "Just Engaged" pins, and we wore them for the next two days
. We spent the rest of the day in Magic and then headed to Hollywood Studios to enjoy the Osborne Family lights. It was absolutely perfect!

Here's DF trying to propose in Morocco (hand in pocket, haha!)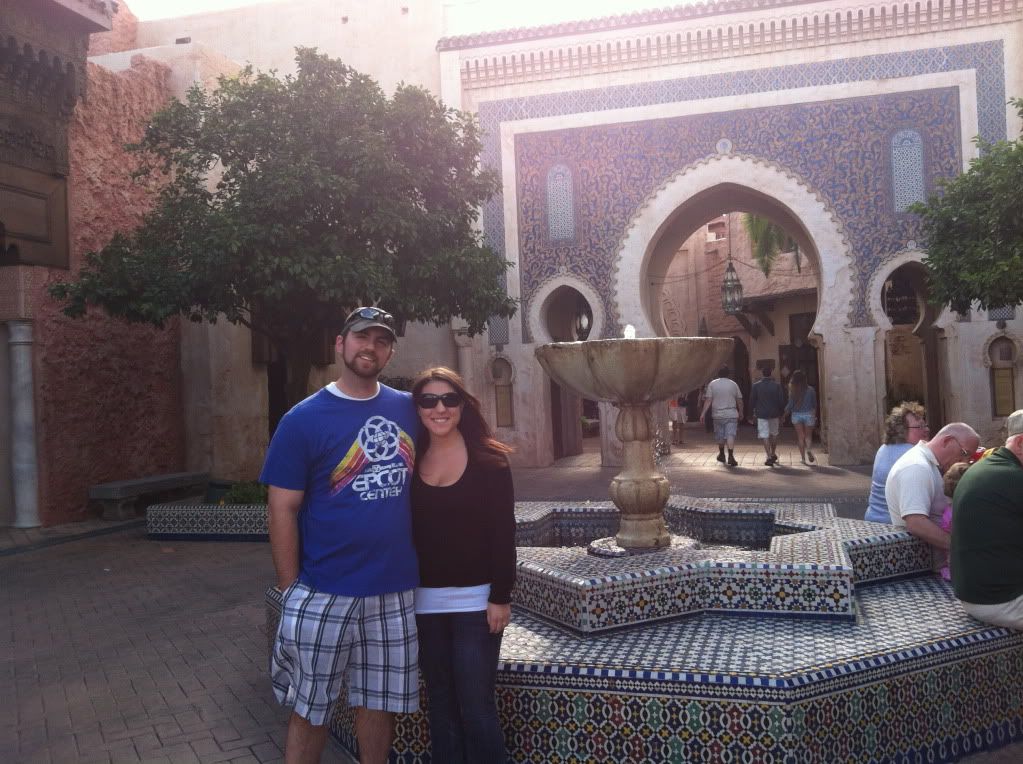 And here's him actually proposing and me with the typical hand over mouth reaction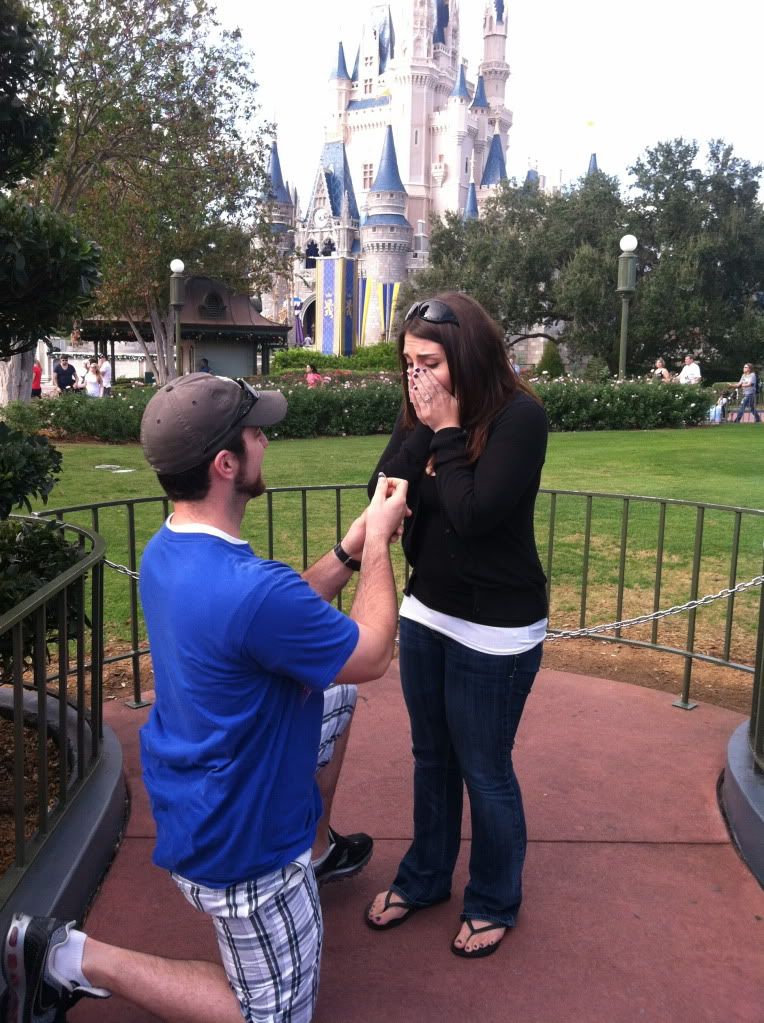 Disney Wedding Plans
I have dreamed of getting married in WDW for as long as I can remember, and have been obsessing over "pretend planning" my wedding for two years now. Now it is actually time to plan it, and I'm all over the place! So I started a PJ and I am not actually penciled in yet…but I was just too excited to wait! We will be doing a Wishes wedding, I have WAY too much family for an Escape! Right now, we're between two months for the wedding: the beginning of January (it would be during school break when everyone is home, my uncle will be able to get time off from work, Disney is in Value season, but it will be cold and the trees won't be all green
) or the first week of March (the weather is a little warmer, but no one will be home from school/have time off
). The only other problem with January is, it might be a little too soon. Since you have to pay your minimum balance 90 days in advance, it might be a little too much too soon for my family and I to do…but we really want everybody to be able to come!

We have narrowed our venues down to a few different places—the ceremony at either the Wedding Gazebo at the Yacht Club, on Shipwreck Beach (DF is no crazy about the sand in this option though), or the Croquet Lawn (which is why I want everything to be green and pretty!). Reception possibilities are the Croquet Lawn, the Yacht and Beach Club Marina, or Shipwreck Beach (once again, DF+Sand=
). I'm guessing the beach options are out, but we know that we want to stay around the Epcot Resort area. We usually always stay at the Beach Club or Boardwalk, and Crescent Lake is our favorite place in all of WDW. We were also thinking of a DP or Welcome Party in the World Showcase, at Isola West Plaza, and if that isn't available, one of the locations in France. I am dying trying to figure out what date we want so I can call DFTW and get penciled in, but we're still putting together our guest list all of that important stuff. Right now, we're at 96 people, but we're thinking about 20 of them won't come. Any input on which month/week of 2013 would be best, please feel free to jump in! I am so excited to have a PJ on here, and can't wait to spend my planning process with all of you!