Hi, friends!


As some of you may know, I am just finishing up a Trip Report on our Nov. 2014 trip to Aulani, so why not jump right into this one?
You can find the other report here, if you are interested:

Happy in Hawaii - Aulani & Oahu with a Toddler

For those that don't yet know us, here we are: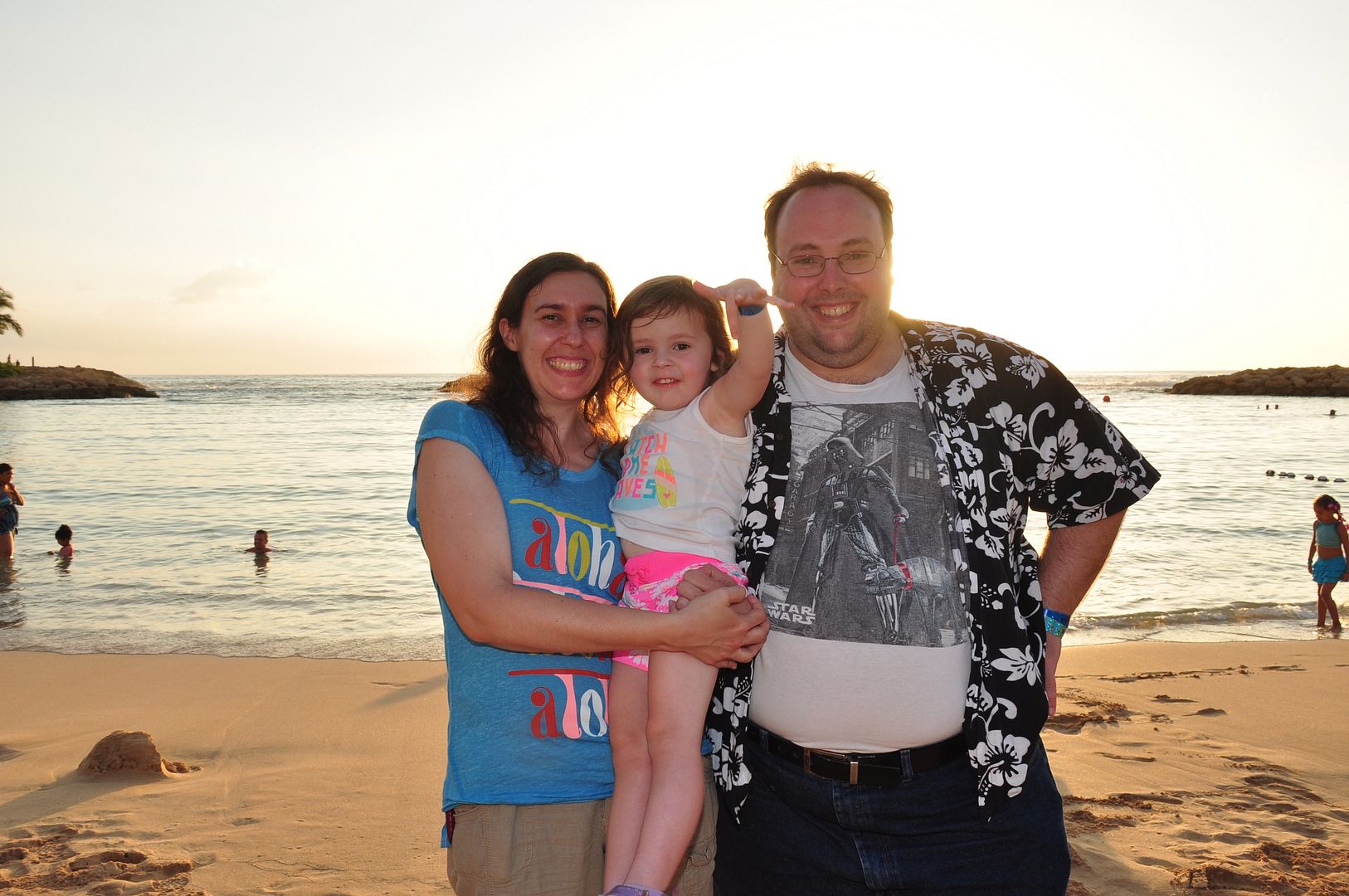 I am "Dugette" and I've been married to "Dug" for nearly 11 years now:




Our daughter Izzy will be turning 4 in a couple months, but was just a few months past her third birthday at the time of this trip (just old enough to utilize Aunty's Beach House – the Aulani kids club!
):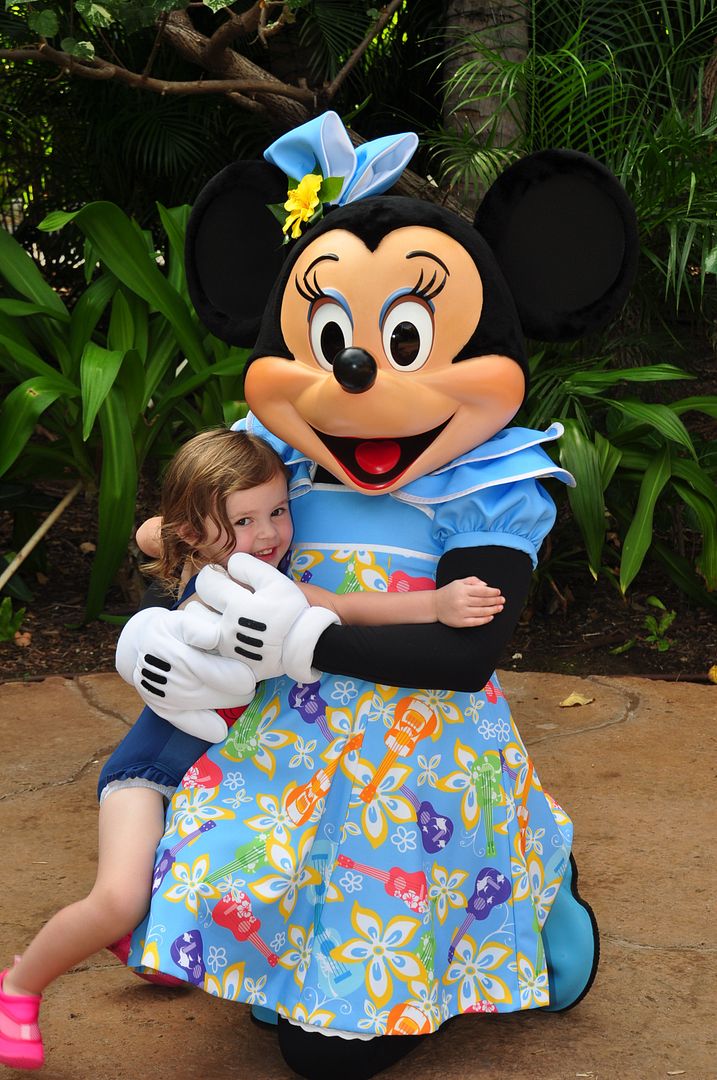 Clearly, she loves Minnie!


If you can't tell from my signature, we are big Disney lovers and have made a number of trips to WDW (and a recent trip to Disneyland). We also love to travel and see new places, in general. So, between both of those things, Hawaii and Aulani were on our bucket list. However, if you'd have asked me 3 years ago, I NEVER would have guessed we'd have gone TWICE in that time
(it was more of a "someday" kind of thing). But, long story short, our first visit came about due to exceptionally lucky timing of checking airfare during a major Delta price glitch and getting $70 flights (yes, you read that right – AND….they were 1st Class
).

The second trip came about because people kept asking me how we knew about the glitch and if we'd gotten fare alerts. Well, no, I had just lucked out, but all the asking made me think…maybe I should sign up for some fare alerts?
So, I did. Fast forward a bit and I get an alert for $350-ish fares (coach/economy) to Honolulu (from Minneapolis) on United. Checked into it and tons of dates available.
It turned out to be a legitimate fare (part of a fare war on the airline hubs). We made some calls and, before we knew it, a lot of people we knew were planning trips to Hawaii. So, this trip ended up being not only our little family, but Dug's parents, his sister and her husband, and a ton of her husband's extended family - all together, there were 19 of us. Also, our daycare provider booked a trip, but she didn't go until after we returned. So, this was a very different trip than our previous one – and a lot of fun!


We spent 9 nights total on Oahu, arriving January 8th and returning home on the 18th. The first 5 nights, our entire group rented condos in the Turtle Bay resort area on the North Shore. For the last 4 nights, nearly the entire group moved down to stay at Aulani on rented DVC points. Everyone enjoyed both parts of the stay, but I am still hearing people talk about how much they loved Aulani (my father-in-law in particular – he was opposed to Aulani as we planned (didn't want too much Disney, I guess
), but he just told me AGAIN the other day that he'd love to go back there
). I'll cover the full trip here, so you'll have to stick with me a bit before we get to the Disney magic, but Oahu in general is pretty darn magical too!


I can't wait to share all of our adventures with you!


Chapter links:

Day 1 - Friday, January 8th
Will I Get to Hawaii?
We're Not in Hawaii Yet
Day 2 - Saturday, January 9th
Waimea Valley
A Morning Stroll
Ted's Bakery & Ocean Sunset
Day 3 - Sunday, January 10th
Slow-Paced Sunday
Day 4 - Monday, January 11th
Polynesian Cultural Center - Part 1
Polynesian Cultural Center - Part 2
Polynesian Cultural Center - Part 3
Polynesian Cultural Center - Part 4
Day 5 - Tuesday, January 12th
Byodo-In Temple
Okay, Settle Down, Settle Down!
Day 6 - Wednesday, January 13th
The Delicious Journey
Aulani Arrival
The Sun Sets on our First Day at Aulani
Day 7 - Thursday, January 14th
Everybody Into the Pool!
A Whale of a Time - Part 1
A Whale of a Time - Part 2
Dinner and a Show
Day 8 - Friday, January 15th
Shake Your Tail Feathers!
Character Fun + Space Goo
The Waikolohe Stream
In the Lagoon
Browsing the Shelves
Day 9 - Saturday, January 16th
A Beautiful Breakfast
Following the Trail
Water & Music
Sunset on the Beach
The Last Sunset
Day 10 - Sunday, January 17th (-18th)
One Last Pool Morning
Duffy Day!
Up All Night!
Last edited: