IF YOU GIVE A MOUSE YOUR MONEY
HE WILL TAKE YOU AROUND THE WORLD - travel day, April 22, 2017
YOU'LL MAKE LOTS OF NEW FRIENDS - embarkation day, April 23
CELEBRATE THE THINGS YOU HAVE IN COMMON! - day at sea, April 24
REHYDRATE YOUR SOUL - Cozumel, April 25
FOOD BRINGS "INVISIBLE FRIENDS" TOGETHER - sea day, April 26
FEELING SMALL IN THE BIG OL' BLUE - a day at sea, April 27
HANGIN' WITH THE COOL KIDS - Cartagena day, PART ONE - April 28
HOT, HOT, HOT! - MARK'S DAY IN CARTAGENA - April 2, PART TWO
THE SUN IS SHINING AND THE TANK IS CLEAN! Panama Canal Transit, part one - April 29
IT'S A JUNGLE OUT THERE! -Panama Canal Transit, part two - April 29
ONE STINKIN' DOLPHIN! -a day at sea - Sunday, April 30
AT LONG LAST, A MICKEY BAR! -a day at sea - May 1
CALM SEAS AND EXCITED PEOPLE - sea day - May 2
HERE WE (MAN)GO AGAIN - a day at sea - May 3
ZOMBIE SUNSCREEN AND THE TACO TOUR - Puerto Vallarta, part ONE - May 4
THE TACO TOUR, part TWO
TACO TOUR, part THREE (Puerto Vallarta day, concluded)
OUR "FAMILY" GROWS BY TWO - CABO SAN LUCAS, part uno - May 5
CABO, part dos
GLUTTONY, REVISITED - a day at sea - May 6
HAILSTONES BURST MY DISNEY BUBBLE (or, why you should buy trip insurance) - May 7
Introduction – And what does that title mean?!
Every story has a beginning, and I had to think hard about where this story actually started. We are Mark and Linda, two late-50's professionals from Indiana.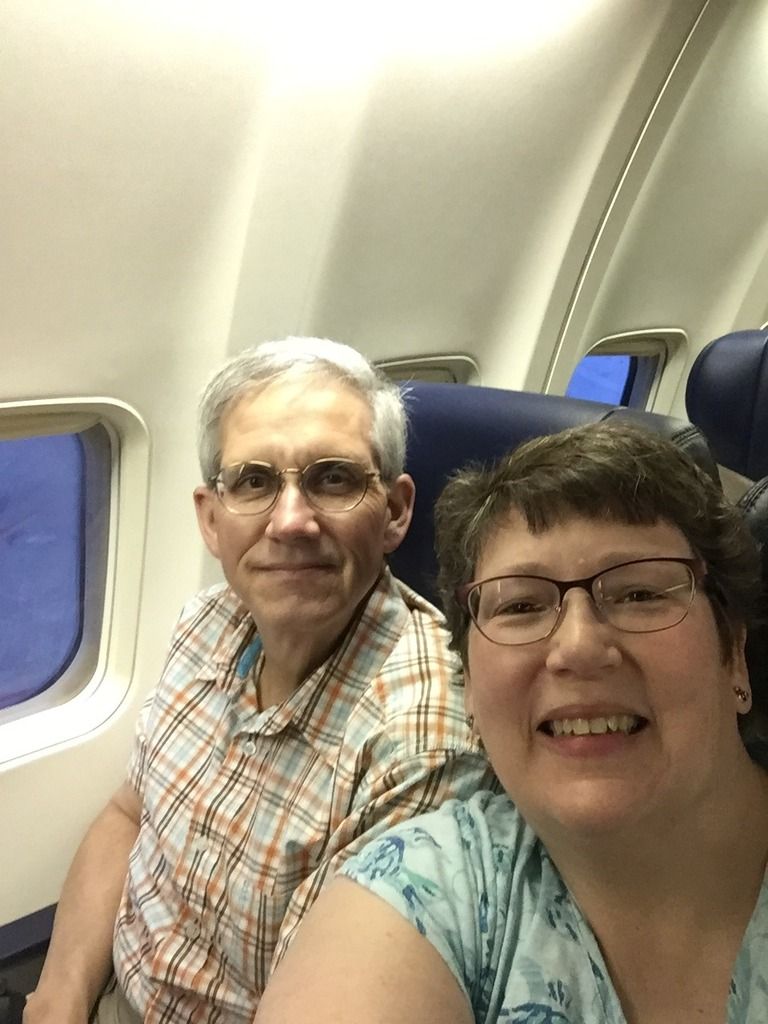 Not only am I not a history buff, I can honestly say I really can't stand history; so, why would I want to see the Panama Canal?
I think I caught Panama Fever seven or eight years ago when our younger son was chronically ill and hospitalized many times a year for a week or so at a time. I tried to find quiet activities to do at his bedside so I wouldn't disturb him if he was able to sleep, and often read Disney World or Disney Cruise trip reports on my phone. The longer reports (about transatlantic and Panama Canal cruises) were always nice to read, as they were usually full of photographs, and reading them killed a lot of time.
Thinking forward a few years to how I would celebrate my sixtieth birthday, I was tinkering with a Disneyland-Disney World-Disney Cruise trip, but the Panama Canal cruise trip reports crept back into my mind. I started doing a little reading and became enthralled by its story: disease, death, corruption, politics…and the incredible fact that the Canal is the same today as it was when it opened in 1914. I knew I had to see it; a Disney cruise through the Canal would be my 60th birthday gift to myself. Mark was totally disinterested, so I would go solo.
Then my mother died, rather unexpectedly. And it made me wonder what I was waiting for; what if I don't live to see 60? How upset would I be to die at 59 without seeing the Canal? So we booked the 2017 WBPC. Yes, "we" – the more I talked about it, the more interested Mark became. And who wouldn't enjoy a two-week long cruise?!
I knew I wanted to write a trip report, in part to thank the authors of those trip reports I read and reread so many times; there aren't many Panama Canal cruise reports out there! One day at work, as I was comforting a crying baby, I read him a book his parents had at the bedside: "If You Give a Dog a Donut." It's part of a lovely series of books by Laura Numeroff about how a simple task can snowball into something much larger. And my trip report title came to me: If You Give a Mouse Your Money…
I hope the story of our trip through the Canal (and into history!) will bring enjoyment to your life, and perhaps inspire you to consider making the transit as well.
Last edited: