Hi, everybody!
I am SOOOO excited to finally start this Trip Report!
(I've been waiting about 16 months to do so, as I finished up prior reports.) As some of you may know, we are a family of Disney World veterans, but had the opportunity to tack a Disneyland trip onto my husband's work retreat in Palm Springs, CA. We had a fantastic time, as you may gather from the title, and we are pretty much dying to go back (but, alas, too many other travel plans to squeeze it in at the moment
).

Who are we?

I'm "Dugette", married to "Dug" since 2005, and our daughter Izzy was born in late 2012, so was 3 years old on this February 2016 adventure. Here we are at arrival:




She was a little grumpy in that one, as she wanted to get into the park and not waste time taking pictures
, so here are a few happier ones: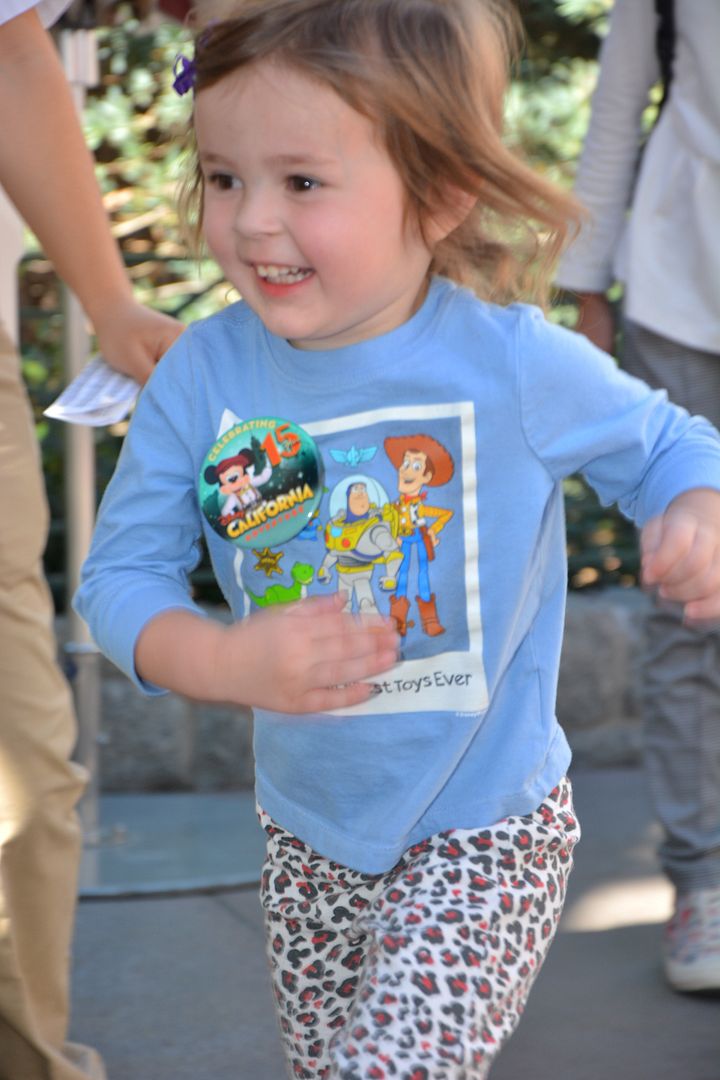 As background, Dug and I had each been to Disneyland twice before. I went as a teenager, along with my dad and step-mom, for one day: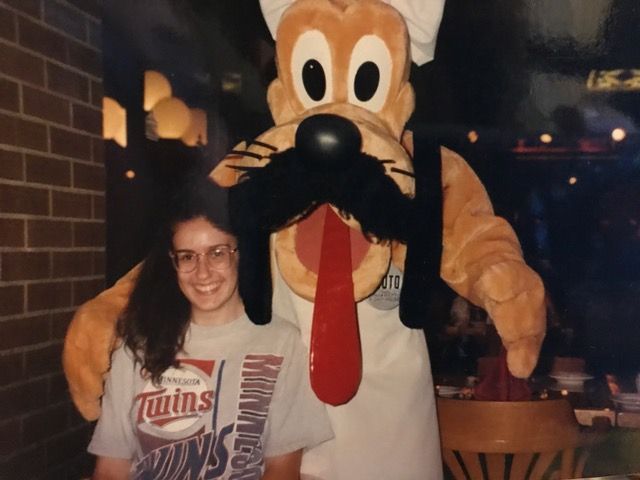 Dug went as a kid with his uncle and distinctly remembers falling asleep in his pizza at the end of their day there.
Then, back in 2006, we had an opportunity to go for another day with Dug's sister and her husband ("Kay" and "Jay", if you read my recent Hawaii TR), as they were living out in Burbank at the time. Here we are, about a decade younger:

We had a great time back then, despite the cold day, and pretty much covered the entire park commando-style as Kay and Jay knew their way around and were great guides.


So, with that experience behind me, why did I utter the title of this report, "I think I might be a Disneyland person!" during this trip?
A few reasons, I think:

1.) No need to waste time in transport! Just walk right over to a park, even from our offsite hotel. I hate wasting time. This was SOOOO nice. And easy to run back to the room. And park-hopping was amazing too. And the lower amount of walking in general was so much better for Dug's bad back. And no folding up the stroller to get on the bus over and over! This was all BIG to me.


2.) So many novel things. After making oodles of trips to WDW, it was super fun to experience some new/different attractions and, in a way, it felt like the first time all over again. I think this was a major factor for me as well – I was giddy about the new stuff, like Cars Land. I still am, actually.


3.) The old-fashioned Fast Pass system worked out pretty favorably for us, along with the Rider Swaps since we had a less-than-40-incher. We covered a lot of attractions with very few long-ish waits. And I also considered naming this report, "Floor Full of Fast Passes".


4.) The weather! No daily thunderstorms or unbearable humidity. It actually was unseasonably hot part of the time we were there, but it didn't feel bad at all.


I think there were a few other factors that came into play (like great food options), but those are the main things that really stood out to me. I find myself REALLY wanting to go back now because Izzy wasn't 40 inches yet on this trip, but is over that now and could do Radiator Springs Racers.
And she is much more interested in the Avengers version of Tower of Terror than the WDW one that scared her. And I'd love to get back while the cheap offsite hotels still have quick park access, as I hear that may change with an impending parking structure.
Dug does have more work things coming in southern California, though, so if I manage to get an extra $2k or so to fall into my lap
, I'd love to return. So would Izzy. And Mommy wants to make her kid's dream come true.
Hoping that writing this report will help cure some of the I-want-to-jump-on-a-plane-to-Disneyland-right-now fever, as I get to relive the fun we had.

But, don't worry, we still consider WDW our Disney "home." We're going back there in October, actually (and have Annual Passes). But we definitely want to return to Disneyland, as I guess it's now our home-away-from-"home". And, of course, it's special to be in the place where all the magic began.


And, with that, let's begin the magic…

Chapter Links
Day 1 - Friday, February 5th
Flying Towards the Fun
Where's the Bubble?
Earl of Sandwich
The Original Main Street
Crossing the Park
So Much Fried Food!
Late Night Adventures
Day 2 - Saturday, February 6th
Breakfast with Critters - Part 1
Breakfast with Critters - Part 2
Dancing with Daisy
Being Bugs
Monsters, Bugs, and a Tower
Going Hollywood
Ariel's Grotto
A Princess Processional
Squirrel!
Racing to Dinner
Cars Land at Night
This is the Night
Day 3 - Sunday, February 7th
Exploring Toontown - Part 1
Exploring Toontown - Part 2
Visiting Minnie in the Garden
Visiting all the Toon Houses
Cheering Eeyore and Tiny Towns
Awkwardly Visiting Trader Sam's
Fantasyland Fun!
Another Magical Evening
Day 4 - Monday, February 8th
Toy Story Stampede - DL Version
Woody and/or Jessie
Dining at Blue Bayou
Paint the Night
Day 5 - Tuesday, February 9th
Morning Magic
Breakfast at Minnie's
More Fun Visitors - Part 1
More Fun Visitors - Part 2
Dole Whip and More
From the Castle to Wonderland
Life Could be a Dream
A Fortunate Find
Last edited: