Beach Girl Deep in the Land
After just getting back from our Double Dip Delight cruise, I have to say I was overjoyed with the homemade Fish Extender gifts. All FE gifts are greatly appreciated, and the experience is so much fun, yet the homemade ones are the sauce inside the Palo chocolate soufflé, so to speak!
We received so many wonderful homemade (HM) gifts that I thought we should showcase them to share with others in our DIS family! If my fellow DISers who left me some of these special HM gifts don't post pics of their gift, I certainly will! For now, I'll just post a couple of the gifts that I made for some of my FE recipients.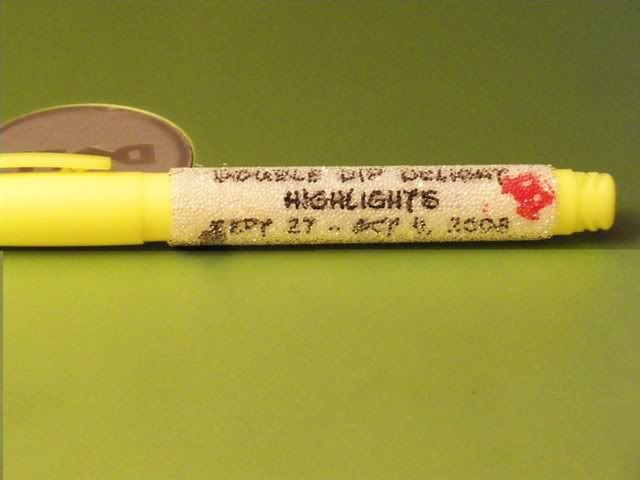 Double Dip Delight Highlights:
This is a basic pen style highlighter wrapped in an Avery address label that went through my printer to put the words on it in the Walt font. I then rubber stamped Mickey's body parts in the colors of black, red, and yellow onto the label (there are heads, shoes, and pants all around the barrel). After applying the label to the highlighter and placing super adhesive tape over it, I rolled it in clear micro beads. More detailed instructions are found in
Post #189
. (Note that "Double Dip Delight" is the coined name of our DISer cruise.)​
Pirate Post-It Cover: Using pirate themed stamps and a roller stamp from Stampin' Up!, I rubber stamped the images onto cardstock. The images on the black cardstock paper were applied with white craft ink. The treasure chest was outlined with a marker and colored in with chalk. An antiqued brass brad is used as the chest's lock, which also went through the red mat that was glued to the cover. A small piece of sticky-backed Velco closes the flap. A pad of Post-Its was then glued to the black cardstock. Once the pad of Post-Its is gone, you can refill it!​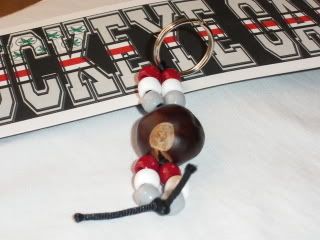 Buckeye Keychain: Using drilled buckeye nuts and pony beads made this a quick regional craft that was given to most of the cabins on my list that had only adults. To accompany this, everyone received a Buckeye post-card that has the recipe for buckeye candy (YUM!).​
Please share your HM FE gift that you gave or received with the rest of us!