<<This space intentionally blank>>
Moderator
Friday 1st November
So, back on board, we immediately head for the pool. There were very few people on board so we took advantage and had a couple of goes on the AquaDuck.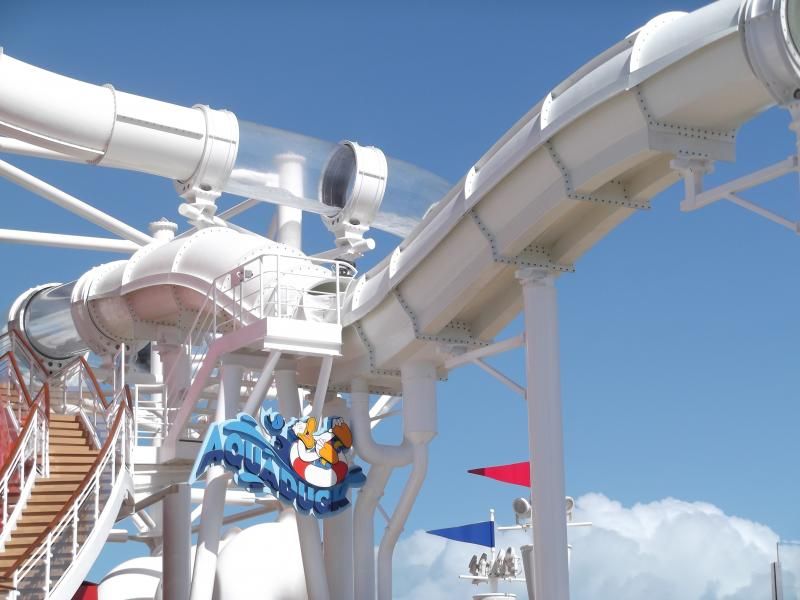 Mid afternoon, we were feeling a little peckish so we got a snack – who can resist Mickey pretzels?
We got two pretzels to share, plus Daniel had a cookie. I know people rave about them but I am not a fan of the choc chip cookies on DCL, they just don't taste that great to me. I think they taste stale – but I know others love them so each to their own. It's not like I have any problem getting my calorie intake elsewhere
After chilling by the pool for a while, we decide to head upstairs to make a start on the packing and get showered and dressed for dinner. Sian and Daniel were relaying clothes from their room to ours, where we were desperately trying to squeeze it into the cases. We were hoping we could pack two cases that we wouldn't need to touch again until we got home. I left Gary to it while I hopped into the shower.
Once we were dressed, we made our way down to Royal Court, where we were having our final dinner. Once again, we were in the private room, which was nice. We switched seats again tonight and ended up sat with Wendy and Rich, which was lovely. I think the past week had finally caught up with Daniel. He was very tired (and a little bit emotional) tonight.
For some reason, I have got absolutely no cocktail pictures from dinner and I very much doubt that I didn't have one so apologies for that.
I know I had the herb-crusted lamb for my main though – it was delicious.
And, of course, the Baked Alaska for dessert.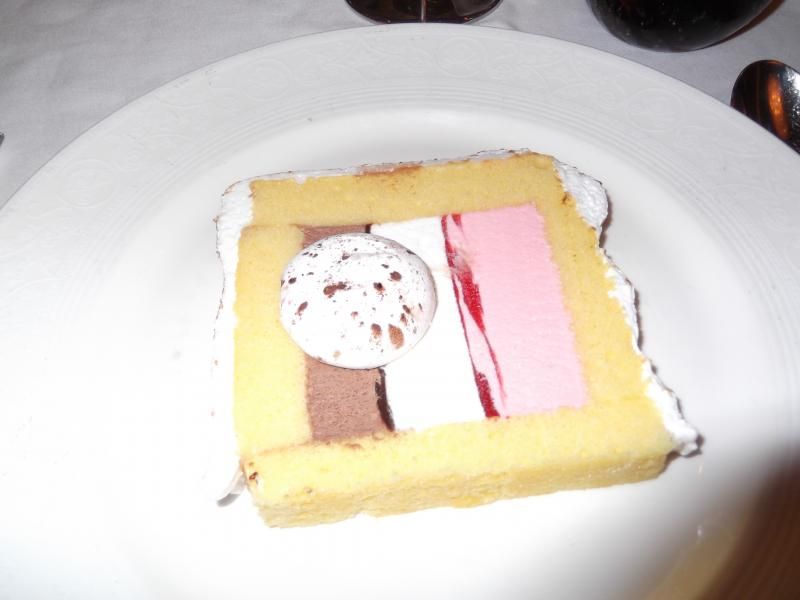 I may just have had a piece of cheesecake as well (to make up for not having had a cookie earlier).
I commented to Wendy that I really liked the Cinderella's Carriage bread basket so she offered to get me one. Unfortunately, her bag wasn't quite big enough…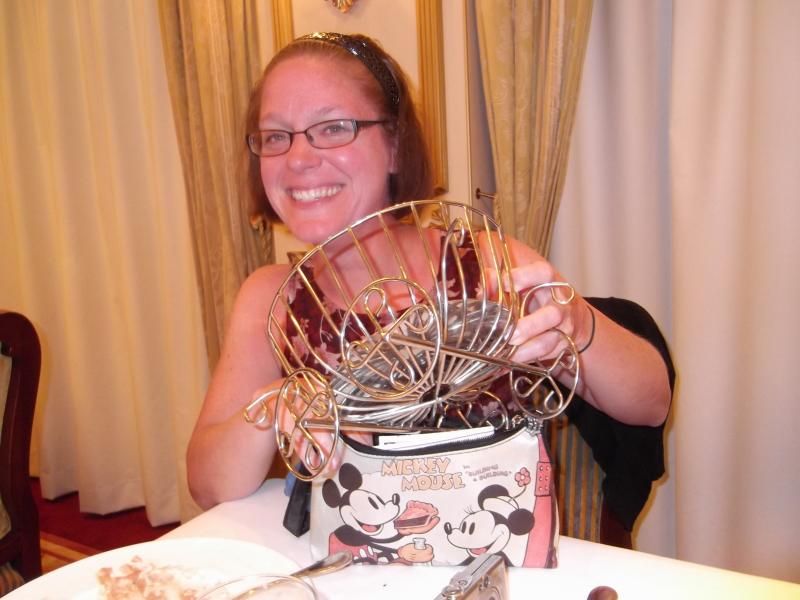 All too soon, it was time to say goodbye. Since we wanted to make an early getaway in the morning, we had informed our servers (and the others) that we wouldn't be joining them for breakfast. We handed out the tip envelopes and Daniel had one last hug with Isabelle. He really had taken to her in a big way.
We popped back to the room to get changed, having arranged to meet Wendy and Rich for a few drinks later. Sian was going to meet the others up on deck to play some cards (a game called Dutch Blitz, which we have since gotten at home – it's a lot of fun). Back at the room, we bumped into Roland, the kids' room host, and gave him his tip envelope too.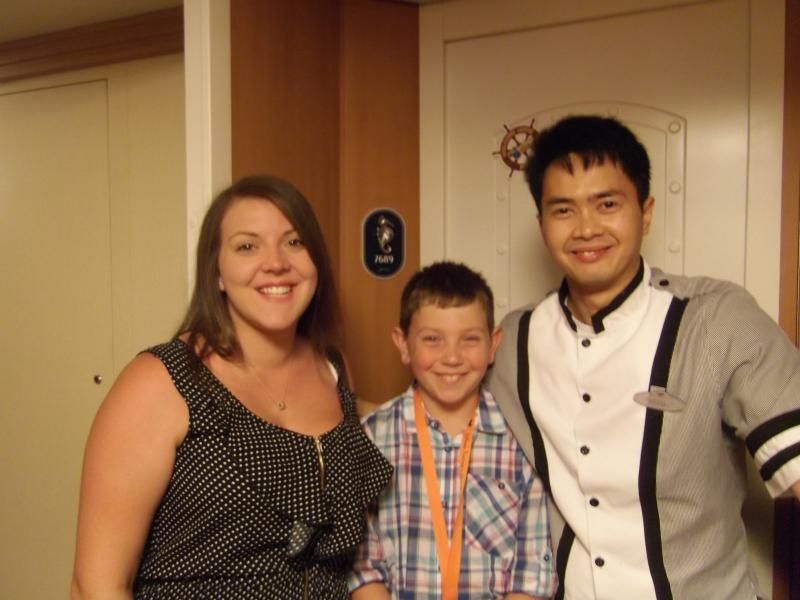 We realised that we hadn't bought any pictures yet and, despite the knowledge that Shutters would be a complete zoo, we figured we had to go down and get some before we finished packing. As we were walking down, we bumped into Abby and her family so we took the opportunity to get a porthole picture of Daniel and Abby, to recreate the one from two years ago.
We bought a couple of the pictures, although there weren't really any great ones from this cruise.
We then went back to the room where Gary was just about finished with the packing and was ready to head to the Skyline Lounge to meet Wendy and Rich.
In the lounge, we grabbed a couple of chairs and ordered some drinks. A Cosmo for me please.
We sat and chatted for a while, and then Wendy, Gary and I went through to The Tube for the adult show with Taylor Mason. Rich decided to pass and went back to their stateroom.
Taylor's show was very funny, a lot more risqué than the family show the night before.
We ordered another round of drinks – a Margarita for Wendy, Lime Daquiri for me and beer for Gary.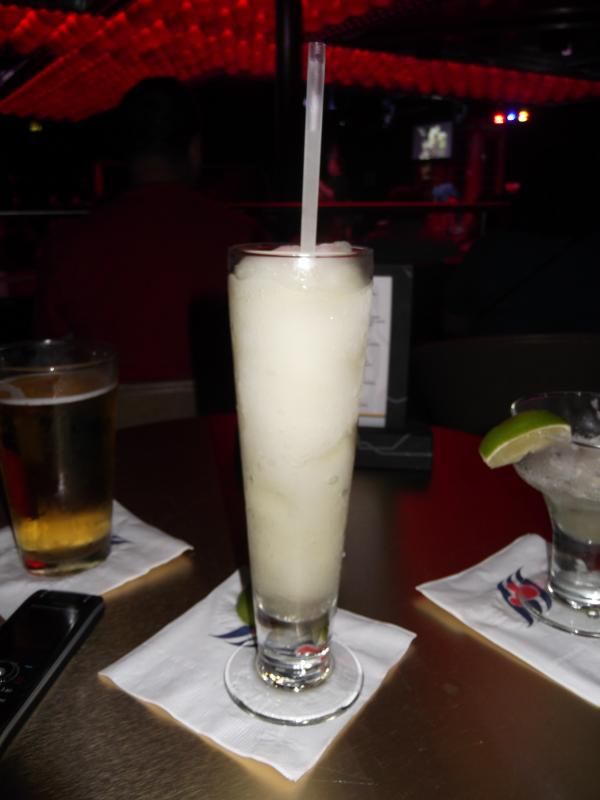 After the Taylor Mason show, the entertainment crew performed the Pub Skit. I had never seen this before but had heard about it. I really can't describe it but it is so funny and definitely worth seeing, if you ever get the chance. We were creased up.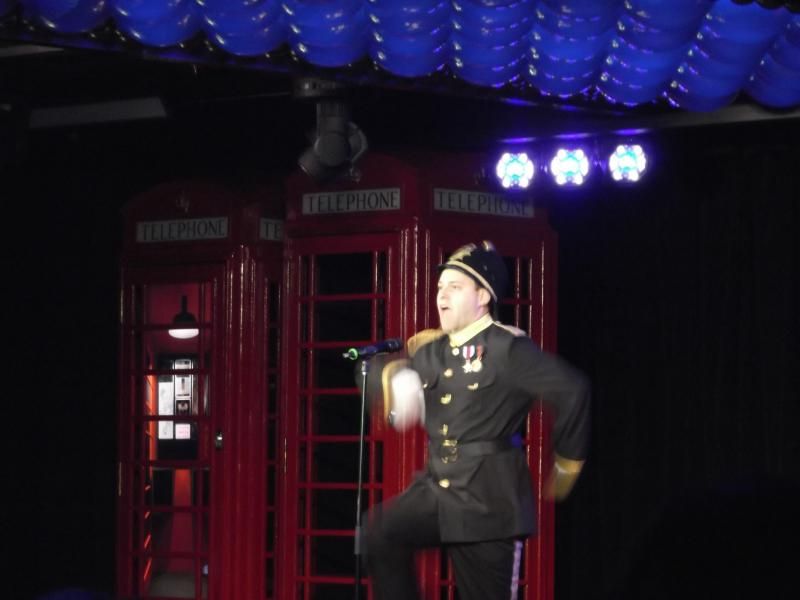 The show was over and we were just finishing our drinks when I got a phone call from Sian, who told me that Daniel was back from the kids club and very upset, but he wouldn't tell her what was wrong. I told her we were heading back and we left, after arranging to meet Wendy and Rich at the Royal Pacific Hotel the next morning, as we were going to be spending a couple of days at Universal with them.
We got back to the room and I went to see Daniel. It turned out he was upset as he hadn't got a chance to say a proper goodbye to Abby. A group of them had been in the lift, going back to their rooms and, when they stopped at Abby's floor, Abby got out with the rest of the girls before Daniel really had the chance to say goodbye. I put most of it down to tiredness and told him to get into bed and try to get some sleep as we needed to be up early the next morning.
Back in my own room, Gary and I did the final check to make sure we hadn't left anything in drawers and closets, before turning in.