<<This space intentionally blank>>
Moderator
So, today marks 90* days until our cruise sets sail. Having been up since 5am, when I successfully completed online check-in and secured a coveted PAT (Port Arrival Time) of 11am, I decided that today would be the day I started my pre-trip report.
*I actually started writing this on Sunday but am only getting around to posting it today so, technically, we are now at 86 days.
It feels like a long time since I wrote a trip report, although in reality it is only a few months since I finished the last one. It also feels like a long time since we were at WDW, although in reality it has only been just under a year. And we were lucky enough to manage an adult-only trip to Las Vegas in March this year, for my 'special' Birthday, so it hasn't even been that long since we had a holiday (if you're lucky, dear readers, and I am sufficiently bored over the next 3 months, I may include a bonus mini TR or at least some photos from Vegas here).
But, boy, do I need a holiday (or vacation, if you're that way inclined). It has been one heck of a year…so, without further ado, I bring you my pre-trip report <insert drum roll here> (I am not clever enough to put sound bytes into my trip reports so you'll just have to imagine it).
Regular readers of my trip reports will be disappointed to know there was no Disney math involved in the planning and booking of this trip. I didn't even need to use my feminine wiles or other persuasive tactics on DH. In fact, the trip was practically his idea…well, that's what I'm letting him think anyway. The background is a little long and convoluted but stick with me, please, I like long and convoluted.
In order to properly give you the background to this trip and some of the characters involved, I need to take you back to October 2009, the Bad Mothers trip. It was during our 3-day cruise to the Bahamas that we met Wendy and Rich, a lovely couple from Atlanta, Georgia. We had a fantastic group of DISers on that particular cruise and, although we didn't really get to know Wendy and Rich that well, we did bump into them around the ship (as you do) and had a few conversations with them. It was on that cruise that we rebooked for a 7-day Eastern Caribbean cruise with DCL in October 2011.
Imagine my surprise when I found the 'DIS meet' thread for that particular cruise and found Wendy stalking us – sorry, I mean posting - there, having also booked the same cruise. We had a similarly fabulous group of DISers on that cruise and that is where we met the Canadian contingent of this trip report, Char and Nate and their wonderful kids Cassie, Evan, Gabe and Luke. We also met Char's Mum and Dad, who quickly became just 'Mum' and 'Dad' whenever we saw them. Char's sister, Dorothy, and her husband and their kids were also on the cruise and we spent some fun times with them all. Unfortunately, Dorothy and family won't be joining us this time, which is a shame as she is a real laugh and does a cracking British accent. We spent much more time with Wendy and Rich on this cruise too and we all got on like a house on fire. I think a bond was formed when Wendy finally realised that chocolate smoothies are WAY better than strawberry
We rebooked before we disembarked that cruise and had originally intended to do a Panama Canal cruise in May 2013, however life put the kybosh on that when DH found out he was being made redundant in October last year. At the time, we didn't want to risk having a holiday booked that we potentially couldn't justify paying for if DH hadn't found another job. So, we moved the cruise to a 7-day Western in October. I mentioned to Char during one of our many Facebook chats that we had changed the date. Char and Nate had already planned to cruise again in October but were currently booked on the cruise leaving a fortnight before ours. She didn't take much persuading to change the date
In a moment of sheer genius, I messaged Wendy and asked if she and Rich fancied joining us and thus this trip started to take shape.
So, that's the background to the trip. I suppose I ought to introduce the stars of the show…
Firstly – and most importantly – we have Gary (aka Fred)
.
My long-suffering, wonderfully understanding and considerate husband. He is my one true love, my best friend, my rock. Gary honestly and truthfully is the best thing that has ever happened to me (hopefully he's reading this and that's next year's holiday secured now
) I think it would be fair to say that Gary loves Orlando but doesn't necessarily love Disney. That doesn't stop him from indulging me and my love of Disney and I love him for it. Gary is the logical and sensible one in our relationship and, without a doubt, the reason we are not bankrupt (having prevented me from spending our life savings on holidays). Gary is most looking forward to the various different ports on the cruise, the chance to see new places and meeting up with our cruising buddies.
Next up is my eldest DD, Sian (aka Siany Shoo or Shup Sian or Sianessy O'Bell).
Sian has not featured in recent trip reports, mainly because she went through a phase of being too cool to holiday with her parents, preferring instead the bright lights of Weymouth, where she normally goes with her boyfriend and his family. Sian is most looking forward to FRIENDLYS!!!! Yes, dear readers, of all the wonderful things we have planned on this trip, Sian is most looking forward to eating at a cheap and cheerful restaurant on International Drive. She tells me now that Friendlys is the one and only reason she decided to go on this trip. At the tender age of 20, Sian is at that unfortunate age where she is legally allowed to drink here but won't be able to drink on the cruise or in Orlando. Surprisingly, maybe, she is absolutely fine with that. And so am I – I'll need somebody sober enough to get me back to the stateroom when Gary has given me up as a lost cause
Like most teens and their Mums (I imagine), Sian and I went through a stage where we couldn't be in the same room as one another without World War 3 breaking out. I am pleased to say that phase is over and, for the most part, we get on very well. We are very similar, we laugh a lot (often at the most stupid things) and, when the two of us are together, I think Gary sometimes despairs. To keep him sane and even up the testosterone v oestrogen levels, we have…
Daniel (Daniel Spaniel, Danny Boy, Monster Munch)
Daniel is a 10 year old. I remember writing a pre-trip report some time ago now, when I described my DD (Sian) as a typical teenager. Even though he has not yet reached his 'teens', Daniel has all the makings of a 'Kevin' (no offence intended Mr Stringer, if you're reading this). He can be the nicest, most polite, loving little boy one minute. And an unbearable, obnoxious monster the next. He is like our very own Dr Jekyll and Mr Hyde. I am hoping he will grow out of it – preferably by October
Daniel is most looking forward to (in his words) "seeing Abby*, being on holiday with the family, the Aquaduck, swimming with dolphins at Grand Cayman and Texas Roadhouse"
*more about Abby coming up. I love how she comes first, before 'being on holiday with the family' though
Then there's me, Joh (Wilma)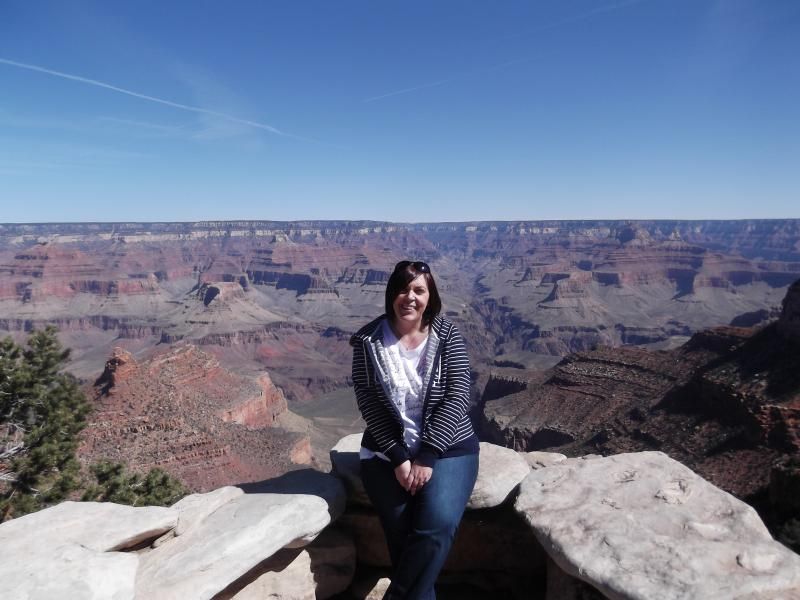 I turned 40 this year. I was a teeny, weeny bit unhappy about it. Actually, I was quite a lot unhappy about it, so much so that I cried on New Year's when I realised that I would be 40 THIS YEAR! In reality, it really wasn't that bad. Being in Las Vegas for the event softened the blow somewhat (thanks Gary). Being with friends softened the blow even more (thanks Brenda and Michael). I love, love, love Disney. Not in the 'Oh Mickey Mouse, I adore you' kind of way but more in the fact that I am at my happiest when I am at Walt Disney World. I am a control freak (yes, I can admit it) and a planner. I am most looking forward to catching up with friends on the cruise, introducing Sian (an avid Harry Potter fan) to the delights of WWOHP at Universal and being back in my 'happy place'.
So, that is the introduction to our family group and the background to the trip. Next up:
The extended group, more of our plans and how the trip report got its name.