I'm so happy, I could BOUNCE!
I do! You told us!
You mean you aren't glued to the Interwebs for news of this new land opening?
Next time you want to leave at noon, tell Fran you absolutely, 100% no kidding, your lives depend on it... have to leave at 10:30.

That way you should be able to leave only a little late.
I was pushing it with the noon leaving time. She knew that the preview wasn't until 5:30PM. The only way that I could get her to agree to the noon leaving time was that they opened check in at 1PM. I'm glad I told her noon and not 2PM!
Oh, so not a rear unloading.
Well this is how we usually would unload both the scooters.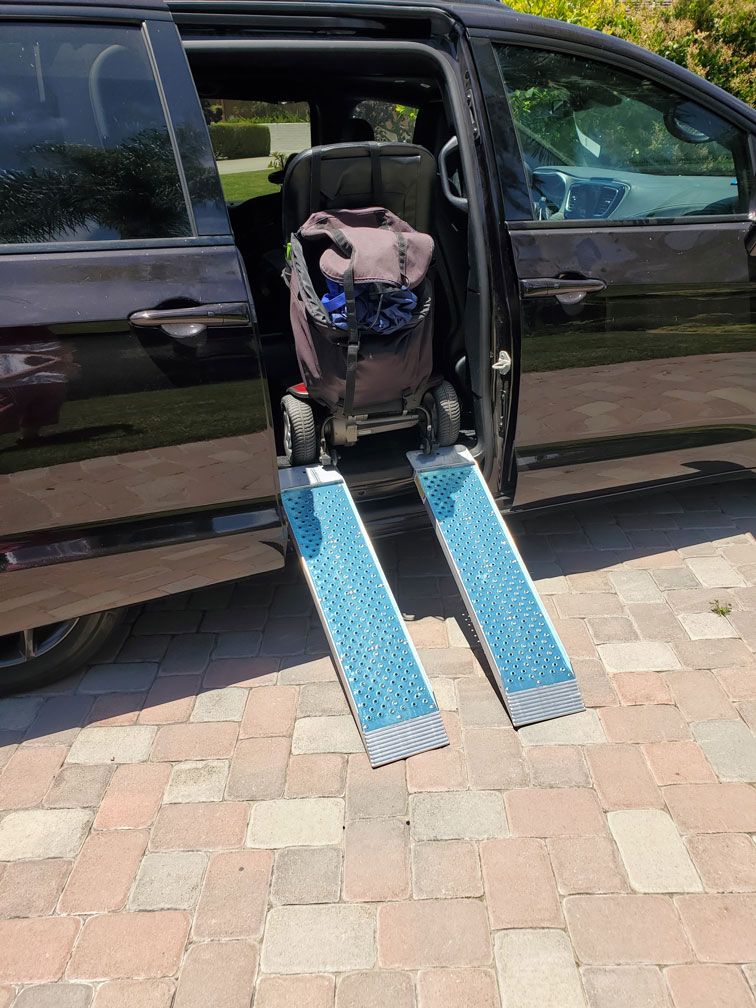 But for the trips since the parks reopened, we have put my scooter in the back, so right now it's side and back unloading.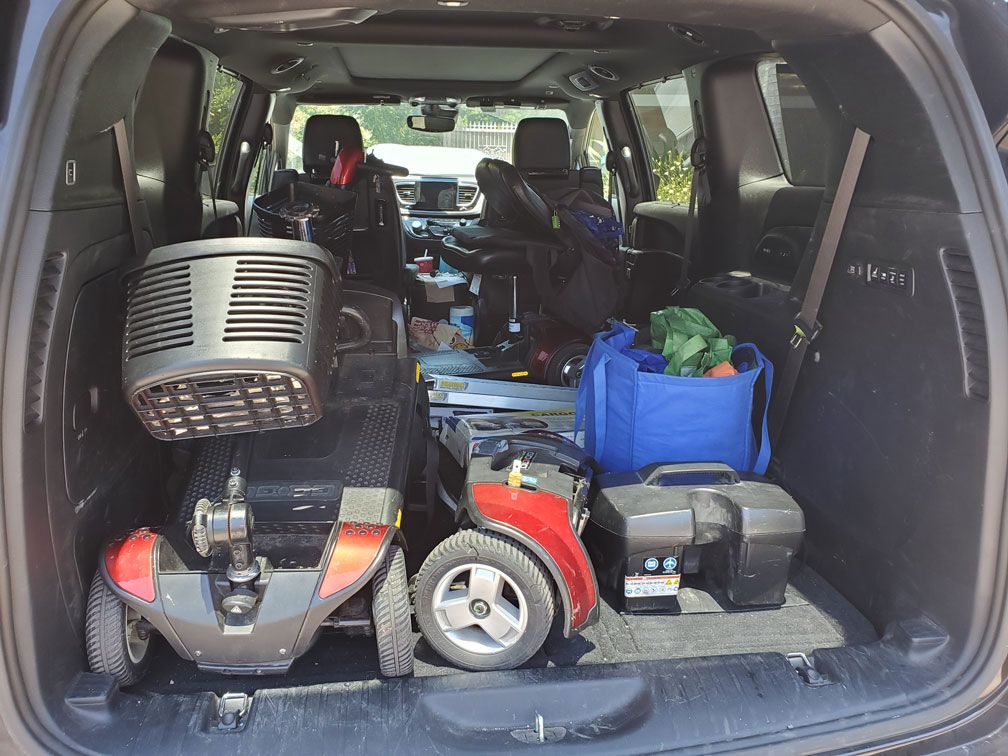 Still... am surprised given that it was a pre-view, combined with Covid restrictions that all the spots were taken.
Well all the Handicapped spots were taken. There was lots of availability in the structure overall, but some of it was really far away from the elevators. There's this little period in American that takes place every two years (in odd numbered years). You see Handicapped Plaques are good through June 30, of odd numbered years. New plaques are mailed out to Plaque holders starting in April. When we asked one of the guys directing traffic about Handicapped spaces he said this:
"Come July 1st this will be over, but for now all the children and grandchildren of Handicapped Plaque holders are using the expiring plaques that their elders gave them to use, while the elders use the new ones."
We need to remember to put the new one in the Van. We had the new one in the dead car, so when we cleaned it out at the Mechanic's it's 2023 plaque made it into the little car, but the big car still only has the 2021 expiring plaque.
mmmm...
Better, same, or not as good as the wagon?
Probably the same, but I like the option of the Cheese dog too. I like the combination of both.
Nope. I can't see that as something I'd want. Of course I'd try it if offered, and might even like it, but... not something that grabs my attention.
If you were with us, we'd lop of a taste for you!
Well... that whole sentence is odd.
Carrot cake funnel fries??? That... don't taste like carrot cake???
Well when I reread the description, it said that they were "funnel fries with cream cheese icing and sprinkled with crumbled Carrot cake." I didn't see too many crumbles.
I'm sure those were full the next day.
Probably.
Oh! I never would've guessed.
I took me a while to figure it out.
I'm guessing it's from Avenger's Endgame. I think I need to watch Infinity Wars again before we watch Endgame.
So... you figure that's a movie used model?
Well other things displayed in that space are bonafide props and such.
I'm surprised by that. I wonder if things have changed. Last I heard, Universal had the rights to Spiderman for theme parks.
I believe that they had the rights East of the Mississippi....
$80?!?!?

Do they do dishes? Clean the floor?

$80?!?!?!?!?
Was that by design? Did everyone go straight there, or were you free to branch off if you wanted?
Well we could do whatever we want, but always at these things everyone tends to go right for the attraction. Also a CM told me earlier in the week that the attraction can go down easily so it's best to get it out of the way as quick as possible.
Not bad at all.
It moved quickly.
You're probably more knowledgeable than I am. I haven't seen any SHIELD episodes.
I haven't finished all the Marvel Movies yet.
Huh! I wasn't expecting an interactive ride. And certainly not like that!
I had no expectations so I thought it was fun.
Okay, that's cool.
But I can see it hurting more than TSMM after a while.
Good thing you can only ride it once in a day.
Pretty creative!
Is that what they're calling it nowadays?
Watch out, Alison!
Noooooo...
Phew! Thank goodness for your powers!
I know that was a close one there!
Sorry to hear that. Maybe those "dogs" pre-ride weren't the best idea?
She has been having problems for almost two years now. She saw out Gastroenterologist back in the Fall of 2020 and he did all kinds of tests. She had a Colonoscopy about a week before everything shut down. Her stomach just cramps up horribly to the point where she is doubling over. We thought we had solved it a year ago when we identified it to Mtn. Dew, but it's come back in the last couple weeks, so we're keeping a log of what she eats and when.
Good thinking. I wouldn't have thought of that.
This isn't my first "running out of food" rodeo!
I thought Disney employees weren't supposed to use the word, "no".
And yes, that pretzel is huge!
Oh, geez. I can already guess that they're going to make a ton of money off those.
I'm not sure. The Boarding Group is harder to get than RotR, and you can only ride once a day IF you get a BG. Also with no APs, I can't imagine them flying off the shelves unless there is more chance to get on the ride.
I had a long long day. I was up and out of bed at 7AM to get all the things we had to do done before we could leave. The Web Slingers ride really fatigued me and I'd been on Guardians a bunch before. I'll go on maybe Wednesday and definitely when I'm back with Jenny next week.
You know, I've never had schwarma. We have it here, but... I've just never been in the mood, or hungry enough, or in the right area.
Not sure if I'd had it either. We have so many different kind of places serving food from that part of the world, I'm not sure which cuisines I've tasted and which I haven't.
It looks terrible/burnt, but obviously wasn't. Very interesting look!
That's a chocolate coating, so not burnt at all.
Huh! Maybe Disney should offer that.
I think the chef would be insulted, but I think it tasted better!
Almost.

I believe it's 2-3 weeks after the 2nd shot that you are as immune as you're gonna get.
So hopefully you're good now?
You say "pushover", I say "kind".

I would much rather be friends with a "pushover" than with an abusive or rude person.
Well me too!
I don't remember that one! I need to watch that movie again!
But

not

at the top of the page.
Thank you. I had to modify my comment pattern, but it worked out.