I'm so happy, I could BOUNCE!
It was only a few weeks ago when I was responding to comments about how our only plans for the future were to travel to my parent's house in September because Fran was not comfortable getting out and about with other people. Well, how things have changed! I'm not sure what changed in Fran's mind, but a little over a week ago, we woke up Friday morning with only plans to visit my parents, and then next year we booked a Disney Cruise out of San Diego hoping that things would be better by then.

Well we got to talking that Friday afternoon, and I asked if we wanted to consider going to the 2021 Annual Band Convention. Last year they held it virtually and we didn't participate, but she said to check it out and see if there were hotel rooms left and if registration was still open. There were and by 5PM that day, we were registered, had a hotel room, and flights back and forth, on points no less!

Well I guess the adrenaline for vacation booking didn't stop there. The next day she said that she wanted to go to WDW, I asked her when and she said 2022! Well, we don't go to Florida after May if we can avoid it, and I prefer not to book until the end of October because it's just too darn hot there. I realized that we were rapidly approaching the end of our booking advantage with our home resorts and we got to plotting. It turns out that I've rented out so many of our points that we didn't have much to work with.

In the end, we used the 7 month window with our SSR points at BLT, and then used our 7-11 month advantage to book BCV for the last four nights of the trip. We will be going in February of 2022, and I really wanted to create a ticker for my signature, but I can't figure out how to put it in there. None of the code from the ticker site seems to show up. I tried all of them and none worked.

We have our cruise almost one month after we get back from WDW, so we entered the month of July with hardly any plans and now we have something going on nearly every month starting this Fall! Let's hope that this thing doesn't get worse and cause everything to shut down again! Anyways, I just wanted to share that bit of news with y'all. Now back to our day trips to Disneyland!
So the day after we visited the archives, we had a reservation for DCA. Back in April when they opened up the reservation system, I literally threw darts at the calendar and picked random days to go out during the first two months of park opening. Jenny wanted to have a girls day at the parks, as opposed to a day with the kids and family, so she made a reservation for this same day and our plan was to try for Webslingers. We figured that we'd get a group like 40 or 50. We'd pick Jenny up at 9AM (Park opened at 9) and saunter in about 9:30-10 and hang out until our BG got called.

She had been trying for a BG for weeks since the ride opened with no success. She works from home assessing mentally unstable patients who need psychiatric care. She described her obsession with getting the BG like this. "I feel so bad for the clients, but I NEED this. I feel like I'm saying, 'I know you're suicidal, but can you just give me 5 minutes while I try for this Webslingers Boarding Group? Then I'm all yours!' Crazy huh?"

Well she had me all worked up after trying for so many times with no success. So here's our chat that morning.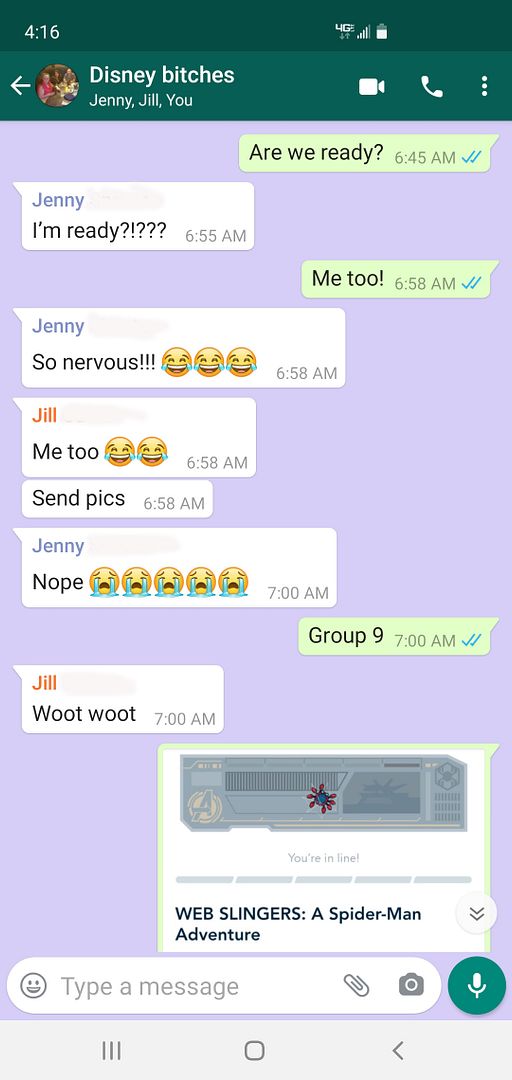 What follows can not be shared on a family board!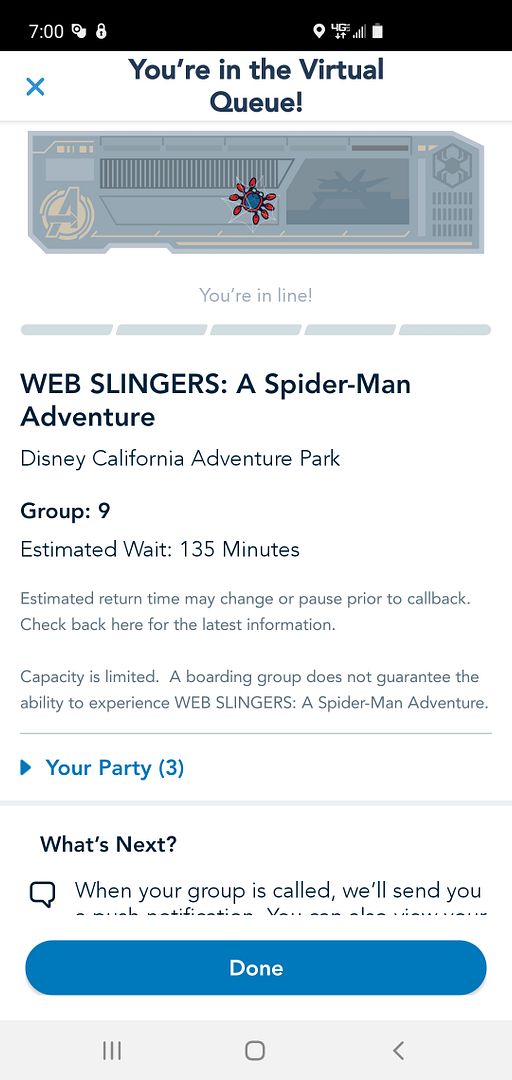 Who would have expected Group Freaking 9!!!!!!

Fran and I were still in bed, not even close to being dressed. I jumped up and told her we needed to get going as quick as we could. We were out the door in about an hour (which is pretty good for us!) We picked Jenny up at her house and her daughter (who just finished pastry school) made us fresh scones that morning. And Jenny had Mickey plates for us to eat them from.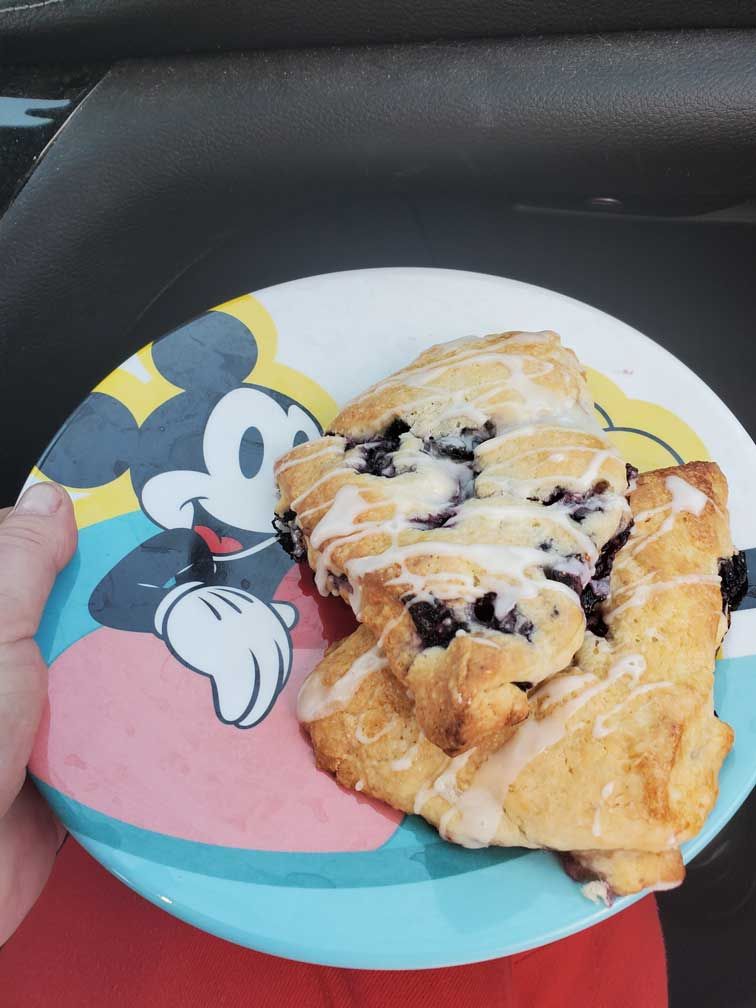 When we were there the week before Fran had bought us the special Webslingers wrist enhancers. On the way we listened to YouTube videos (I watched them) through the car stereo system, to figure out how to wear and use them.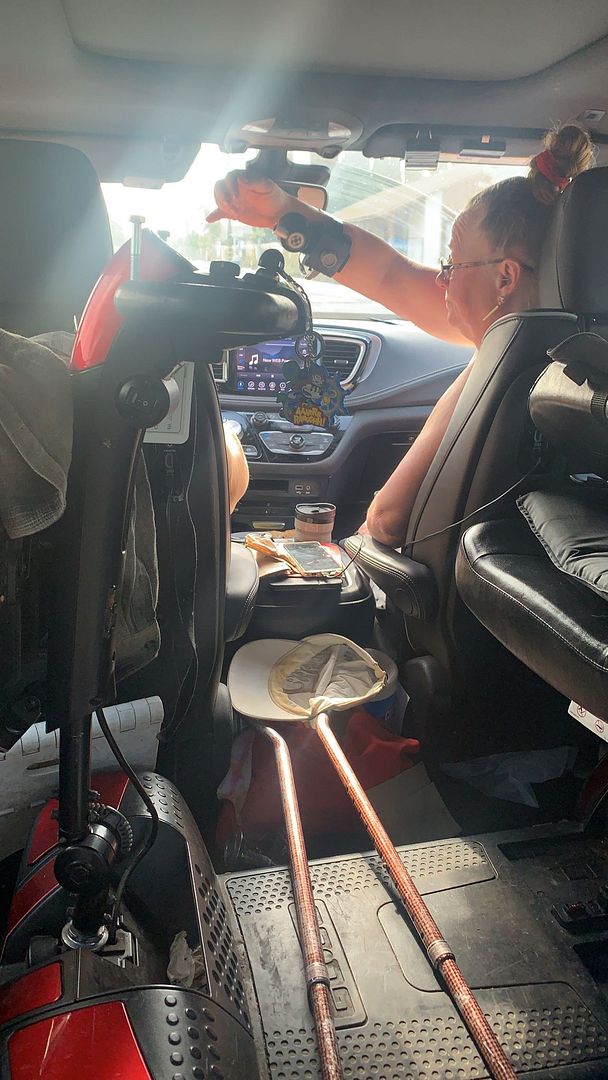 We were about 15 minutes from the park when we got the notification that our BG was called. The park hadn't even officially opened yet!

We hauled butt to get there. It said in the screen return by 9:11AM and it was 9:15 and we were stuck in traffic trying to park! Jenny and I screen shotted the Boarding passes, but it wasn't really necessary, we still made it in plenty of time. They let us in, and even after they scanned our passes we still had about a 20 minute wait.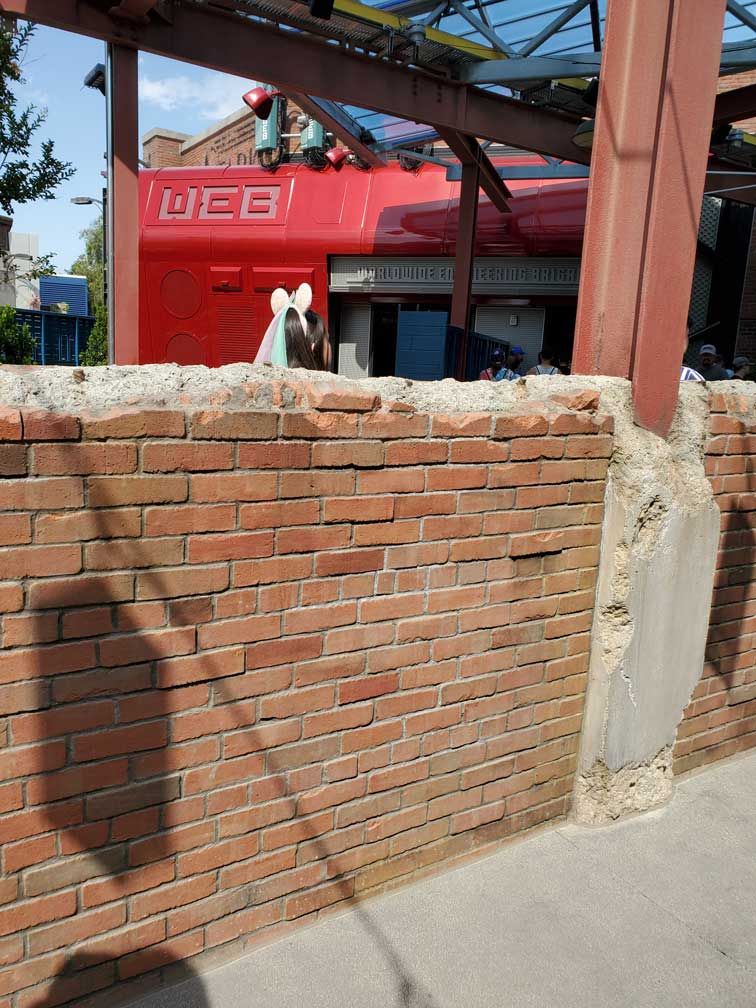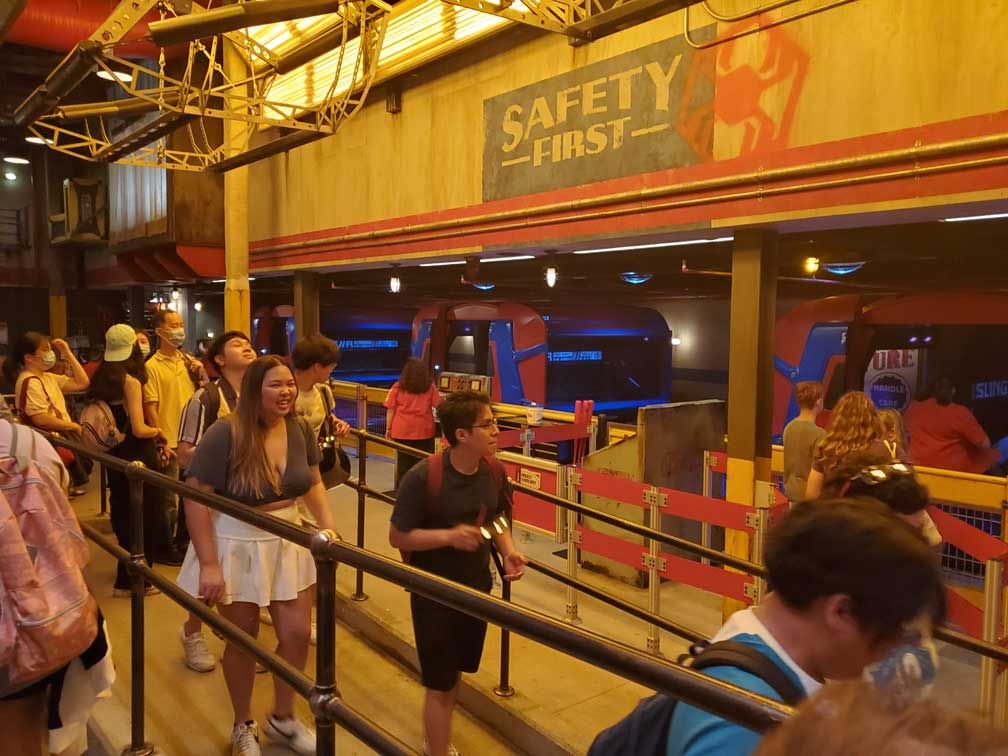 The ride was totally fun (again). This time I wore my Webslinger device, but I found it cumbersome and like it inhibited me. So I took it off for the second scene and as I had read online since the device had registered itself, even though it wasn't on my wrist, I was still slinging triple webs instead of the single webs.




Also I got a better sense of the storyline of the ride. The spiders are not trying to take over the world, just the Avengers Campus. Your first "scene" you are in the WEB building. (Worldwide Engineering Brigade). The second scene you are in the Pym Lab. The third you're in GotG, and the last one you are on the roof where the Quinn Jets take off and land. Jenny kicked my butt. I need to get better at this!

After the ride we did a little bit of shopping. Fran got more of those Webslingers. Not sure if she wanted us to have one for each hand. I'm not sure that was entirely necessary.

Jenny wanted to get a drink at the bar and she twisted my arm to get one as well. I think this is when Jenny said.

"Life's always better with a little alcohol."

They encourage you to mobile order everything, we couldn't get a mobile order slot until 12:30 and I think it was 11:00, so we decided to just wait.

They let all the Mobile order people go ahead of us, but in the end we waited about 15 minutes before they dispensed these little babies out of the bar tap gun.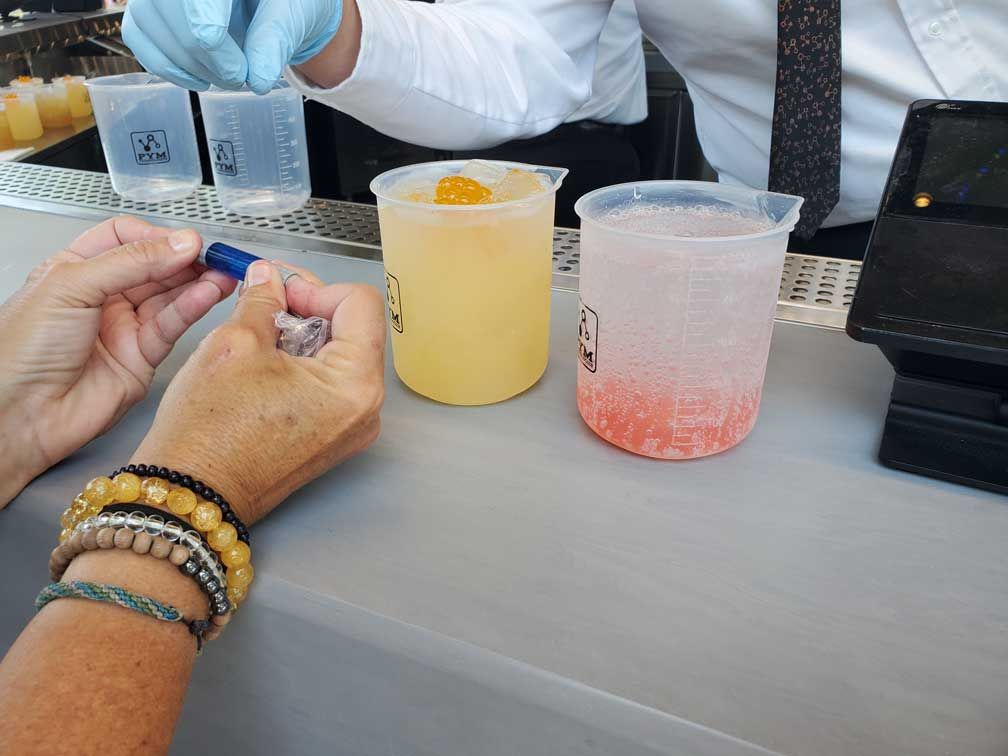 We lucked out because only about a week later they stopped dispensing drinks in these beakers and just use the standard chartreuse cups that all the other alcoholic beverages are served in.

Adult beverages in hand, we decided that it was time for some Schwarma.




Jenny was starving and couldn't wait. She had already cut it up for sharing and was digging in to her piece when I was able to get this picture. We sat in the seating area where the queue for the Hyperion theater used to be..




Next up Jenny wanted to do some shopping. She had secured reservations for the following Monday for her family and her daughter is a super mega Marvel fan, so she wanted to get her some Loki ears and T-shirts that she could wear. Fran is always up for some shopping!




We decided that it might be best if she scooted back to the car and dropped off the packages while Jenny and I rode Soarin'. It ended up being perfect timing. The amount of time we had to wait plus ride time was just right and Fran was waiting for us as we exited the ride.




Fran wanted to check on that Pirate shirt in New Orleans Square again to see if they got any larger sizes, but no luck. We noticed that Pirates was a walk on, so we went to get a return pass, and it wasn't for 20 minutes. We went to the end of the line, and tried having them scan it anyways. They said we were a little early, but let us on anyways.

Blue Bayou had recently opened and it was nice to see it back in action.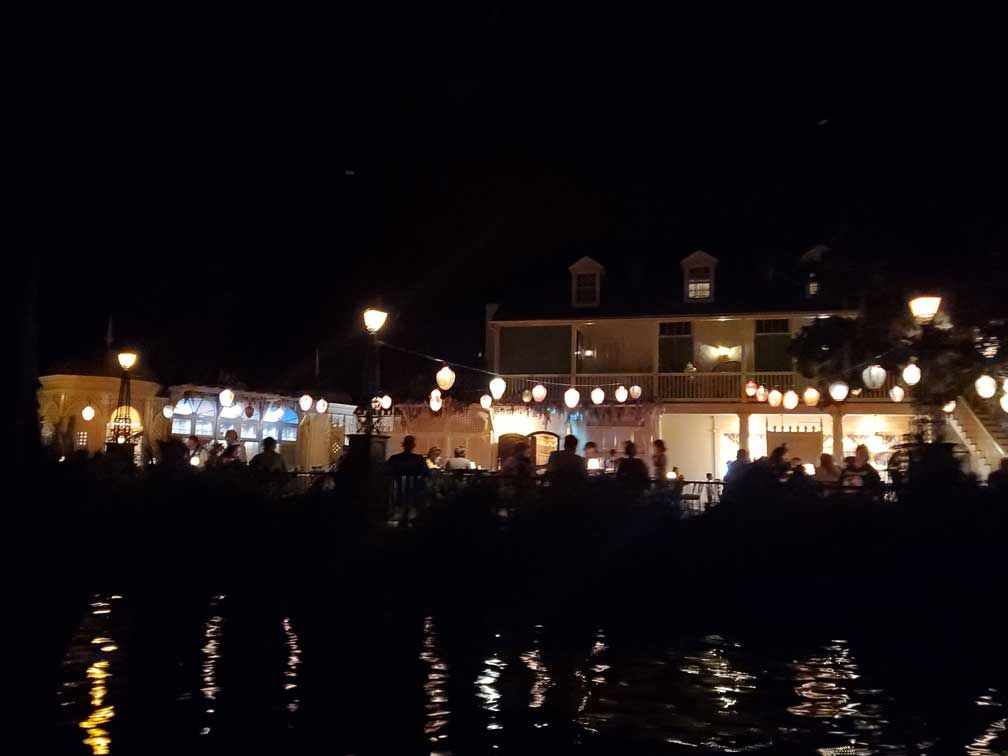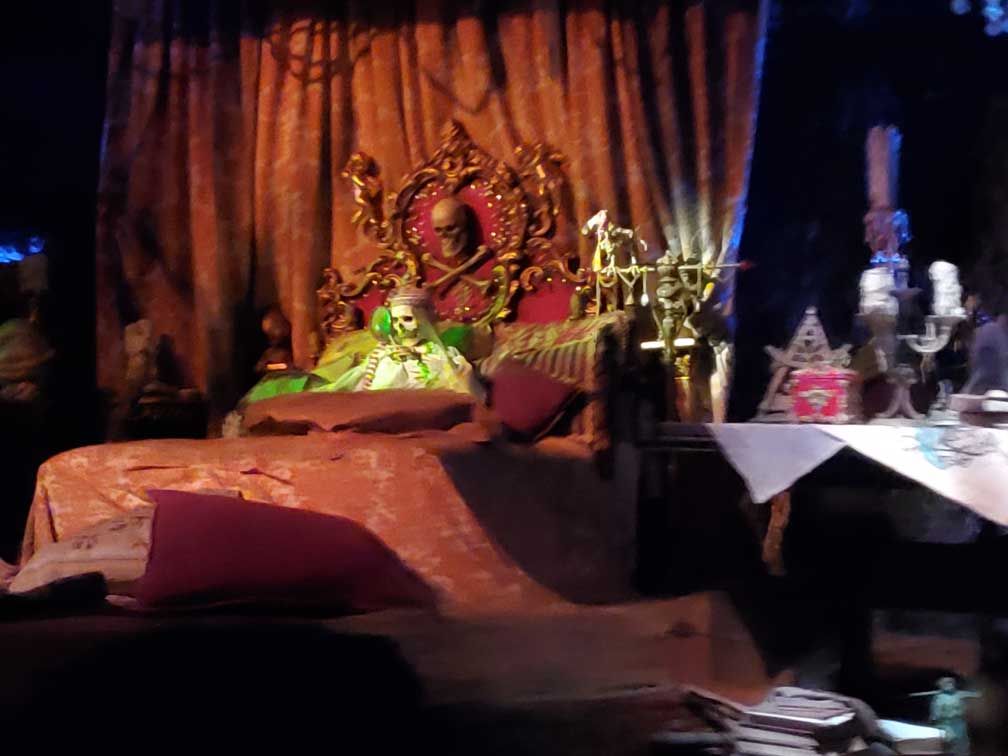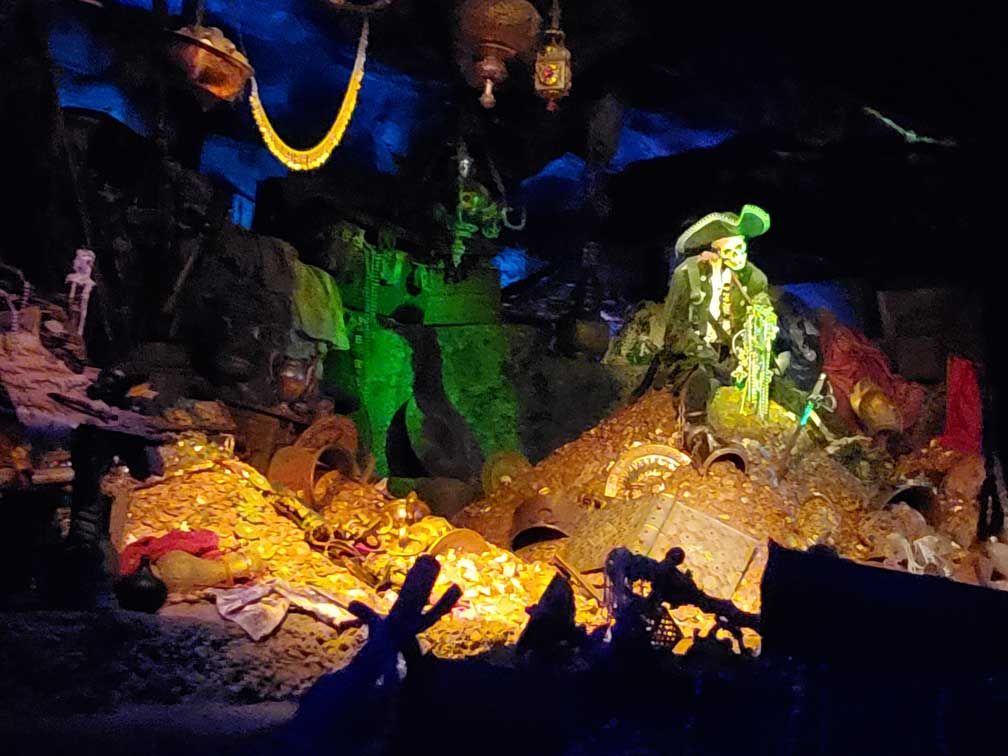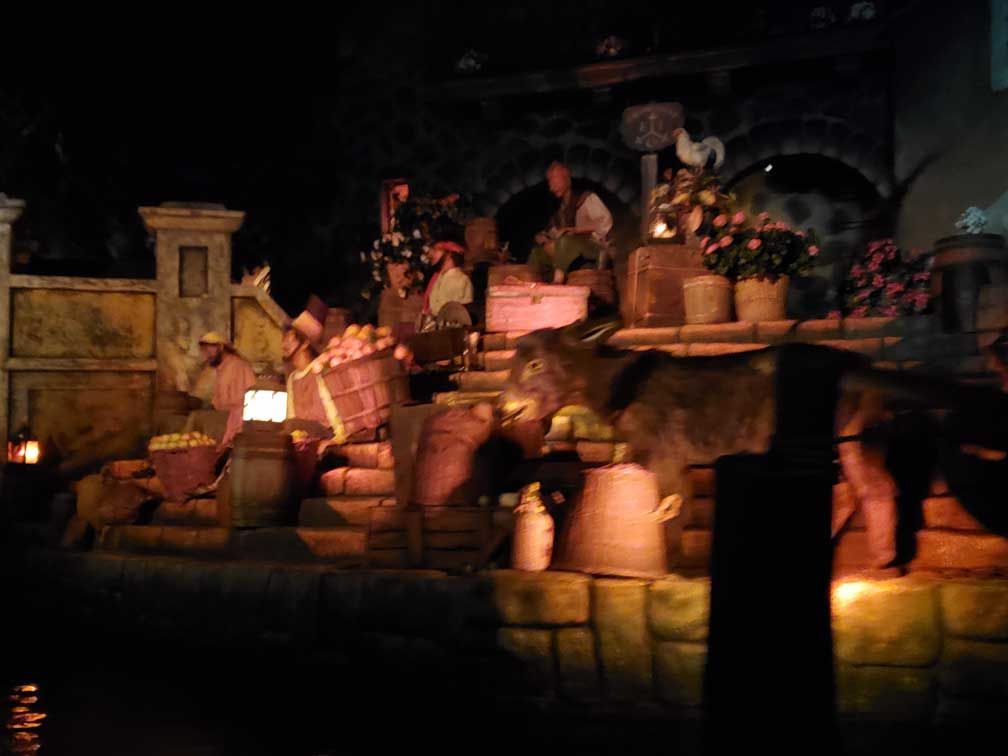 I still prefer the original Redhead, sexist or not.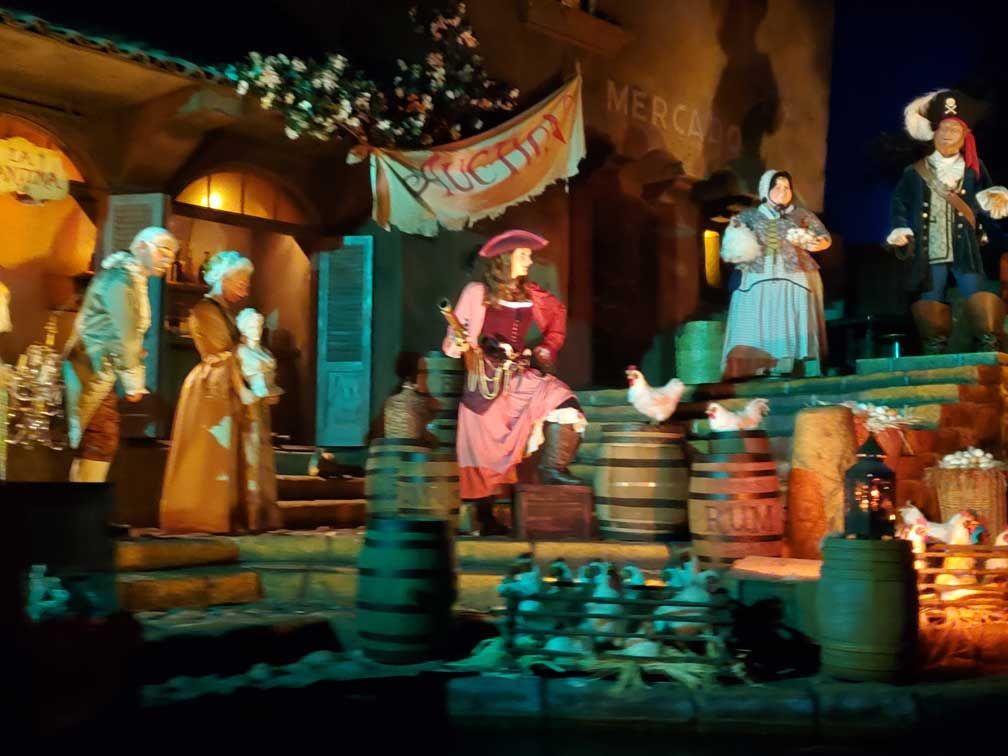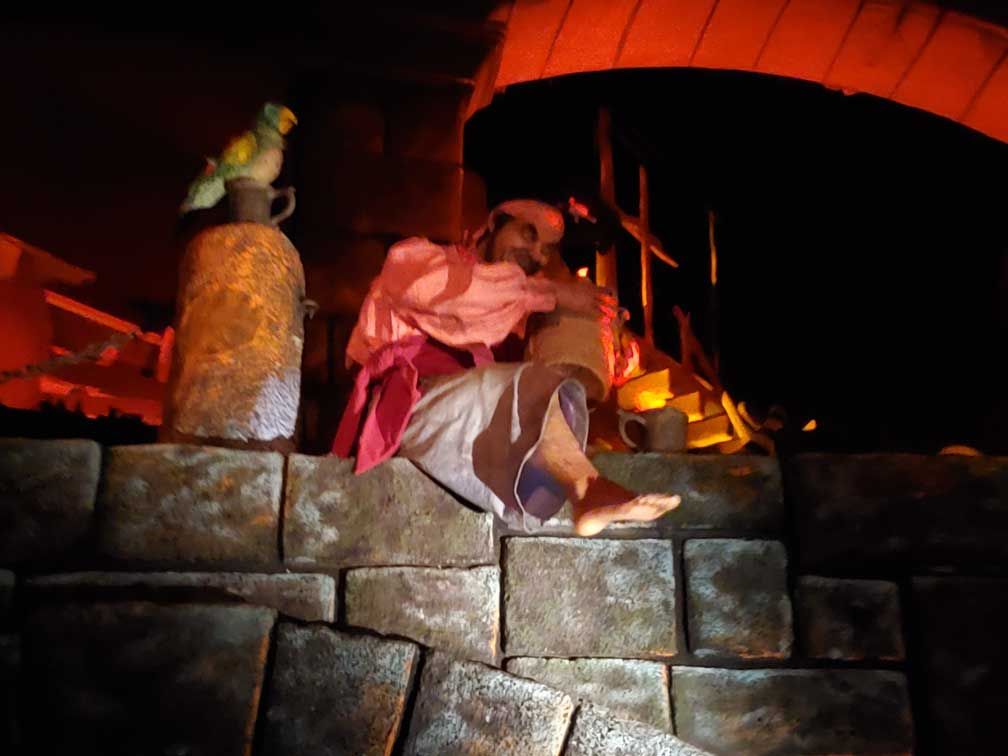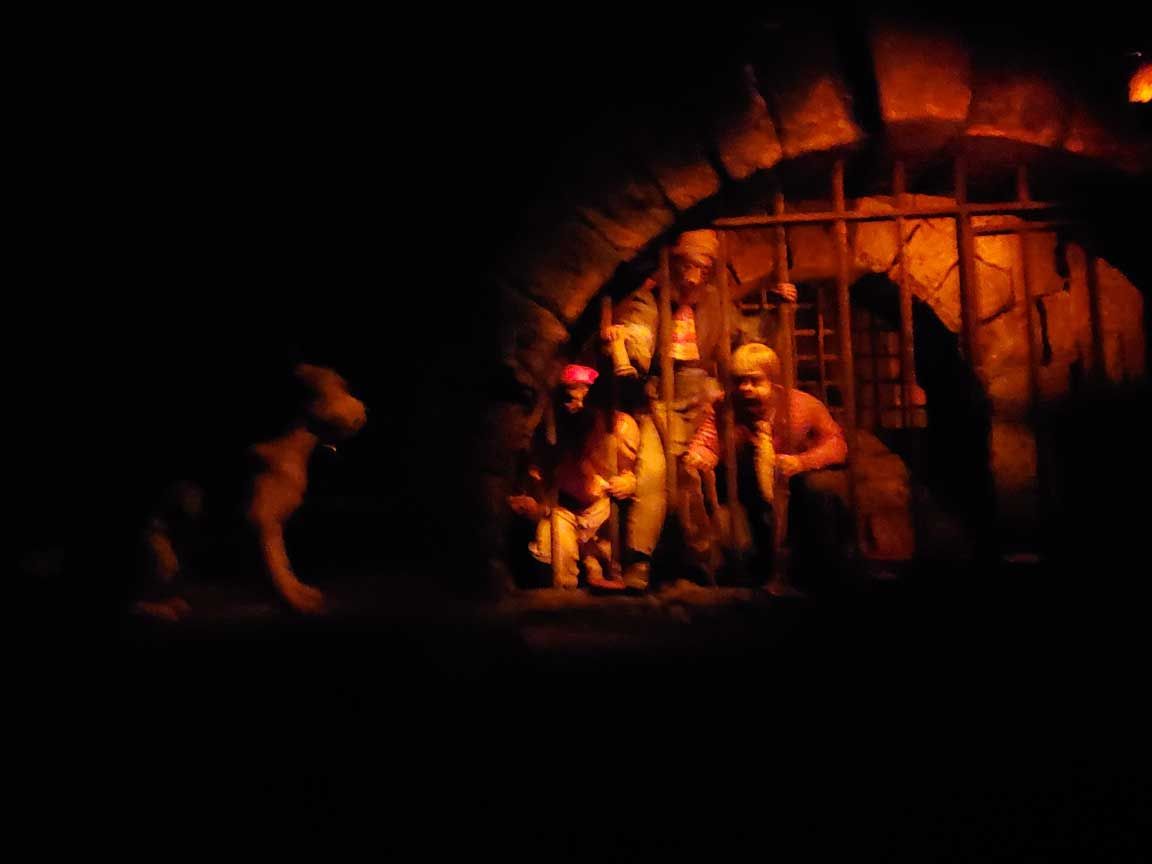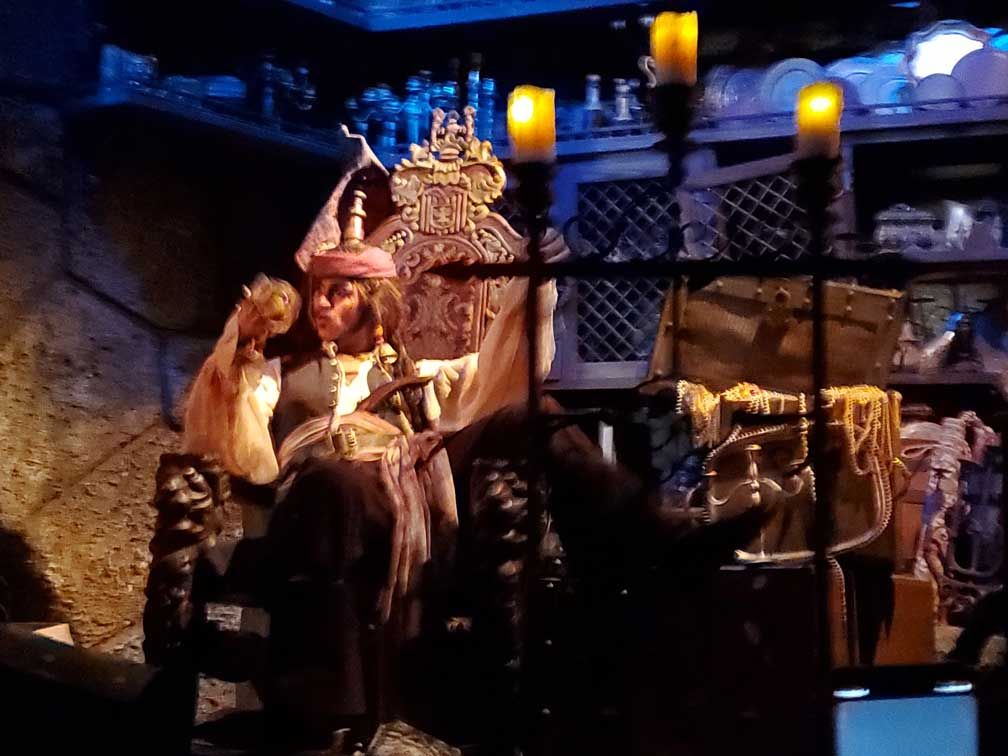 By this point we were pretty tired. It had been a long day and we wanted to go home. I'd be back again soon!
Last edited: