I'm so happy, I could BOUNCE!
Fran gets her Monte Cristo!

So we're jumping back a couple weeks from the Avengers update. In Mid May Fran had still not had a hot Monte Cristo sandwich served to her in the park. I brought her home some of my leftovers, but that's not the same. There had been several opportunities for Fran to get a Monte Cristo and yet she still had not had that experience since the park opened, but because she didn't feel up to it, she ended up not going. Today she would finally have that experience!

This was our first day that our park reservation was for DCA and not DL. We didn't get as early a start as I wanted. I'd hoped to leave at 10AM but it was closer to 11:30 when we finally left. It was 12:30 when we were approaching the gates so we stuck with our DCA choice since we couldn't park hop until 1:00PM.

I convinced Fran to ride TSMM so we headed to Pixar Pier first. We stopped in the gift shop and she found a shirt that she wanted but they didn't have it in her size.




The line wasn't too bad and pretty soon we were approaching the ride.




I wonder if they will remove these "Not Available" signs when the state reopens on June 15th?




Here comes our special accessible vehicle!




Vehicle loaded and ready to go.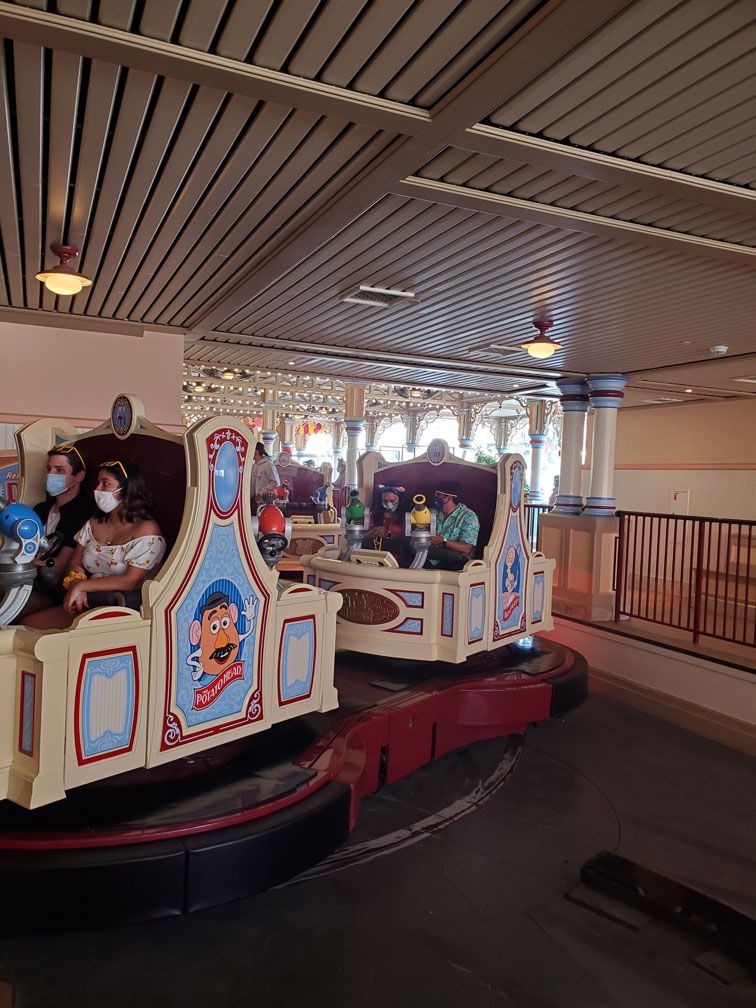 We are out of practice and need to go back. At least I did get best in vehicle!




We continued around the pier, looking in the other shop near the Fun Wheel for her shirt, again with no luck. We continued around the circle past Silly Symphony Swings.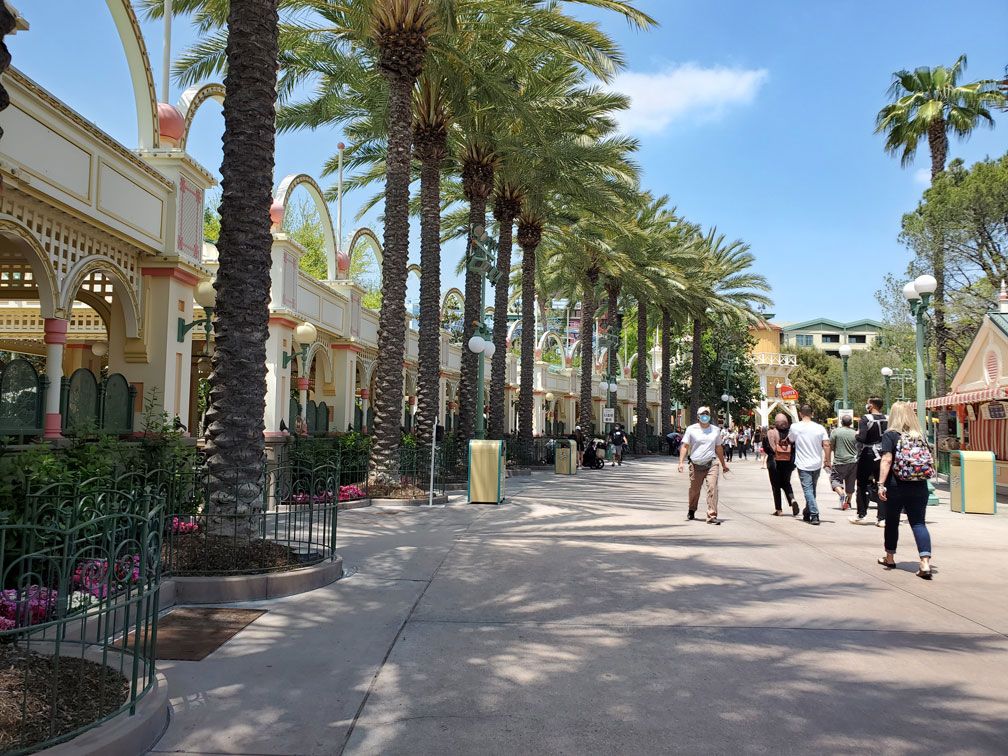 I'm sad that the Corn Dog Palace isn't open, but glad that at least the same menu is being served at Award Wieners.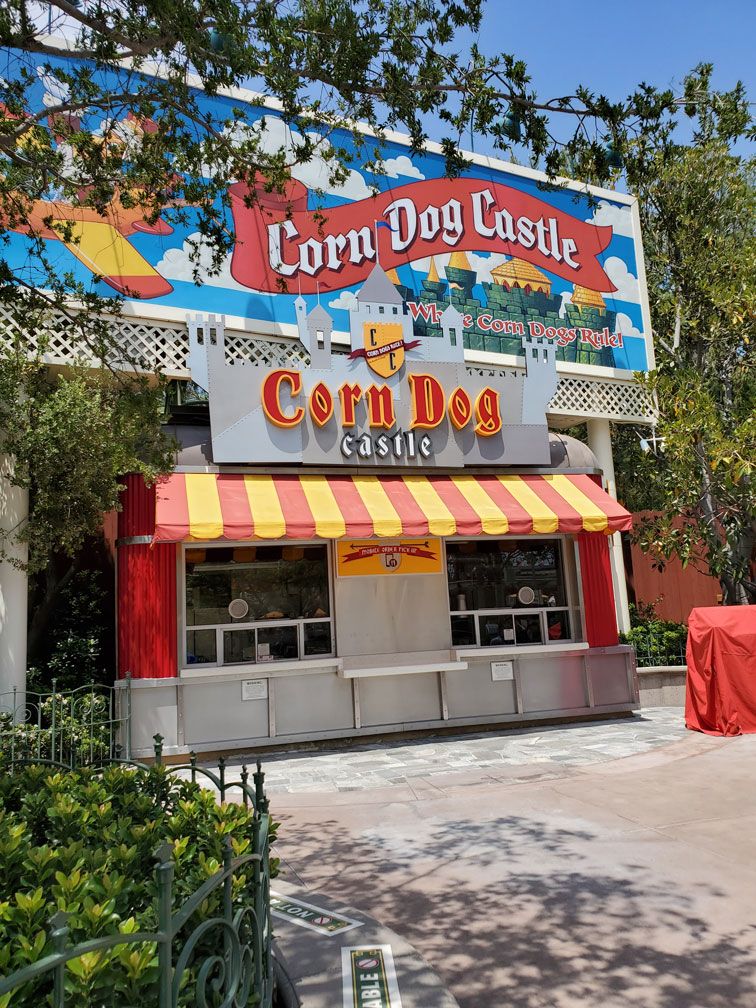 The Zephyr is down right now too.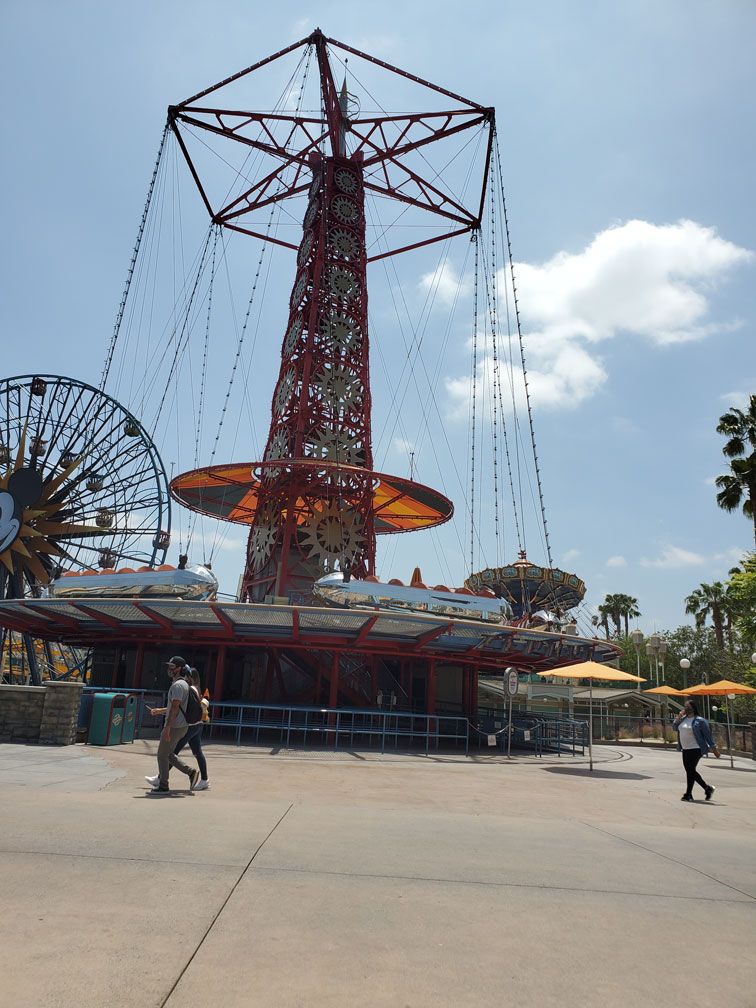 It was still pretty quiet in this corridor.




She wanted to look through Ink and Paint, while I rode Guardians.




There was no one else behind me in the queue and I was able to go slowly through the front room and take pictures.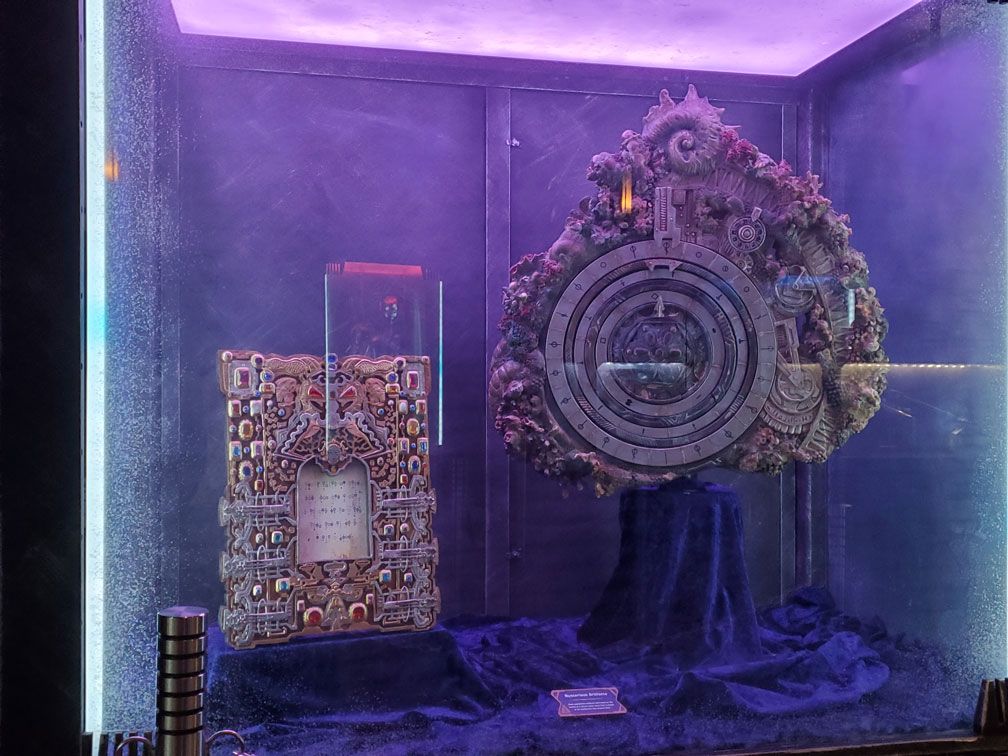 The weren't running the pre-show, and I got to take pictures of Taneleer Tivan's office. I also noticed that the walkman was gone…..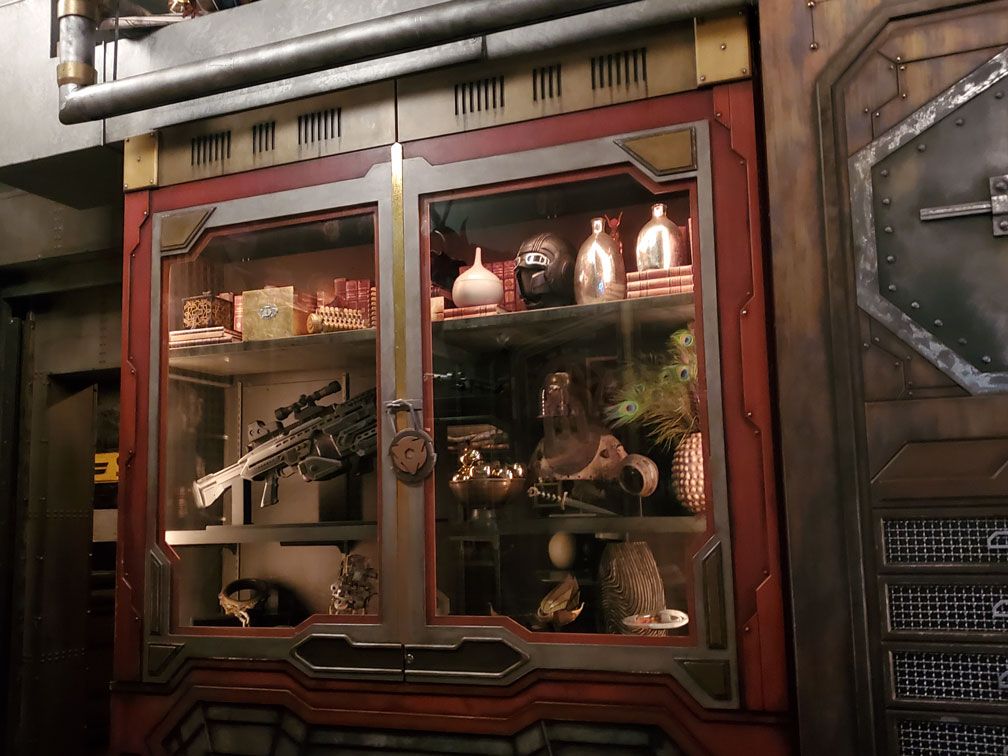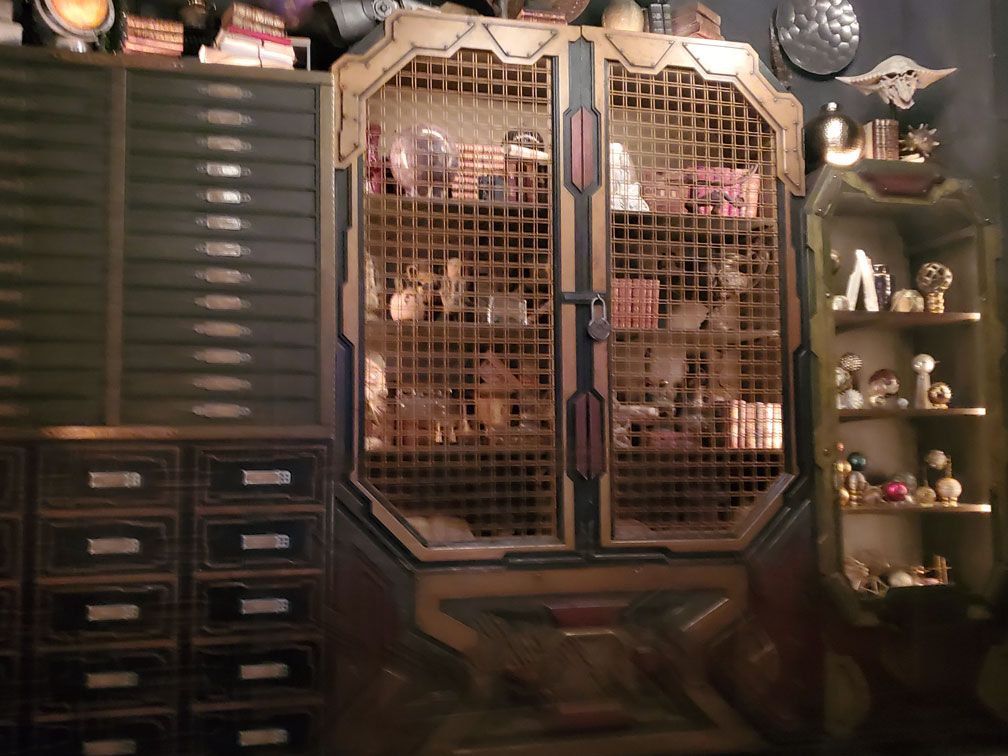 I don't know why I'm always obsessed with this disgusting food table.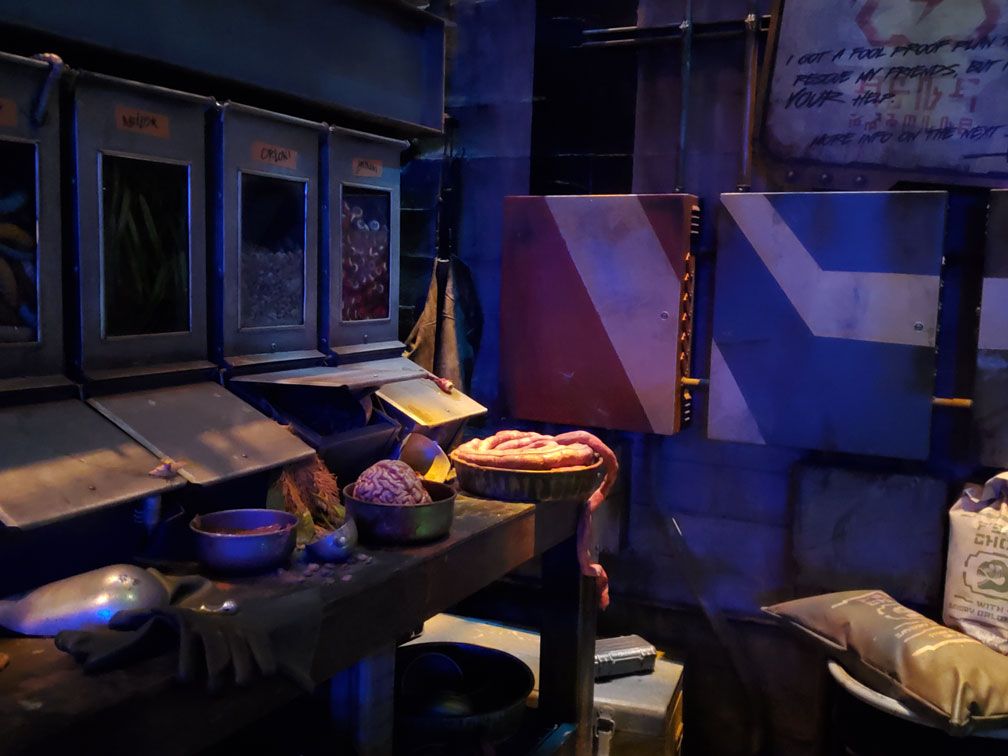 We noticed these little touches to put this area more in line with the Avengers Campus. The little boxes on the wall were all over the rest of the Avengers Campus.

I got pat Benetar's Hit Me With Your Best Shot, and the camera malfunctioned so I didn't get a picture. That's two for two. I couldn't get the photo from my last ride to link up to my PP account from the day with Jenny.




I was amazed at how long the line had become, it wasn't like that when I got there. They got really creative with the queue.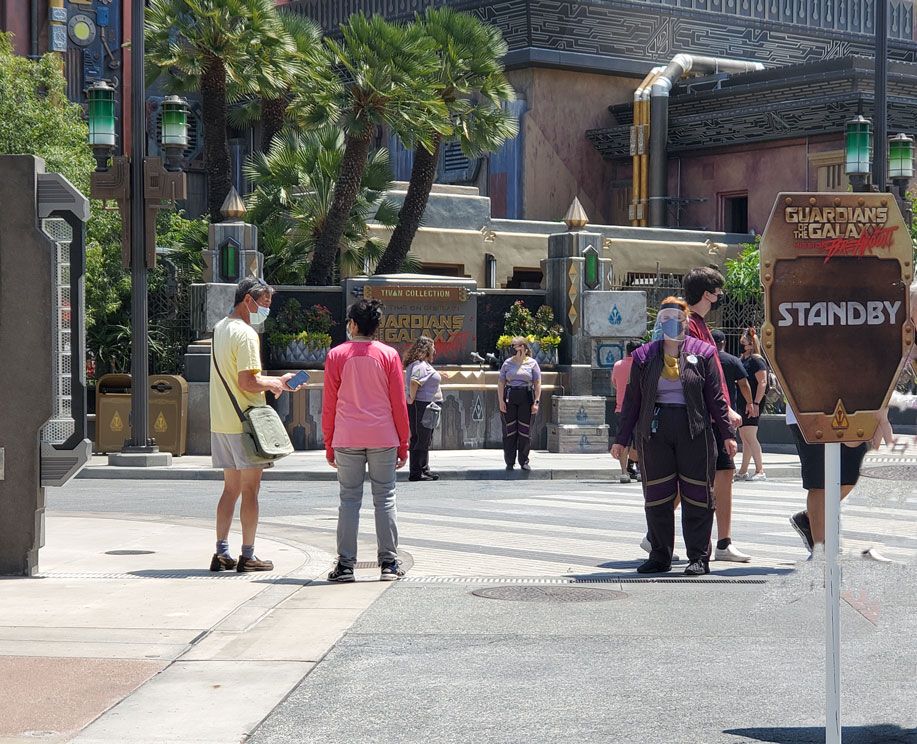 It was coming on time for our reservation at Cafe Orleans, so on the way out of the park, she wanted to look through Elias & Co. She made the mistake of asking me if I wanted to look at any jewelry.

Now during the lockdown, I became very lax about my appearance. Since I never saw anyone but the Chiropractor, mailman, and gardener, well and Fran, but we don't care what each other looks like, I rarely wore jewelry and such. In preparation for our nights out, the week before this, I decided to change the earrings in my upper posts (I have four piercings in one ear and two in the other). Since I lost a few earrings in the early pandemic, I put in some earrings that screwed in instead of the traditional backing. Well they had been there so long without changing them, I actually had to use pliers to get them off and one of my ears was bleeding when I was done.

I had mentioned to Fran that she should look out on her FB posts in case she saw any good deals on Mickey shaped earrings. Now I can't wear just any earrings. They have to be gold or sterling silver. I can't wear Hypoallergenic earrings. They irritate my ears, so everything I end up with is usually expensive.

So when we asked if I wanted to look at any jewelry, it's not the stuff hanging on the spinning displays in the middle of a room. It's the stuff in the glass cases, locked up and you need someone to "help" you with it.

And fortunately (or unfortunately) I found something it liked! And these were the exact pair that I got, it was their last pair.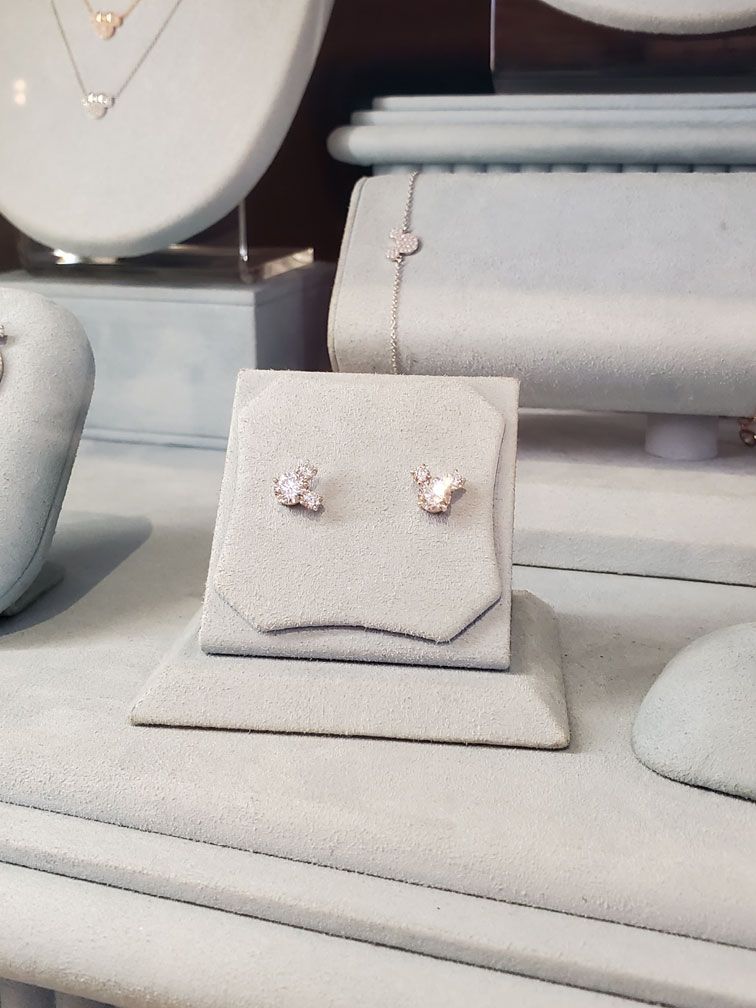 Fran always likes to buy me 2 pairs since I lose earrings so much. She says "one to use and one to lose", so we decided after our late lunch to check the other jewelry stores.

We were on our way to our reservation at Cafe Orleans, and before boarding Guardians I had the wherewithal to check the app and see that Jolly Holiday still had the Mickey Macaron. I ordered that and a Cinnamon Roll and chose an order window just before our Cafe Orleans reservation. We could take those home and enjoy them later. I picked them up as we passed by on our way to lunch/dinner.
[Continued in Next Post]
Last edited: