Note added on Feb 21, 2015... Another helpful thread by figment_jii Fantasmic! Viewing Area Locations - http://www.disboards.com/threads/fantasmic-viewing-area-locations.3381412
Note added on Dec 15, 2014...Fantasmic FASTPASS and dining reservations. Most everything we know about seeing Fantasmic changed on December 12 (last Friday). Information is still evolving but this great post by figment_jii is the best info as of today - http://www.disboards.com/showpost.php?p=52755898&postcount=39
Note added on Nov 6, 2014...Fantasmic FASTPASS and dining reservations. See this Disney blog item: New 'Fantasmic!' Dining Packages Available December 12 at Disneyland Park
Fantasmic! at Disneyland has been around for almost 20 years and is still going strong. It pulls in a packed house every night it shows.
A recent poll I created
comparing popularity of Fantasmic!, the new World of Color show at DCA, and the excellent Remember Dreams Come True fireworks/laser/special effects show at DL had Fantasmic as the most popular nighttime show at all of Disneyland Resort. After a 20 year run this is amazing.
Even though Fantasmic! has been around so long, I have noticed a whole bunch of threads recently asking the same basic questions over and over. I hesitated to write up a thread like this on a 20-year-old show but because of the shear volume of questions asked recently I decided that some visitors would benefit from a consolidated thread that has links to everything about Fantasmic and answers some basic as well as advanced questions. This is it.
Many WDW vets have seen Fantasmic! at WDW and wonder how the DL experience compares. WDW vets have many common questions that will be answered here as related to WDW. I have a special section for WDW vets.
There are many Fantasmic! veterans out there whose input I would welcome to improve this thread. Please contribute your ideas! If I have gotten a location or boundary wrong please let me know and I will update it.
I will start first on questions asked by WDW vets. Then I will transition to general questions. Finally I will give some details on reserved seating/premium viewing.
Malificient Audio-Animatronic Dragon in Fantasmic! is Awesome!
FAQs For WDW Vets Who Have Seen Fantasmic! at WDW
Does Fantasmic! have reserved dining/seating like WDW has?
No. Disneyland does have reserved seating but it works completely differently than WDW and does not involve restaurant dining at all. See the section in this thread on reserved seating for more information.
Does Fantasmic! have stadium seating like at DHS?
No. Fantasmic is performed inside the Disneyland park on Pirates Lair at Tom Sawyer Island.
How can one watch Fantasmic! without a stadium like at DHS?
The same way one watches parades and fireworks shows at any Disney park - by finding an appropriate place to sit or stand.
How can Disneyland accommodate all the viewers without a stadium?
You would be surprised. DL's viewing area is a carefully designed terraced layout that can accomodate up to 9,000 per show. That is more than DHS's stadium unless you count the DHS standing section in which case both DHS and DL are comparable.
Is Fantasmic! at Disneyland as wildly popular as at WDW?
Yes definitely. Maybe more so.
Is Fantasmic! at Disneyland the same as WDW?
No. A large majority who have seen both believe the Disneyland version is quite a bit better. Why? The setting in Disneyland feels more intimate and magical to many. The characters such as the dragon are better (see above photo). And Disneyland uses the Mark Twain and Sailing Ship Columbia in the show to great effect (see photo below).
The show itself is 80-90% the same, but there are some different scenes at Disneyland than at WDW. For example, the Pocahontas scene at WDW is not in the Disneyland version. Consider this a good thing that the shows are not carbon copies so each has something to offer that the other doesn't.
The Mark Twain and Disney Characters Conclude the Fantasmic Show at Disneyland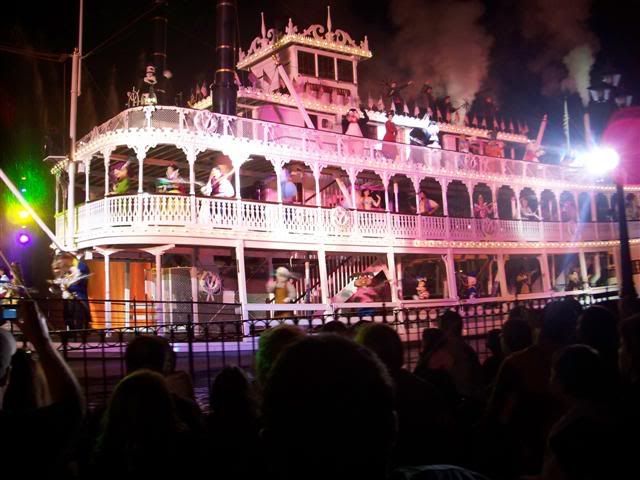 General Questions on Fantasmic!
What is Fantasmic!?
From DLR's website
:
Mickey's active imagination sets the stage on the Rivers of America for Fantasmic!, a musical extravaganza where the forces of good and evil battle in his dreams. Stunning effects erupt against the night sky as beloved Disney Characters join the reverie both in digital film projections on water and live performances.
Mary Jo's excellent write-up on DIS
is a good starting place if you have never seen Fantasmic!
Where is Fantasmic!?
Fantasmic! is performed inside the Disneyland Park on Pirates Lair at Tom Sawyer Island (PLATSI) and the Rivers of America (ROA). DL Cast Members rope off viewing areas around the River in New Orleans Square and Frontierland.
It is not obvious during the day when you walk through here, but the whole area around the viewing area shown below has been carefully designed by Disney in a terraced fashion to support the Fantasmic! viewing experience. It is not perfect but it does work about as well as can be expected when you are talking about handling nearly 10,000 people.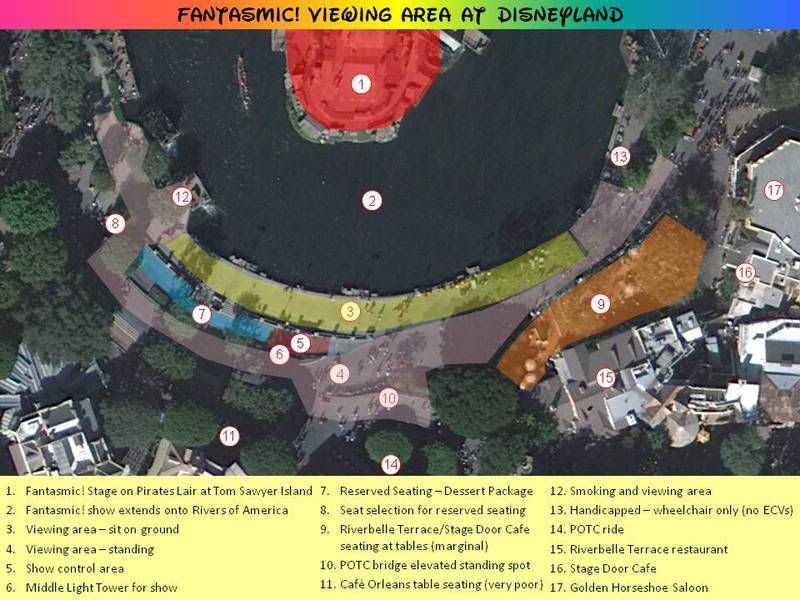 When is Fantasmic!?
Fantasmic! shows year round on weekend nights (Friday, Saturday and Sunday). Often twice. On extremely busy nights (maybe once or twice a year) three shows are scheduled.
During high season Fantasmic! shows every night and usually twice.
Show times vary but the first show is usually at 9:00 or 9:05 and if a second show is scheduled it is at 10:15 or 10:30. The rare third show is usually at 11:45.
The show times for Fantasmic! are carefully integrated with the Disneyland park fireworks and World of Color at DCA. Disney does not want any of these three shows to interfere with each other. The shows get loud at certain times and with fireworks it can get bright and reflecting over a wide area on the ground. So Disney spaces out the shows to avoid potential interference among the three shows.
How long does Fantasmic! last?
Fantasmic! lasts 23 minutes.
How Much Does Fantasmic! Cost?
Fantasmic! is free once you are in the park.
Many would say this show alone is worth the price of park admission.
How do I see Fantasmic!?
To see Fantasmic! just show up and get a spot. However, many other people are doing the same thing so if you want a good spot you need to plan.
Here are your options:
1. Pay for reserved seating ($60 per person/$50 for kids) which gets you a dessert package (location #7 in the viewing area map above). This view will be very good. See other section in this thread on reserved seating for more information.
2. Arrive early to get a sitting or standing spot (locations #3 and #4 in the viewing area map above). See other section in this thread on when to arrive to get a good spot.
3. Eat dinner at the Riverbelle Terrace at 5-6PM and hang on to your table to watch (location #9 in the viewing area map above). This view is considered to be fair to poor. But you have a seat.
Sitting Section for Viewing Fantasmic! is Near the Water (Sitting is Mandatory During the Show - Before the Show You Can Stand)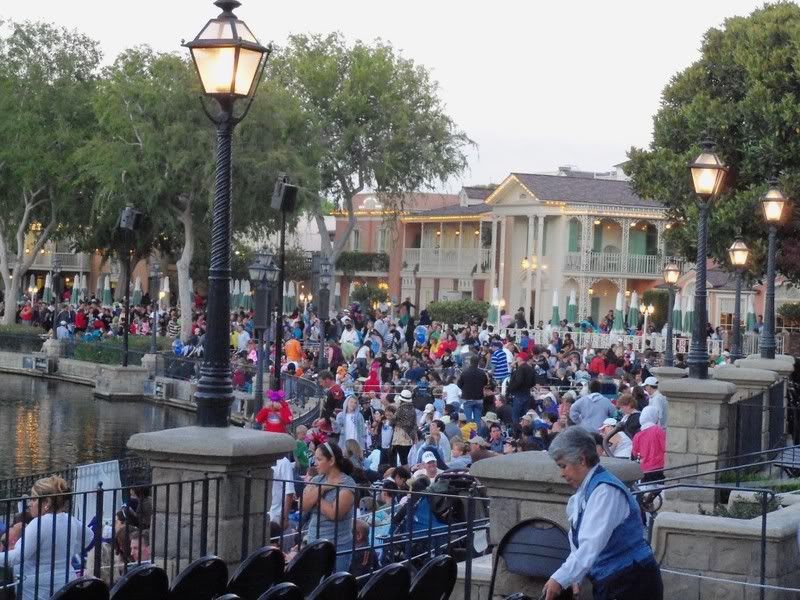 When should I arrive to get a good viewing spot?
The answer to this question depends on whether you are seeing the first show or second show (not all nights have two shows - check the schedule), and whether you have any children or other people small in stature. Since Fantasmic! has sitting and standing areas, the sitting areas are in higher demand. And the center sitting area for the first show of the night is in highest demand of all. This is where the #3 symbol is in the viewing area map shown near the top.
First Show
If it is for the first or only show of the night then some people start gathering four hours before the show in the viewing area in the "sit on the ground" section near the water (location #3 in the viewing area map). For a 9PM show that means people will start arriving at 5PM.
Many people bring a blanket to stake out their spot. If you do that you should leave at least one person behind the whole time to watch over your spot.
Generally you can arrive at 7PM to get a sitting spot. If you are content with a standing spot you can arrive 60-90 minutes early. If you are a small group you may be able to find a spot 30 minutes early in the standing section. The view may not be very good but you can do it.
Second Show
Since the second show starts 75-90 minutes after the first show starts and the show lasts roughly 25 minutes, that means the second show starts 40-65 minutes after the first show ends. Most people leave the area and CMs come and do a quick cleanup.
Since the second show viewing spots cannot be obtained until the first show ends, the second show wait is really a maximum of one hour. You can often get to the sitting area with kids 40 minutes before and still get a spot. I have done this several times with four kids and it works fine. Usually.
Is it bad etiquette to claim a viewing spot then leave the area?
It depends. If you come with a blanket or some other way to clearly delineate your spot and leave one person there at all times while everyone else leaves, this is not considered bad etiquette at all. Especially if you have small children. Most others around you would rather have antsy young children somewhere else while they wait.
If you leave a blanket and everyone in your group leaves without anyone to keep an eye on the spot, this
is
considered poor etiquette. Do not be surprised if you come back and your blanket has been mostly pushed aside.
If you do not have a blanket or clearly delineated spot, then leave more people behind to hold your spot. Then let a few people leave.
It is totally acceptable for people to leave to use the restrooms. If you are waiting for the first show that is actually a good time to just plan to eat dinner. Send some of your group out for food while the rest hold your spot.
Can I and my small childern still see Fantasmic without waiting for hours and hours?
Yes, but this is a tough one for small children. With small kids you really want to be down in the sitting area (location #3). As discussed above you can get a spot in the sitting area for the second show with only a short 40-60 minute wait. But the show's starting time at 10:15 or 10:30 and 23-minute duration makes it too late for many small children.
If you have a nearby hotel and can plan for a long afternoon nap that day, then the second show might work for you. It depends on the child.
Otherwise you should either pay for the reserved seating for the first show or dedicate the 2+ hours needed to wait it out in the free sitting area for the first show. Or I suppose skip the show until your child is older.
Should I sit right at the railing on the water?
Most people would say no. Aside from getting a little wet, the railing kind of blocks your view when you are sitting. It is better to be back a little from the railing - maybe 10-15 feet (3-5 meters).
Will I get wet if I sit near the water?
If you sit within 5 feet (1.5 meters) of the rail there is a chance you will get a little wet.
Does everyone in the sitting area have to sit?
Yes. The sitting area is mandatory sitting
during the show
. If you stand up during the show the CMs will make you sit or leave.
The exception are small children who when they stand are not much taller than a sitting adult. Be sensitive to those behind you if your standing child is taller than a sitting adult.
Does everyone in the standing area have to stand?
Yes. The standing area is mandatory standing
during the show
. If you try and sit during the show the CMs will make you stand or leave.
Where do people with strollers go?
Strollers can be brought into the sitting area (location #3 in the viewing area map). If you want to leave your strollers upright and usable your best bet is to just choose your sitting spot at the rear and then you can continue to use your stroller as necessary. The view from the rear of the sitting area is fine.
Apparently if you move farther forward in the sitting area there is a chance the CMs will make you fold up the stroller. It sounds like the policy of keeping strollers at the back is not uniformly enforced. If you go to the back you will be safe.
Where are the handicapped and ECV viewing areas?
Handicapped
wheelchair only
is at the far right in location #13 in the viewing area map. This is on the water and to the left of the petrified tree. I was told by CMs at that spot that no ECVs are allowed in this area.
The ECV viewing is at the rear of the sitting area (location #3 in the viewing area map).
Is Fantasmic! too scary or intense or loud for small children?
In some cases, yes. Most children ages 7 years and above should be fine. For children ages 3-6 years it depends heavily on the individual child.
What special location tips are there to viewing Fantasmic?
1. The POTC Bridge - Some people like to watch Fantasmic from the standing area on the POTC Bridge (location #10 in the viewing area map at the top of the thread). It is elevated and thus people of smaller stature can see better from here - especially if they are at the railing on the bridge. Some people report you do not have to arrive as early to this spot to secure it.
2. The standing area (location #4 in the viewing area map at the top of the thread) extends up to the planter area which separates sitting and standing sections - on the whole left side of the viewing area behind the reserved seating (location #7). Stand at the planter and no one will be in front of you except for people in the mandatory sitting area. So you will have an unobstructed view.
3. Watch for trees and lampposts and tall brick structures that may block your view.
4. If you arrive late you can use the "Light Tower Trick". This is at location #6 in the viewing area map at the top of the thread. The middle light tower for the show stays down until right before the show starts and most people think it will stay down during the show and block their view. So they do not stand there. At the last minute it rises up and creates a pretty decent view.
For detailed information on this see this post:
Fantasmic Light Tower Trick
5. After the show most people leave the Fantasmic viewing area by heading towards the hub. A good strategy to see the second show is to plan time during the first show in the area around Haunted Mansion and Splash Mountain. Then when the first show ends you can swoop in behind the crowds as they exit towards the hub.
6. There is a Disneyland Railroad stop in New Orleans Square. Some people take the train to this dropoff point to avoid the massive crowds during and after the show and work their way back to the viewing area when the first show ends.
How many people can the Disneyland viewing area handle?
The viewing area can handle 9,000 people per show.
Does the Fantasmic show affect the lines for rides?
Yes definitely. Especially the rides in that side of the park such as Big Thunder Mountain Railroad, Indiana Jones, Pirates of the Caribbean, Haunted Mansion and Splash Mountain. During the show the lines go down significantly and after the show is over the lines go up significantly with people leaving the show and jumping in line.
Does the show disrupt the park?
Yes, massively. Every night when Fantasmic! shows and especially on nights with two shows, New Orleans Square is turned into controlled chaos. The Cast Members are really good at it but it is still a huge disruption.
However, the energy level in this area of the park is palpable and exciting both before and especially during the show.
Can I watch the park fireworks show from my Fantasmic! viewing location?
Yes, sort of. And it depends on the schedule.
The music that accompanies the main fireworks is piped into the Fantasmic! viewing area.
As of this time Disneyland has four different fireworks shows that rotate seasonally. Some of the shows - such as the best fireworks show Remember Dreams Come True (RDCT) were designed to be viewed from the hub. RDCT has many special effects, lasers, castle lighting effects, and special fireworks launch locations that will be completely missed from the Fantasmic! viewing spot. So for RDCT you will see fireworks in the sky - from an improper angle - and you will miss all of the show in the hub. In other words you will miss 80% of the fireworks show if viewed from the Fantasmic! area.
Nights When Fireworks Are Scheduled After First Fantasmic! Show
You can see the fireworks on these nights if you are seeing the first Fantasmic! show and your viewing spot allows you to see the area behind the castle where the fireworks take place - or if you can move into a better spot to see the fireworks.
The main park fireworks show is usually scheduled to start shortly after the first Fantasmic! show ends. Many people choose to stay in their Fantasmic! viewing spot and watch the park fireworks.
Nights When Fireworks Are Scheduled Before First Fantasmic! Show
You can see the fireworks on these nights if you are seeing the first Fantasmic! show and are in your viewing spot when the fireworks start and your viewing spot allows you to see the area behind the castle where the fireworks take place.
Can I see the park fireworks from the hub and Fantasmic! on the same night?
Yes, you can on nights there is a
second
Fantasmic! show and the fireworks are scheduled between the two shows. And it is not that hard.
You cannot however see the
first
Fantasmic! show and then make it to the hub to see the fireworks. Disney purposely chooses the starting time of the fireworks to make this impractical.
To see the second Fantasmic! show after the fireworks you should watch the fireworks from the Frontierland side of the hub. Then as soon as the fireworks end move quickly into Frontierland and towards New Orleans Square where the Fantasmic! viewing area is located. You can often find a spot in the sitting area at this time.
Some savvy guests bypass the surge into Frontierland by taking the path through the Rancho del Zocalo restaurant.
What happens to the show during bad weather?
Generally Fantasmic! runs during the rain but it does not run if there is concern about lightning. If it is raining some parts of the show may be changed or just nor performed like highwire acrobatics on the ship. Like any outside show if there are high winds the show can get cancelled.
How often does Disney take Fantasmic! off the schedule?
Unfortunately this happens with some regularity.
As discussed earlier, under normal conditions Fantasmic! performs every weekend year round and nightly during high season. However, Fantasmic! at DLR is much more susceptible to schedule disruptions than at WDW. The reason is related to the fact that Fantasmic! uses Pirates Lair at Tom Sawyer Island and the Rivers of America and the two ROA ships (Mark Twain and Sailing Ship Columbia) in the show. Whenever any of these has its own scheduling issues this disrupts the Fantasmic! schedule.
For example, the first five months of 2010 had a major draining and refurb of the Rivers of America. So Fantasmic was not played for five months. In early 2007 Tom Sawyer Island underwent a major transformation and became Pirates Lair at Tom Sawyer Island (PLATSI). This lasted for several months and resulted in no Fantasmic! performances. Even smaller things like POTC movie premieres held at Disneyland with red carpets down Main Street resulted in use of PLATSI for a giant movie screen so no Fantasmic! performances were held during that time.
Fantasmic! can perform without Mark Twain and S. S. Columbia when those ships are under refurb, but it lessens the show.
Questions on Reserved Seating/Premium Viewing/Dessert Package
How does reserved seating/premium viewing work for Fantasmic?
Mary Jo wrote up an
excellent post on reserved seating here
.
How much does reserved seating cost?
$60 per person. $50 for children ages 3-9. Under 2 can sit in your lap but do not get a dessert box.
What do I get for my $60?
A seat with a good view and a dessert box with a generous selection of tasty items and fruit. And unlimited non-alcoholic drinks broughts by servers. We did not come close to finishing our boxes and took them back to our room to munch on over the next couple days.
How many seats are available in the reserved area?
I do not know the exact number but it is somewhere in the 40-80 range per show.
Is reserved seating popular?
Yes. Not too long ago these seats sold out immediately one month in advance. Now it appears the popularity has decreased somewhat and/or the number of seats have been increased so that it is often possible to get reservations closer to the date you want. Be aware this is still popular.
When should one make a reservation for reserved seating?
8AM Pacific Time one month in advance of the night you want the seats. But as just mentioned reservations have remained available after this point. Check with Disney dining.
Is it worth it?
To many people, no. To those who snap up all the seats one month in advance, yes.
Will Disney Vacation Planning help me get reservations?
If you are staying at a Disney hotel
(DLH/PPH/GCH, good neighbor hotels do not count) you can have Vacation Planning make the reservations for you so you do not need to call.
This is a huge benefit because that means you do not need to be on the phone at 8AM Pacific Time to make the call yourself.
How are seats assigned for the reserved area?
Seats are assigned on a first come, first served basis starting at 8PM. The place to go to get your assigned seats is location #8 in the viewing area map near the top of this thread.
When should I arrive to get my seat assignments?
Anywhere from 6-8PM. Those who come at 6PM get the best seats. The seats are generally laid out in three rows and especially if you have the back row you have some latitude to move your chair around.
People start lining up at 6PM for seat selection and then wait until 8PM to get their seats if they want the first row of seats closer to the center. Those who show up later get second and third row.
The view from the third row is fine if you are not a child or of very small stature. Children will be happier in the first row and some people dedicate a person from their group to wait from 6PM until 8PM to get a front row seat.
It sounds strange that people wait two hours to get a reserved seat for which they paid $60 each, but it happens every night.
When are seat assignments for the second show made?
Both first and second show seat assignments are made at the same time - 8PM. Everyone in line chooses seats then leaves. If you have a reservation for the first show you can go immediately to your seat at 8PM and wait for the first show to start at 9:00-9:05PM. And eat your dessert and drink the included free drinks.
Where do I physically get my Fantasmic! tickets?
If you are staying at a Disney hotel and use Disney Vacation Planning to make your Fantasmic! reservation (as discussed above), the tickets will be available at the hotel front desk when you check in. If they are not, then
be sure to ask
when you arrive and they will get them for you. I have done this twice myself. The first time the front desk CM gave me the tickets without asking. The second time they did not offer the tickets and I had to ask. They could not find the tickets but were able to check my information and see that I should have them. The CM went away for a few minutes and came back with my tickets. Not sure if they print them on demand or what, but they made it happen.
If you make the reservation yourself,
you must pick up your tickets
at Guests Services before the show. Your reservation info will instruct you on this. Just don't forget.
Can I leave the Fantasmic area once I get my seat assignment?
Yes, but they ask you to return to see the show a little before it starts (15 minutes early if memory serves).
Can I stand up in reserved seating area during the show?
Yes, but it is only practical if you are in the third (back) row. In fact the CMs explictly told us this was OK.
Why would someone who paid for a seat then stand? Well, it would be kind of a waste to stand the whole time. But to stand part of the time to better see certain parts of the show was a good idea for us. Then we sat again.
What happens if the show gets cancelled? Do I get my money back?
This has not happened to me but I have read that you do get your money back.
View of Fantasmic! Stage from Reserved Seating Area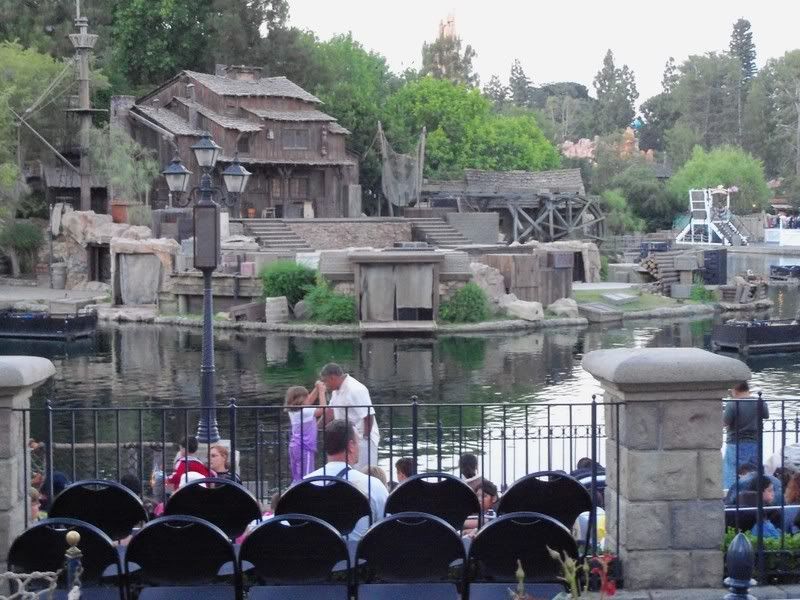 View of Part of the Reserved Seating Area Next To Middle Light Tower. During the Show the Ropes Are Moved and This Whole Area is Accessible Only To Reserve Seating Guests. This location is between the numbers 5 and 7 in the viewing area map. The middle light tower (location #6 in the map) can be seen at the right. The show control area (location #5) can be viewed behind the foldup chairs where a gentlemen in black with a hat is sitting.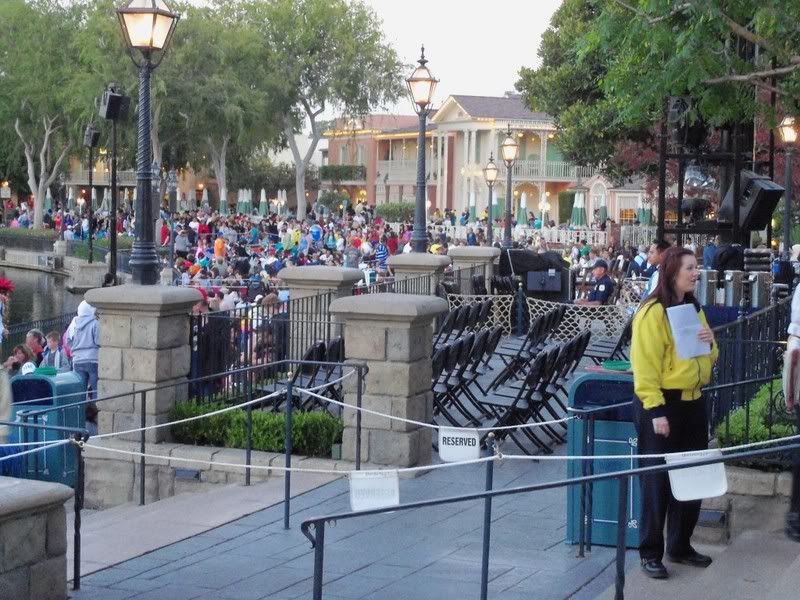 Reserved Viewing Area as Seen from Mark Twain Riverboat During the Day. This location is to the left of where the number 7 is located in the viewing area map.
Last edited: