I wasn't going to do a Trip Report this time, but we had such a great time and have some really fun pictures, I thought I'd share!
Thought I'd just hit the highlights that might spur questions from people considering DCL or the Eastern, or the Magic. And add pic when I can.
We traveled from Washington State arriving the day before and enjoying a day/night at the Radisson at the Port - Canaveral, that is. Too cold to swim in their amazing pool, but the hot tub was nice.
My DH didn't get there until the day of the cruise having to fly from a convention in Chicago. We were sure happy to see him! So afraid of travel delays or cancellations that could have caused him to miss the cruise!
We got boarding card #2 thanks to a Dis Boards friend. Yea! Getting on the ship is one of those tearing up moments for me (along with the ships horn!)
Before tears: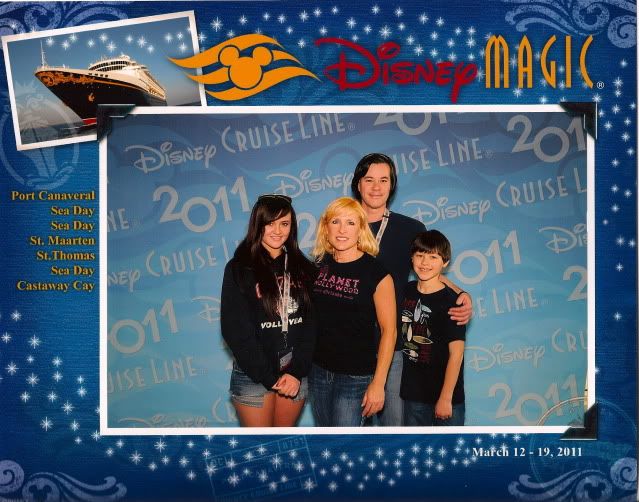 Kids are 14 and 10. This was our 4th cruise - all with Disney. We have been on the Magic for the Mexican Riveria, the Wonder for a 4-night to Bahamas, the Magic for the Western Caribbean, and now the Eastern.
We are hooked on verandah rooms so were in a Cat. 5C. We like aft so the kids can get to food and beverages easily.
Speaking of beverages, we did bring several bottles of wine aboard and some rum. Love this liberal policy!
Be sure to take advantage of touring the ship on the first day. They don't let you into the kids clubs, Edge, or Vibe to just look around after the first day unless you have a kid there. (and not even then in Vibe!)
On the first night I went to Magic Quest and Match Your Mate at the Rockin' D bar (adult only times). Super funny! DH was too tired having gotten up so early to fly from Chicago, so met some DisMeets friends there.
***Definitely make friends on the Cruise Meets thread before sailing!***
Not only did we have another family that we dined with each night, I found familiar faces when I was out without DH, and DD14 had a friend immediately upon boarding, with whom to go to Vibe with and more comfortably meet other kids.
DAY 2 - FORMAL night & Twice Charmed
First "at sea" day, weather not so good so saw a movie, took the time for a sit down lunch at Lumieres. THEN:
Martini Tasting at 2:30 got the party started!
DD and I love formal night. Do you ever out grow "dress up?"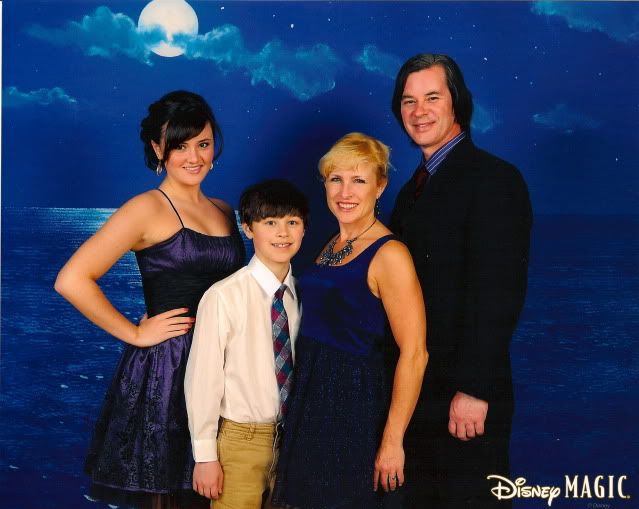 We also got our pic with the Captain: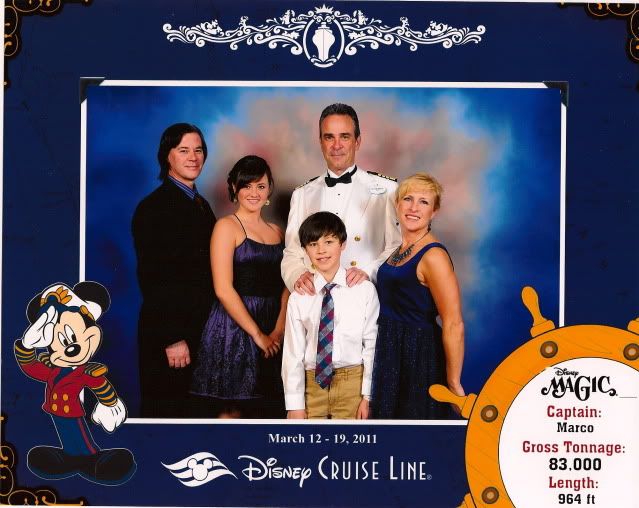 And with Chip & Dale in their formal wear!
With my mom! She and my Stepdad joined us. More on this later.
DAY 3
Second "at sea" day was Cruise casual. Spent time in the windy sun (always windy on deck 10 when the ship is underway. But sun was WARM. It had been a LONG winter, even drove through a snow storm to get to the airport on March 10th.
Saw another movie, did some onboard shopping, and, well, can't remember exactly what else. It's vacation though. Not every minute needs to be filled up or planned out (that came the following week in Orlando when we went to Universal Studios, Islands of Adventure, Discovery Cove, Sea World, and Kennedy Space Center.. Whew!)
It's always fun to come back to the room to see what the stateroom host has left for you. She found one of my tops for this one!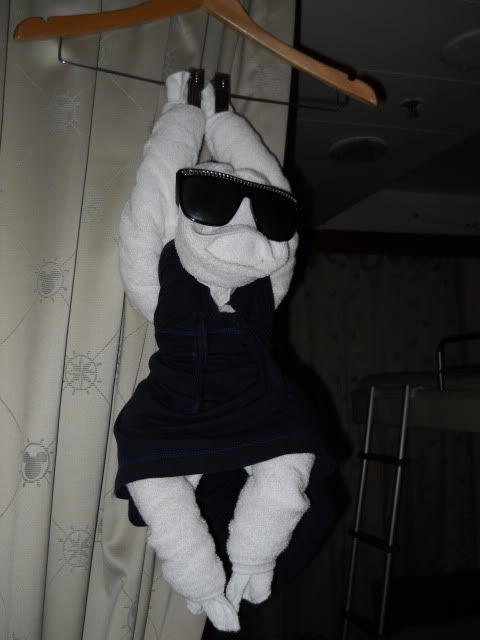 DAY 4 - St. Maarten
We took an excursion not through DCL and were completely happy with it.
The price was really good for an Island tour and hotel/beach visit. About 6-7 hours total.
St. Maarten had some extraordinary views!
I am going to put up pictures on my next post! I am afraid of losing what I've typed so far and want to submit this!
Stay tuned...