Beach Club and Yacht Club FAQ thread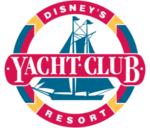 to the Beach & Yacht Club FAQ forum!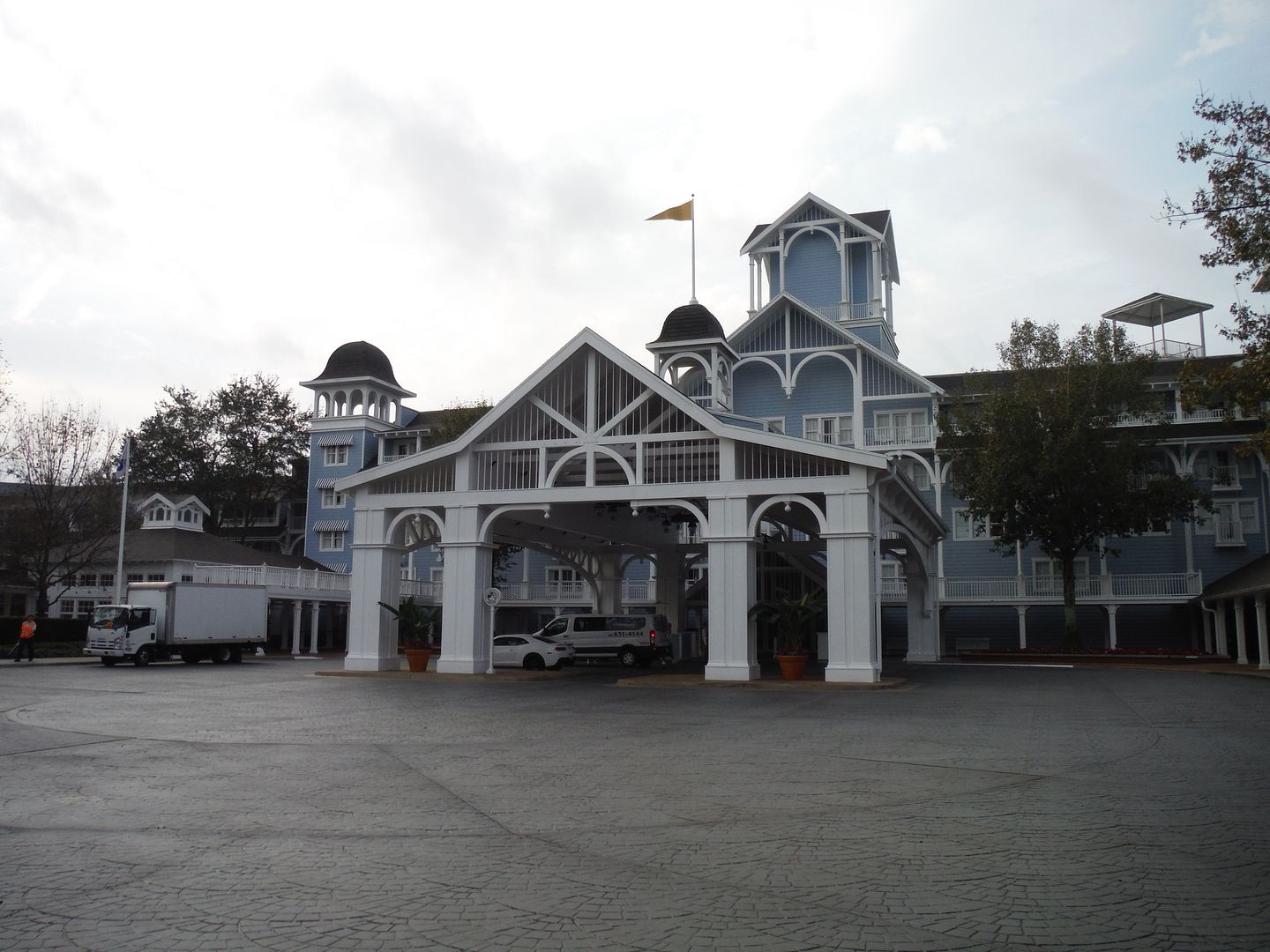 Table of Contents:

Click on Links Below

Post 1: Intro to the Yacht & Beach Club Resort, Refurbishment News (Just Keep Reading)


includes differences between the two resorts, maps, transportation options and information


Post 2: Stormalong Bay Pool

Post 3: Flying Jib Slide/Guppy Bay Kiddie Pool & Slide/Quiet Pools

Post 4: Resort Activities


Monthly Activities Schedule, Movie on the Beach, Campfire, Pool Activities


Post 5: Resort Amenities


Arcade, Health Club and Spa, Beauty Salon, Marina, Laundry, Kids Programs


Post 6: Gift Shops (The Beach Club Marketplace and Yacht Club Market at Ale & Compass) and the Solarium


BC Marketplace, YC Market at Ale & Compass, Solarium


Post 7: Dining
Post 8: Beach Club Resort Info
Post 9: Yacht Club Resort Info
Post 10: Beach Club Villa, Overview
Post 11: Beach Club Villa, Rooms
Post 12: Club Level Info


Post 13: FAQ




BC vs. YC, Room View Categories, Full vs. Juliet Balconies, Daybeds, Online vs. In-person checkin, Secret Exits, Pool/SAB ?, Rapid Refill Beverage Mug status, Water/Grocery Delivery options




Post 14: Other Useful Info




Int Gateway, MK transport, refill mugs, food options, packages, shipping to the resort, fireworks, COFFEE, Will it fit?, rentals, bounceback, guest communications, How do I? and MORE!




Post 15: Be Our Guest List


Post 16: Photos, Videos, Trip Reports & Links to Closed Threads
Post 17: Community Page
Post 18: Hysterical Historical Page: Voluptuous Noodle Swap, Fantasy Closet, Buzzy's Spot
Post 19: Lily's Pad Beach Club Marketplace reopened in October 2020- see Posts 5 and 7 for more info

Beach Club Marketplace will be closed for refurbishment from August 23 until sometime in September. Grab and go food options and drinks (coffee, cans of soda in limited options) will be available in the Beach Club Solarium. Breakfast hot options will be handheld sandwiches, but no Mickey waffles.

Disney's Yacht Club Resort reopened to guests on August 24, 2020





Disney's Beach Club Resort currently does not have a scheduled date for opening. Guests with reservations at BC as late as January 2021 have been contacted by Disney to change to another resort.



Disney's Beach Club Villas and Disney's Yacht Club, end of August 2020

The following offerings and experiences are currently available at this Disney Resort hotel. Hours of operation will be provided during your stay.

Dining Shops Activities
Stormalong Bay at Disney's Yacht & Beach Club Resorts will reopen on August 24; Prior to this date, Guests of this Disney Resort hotel may enjoy the leisure pool at Disney's Beach Club Villas or Luna Park Pool and the leisure pool at Disney's BoardWalk Villas
Poolside Activities
Pool Cabana Rentals
Movies Under the Stars
Fitness Center
Seaside Retreat
Sports Courts
Fishing Excursions
Transportation
Bus transportation is available from this Disney Resort hotel to Magic Kingdom park, Disney's Animal Kingdom theme park and the Disney Springs area
The Disney Skyliner aerial gondolas are available to Disney's Hollywood Studios
**************************************************************************
Please note that given the fluidity of the current environment, these dates are subject to change and Guests' reservations could still be modified to other Disney Resort hotels if needed.
As we continue our phased approach to reopening at Walt Disney World® Resort, we are welcoming Guests back to Disney Resort hotels, theme parks and Disney Springs.
We are committed to reopening Disney Resort hotels, though at this time we have decided to adjust the reopening dates for Disney's Polynesian Village Resort and Disney's Art of Animation Resort due to the current environment. With this in mind, the planned reopening dates for additional Disney Resort hotels will be as follows.
July 29: Disney's Caribbean Beach Resort
Aug. 24: Disney's Yacht Club Resort
Sept. 21: Disney's Grand Floridian Resort & Spa
Oct. 4: Disney's Polynesian Village Resort
Oct. 14: Disney's Coronado Springs Resort
Nov. 1: Disney's Art of Animation Resort
While we had previously shared reopening dates for Disney's Beach Club Resort and Disney's BoardWalk Inn, these Disney Resort hotels will remain closed until further notice while we continue to reevaluate their reopening timeline.
Information about Walt Disney World Phased Reopening plans (posted June 7):
Disney Springs
has already started to reopen.
Disney Vacation Club properties at Walt Disney World and Disney's Fort Wilderness Resort & Campground will begin to reopen to Members and Guests on
June 22
.
Walt Disney World theme parks will open beginning
July 11
for Magic Kingdom Park and Disney's Animal Kingdom Park followed by EPCOT and Disney's Hollywood Studios on
July 15
.
Learn more
.
Upon reopening, theme parks, Disney Resort Hotels, restaurants and other offerings may be modified, limited in capacity and subject to availability or closure.
Learn more
.
The parks will reopen with some important updates to promote physical distancing, including:
Park Reservations: Initially, park attendance will be managed through a new park reservation system. To enter a park, both a park reservation and valid admission for the same park on the same date is required.
New Ticket Sales: At this time, new ticket sales are temporarily paused. Existing ticket holders and Annual Passholders will be able to make reservation requests in phases before new tickets are sold. Additional details will be shared with these Guests soon. New ticket sales will resume after that period of time.
New Disney Resort Hotel Reservations: At this time, new reservations at Disney Resort hotels are temporarily paused so we can focus on Guests with existing reservations (Disney Vacation Club Members can still make new reservations). Reservations will resume after that period of time.
Here are the top things to know as you prepare to visit:
Phase 1
Information (we do not know the exact dates these guidelines will be implemented):
Resort Amenities & Recreation Activities will be modified based on physical distancing and health guidelines.
Pools
Feature pools may operate with reduced hours; leisure pools will be open 24 hours a day
Pools will operate with reduced capacity to allow for physical distancing
Select poolside activities may be available at select Resort hotels
Stormalong Bay at Disney's Yacht and Beach Club Resorts will not be available during the initial reopening period; Guests of this Disney Resort hotel may enjoy the leisure pool at Disney's Beach Club Villas
Temporary Unavailable
The following amenities and experiences will not be available during the initial reopening period:
Arcades
Campfires
Dog parks
Electrical Water Pageant
Marina rentals
Pin trading
Playgrounds
Spas, salons and Bibbidi Bobbidi Boutique
Additionally, the following special offerings and childcare services will not be available during the initial reopening:
Fireworks voyages and tasting cruises, including the Pirates and Pals Fireworks Voyage
Fun runs
Wonderland Tea Party at Park Fare
Hula lessons
In-room childcare services
Mermaid school
Special classes and programs—including culinary, cultural and animal programs
Information is being released on an ongoing basis, so check back here, or on the Walt Disney World website for updates.
*******************************************************************************************************
All rooms at the Beach Club, Beach Club Villas and Yacht Club have been renovated from 2014-2017.
Beach Club: October 2014-August 2015
Beach Club Villas: January 2016-September 2016
Yacht Club: October 2015-December 2015, Club Lounge Renovated. January 2017-September 2017, All Rooms Renovated
You can read all about it here: Room Renovation News, October 2014-September 2017
************************************************
Developing News:
Gondola System Opening September 2019:
Story from DVCStore.com, How will the skyliner affect the Beach Club and Boardwalk Villas:
Beaches & Cream Now Open (December 25, 2019)


Beaches & Cream renovation, closed from early Aug-Dec 2019

Notes:

Guests have been told that parties of 5 or more will be split up at different tables

Take Out Window is now located outside, near the entrance of BC

Review, WDW News Today

Renovation Information

What's New at the Yacht & Beach Club, August 2019, Disney Food Blog

Goofy cupcake, Hook's Pirate Adventure, Painting in Martha's Vineyard, World of Wine, Market at Ale & Compass Menu, WiFi upgrade and other refurbishments and MORE news!

Who Needs Sleep? EXTRA, Extra Hours introduced for resort guests, Fall 2019

9/1-11/2/19, Hollywood Studios, 6 am to 9 am
8/29-11/2/19, Animal Kingdom, 7 am to 8 am
8/29-11/2/19, Magic Kingdom, 7 am to 8 am

Extra, Extra Magic Hours, Fall 2019 Link to Photos of Temporary International Gateway Entrance, April 2019

New kids-only activity, starting April 28:




(Replacing Pixar Play Space, which replaced the Sandcastle Club)



Captain Hook's Pirate Crew
and
Mermaid School
"Hey, Mickey! What Time is the 3:00 Parade?"
February 2019
At Disney's Yacht and Beach Club resorts, it appears they are testing out smart speakers (like the Google Home or the Amazon Alexa systems) in select rooms at the sister resorts. The speakers are just like the ones many use in their own smart homes, except they will have access to internal information stored in My Disney Experience, like wait times, bus arrival times, and park hours. The speakers can also play music on demand as well as answer questions about the weather. Guests can opt in or out of this test, depending on their preferences.
Test of smart speakers at Yacht & Beach Club
(ETA: Speaking of the 3:00 parade- the Festival of Fantasy parade is scheduled at 2 pm during the hard ticket season- late August through early January)
The Wonderful World of Wine, Yachtsman Steakhouse, 2nd Wed each month
A new offering is coming to Yachtsman Steakhouse for guests looking to explore some wine. The Wonderful World of Wine will allow guests to explore some wines from Yachtsman Steakhouse as well as a small plate.

The wine tasting event is scheduled for the second Wednesday of each month, starting on February 13th. The cost is $45 per person and each wine tasting begins at 3pm. Guests interested in attending can call Disney Dining at (407) WDW-DINE.
Stormalong Bay Pool Cabanas (March 2019)
According to Disney Signature Services, the cabanas are available to book now for starting date 3/17/19
Prices are $149-$199 half day (10:00am and 3:00pm) $249-$299 whole day (10:00am-close). The price range reflects seasonal pricing. For example, a whole day for 4/17/19 was $318 with tax.
Note: Ask about Annual Pass or other discounts when you are booking!
These are the full cabanas with two lounge chairs and two straight back chairs, towels, TV, Bluetooth speaker, resort phone, fan, refrigerator stocked with soda and water, fruit basket, and a CM for assistance
Max of 6 guests
Reservations will be available via 407-WDW-PLAY
Photo ID required to check in. 24 hour cancellation. In the event of inclement weather, you may switch days or request a refund.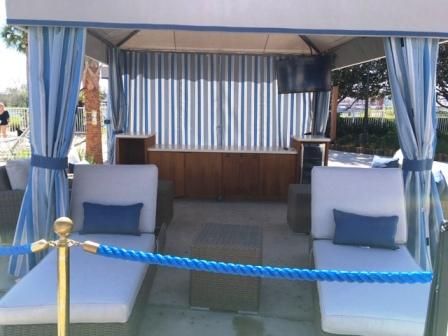 Regatta Run, Thursdays starting in Sept 2018
3K run around Crescent Lake, Thursdays, $15, Lots of great swag!
Time changed from an 8 am start time to 9 am in 2019- check monthly Times Guide or the link below for additional details:
Regatta Run Details
Spring/Summer 2018
Exterior painting and maintenance ongoing at Beach Club Resort
Cranes/Cherrypickers and scaffolding may be spotted, we don't have a schedule of where or when work is taking place
Pictures and Info on Exterior Façade Refurbishment, Aug 2018
Unlocking Resort Rooms using smart phone, July 2018:
Ability to Unlock Your Guest Room Door with Smart Phone, Digital Key, Rolled-Out to Boardwalk, Yacht, and Beach Club Resorts
Random News:
February 2018
Knock! Knock!
Who's There?
Disney Security Room Check...

Do Not Disturb door hangers have been replaced at all Disney resorts with new hangers that indicate that Disney CMs may be entering the room for safety/security checks (particularly if a guest declines daily housekeeping)

Here's a couple of thread where you can get info or post comments/experiences:

Questions and Comments about the Disney Room Security Checks

Guest Experiences with Disney Room Checks

I don't make the news, I just report it!
January 2018
Disney Magical Express Pickup Time returned back to 3 hours before (domestic) flight
November 2017
New Travel Changes/4 hour Disney Magical Express Pickup Time

Ale & Compass Restaurant (formerly Captain's Grille) Open
Here is a review of the recently opened Ale & Compass Restaurant (formerly Captain's Grille) from Disney Food Blog:
Ale & Compass Dining Review, Disney Food Blog November 2017
Yacht & Beach Club resorts decorated for the holidays.
Yacht Club Goes to the Dogs
October 2017
discussion on this thread beginning on page 105X
Scroll down for link to the FAQ thread about guests' feedback about their experiencing staying at dog-friendly resorts.
Policy Allowing Pet Dogs During Stays at Yacht Club Resort

WDWNews press release about new dog policy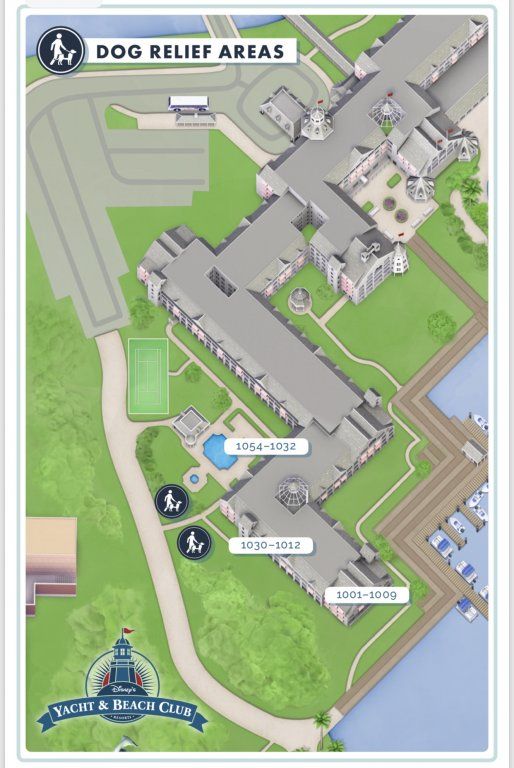 Appearing on WDW booking info for Yacht Club, October 2017:
Dog-Friendly Accommodations

Bring your pampered pooch to stay with you at Disney's Yacht Club Resort.

Here at Walt Disney World Resort, we know that dogs aren't simply pets—they're members of your family. And since family is at the heart of everything we do, for a limited time, your furry friends are welcome to join you at select Disney Resort hotels. Let the tail wagging commence!

Note: Limit 2 dogs per room. Restrictions and fees apply.


How to Book
To bring your dog along on your upcoming visit, please call (407) 939-7539. Guests under 18 years of age must have parent or guardian permission to call.


Services for Guests with Dogs
During your stay, Best Friends Pet Care can provide assistance with dog walking, day care and other pet services (fees apply). For details, please call (877) 4-WDW-PETS or (877) 493-9738, or visit bestfriendspetcare.com. Guests under 18 years of age must have parent or guardian permission to call.
FAQ:
Experiences at Dog Friendly Resorts
We were there in January 2019. One day when we returned late in the afternoon there was a large dog barking in 5147. We were in 5145. A hotel manager was there. The guest returned about 20 minutes later. The barking stopped and in the next couple of days we heard one short yip.

Part of the dog agreement is that if the dog is noisy the guest must return within 30 minutes. If the dog will not be quiet it must be moved to the kennel. There is a dog walking area.
*******************************************************
Additional Info, Menu Items & Prices
September 2017
The Beach Club Bus Stop is in the normal location, despite info to the contrary on the Disney/wdwinfo refurbishment page.
Word on the streets is that Ale & Compass Restaurant (formerly Captain's Grille) will reopen in October (see above- that date is delayed until sometime in November)
According to guest reports, large cases (24 bottles) of water are no longer being sold in the gift shops. You are able to purchase 8 12-ounce bottles of water (Dasani?) for $3.99
Pillows at the Beach Club have all been replaced. Each queen bed now has 2 firm and 2 soft pillows: Sobel Westex is the brand. "Sahara Nights Firm" and "Sobella Soft
Reports are that turndown service at both club level and in regular rooms (on request) is sporadic or non-existent.
Convention Center Refurbishment (Completed 2018)
Yacht Club Convention Center Refurbishment, October 2016-2018
May 2017: The Market at Ale & Compass Open-
new quick service food location and refill mug station
retail sales of a small selection of merchandise may be found in the lobby
parts of the area are open as a lounge in the evening hours
(Formerly Fittings & Fairings Gift Shop)

View attachment 249441
The Market at Ale & Compass
See posts 6 and 7 for more pictures and info.
May 2017: Stormalong Bay shower room open near Beaches & Cream
See posts 2 and 3 for more pictures and info.
BREAKING NEWS:
July 2017: Gondola News
Click on link below to read article or on pictures to enlarge. Project is not expected to be completed until 2019
Construction Walls at International Gateway for Gondola Construction
View attachment 249464
View attachment 249465
April 2017:

New room amenity- one liter of Dasani water in room free-of-charge.
May 2017-Fall 2017:
Major Renovation and Temporary Relocation of Captain's Grille Restaurant
Ale & Compass lounge also undergoing renovations, parts of the Market at Ale & Compass open as a lounge during evening hours.


Captain's Grille, one of the table service restaurants located just off the lobby of Disney's Yacht Club Resort is getting ready to be refurbished. Instead of closing, the restaurant will be relocating to oceanic-themed Ariel's, a former restaurant space located at the nearby Beach Club, from mid-May until sometime this Fall as the work is being completed.
"From the moment you step through the ironwork gate, be immersed in an enchanting underwater setting— where colorful coral displays, whimsical fish sculptures and hand-blown glass bubbles make you feel like you're inside the pages of a fairy tale."- Disney website
View attachment 229403
Jan 2017- Poolside shower room update.
Work has started. Part of the resort gaming arcade will be used for space. A guest was told the project was expected to be completed in April.
Disney Resort Package Delivery Policy- November 2016


"Please note that a $5 per package handling fee may apply to all packages that are received through the Front Desk or are delivered to your Disney Resort hotel room."
https://disneyworld.disney.go.com/guest-services/mail-services/
So far, we have not received reports from guests that this fee has been assessed at the Yacht & Beach Resort. A guest who had a packaged shipped (to the front desk) in early December was not charged the fee.

It does not appear that this fee is being charged for actual deliveries from places like Garden Grocer, Amazon Now (not Prime), stroller rentals, etc.

Please note that this is different from the weight-based handling charge if your package is delivered by UPS or FedEx to the convention center. See the FAQ Posts 13 and 14 on this page for more info.
Garden Grocer Delivery Changes Starting mid-Sept 2016
Delivery changes to Disney's Beach Club Resort, Disney's Beach Club Villas, and Disney's Yacht Club Resort. Moving forward they will only be delivering to these resorts during the hours of 4:30pm-5:30pm. ALL orders placed before these changes will now be delivered between the hours of 4:30pm-5:30pm. GG apologizes for any inconvenience that this may have caused you. Please call customer service at 866-855-4350 for any questions or concerns.
Mosquito Control, Aug 2016
ETA: October 2017- bottle of bug spray is no longer being provided in resort rooms, but spray stations continue to be available throughout Disney resorts and theme parks.



Here's the rundown on the bug spray being handed out at Disney parks and resorts in Florida provided by the World of Yesterday, Tomorrow and Fantasy website/Facebook page, August 29, 2016:
"Resort guests will receive a bottle in their resort room on check-in day.

No longer applicable
There are stations set up throughout the parks and Disney Springs where guests (both onsite and offsite) can spray down with the spray. The bottles at those stations stay at those stations, guests cannot take them when they leave the bug-spray station."
Teena's Retirement, January 2016:



After working for Disney for more than 10 years, Teena the Beach Club greeter retired on Monday January 25. She moved to Las Vegas to live with her daughter Jeanne and her precious granddaughter Lily. For many of us, the Beach Club lobby will never be the same without the enthusiastic greeting and warm smile from our friend.




Here's the link to a thread where you can post pictures, stories or just words of thanks and encouragement.



Best Wishes for Teena






Beach Club: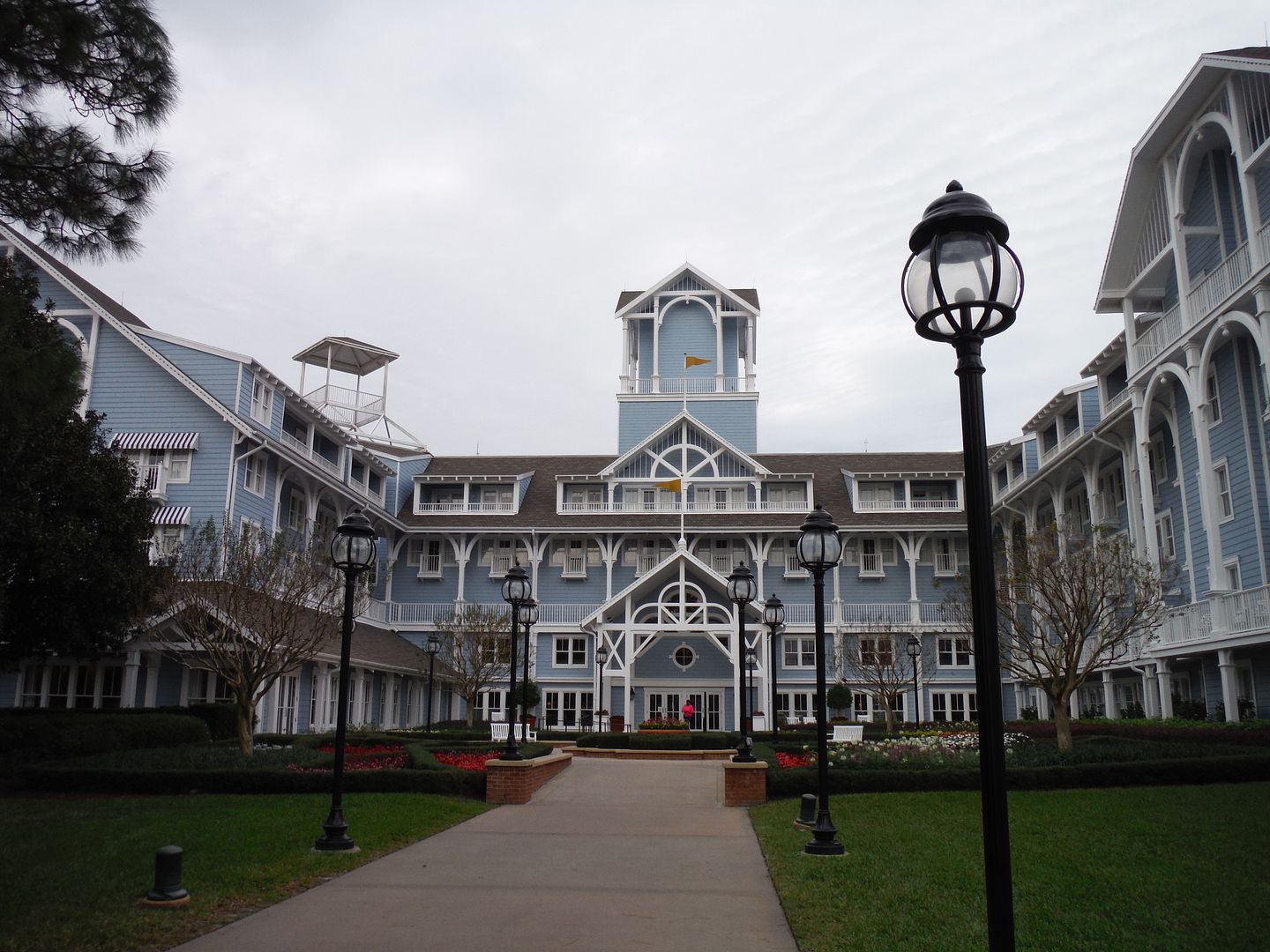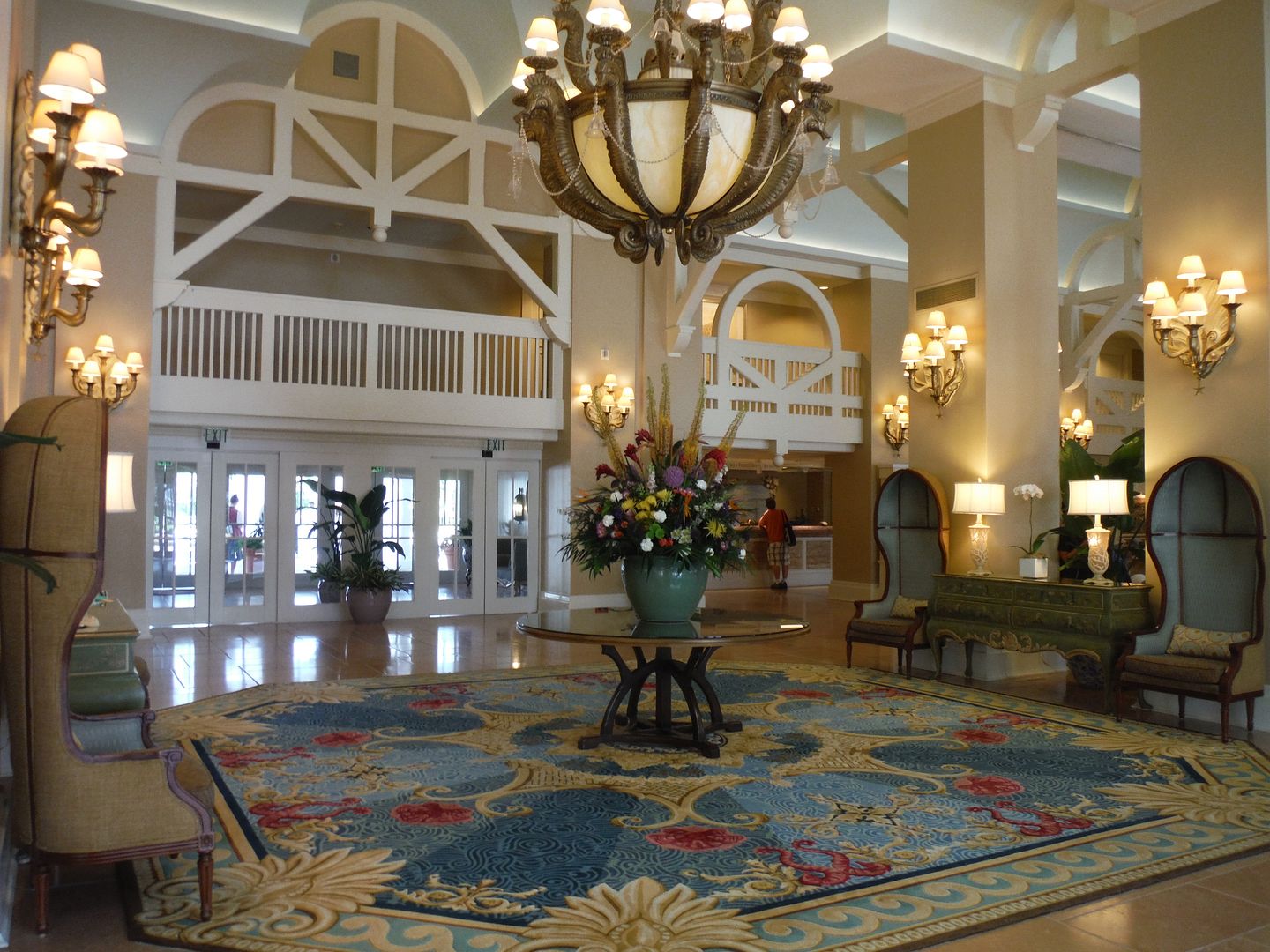 Insert Beach Picture



Yacht Club: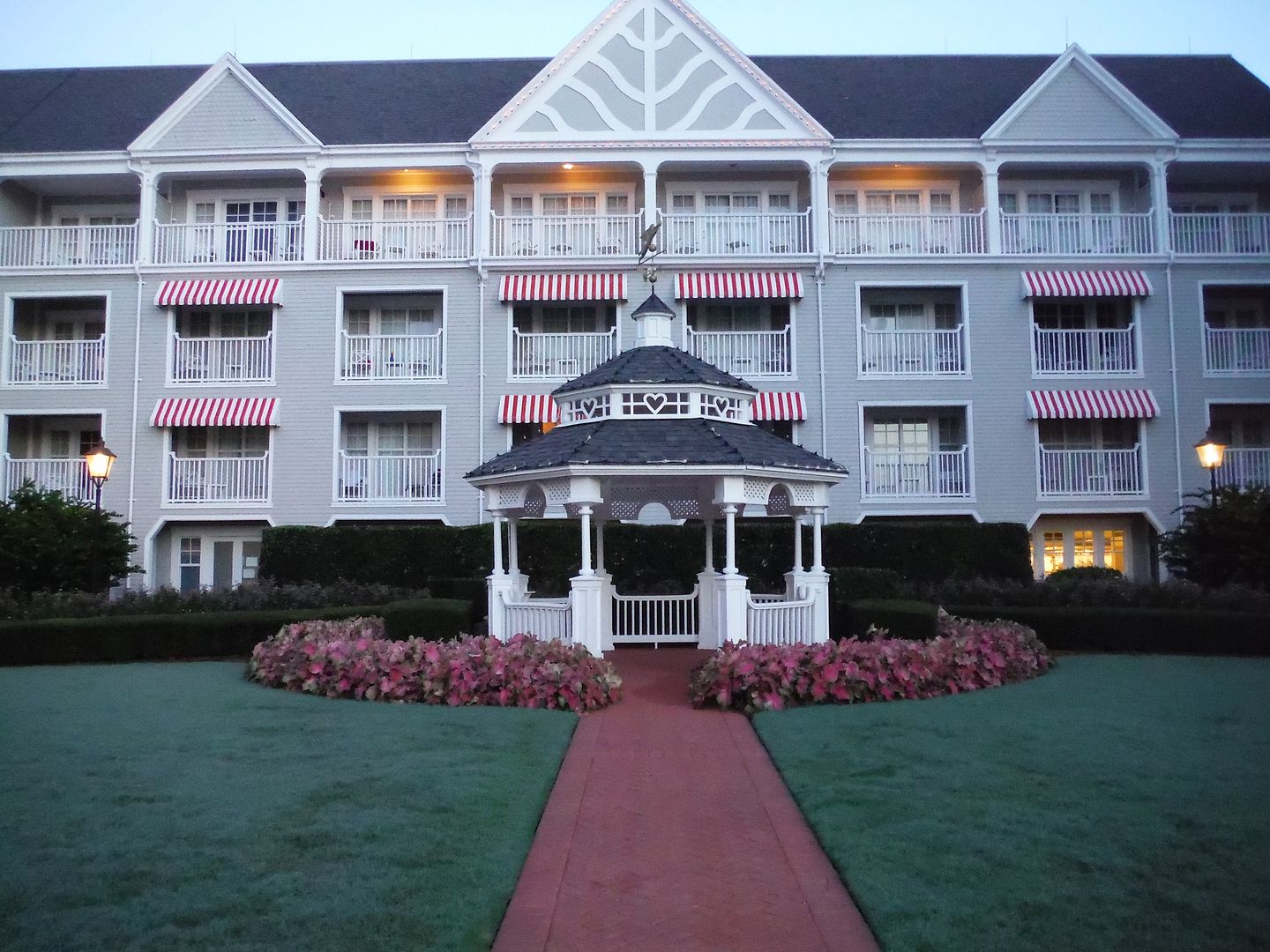 What are the differences between the Beach Club and the Yacht Club?

The Beach Club and Yacht Club are similar resorts in terms of service and amenities, and have equal access to the shared pool complex, health club and video arcade. Both resorts have the same management team in place.

Some minor differences have been noted by guests:

Beach Club- club level lounge renovated in 2014, room renovations completed in August 2015
Lighter, beachy décor in lobby and rooms
Lobby can be active and lively with families waiting for meals at Cape May
Closer to EPCOT and Marketplace Gift Shop
Approximately 50% of rooms in all room categories have full balconies. The remaining are standing balconies.
Room attributes include carpets on floor, ceiling fans*, Cuisinart Pod Coffee Makers *ceiling fans may be in the process of being removed from rooms at the BC (2018)
Shared resort bus picks up and drops off at YC first

Yacht Club- renovations to club level lounge started October 2015, room renovations completed in June 2017
Darker woods and nautical décor in lobby and rooms
Lobby is more serene
Convention attendees are more likely to be booked at YC
Closer to Hollywood Studios and Friendship Boats
Most rooms have a full balcony (exceptions: 5163 has no balcony, some rooms have full but enclosed balconies, there are a few extra large balconies shared by multiple rooms)
Room attributes include wood floors, lots of storage units, Keurig coffee makers. No ceiling fans in rooms following the rehab.
The Market at Ale & Compass is smaller and offers different quick serve food items than the Beach Club Marketplace.
Shared resort bus usually picks up and drops off at the YC first
* Starting in October 2017, pet dogs are now being welcomed in guest rooms at the Yacht Club resort. Additional information posted at the beginning of this post.
Want more details about the differences between the two resorts? Check out this awesome blog post (November 2011) from The World of Deej:
The World of Deej: BC vs. YC

Pixarmom's comparison of BC and YC
Resort Map: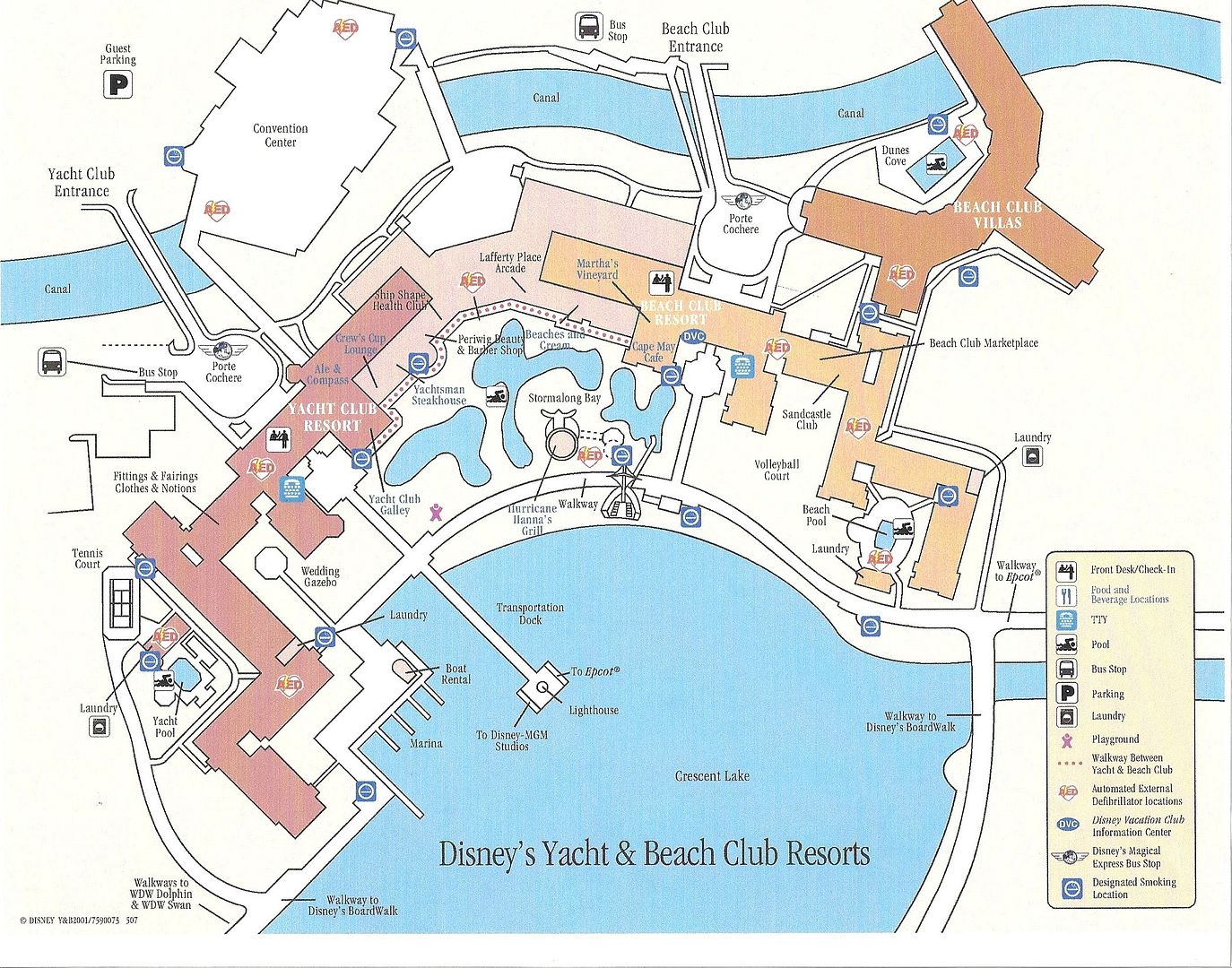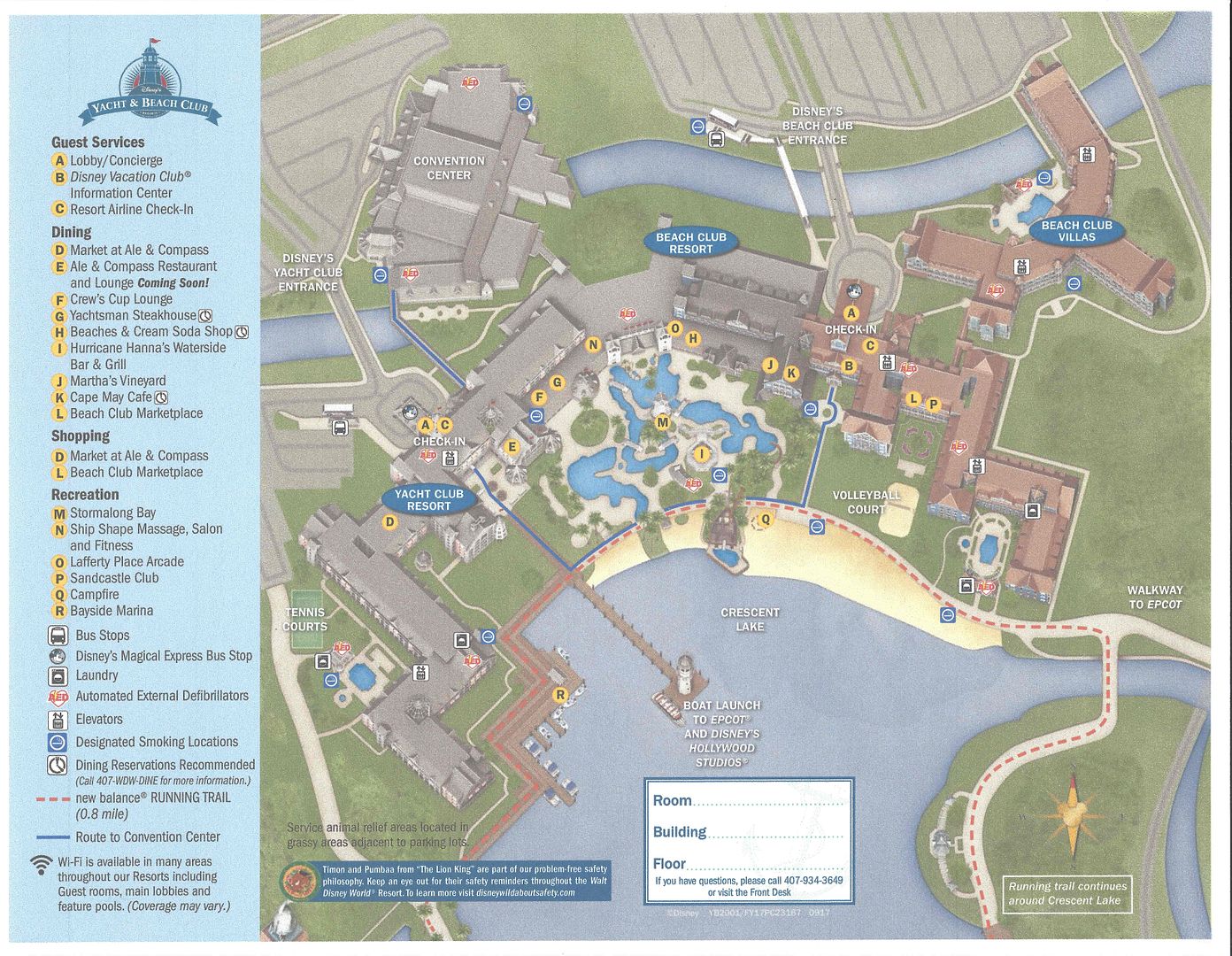 *********************************************************************

TRANSPORTATION
Bus Service:
Motorcoach transportation is available to Magic Kingdom, Animal Kingdom, Downtown Disney, Typhoon Lagoon and Blizzard Beach.
Pickup/Drop-off Spots at the Theme Parks (check these)



Animal Kingdom Behind Bus Stop 17


Hollywood Studios Bus Stop 28
Magic Kingdom Bus Loop (Maybe Bus Stop 11)
Boat Service: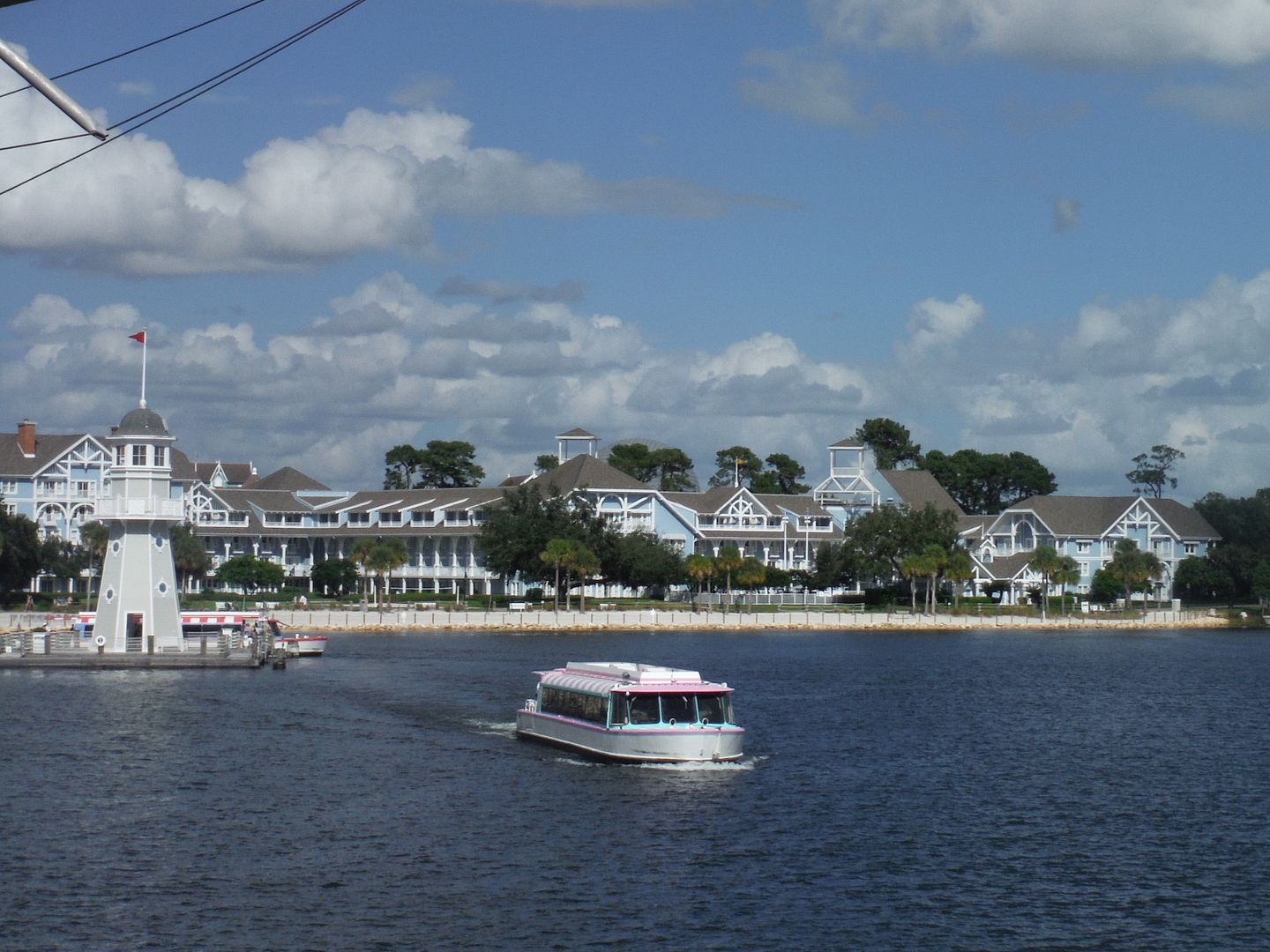 Water launch is available to Epcot and Disney's Hollywood Studios, Disney's Boardwalk, and the Swan and Dolphin Resorts.

Boats are supposed to run approximately every 15 minutes- an additional boat was added to the rotation when Toy Story Land was opened.

Each boat makes the full circuit.

EPCOT Int Gateway -> Boardwalk Inn -> Yacht & Beach Club (shared dock) -> Swan & Dolphin (shared dock) -> Disney Hollywood Studios

Disney Hollywood Studios-> Swan & Dolphin -> Yacht & Beach Club -> Boardwalk Inn -> EPCOT International Gateway

Pro-tip: If you are taking the boat from the Beach Club/Yacht Club to Hollywood Studios, especially during busy times, it may make sense to walk to the International Gateway dock to ensure you get a seat on the boat. Sometimes only a limited number of passengers waiting at the YC dock will be able to get on the boat.

Friendship boats are accessible for guests in wheelchairs and ECVs, but are limited to taking 2 of these per boat.

Strollers must/don't have to be emptied and folded once on board.

******************************************************

Link to Info about 2018 Winter Disruption

Link to Info about 2018 Refurbishment


The Yacht & Beach Club boat dock was closed for refurbishment in March 2011 but is now open again.


Walking Path from BC/YC to EPCOT and Hollywood Studios

The walk to Epcot takes about 5-10 minutes depending on your pace.

The walk to DHS will take you a little longer but it is a beautiful walk!
The distance from the Beach Club to Hollywood Studios is a little over a mile.

From the Yacht Club, head to the right, over the bridge to cross the canal then proceed along the pathway.

Here's a post from touring plans showing pictures along the pathway from the Boardwalk area to Hollywood Studios.



Walking Path
Timing, from Feb 2019, trishadono:



We walked to HS today. It was an easy walk! Room 7:56( shortly before we left) by boat dock 8:03 by the big BOARDWALK sign at start of walkway 8:08: at park entrance around 8:15 and in line for Starbucks 8:28.
Walking Path Shortcut
If coming from BC, head over to Boardwalk via bridge towards ESPN Club. Walk past ESPN, Ample Hills, Bakery, etc. until you get to the Surrey Bike rental kiosk. Take a left after you pass this, just before the Screen Door store. You'll pass by Wyland Gallery on your right and then take a quick right. Health club and game room will be on your left and you'll come out by the clown slide pool. Stay to the left around the pool and you'll run right in to the pathway to DHS. If you miss the pathway you'll be in the canal!
This shortcut will save approx. 1/4 mile or 5 minutes.


Here's a map created by Robo that explains the walking paths from DHS to Epcot, and places in between, illustrated in colorful detail: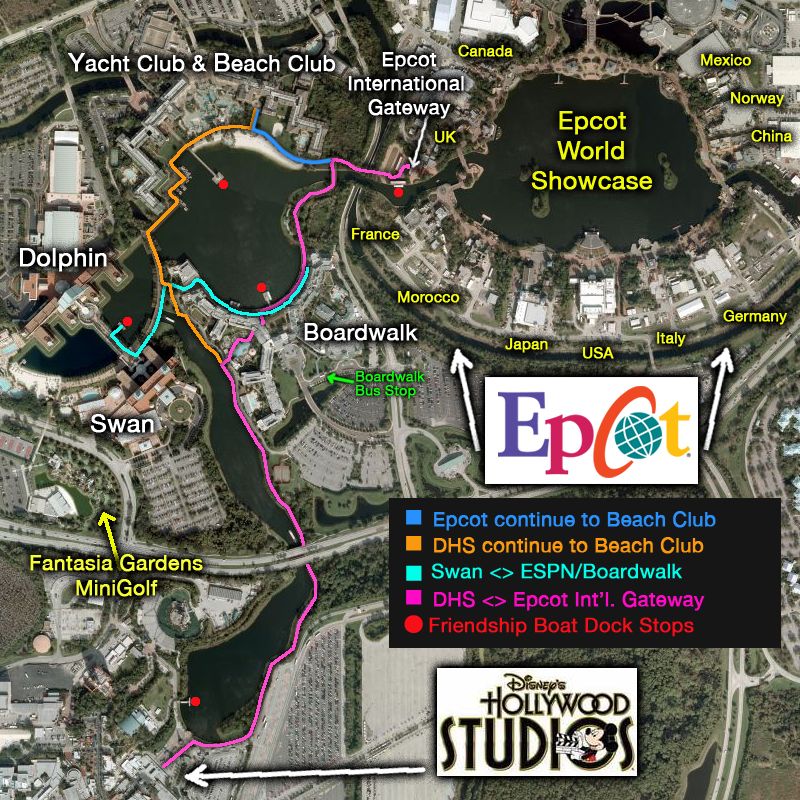 Thanks, Robo, for permitting me to post this extremely helpful picture!

Here is one more map, showing the EPCOT Resort area and walking/running distances around Crescent Lake:


Bus board at BC bus stop, April 2016:
Early Morning Buses - it is difficult to find definitive answers about what time the morning buses to the theme parks start and how often they arrive at the resort bus stop. One morning, I went out to the Beach Club bus stop at 6:30 to see when buses came .

The buses I saw while I was there were 6:30 MK, 6:52 AK, 6:54 MK, 7:06 AK
MK opened at 9 am, AK was early EMH at 8 am

You can read about that here:
Sunday August 30 -
Bus Stop Babe
December 2017, Katesdad, YC to AK to AKL for Boma breakfast, 8:35 am
Out at the bus stop in front of the YC at 7:05am to catch the AK bus to transfer to AKL for an 8:35am breakfast at Boma. AK had early hours this morning. Bus didn't show until 7:25am but made it to the park in time for those doing rope drop (had to load an electric cart at the YC). We got our AKL transfer around 8:05am and made it in time for our breakfast reservation.
Katesdad
Disney Water Parks:

Direct Transport from all Disney resorts to Typhoon Lagoon and Blizzard Beach without having to switch at either AK or Disney Springs. Resumes on March 17, 2019:

Buses from Disney resorts to Water Parks


Uber Price from BC/YC to TL & BB:
Taxi Price from BC/YC to TL & BB
Minnie Van Price from BC/YC to TL & BB:
Disney-sponsored

Minnie Vans

-
service launched August 2017
Info about Minnie Vans from Disney website
What do you get when you cross Disney with a popular service like Lyft? A new transportation option for Disney
wdwprepschool.com
Blog Post about Minnie vans



Price example:

April 2019, BC to HS, $22 plus gratuity!

Price Increase September 2018:
$15 base plus $2.75 per mile
eg. Beach Club to Magic Kingdom: $28
Beach Club to Contemporary Resort $31




There are a limited number of Minnie Vans that can accommodate scooters and wheelchairs. Make sure you specify if you need one of these vehicles and give plenty of notice when ordering one.




Taxi Cabs are readily available to guests and can be hailed by one of the valet CMs outside of the Yacht or Beach Club lobby front entrances, however...

If you are traveling directly from the Y&BC to MK, the Disney bus will take you directly to the front entrance of the park, but if you drive, or take a taxi cab, you must park/get out at the TTC and either use the express monorail or ferry boat to get to the park

Phone Number for Mears Taxi: (407) 422-2222

Here is one website link to help you determine the estimated cabfare from point to point during your trip: Taxi Fare Finder

Uber Info: (To Be Added)


2018: Uber to DS, drop off is West side zones 8 and 9 where the regular busses are and was less than $10 there. Pickup is at East and West and uses a FIFO (first in,first out) system like a virtual queue. They have designated pick up points once you have booked your request.
Disney Springs:
As with any Disney resort, travel to and from DTD (now Disney Springs) can be torturous. My family has not found the buses TO DS to be all that bad but we HATE the buses that return from DS to BC. The trip takes forever since the buses often stop at a water park, or change drivers, or make dropoffs at all of the EPCOT resorts, or all of the above. And the DS return buses are always crowded. Always.

To avoid frustration, my family usually takes a boat to one of the DS resorts, then a bus to EPCOT, where we enjoy a few attractions before returning to our BC room. It really breaks up the travel. Note: Park Hoppers required. I describe this method in great detail at the end of the FAQ post.

Alternatively, a taxi back to the BC would probably be around $20 including tip, and worth every penny! And Uber ride is even less expensive than that.
Parking:
Deluxe Resorts Parking Fees:
Parking for reservations made June 18, 2019 and thereafter for arrivals in 2020 is $25 per night.
Parking for reservations made before June 18, 2019 for arrivals in 2020 is $24 per night.
Parking for arrivals in 2019 is $24 per night.
Valet parking is also available for $33 per night, plus tip
Click on this link for some comments about parking

April 2019 parking
2019:
Parking Fee is $24 per night at the Yacht & Beach Club resort- there are no discounts available however guests staying at BCV on points (owned or rented) or a cash reservation through Disney should not be charged a parking fee since this is already included in the maintenance fee charge.
ALL guest should check their bills closely at checkout to make sure they have not been mistakenly charged or overcharged for parking at the resort.
***********************************************************************



For really cool aerial views of the resort, check out this BING map application:

Aerial Map of Beach Club Resort

picture provided by littlewhiterabbit

********************************************************

Stormalong Bay Pool and Flying Jib Slide

Stormlong Bay is a beachside water park that offers up 3 acres of aquatic fun for the whole family. Catch currents in an expansive sand-bottomed pool or a lazy circular river, explore the "Shipwreck" and slide down one of the highest hotel waterslides at Walt Disney World Resort, or simply lie on the elevated tanning deck and soak up the sun's golden rays. With 750,000 gallons of water comprising an impressive complex of pools that range from swirling to placid every member of your family can find a place to make a splash at Stormalong Bay. Guppy Bay Kiddie pool lets even the youngest of guests in on the fun.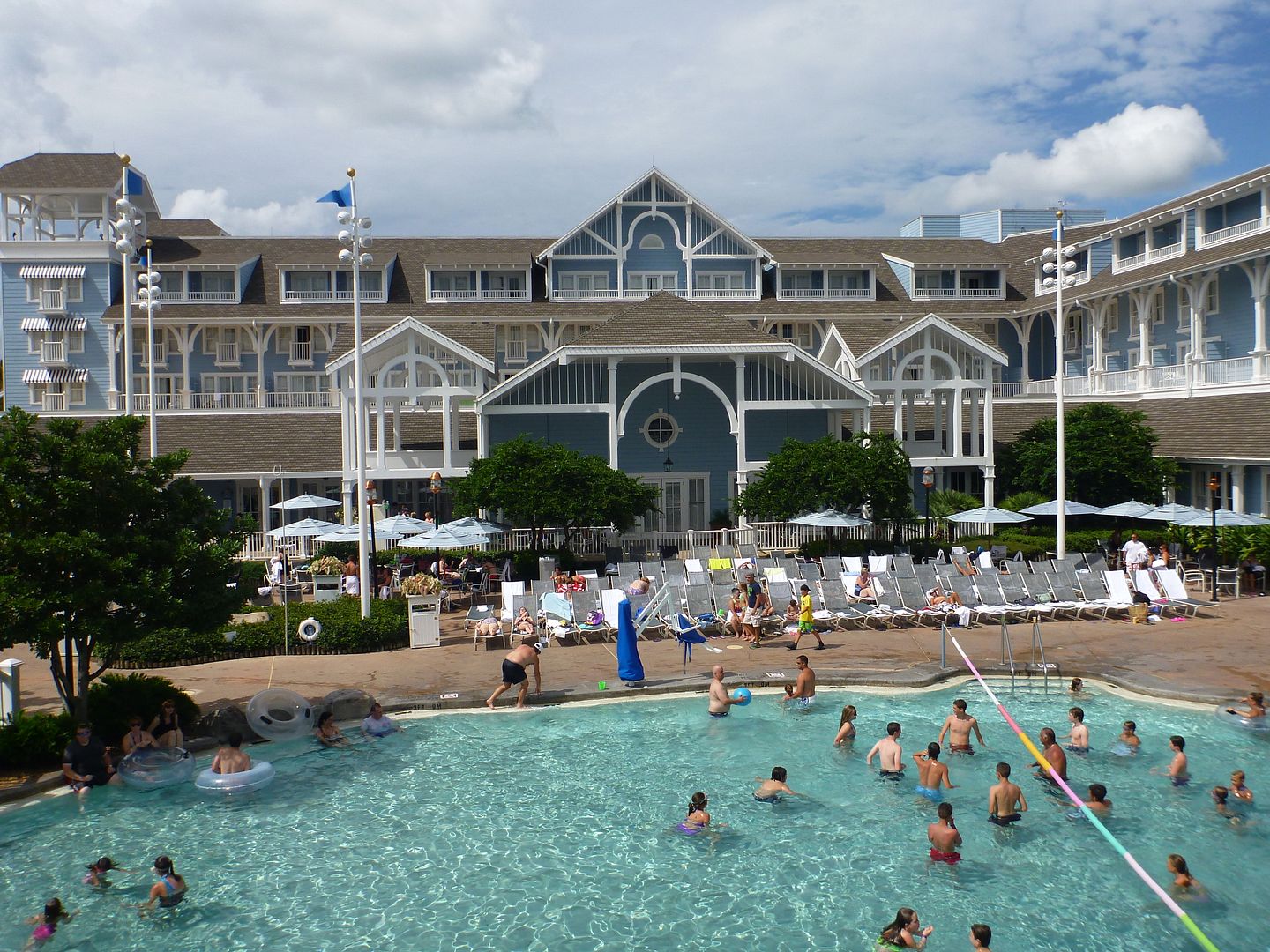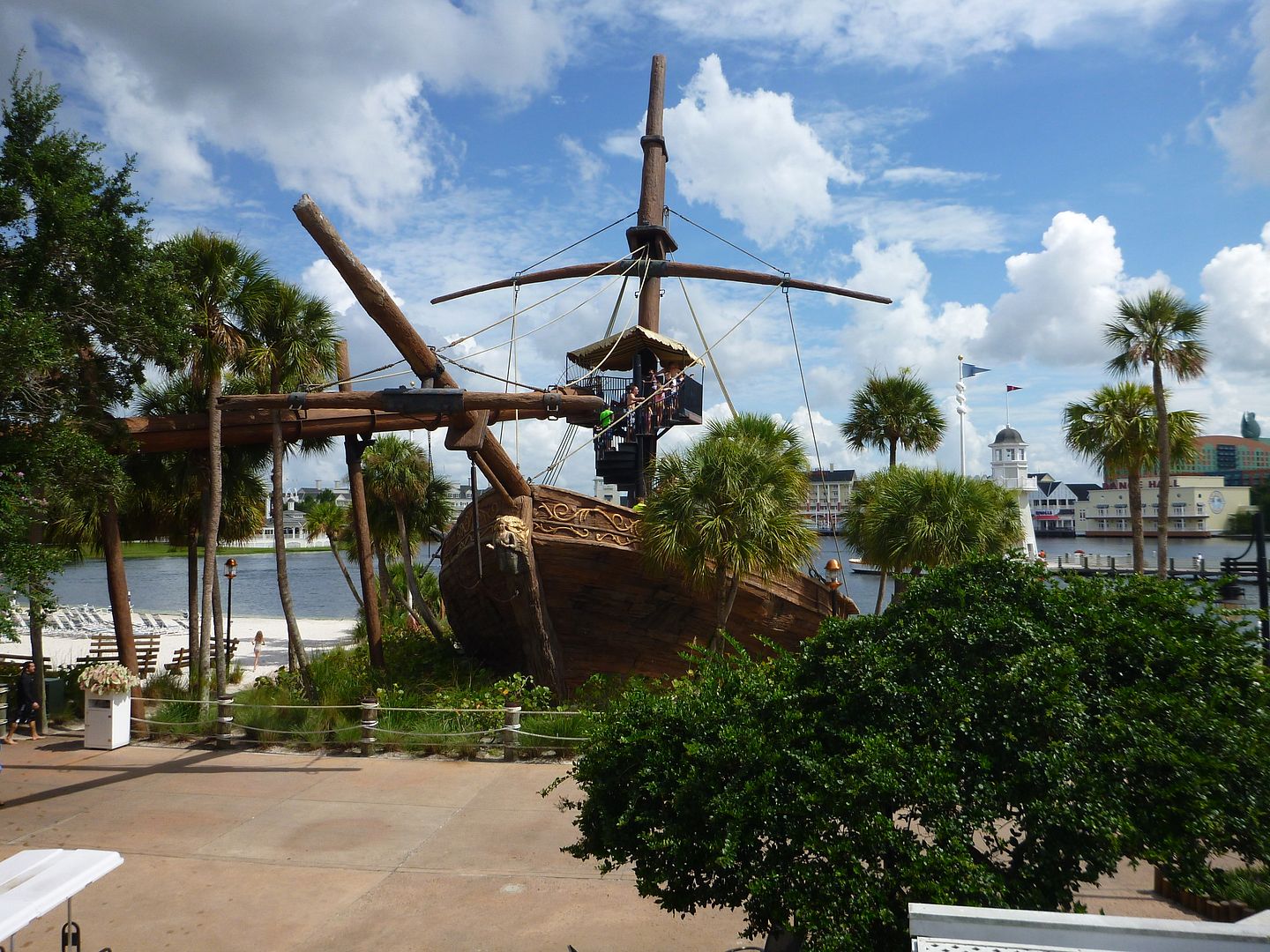 See more pictures and read about this amazing pool complex in Posts 2 and 3!

**********************************************************************

Want to see more???

Post 16: Photos, Video, Trip Reports & Links to Previously Closed Threads

Need to feed your fix for pix?

Link to Yacht Club, Beach Club and Beach Club Villa Photos~ Post All Your Photos!!!


Video: Inside Look at Disney's Yacht & Beach Club Resorts, June 2013
Look for Teena at 1:14 in this video

Check out this YouTube video with a mini-tour of parts of the resort. Room depicted is in the Beach Club resort Video Tour

Got some time to kill? Here's a Bing Map of the resort and surrounding area- you can zoom in and out. Teena said she thought she saw her car in the parking lot!!!

Bing Map of YC/BC

THANK YOU to Joe Cool, a high school student who originally put together this FAQ thread and to Tete01830 for keeping it going.
Last edited: