Welcome to my trip report! This will be my recap of a great trip that we took to WDW in August. Much of this trip will have already been reported on by others, so you may feel like you've heard some of my stories before, but I figure we all like to obsess over all things Disney, so I'll give you the stories again from my point of view.
While I've chosen "Dining with DISers" as the title of my trip report, I could have also selected "We Left the Teen at Home" or "It Is Seriously Hot Out" or "Janet Hears Ninja Mom calling"
I'll throw in as many pictures as I can but for some reason my camera and I didn't get along all that well on this trip, so I didn't take as many pictures as I usually do. (I only took 525 pictures, which isn't near the amount I usually have to choose from.)
This is me.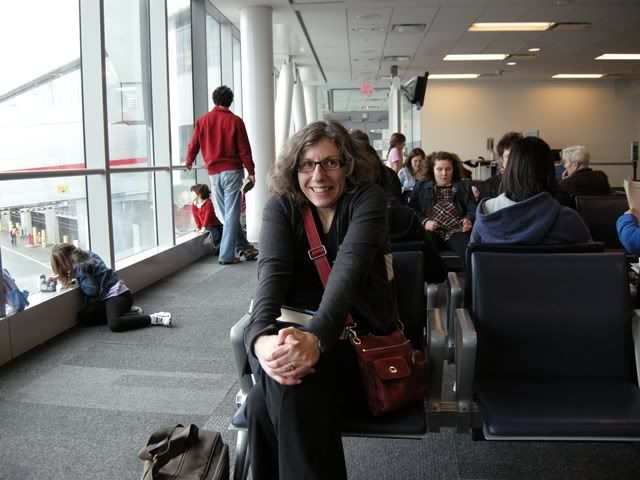 This picture was taken at the airport waiting for our 2010 trip to begin. While it isn't a current picture, it is the one that best captures my excitement anticipating Disney. (If you want to imagine what I looked like for this trip, just change the wardrobe to summer clothes, and streak a bit (or rather a lot) more grey through my hair.)
Let's start with some background (because it is fun for me to reminisce, and this is the only group of readers I know that would be interested in reading details of my past trips to WDW.)
We are a Canadian family of three – Mom, Dad and Teenager Rapidly Becoming an Adult. My husband and I both visited WDW once as children, and I had the good fortune to go to a conference at CSR in 2010. As a family, we've been to WDW four times, and this is our first trip with adults only.
You can read all about my last few trips by following the trip report links in my signature, but here's the background on our past family trips:
2004 was spent at WL. It was our rookie trip. We thought we could afford to stay at POFQ, but when I called in the reservation the skilled CM pointed out that due to a special offer we could afford to upgrade to WL. The result was that we fell in love with WL. For the record, this was to be our one and only trip to WDW, ever.

In 2007 we started to crave Disney, and I just landed a new job so we decided to celebrate by returning to WDW and we upgraded to CL. This was to be our last trip to WDW, ever.

In 2010 we got the Disney itch again and booked another trip to WL, but thanks to a special offer we upgraded to CR CL which would be $1000 cheaper than WL CL, and we booked the trip to celebrate a recent promotion at work. While we didn't fall in love with the CR, we did have an amazing view of the MK that will be remembered forever. This was to be our third and last trip to WDW, ever.

In 2012 we got the itch again, one year sooner that our previous cycle of every three years, and this time we booked the YC CL, because on our previous trip we stopped by the boardwalk area and fell in love. Once again, we booked the trip to celebrate my landing a new job. (See a trend here?) And it was on this trip that we stopped pretending it would be our last trip.

Now along comes 2014, and the series of events that lead to our booking this trip. On our last trip we knew that our teen had reached his limit and our next trip would likely be adults only. We also knew that we would have to stay at the YC or BC again. We didn't expect to be back this year though, but here's what happened… We always vacation in the second last week of August. We usually head up to a lovely place in Ontario called Fern Resort. When I asked my husband if I should book Fern, he said "I'd rather go to Disney." I was surprised, but as you know all it takes is one little mention for trip planning to begin. The challenge was that we really couldn't afford the trip. I mentioned this to a certain Ninja Mom and the nagging began. Not only is she a ninja, but she is also relentless. She let me know about a certain Magical way to take Vacations and Travel to WDW. But we still couldn't afford the trip, until… I got a promotion at work (Yay!) and once that happened, the trip was on!
So let's start talking about what happened on this trip… We flew out on a Sunday morning. The airport was ridiculously crowded. Who knew so many people travel on a Sunday morning? We made it to MCO in a timely manner and landed with a bump and a thump. Seriously, it was the roughest landing ever with the plane actually bumping up and down before we stayed in contact with the runway. We didn't feel in danger, but we did give a sigh of relief once things calmed down and we were sure that we had landed safely.
Once we got out of the plane we rode the faux monorail and happily made our way down to the Magic Express. We are Canadian so we didn't have our magic bands, but our old fashioned paper passes were scanned and we were directed to row 4. As we were entering row 4, we saw this…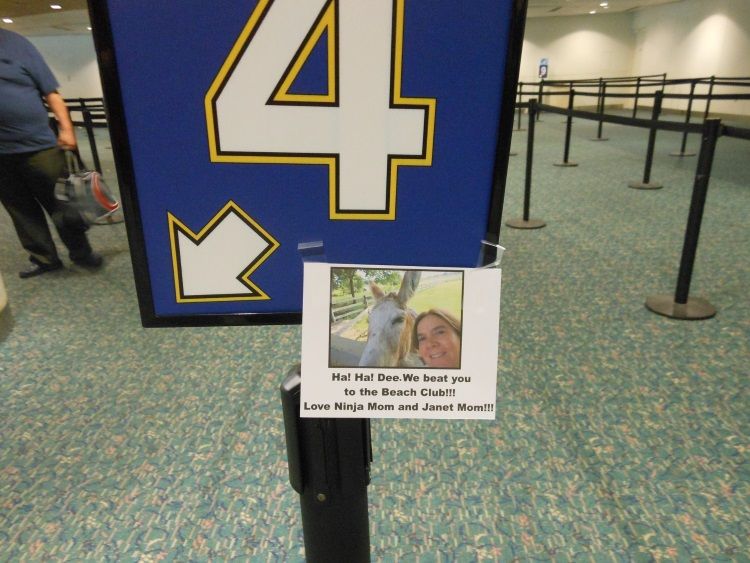 And so the laughter began. I immediately recognized the smiling face in the photo and knew the ninja that would be responsible for putting the photo on display in such a public place! As we backtracked to get a better look at (and photo of) the sign, I laughed even more when I saw that I had been given some credit for the sign without even knowing about it. Clearly we were in for an amusing week.
After a bit of a wait we boarded our bus and it was full. So full that we didn't even see the WDW welcome sign, as all we could really see were the rest of the passengers on the bus. We stopped at Pop Century, Port Orleans and then it was on to the BC. When we got to the BC, as he was driving up to the front of the hotel, the driver said "mumble, mumble, mumble, Beach Club, mumble. No? Okay then." And he drove right past the Beach Club porte-cochère without stopping!!! He barely even slowed down!
My husband and I, along with two others immediately jumped up and said "Hey, aren't you going to stop?" To which the driver responded by saying "I asked if anyone was getting off at the Beach Club and you didn't say anything. Too late to stop now." And so, our trip start was slightly delayed so we could go to the YC and let those passengers off before circling back to the BC.
Once we actually stopped at the BC, all was perfect again as we stepped off the bus and the lovely CM Amber stepped up to address us by name and escort us into the beautiful BC lobby.
Well that's enough for today… next up greeting friends and a tour of our room. (And don't worry, I'll use more photos and fewer words in my future posts.)