*Mum to the 1st Disneyland Paris DISBOARD BABY!*
Here you will find some information when staying at Ashford, Kent.
If there is anything specific you would like to know then please ask and I will do my best to answer for you!!
In this thread you will specifically find hotels in the area of the turning at Junction 9 off the M20.
Holiday Inn Central
Rooms are listed at approx. £69 per night
(N.B. This hotel will allow five in a room as long as the youngest one does not require a bed. A forum member booked a room which included a 4 year old that did not need a bed and there was no problem with this)
The
Holiday Inn Central
also offer a
Eurostar package
as follows :
EUROSTAR PACKAGE

EUROSTAR PARKING PACKAGE INCLUDES VAT AND BREAKFAST BASED ON TWO ADULTS SHARING A ROOM. TAXI ON OUTWARD AND INWARD JOURNEY TO EUROSTAR TERMINAL. COMPLIMENTARY PARKING AT HOTEL UP TO 7 DAYS. BOOK NOW AND COLLECT ON ARRIVAL YOUR 20% FOOD & BEVERAGE VOUCHER AND MCARTHUR GLENN SHOPPING DISCOUNT CARD.

ON ARRIVAL PLEASE ADVISE HOTEL OF TIME REQUIRED FOR TAXI. COLLECT TAXI VOUCHER FOR BOTH JOURNEYS FROM HOTEL RECEPTION UPON CHECK OUT. CHILDREN UNDER 12 STAY AND EAT FOR FREE WHEN SHARING ROOM WITH ADULTS. THE 20% FOOD & BEVERAGE VOUCHER IS REDEEMABLE AT THE HOTEL RESTAURANT AND BAR ONLY. MCARTHUR GLENN SHOPPING DISCOUNT CARD CAN BE USED AT MOST SHOPS AT THE ASHFORD DESIGNER OUTLET.SURCHARGE APPLIES TO TAXI JOURNEYS BETWEEN MIDNIGHT AND 7AM.

TERMS AND CONDITIONS. FULL PREPAYMENT REQUIRED AT TIME OF BOOKING. NO REFUND OR CANCELLATION ALLOWED. ​
http://www.ichotelsgroup.com/h/d/hi/925/en/hotel/asdke?&countryId=0925&cm_mm
Premier Inn - Eureka Park
Rooms are from £59 per night
http://www.premierinn.com/pti/hotelInformation.do?hotelId=28538
Travel Lodge Ashford
Rooms are from £50 per night
http://www.travelodge.co.uk/search_and_book/hotel_overview.php?hotel_id=4
Holiday Inn
is opposite the
Harvester
and
Bybrook Barn Garden Centre
(which also serves food).
All three are with in easy reach of
Burger King
,
Pizza Hut
,
Frankie and Benny's
,
KFC
,
Cineworld
,
Reins Nightclub
and the
Beefeater Restaurant
, with the
Travel Lodge and Premier Inn
being in the same vicinity of the afore mentioned. There are
no petrol pump
here and they can be found 5 mins away at
Sainsburys
(don't anyone ever say they can't find food in Ashford LOL!) which is just past the
Ashford International Hotel.
Also with in reach of the M20 junction 9 is the
Ashford International Hotel
(N.B. This hotel will allow five in a room, although a surcharge applies).
http://www.qhotels.co.uk/hotels/ashford-international-kent.aspx
This is quite posh and has recently had a renovation but be warned the price reflects this. It does however have excellent facilities including a pool and fitness centre.
In Ashford town, you will find a
Leisure Centre
http://www.thestourcentre.co.uk/
which has three pools, including a fun pool with flumes. You will be charged £1.00 entrance fee if you are not a member but the facilities are excellent.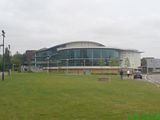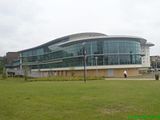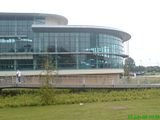 You will also find a
bowling alley
(which is fun but expensive and the food isn't much cop) in town, and for women there is
Mecca Bingo
(whoot I hear you cheer!)
The
Eurostar
station is called
Ashford International
and is well sign posted. It is just outside of the main town and you will easily find it if you follow the signposts (which also lists the
McArthur Glen Designer Shopping Retail Outlet
so don't be tempted to stop off!) The MGDSRO is also beside
Asda
but has
NO petrol pump
.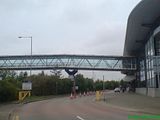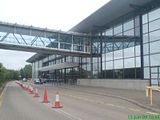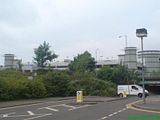 For the
Shuttle
, just simply return back to the
M20
and follow the signs to Folkestone, it takes about 15-20 mins drive. If operation stack is in order (when the French strike and we get stuck with the lorrys on the M20) you are advised to take the A20 which is just off junction 10.
I will cover the hotels as junction 10 if anyone requires it, but most people seem to be driving then using Eurostar, and in my opinion the hotels mentioned have by far the best situated for this. And you will be spoilt for choice at the food outlets!
Regards,
Lisa x
P.S If anyone wants to know any thing else then please let me know!