In Search of the Tag Fairy
Now that I have finished the trip report for my last adventure, it is time to look forward. Two months from today I will get on the Disney Wonder. I booked this a month ago and have been in full planning mode since, but wanted to wait until I had finished my trip report for the last trip.
The Cast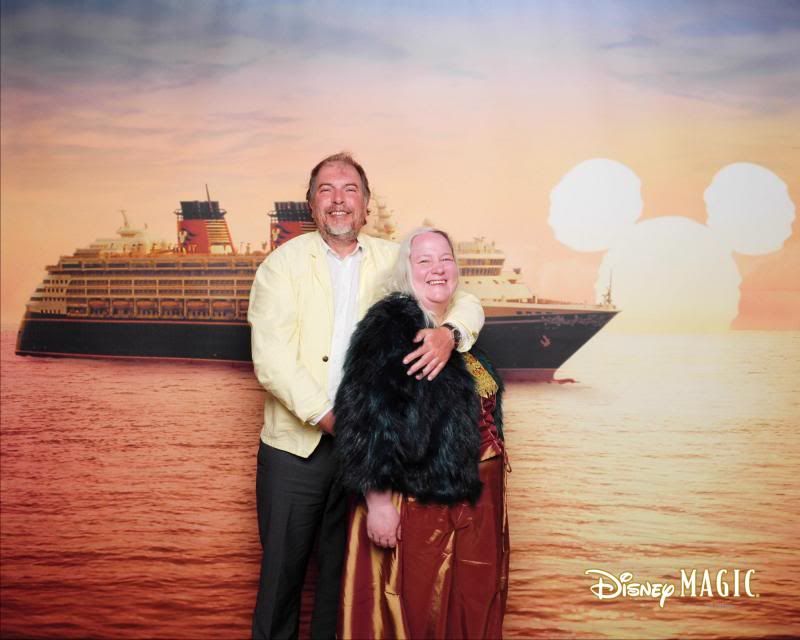 Graham, 55 at the time of travelling and long suffering husband ;-) He does not really get Disney as such, but loves going on Disney cruises and his favourite ship is the Disney Wonder. Graham is quite adventurous and likes cycling, snorkeling, swimming and kayaking. He is an avid bird watcher. He likes to chill on cruises and apart from the odd run and the daily Walk A Mile just likes to relax.
Corinna, 39 at the time of travelling. I am an absolute Disney nut and a Princess at heart. Traditionally the Disney Magic was my favourite ship, but I came to the realization a couple of years ago that my heart is big enough to love two ships. I am normally on the go from morning to night when I am on a cruise and one of my favourite things is meeting all the characters. I love swimming and snorkeling and I am interested in history. I also really got into photography in recent years.
I was pondering a number of different titles for this pre-trip report and there would have been a good reason for each and every one of them.
Sit Back and Smell The Roses
As I said, I am normally on the go from the time I get up until it is time to go to bed. On the longer cruises with a lot of sea days, I normally need a holiday when the cruise is finished. I had a pretty intense year and this year is not shaping up to be any quieter either. So I am going to try a slightly different approach this time round. On our cruise in December I actually adopted a slower pace and rather enjoyed it. Apart from the character meet and greets and Walk A Mile, I will try to restrict myself to one organized activity per day. The rest of the time I plan on hanging out on the comfortable loungers on deck 4 reading a book, hang out in the spa, swim and enjoy the hot tub.
The Do Over
To a certain extend this is a do over. We were lucky enough to do a Panama Canal Cruise on the Wonder in January 2011. This was only the third cruise that was longer than 4 nights that the Wonder had done. The only other longer cruises were two 7 night cruises over Christmas and New Year that were right before ours. This showed. I don't think the crew really knew what to do with us on such a long cruise and the same activities were repeated over and over again. They were also totally overwhelmed by the crowds certain things caused. We did enjoy our cruise, but it was a bit of a comedy of errors. When we went back on the Wonder in October that same year, it was like a completely new ship and our Hawaii cruise in 2012 was truly magical. So I have high hopes for this cruise.
For Old Times' Sake
There are two reasons why I was desperate to do this cruise this year. We found out last year that once the new shipping lane of the Panama Canal opens, the Wonder will get the same extensive overhaul that the Magic received last year, which will also make the ship longer. This means she will no longer fit through the old locks. I definitely wanted to get the opportunity to go through the old locks. Of course since I made the booking, it has transpired that work on new shipping canal has stopped over some financial dispute. I also wanted to see the Wonder one last time in her original state. Even though I absolutely love what they have done with the Magic, I am glad that I had the opportunity to have one last cruise in November 2012 before the Magic had her makeover. I want the same opportunity with the Wonder.
Finally, I decided that
All Good Things Come To Those That Wait
would be the best fit.
I originally found out about a fantastic deal for a Panama Canal cruise on the Wonder this time last year. We already had two cruises booked for May just after this and we were not in the position to do all three. I was sorely tempted to cancel our Los Angeles to Vancouver Repositioning Cruise and the Alaska cruise straight after this and book the Panama Canal Cruise instead, but Graham wanted to stick with the cruises we had booked. I am now glad that we did, as those cruises were truly amazing. Still, as a sweetener for me, we agreed that the amazing rates we had seen for May also would become available for the September crossing, we would jump on it. Well, the rates were available, but a lot was going on in our life at the time and we were not in a position to commit to a trip in September. Fast forward to mid January this year: I was delighted when they offered very good rates again. Actually, this time round they were even better than what was offered last year. We agreed that I would make use of the 24 hour courtesy hold that DCL offers and I booked an inside cabin. We figured that would give us enough time to find suitable flights. We had a very rude awakening. The flights were silly expensive. So our booking lapsed. We did not give up though. On 2nd February, Graham happened onto a fantastic deal for flights and booked them. As soon as he sent me the confirmation, I booked the cruise. At that stage only ocean view cabins were available on that particular rate. They were a little more expensive, but still a fantastic deal. So I booked this during my break. When I checked later in the day, all the special rates had gone and the flights had also gone back up to their original fare, but for us it was a question of "All Good Things Come To Those That Wait"

Disclaimer:
The photos from Key West, Cozumel, the Panama Canal, the hotel in Miami, Puerto Vallarta, Cabo San Lucas and San Diego are mine from previous visits. Most of the other photos are courtesy of Google Images or from the websites where I bought the items from.