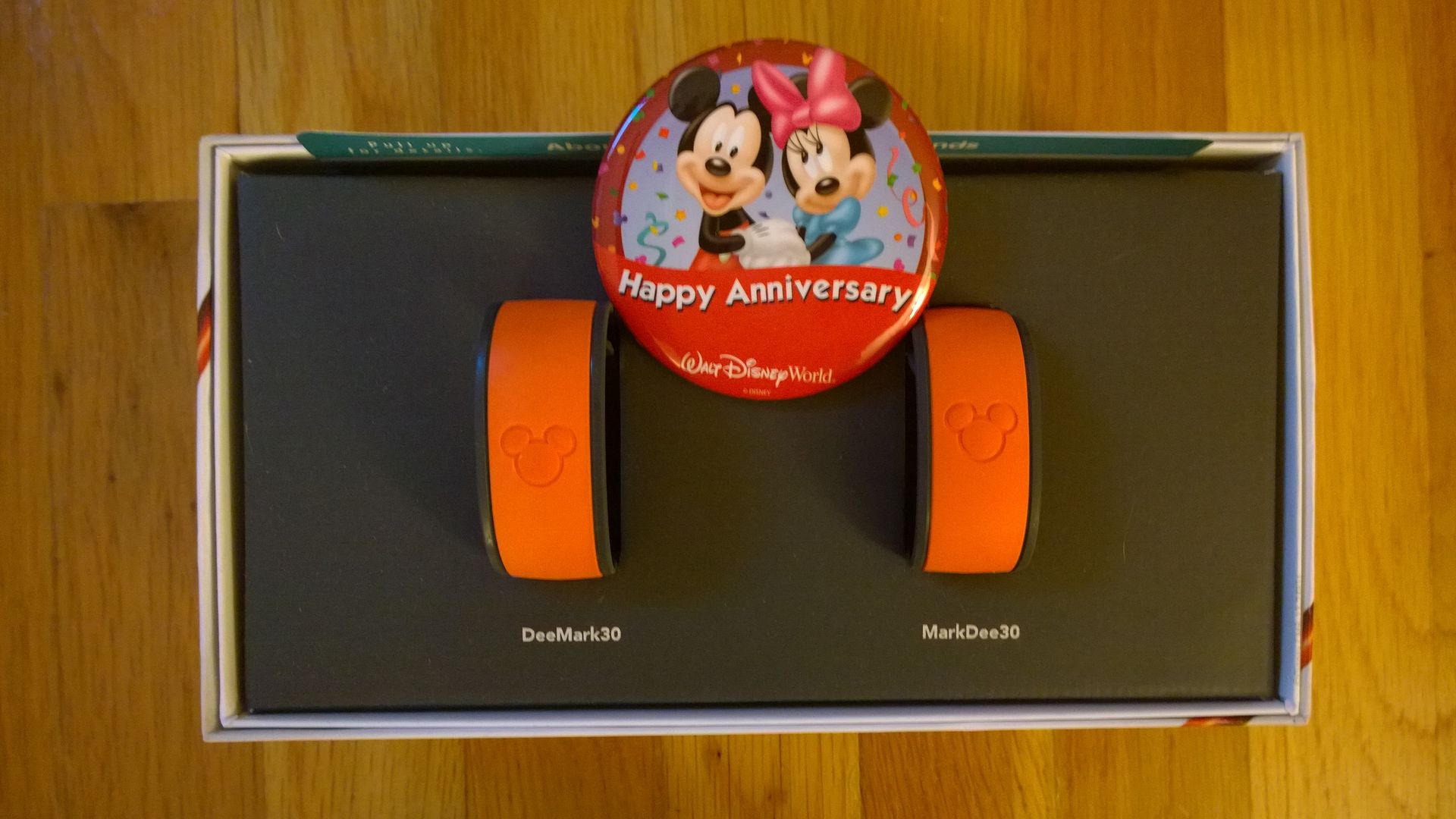 As I wrote at the end of my Whistle While We Work trip report, while I was in Florida at my friend Teena's house, helping her move, I booked an anniversary trip for October to the Yacht Club for my husband Mark and me.
Our 30th wedding anniversary was actually on
July 19, 2016
.
I chose a
fall trip
to celebrate our special milestone for a few reasons:
Most of our Florida trips have been in July and August. Been there. Done that. Have the sweat-stained t-shirt!
Nate would be at college, Ben would be in school during the week.
We would get to experience Disney in the fall:
Food & Wine
Mickey's Not So Scary Halloween Party
But perhaps, most importantly, some of my friends would be there at the same time. A few as part of the Pixelmania camera nerd group and others with trips they had already booked. We were hoping other friends, including Teena, would get on board and decide to come that same week.
(Someone needs to break the news to Mark that we won't be alone on this trip)
*********************************************************************
Mark's last trip to Disney was a family split stay Universal/Hard Rock and the Beach Club in July 2013.
I have been on 4 trips since then: August 2014 Beach & Yacht Club Meet, June 2015 Class Trip with Ben, August 2015 Beach & Yacht Club Meet, January2016 visit with Teena.
There were a lot of new things for him, and even us, to experience.
He never used a Magic Band on a trip, been on Mine Train or Dumbo. His first visit to the Top of the World Lounge was also up on the agenda.
We had never stayed at the Yacht Club.
New to both of us were Food & Wine, MNSSHP, Beaches & Cream, Flights of Wonder, Soarin' around the World, Frozen Ever After and a Pre-Park-Open breakfast. We also booked another surprise activity last minute that we had never even considered before.
I booked a club level stay because that was the discount that was available to us at the
Yacht Club
.
Normally, I don't want assistance when it is time to reserve my dining plans, but as it happens, we were away on a family vacation to Washington DC when our booking window opened. I prepared the list of reservations we wanted and sent that off to the IPO (Itinerary Planning Office)
I was pleased when they contacted me at 7:30 that morning to let me know they were able to book everything I wanted, with the exception of Yak & Yeti, which was not showing openings yet. I booked that myself a few days later.
Our dining lineup looked like this:
Arrival, Sunday October 16- Beaches & Cream, 6:30 pm.
As the manager of the Beach & Yacht Club FAQ thread, it has been a dirty not-so-secret bit of knowledge that I have not had a sitdown meal and ice cream there. I have had reservations at B&C a few times, but always ended up changing them for various reasons. Would this time be the charm?
Monday - Kona, 6:30 pm for 10 people
This was our dinner with friends prior to watching Wishes at the Top of the World Lounge
Tuesday- Pre-park opening breakfast at Be Our Guest, 8:15 am
GRRR!!! Disney added a paid Extra Magic Morning event on this day!
Halloween Party/no dining plans that night
Wednesday- La Hacienda, 6:30 pm
Subsequently moved to 5:30 so we could see the 8 pm Star Wars Fireworks.
This was the meal Mark was most looking forward to after we had a spectacular dinner there on our last family trip.
Thursday- Yak & Yeti- initially scheduled for lunch, then changed it to evening in hopes that we would be AK after dark
Friday- Be Our Guest lunch, 11 am
Typically, once we have our dining plans scheduled, we don't make many changes. But that was not the case on this trip!
++++++++++++++++++++++++++++++++++++++++++++++++++++++++++++++
The next planning milestone was booking Fast Passes on August 17.
I knew that standby line for Frozen standby was out of control, so I booked that on our final afternoon. Working around a Be Our Guest lunch at MK at 11 and our departure on the Tragical Depress at 4:30, the only time that worked was 2:15 to 3:15 pm.
Everything else I was looking for was available at the times I wanted. We knew we wanted Soarin' Around the World, so I booked that for our afternoon visit to EPCOT on our arrival day.
Here's what we ended up with: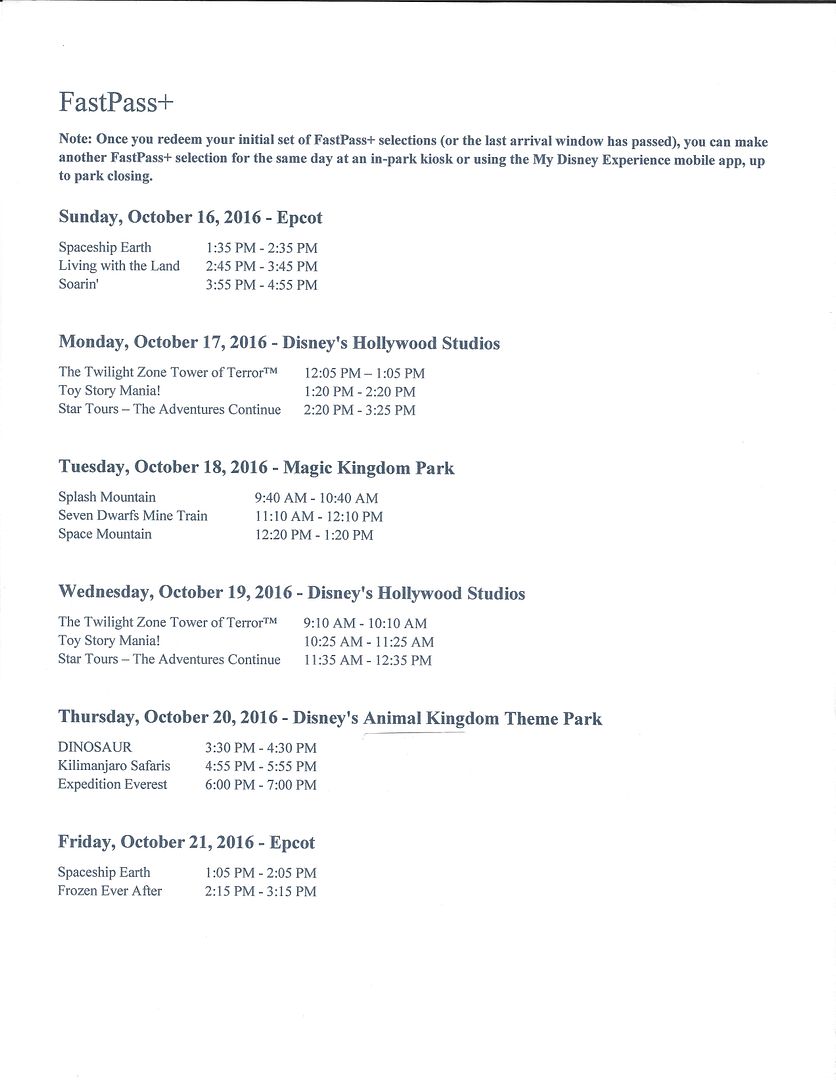 ++++++++++++++++++++++++++++++++++++++++++++++++++++++++++
We booked tickets to the October 18 Mickey's Not So Scary Halloween Party.
$$$$$$$$$$$$$$$$$$$$$$$$$$$$$$$$$$$$$$$$$$$$$$$$$$$$$$$$$$$$$$$$$$$$$$$$$$$$$
There are a lot of ways you can save a little money on a Disney Trip and I just love a "bargain". Every dollar saved is money that can go towards a Mickey Bar!
Disney Visa is one, you get 1% cash back on purchases that can be used for Disney stays and products. You can pay for a premium card and I think you get 2% cash back on purchases. But that is not the best return you can find.
Although my kids no longer attend the middle school in our town, I still participate in their gift card fundraiser. You purchase gift cards at face value and a percentage (depending on the business) goes back to the school. For example, if I order $100 in cards to the Ninety-nine restaurant, I get 4 $25 cards and the school gets $13 (10-$13 back for most restaurants). They have Disney cards, but that is not what I order for my trips. I get Walmart/Sam's Club cards (2% back to the school) and use those to purchase Disney gift cards at a discount at Sam's ($143 for 3 $50 cards, about 5% savings).
I ordered $2000 in gift cards to Sam's Club from the school ($40 donated to the school for my purchase) and during my trips to Sam's Club, I would purchase a packages of Disney cards. I was glad that I did not purchase all the cards at once, however, when my Discover card announced a 5% cashback offer for purchases at Sam's Club. Woo-hoo! That means cash back to me, for the $1000 or so in gift cards I was going to purchase. I'll just use the Sam's gift cards once the Discover promotion was over. About a week before the trip, I went into Sam's to get the cards, found the display… and the Disney cards were sold out! I checked one more time before the trip, but they did not restock. L
Of course now that we are back, the Disney cards are there!
$$$$$$$$$$$$$$$$$$$$$$$$$$$$$$$$$$$$$$$$$$$$$$$$$$$$$$$$$$$$$$$$$$$$$$$$$$$$$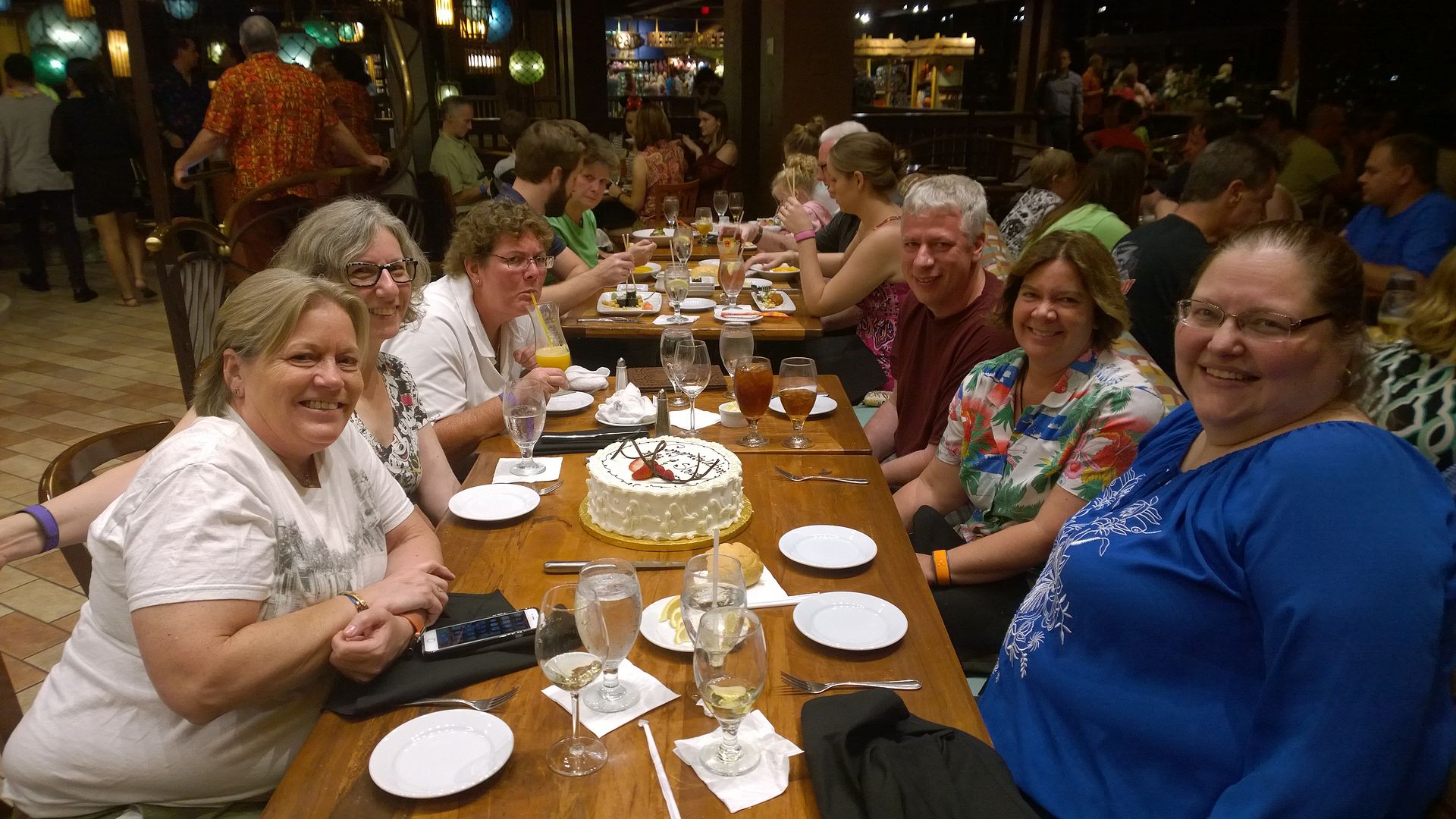 Hope you join us for our anniversary trip celebrating 30 years of marriage.

The more friends the merrier!
Next up: "Scare" in the Air!
Last edited: