Hello Pixies! Are you ready to fly to the finish?

The cast for this report is just little ol' me! Shannon, 33 years old.

I am fully, 100% addicted to runDisney races. I started off mostly sticking with races in Florida, but in 2015 I finally did something I had been dreaming of since my first runDisney race back in 2011 - I took my first-ever trip to Disneyland, ran the Disneyland Half Marathon and earned my Coast-to-Coast medal!

See the medal closest to Mickey...the one with the Partners Statue? That's the Coast-to-Coast (C2C) medal, and you get it by doing one race in Walt Disney World and one race in Disneyland in the same calendar year (races must be half marathon distance or longer...or a challenge where you do multiple races on consecutive days). It's basically the greatest medal ever.

Well, it turns out that there is another version of the C2C medal, and it's PINK! (From runDisney's twitter account):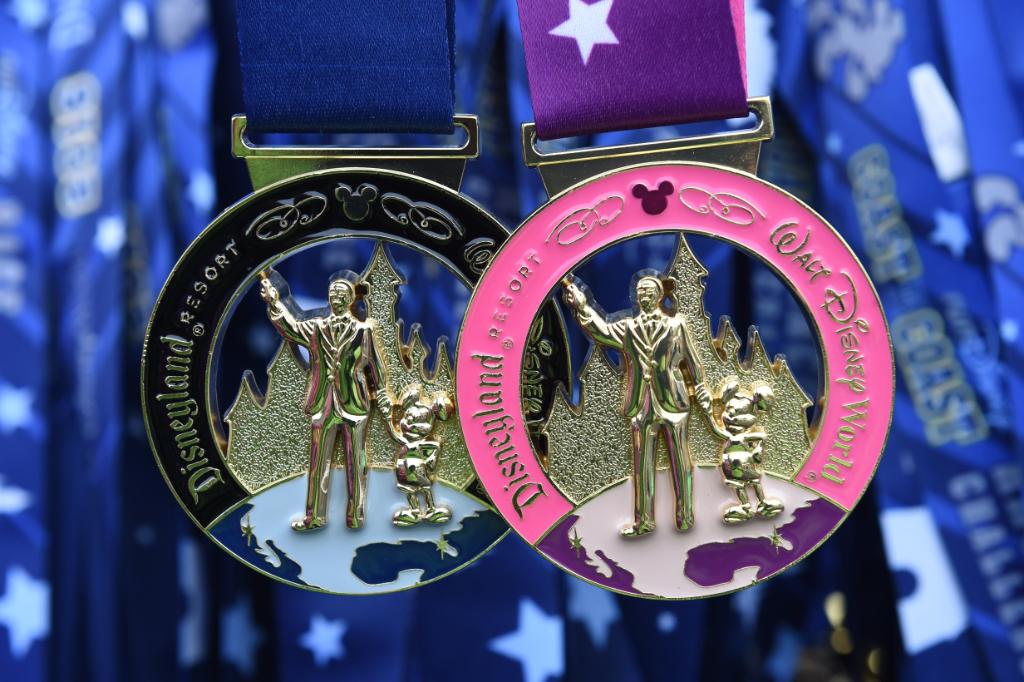 I know, I know...what kind of sucker would get a medal they already have, just because it's a different color?...

*points to self*

THIS GUY!


The pink C2C medal only happens when one does the Princess Half Marathon/Glass Slipper Challenge and the Tinker Bell Half Marathon/Pixie Dust Challenge in the same calendar year. I am not a very princess-y girl, and I really don't like Tink much at all...but I do love me some runDisney bling. So I decided 2016 would be the year of the pink C2C! I registered for the Glass Slipper and Pixie Dust Challenges, along with the 5Ks, booked flights, and hotels...

And then everything came to a screeching halt, courtesy of a back injury. I had to stop running altogether for about 2.5 months...no pink C2C for me in 2016. Wahhh!!

Thankfully, I was able to defer my Glass Slipper and Pixie Dust Challenge entries to this year (runDisney doesn't offer this service anymore, so I got REALLY lucky). More importantly, I (mostly) healed and was able to resume running again, completing the Never Land 5K and the Tinker Bell 10K in May of 2016.

When I was feeling sorry for myself during my running layoff, I coped by signing up for races and planning Disney trips! Sort of like retail therapy. I participated in races during Wine & Dine Weekend (November 2016) and Marathon Weekend (January 2017), and they went pretty well!




The exciting thing about participating in Marathon Weekend earlier this year is that this qualified me to get another blue C2C medal at Tink weekend...this one a special 10th anniversary version!

My training for Princess wasn't what I wanted it to be thanks to a small hip strain (why am I so injury-plagued all of a sudden?!) but I was able to complete all 3 races that weekend! The last 5 miles or so of the half were a little dicey, but still...part 1 of the 2017 pink C2C...check!

And less than 3 months later...it was Tink time! And time to get the pink C2C medal that I had been denied in 2016...FINALLY!!
Last edited: