Having a private anniversary meal was a really last minute decision. Originally we were supposed to both be there a week and had a whole line-up of dinner reservations, but he just started a new job 2 weeks before we left and had to come home early. I ended up staying the rest of the time to visit with family and I got a day at Disney by myself too which was still a lot of fun. I just told him he just owes me another trip sometime soon
Because of the changes in plan we decided to do one bigger event to make up for the loss of other things. We still did a meal at Coral Reef (in honor of our reception @ LSS) but decided to not go to our reservation at Narcoossee's where we were having a replica of our anniversary layer made and delivered for dessert.
I considered a private dessert party at Epcot. I even spoke to someone and had gotten as far as choosing menus since the space was available (calling only 2 weeks out which was a shocker) but I really felt like we should wait for a future trip since it was kind of rushed and it had been pretty cold at night there lately. I didn't want to chance getting moved inside.
Plus, even with just desserts adding in our anniversary cake and the delivery fee it was going to be around $450 without any regular food so we would still need dinner somewhere. I know we'll eventually do this on a future trip, so I decided to save the budget for another time.
The next option was a private dinner at the Grand Floridian. These are typically coordinated through Linda that works there who was really nice to me and extremely helpful. I had already ordered our cake from her and when I called at only 8 days out (you're supposed to make a reservation at least 10 days out) she was really accommodating.
She was out sick several days the week of our dinner and had another person from Gasparilla's of all places do the follow-up for her. When she knew she was going to be out she called him and made sure that he did all the necessary follow-up. I actually had called the catering division about something on the marina first, but because of the recent drop in temperatures they had been discouraging people from doing this, so that's how I ended up with Linda.
Here are some shots from our anniversary dinner. It was fantastic! Linda at the GF was pretty nice to work with throughout the process.
As a side note, that night when we were leaving POR we noticed the carriage stopped outside and I told Kris that I wanted to do that someday. Little did I know it was stopped because a couple had just gotten engaged, she has started her PJ here. I read about their story on the DIS after we got back and I thought that was pretty fitting for the evening!
We had been so tired that day from traveling we left Animal Kingdom where we had been that afternoon and went back for a quick nap before getting ready for dinner. We decided a cab ride was the best option since that meant we could sleep a little longer! Although, the cab drivers seem to take the longest possible way to get places on property! We are familiar with all the roads so when I asked the cab driver why he was going a certain way he got a little irritated with me.
On the cab ride over to the GF Kris kept asking what we were going to be doing there. When we were walking in the lobby he said are we going to eat on a boat? I said no, just wait and see. Then he asked are we going to watch the fireworks. I then said maybe just wait and see!
Thankfully at that point, we were greeted by our butler in the lobby which stopped some of his questions. When we were walking into the lobby there was a photographer and videographer there waiting for a wedding party to show up.
The butler then guided us over to the elevators which we took up to the 5th floor. On the way up he explained that he had moved us from the third floor balcony since it was a little chilly that night. I think it was around 50 degrees which was much warmer than we had heard it had been earlier in the week.
He explained that we actually would have a better view from the 5th floor and that there were only a few suites up there so we should be bothered by any guests. Here is the view from the table; the reflections in the window made it a little hard to take pictures, but we still could see the fireworks really well once they started.
Once there he escorted us over to our table which was sprinkled with rose petals; there were even some along the window too. We had personalized menus at each of our seats.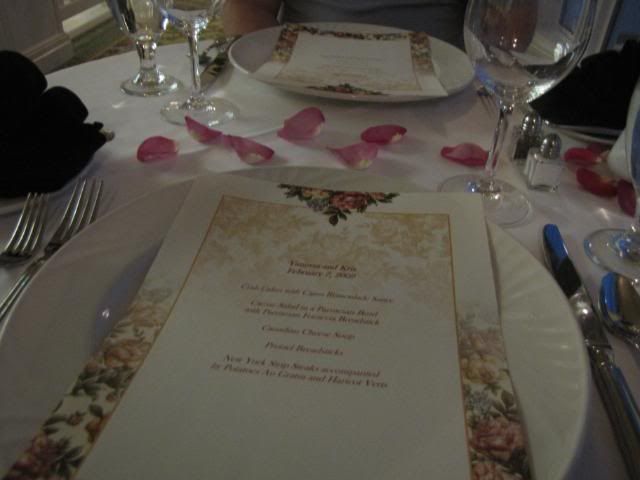 He immediately served the Lilokoi juice which I had requested from our brunch and then explained how the meal would be served. Here is Kris with the juice:
He started out by bringing over some of the pretzel bread- I ate way too much of this that night and almost couldn't finish my meal later on!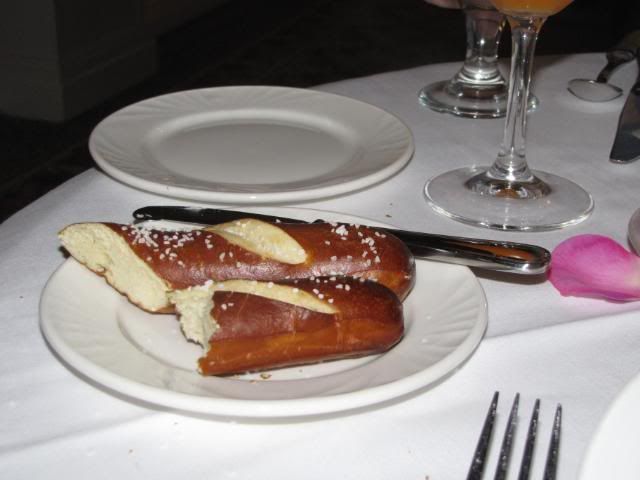 Our butler then disappeared and came back with the Crab Cakes with Cajun Remoulade Sauce. We were each served our own and they were pretty big!
The next course included a Caesar Salad in a Parmesan Bowl with Parmesan for Kris and the Canadian Cheese Soup for me. The butler even gave me seconds on the soup which Kris and I ended up sharing. I loved how his salad looked in the parmesan bowl. The butler then broke the bowl up into pieces and served it over the salad which was underneath.
During this whole time period the butler kept bringing over bread which I prompted ate up which was definitely a mistake. But, it tasted so good that I couldn't resist! After a few minutes he disappeared and then brought up our main course. There were several minutes between each one because he had to take the concierge elevator down which was a little ways down the hallway. We were only passed twice by people heading to their rooms. I can only imagine how much the rooms up there must cost! Each of them had double doors for the actual suites.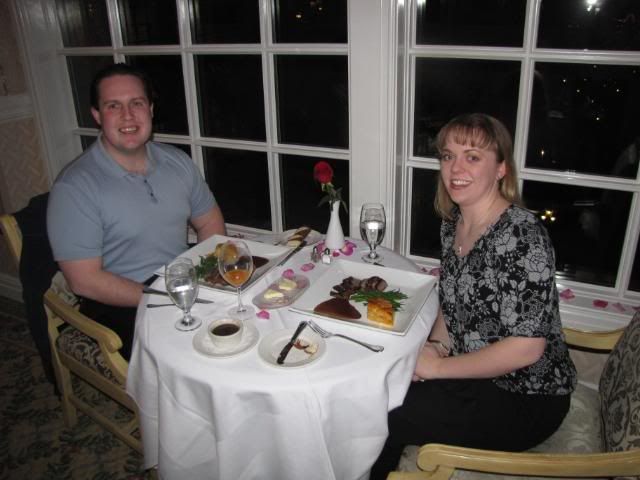 Since we had a brunch reception, I didn't request much of the same food besides the juice. I did also request the au gratin potatoes we had from CRT. These weren't quite the same, but they were still delicious! The main course was New York Strip Steaks accompanied by Potatoes Au Gratin and Haricot Verts (green beans) I like my steak well done and this strip was so tender; they did an amazing job!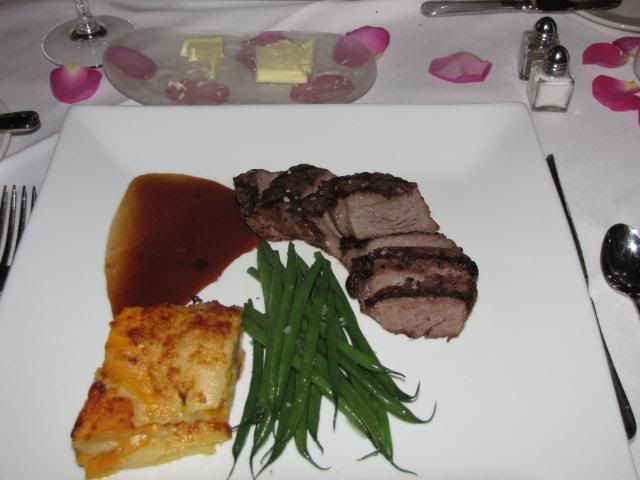 About halfway through our entrée I was stuffed. I ended up focusing on finishing my steak and left the vegetables. Kris kept asking about what we were having for dessert. On like his second guess, he said "are we having wedding cake?" I said that he had gotten me again. I didn't share which flavor I had gotten so that kept him guessing a little while too. We finished our dinner about 20 minutes before Wishes was scheduled to start and our butler said that he would give us some time before he came back to serve dessert.
Once he had left we took a few minutes to look down into the lobby and Kris spotted the bridal party that they were setting up for earlier when we arrived. The picture is pretty dark because we were on the top floor, but you can still see a little.
Other views from our vantage point: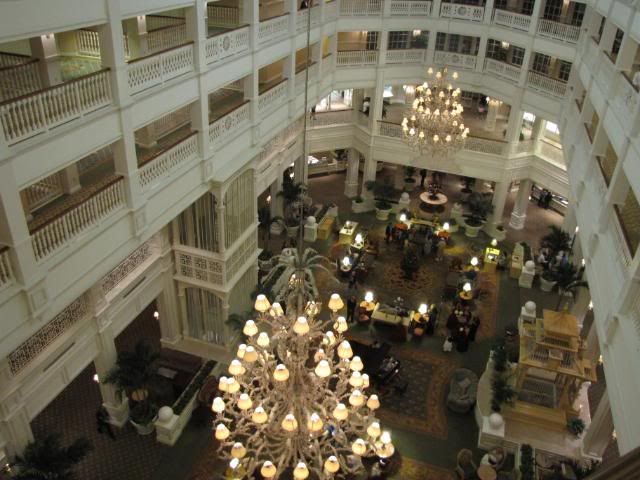 Then a few minutes before 8 pm the butler came back with our anniversary cake. They did a pretty good job replicating some of the features of our original. They ended up just doing buttercream frosting without any fondant when I asked them to reduce the price a little and that was fine with me because I love the frosting!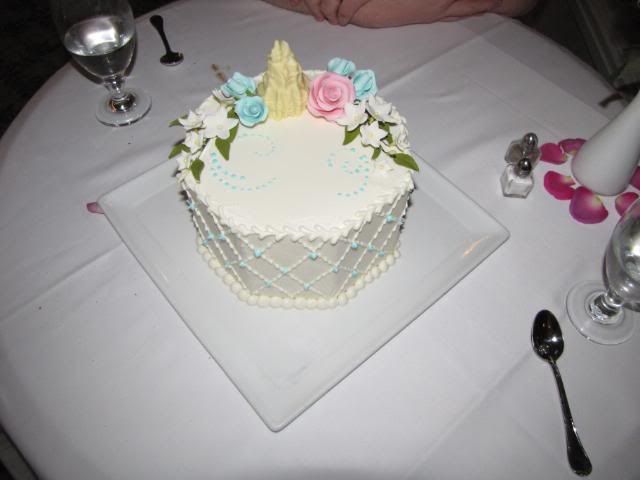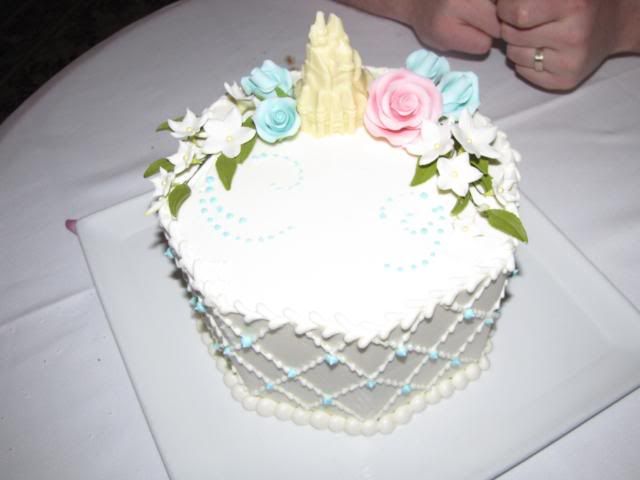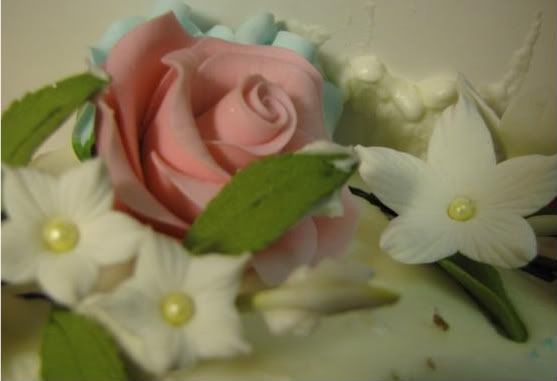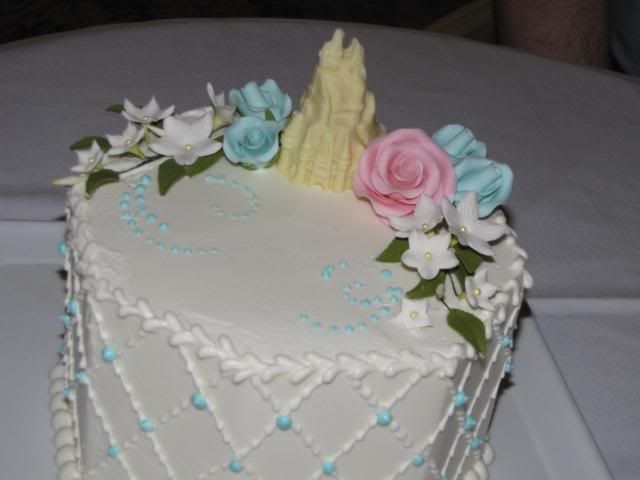 Here is our original cake for comparison: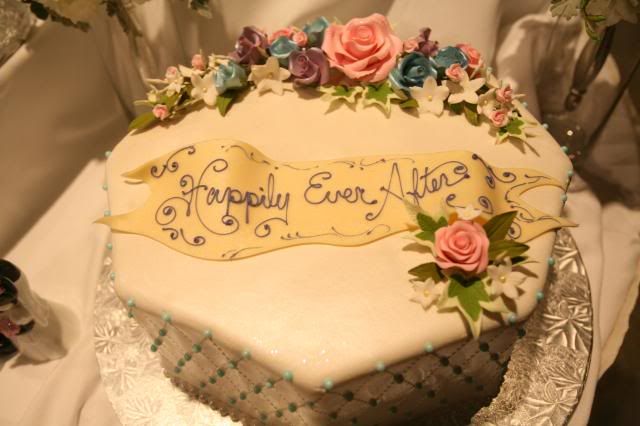 Okay, I have to admit after smelling the cake I had a little slice after all my food had been settling for like 20 minutes. Something to keep in mind if any of you ladies do this in the future, watch for any hidden costs. I knew up front that if we wanted to add anything it would be extra, but when the butler offered coffee with our cake I thought that might be included with our dessert. We paid $7 for Kris' cup of coffee and $5 for my tea which I only took two sips out of that night.
Considering how much we spent on everything else its not that much money, but that would still have paid for some of the extra tip that we left for our butler.
It was so good, just as delicious as I remembered from last year. I ordered the chocolate cake with the chocolate peanut butter cup filling. We had so much cake; we ate on it all week. We even gave some slices away to my aunt and cousin who visited and to my parents. I ended up bringing a few of the flowers home to add to my container which holds some from the original wedding cake.
Shortly after he sliced it up, Wishes started. We really did have a fantastic view from where we sat. Again because of the window I didn't get very many shots.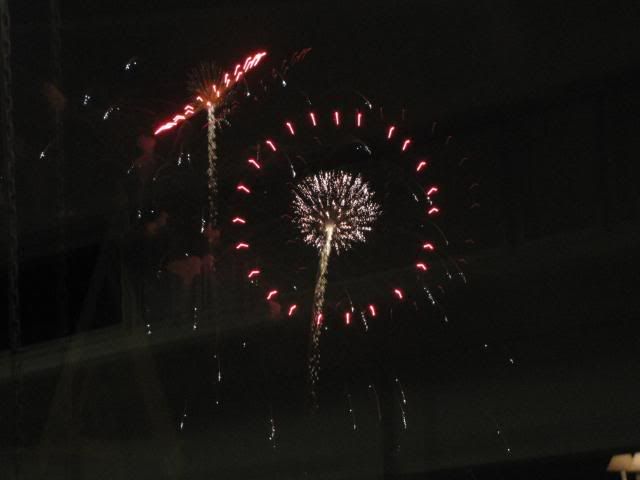 At the end of the show the butler gave us time to sit and relax and just enjoy the moment. It was truly a magical evening and worth every penny! At the end he boxed up the cake for us and sent me with a rose. Poor Kris had to carry around that cake box for a while. We were going to take the Downtown Disney bus then head to POR from there, but when we waited out front it took forever. We decided that since it had been a while since Wishes we would just take the monorail and the direct bus. We didn't realize that SpectroMagic was also that night, so there were a ton of people leaving the park at that time. We lucked out and made it on the bus and got a seat too which was important while we were carrying the box.
We had talked about going to Jellyrolls or something, but that was our first day into Orlando and we had gotten up at 4:30 am back home to leave for our flight, so we opted for an early night and headed back to the room for bed.
Here is the final breakdown of costs:
$85 per person for the meal, $170 total
$11.50 carafe Lilokoi juice
$75 butler fee
$75 anniversary cake
$12 coffee and tea
$84 gratuity and tax (they charge 24.5% with the gratuity, service fee, and tax)
Total $415.50
We also ended up including an additional tip since the service was excellent! Obviously you could do this cheaper if you didn't have the cake added to the bill. As a side note, the meal we selected would have cost $95 with a dessert, but they reduced the cost since we had a cake. I know on the boards I have read some meals are as low as $80, so I think it depends on what you end up ordering.
This was an amazing experience and I would definitely do it again, although a Epcot DP for the two of us will be next on our list. Maybe again at our 10th anniversary