Here are a couple of my favorites . . .

Cranberry/Raspberry Jell-O

This salad is absolutely yummy with turkey!

1 small can crushed pineapple (do not drain)
1 can whole cranberry sauce
10 pkg. frozen raspberries, thawed
6 oz. pkg. raspberry Jell-O

Dissolve Jell-O in 2 c. boiling water. Let Jell-O partially set. Stir in remaining ingredients. Chill and let completely set. Enjoy!


My Favorite Jell-O Salad

This is great with ham, and sometimes I'll make just the topping, thin it down with a bit of extra pineapple juice, and use it was a dip for fruit. Ummmmmm!

2 small pkg. orange Jell-O, water as directed on package
3 bananas, sliced
1 2-lb. can crushed pineapple (reserve juice)
2 or 3 C. mini marshmallows

Prepare Jell-O until syrupy. Add bananas (sliced), pineapple, and marshmallows. Pour into a 9 x 13" pan. Refrigerate until firm.

Topping
1/2 c. sugar
1 egg, beaten
1/2 c. pineapple juice
1 T. butter
8-oz. Cool Whip
In saucepan, beat egg. Add sugar and pineapple juice. Cook until thickened, stirring constantly. Add butter. Cool and fold into Cool Whip or Dream Whip. Put on Jell-o mixture.


Mandarin Orange Salad

8 oz. Cool Whip
17 oz. pineapple chunks, drained
17 oz. mandarin orange slices, drained
24 oz. cottage cheese
6 oz. pkg. orange-flavored Jell-O
Combine all ingredients in a large mixing bowl and stir together thoroughly. Do this gently, so as not to break up the fruit. Place in a mold of your choice and let set in refrigerator for several hours before serving.
__________________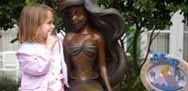 Ahhhh. . .HOME SWEET HOME!