Our first meal was at Sharks Underwater Grill in Seaworld. I made a lunch reservation for 11.45, I had been unable to PS this before the holiday as the Restaurant was not accepting pS over the phone on Christmas Day unless you were an AP holder. Despite what seemed to be low attendance in the park and the poor weather 11.45 was the only sitting I could get for the 2 of us. We arrived about 12.00pm and were seated quickly in a booth for 4 people which looked directly out towards the tanks. This was very comfortable and gave great views of the Sharks. The restaurants ambiance is very low level lighting and dark walls to make sure the tanks are the star of the show.
Jackie chose a dish of pan seared scallops on a spicy tomato base, this was served with Asparagus on a bed of mashed squash.
Dan had the signature dish which is a trio of seafood, scallops, tuna, and shrimp. The tuna was cooked to perfection as I asked for it rare.This was served on a bed of fine fresh slaw and the dish was decorated with 3 different sauces as well.
We accompanied this with a bottle of Napa Valley Cakebread Vineyards Sauvignon Blanc.
For dessert Jac chose the Passion Fruit Flan which was served with a rasberry coulis. This was ok though Jac commented on the lack of passion fruit.
Dan had the White chocolate mousse in a dark chocolate cage which sat on a lemon custard and was garnished with strawberry yachts.This was absolutely gorgeous and it was actually very light.
We finished with two cappuccini and the total bill came to $120.00 inc tip. Service was good too.
On the whole 8/10
__________________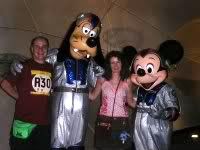 Trip reports and Trip Videos and Restaurant Reviews
WDW Florida July 91(way too hot), DL California June 92,DL California Sep 93, DLP France Feb 96, DLP France March 02, DLP France Christmas to NY 03, WDW Christmas Eve to NY 04, WDW Oct 05, DL California Christmas to NY 05, DLP March 06, WDW Nov 06,DLP Paris Christmas to NY 06, WDW April 07 DL California Nov 07, WDW Dec 07, DLP Mar 08, DLP Jul 08, DL Hong Kong Mar 09, WDW Oct 09, DLP Xmas 09,
WDW Xmas/NY 10