We also did Taku and it was the highlight of our trip! DD was 11 at the time. She really enjoyed it, especially the bear and the lodge's dogs.
So on the plane, you each have your own single seat at a window. DH got to sit in the co-pilot's seat on the way out. Everyone wears headphones so they can hear narration...here's DD with hers:
You fly really low....here's a view you've probably never seen:
And you get a great view of glaciers: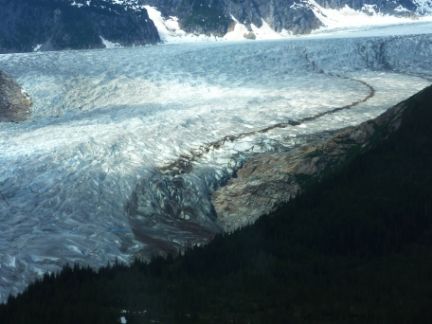 There was a bear (they said her name was Lois) hanging out right at the edge of the woods:
As soon as our salmon was grilled, she hopped up on the hot (!) grill for a snack.
The view from the lodge is amazing:
And the food was incredible. The ice in your drinks comes from that glacier.
__________________
Me
, DH
, DD (14)
MK 1973, Epcot 1991 with DH
First magical trip with DD June '07
Disney Cruise on the WONDER March '08
WONDER cruise to Alaska June '11
Awesome trip to WDW October 2012 MNSSHP
Sailed the Eastern on the Fantasy 10/19/13
Sailed the Western on the Fantasy 10/11/14