We're back!
Who went:
Me, 38
My wife, 35
My Dad, 65
My son, 12
My other son, 9
From Mackenzie, BC, Canada
15th - Arrival, checked in by 9:30pm.
Drove down the day before to Vancouver, BC. Roads were good, made it in 12 hours. Up at 5am the next day to catch 8am flight, in at Orlando and at check in by about 9pm. We didn't have to wait too, too long to get checked in, which was good, as we were tired.. It was a surprisingly short walk to our resort room.. For all the whining I`d read about on the interwebs regarding getting a room closest to the main building I was expecting much more walking. We were in the 50's section, 4th floor opposite the pool (overlooking hour glass lake). It took maybe 3 minutes from the door of the food court to the elevator, another 30 seconds to our room. Boom.. It was the perfect location.. No pool noise, little to no traffic past our door, no noise from people above..
16th - Typhoon Lagoon, DTD, Monorail.
Sunny, with a few clouds in the afternoon, 75-80F.
I woke up really early and couldn't get back to sleep, around 5am.. Doh.. Took some sunrise photos of the resort, then woke everyone up at 7:45. We had decided the night before it was going to be a water park day today, as we were all tired from the trip, and the weather report said today was going to be the best weather of the week (it was). We had breakfast in the room (granola that we brought from home, with milk we bought at the food court the night before) were at the bus stop by 9:30, and at the Park by 10. We did the wave pool first, then a few slides, then the shark tank thing were you snorkel along the surface of this big pool that has baby sharks and stingrays on the bottom. Great fun.. Favourites were the Crush and Gusher slides, and the wave pool. We had granola bars and trail mix that we`d brought from home for lunch. We were out by around 3:30, and took the Saratoga Springs bus to DTD (figured it`d be quicker than taking a bus to Pop, then Pop to DTD). We had our best meal of the trip at Wolfgang Puck Express in Downtown Disney. Went on the monorail with the plan of watching the fireworks from the beach of Polynesian Resort, but the crowds on the monorail were getting bad even an hour before Wishes at MK started, with lengthy delays, so we opted to just head back to Pop, and had late night dinner at the food court, lights out at 10:30pm.
17th - EPCOT.
Foggy in the morning and mild 68F, then sun and cloud, then cloudy with gusts of wind and a very mild drizzle for 30 min or so.. 54-59F.
I woke up at 4:40am again.. Bummer.. Went down to the food court for a bite (waffles with sausages), then got everyone else up at 7. We waited about 30 minutes for rope drop, and headed for Test Track. Svetlana did it as well, but got freaked out a bit. Then Soarin' which we were disappointed in (the feet dangling above you really ruin the effect) , the second time we got in the wrong line and had to endure the designing of our car, and this took forever.. Soarin' was ok, but the feet dangling from above certainly detracts from the experience.. I was a bit disappointed by the crass commercialism of world showcase.. The pavilions I found to be little else than huge gift shops, rather than the informative displays and presentations I was hoping for. We didn't make it to Illuminations and left around 7pm, dinner at food court, bed by 11pm.
7am- wake up
8- at bus stop
8:30- at park line up
9- rope drop
Test Track, walk on, single rider
Soarin', walk on.
Sum of all Thrills x2, walk on x2
Mission: Space Orange (green for Svetlana), walk on
Seas with Nemo, walk on
12ish -Sunshine Seasons, Mongolian beef with rice.
1pm
World Showcase:
Norway, maelstrom (walk on)
School bread snack at Kringla Bakery
China (no Reflections)
Germany
Japan (no drummers)
Italy
Japan
Morocco
France w/ movie
UK, no Reveloution
Canada w/movie
Test Track 2nd time: standby with design portion 30 min wait till ride *sigh*
(we got in the wrong line) Posted time was 20 min.
3:30 ish..Late Lunch at Tangierine Cafe (excellent)
Spaceship Earth
out of park by 7pm.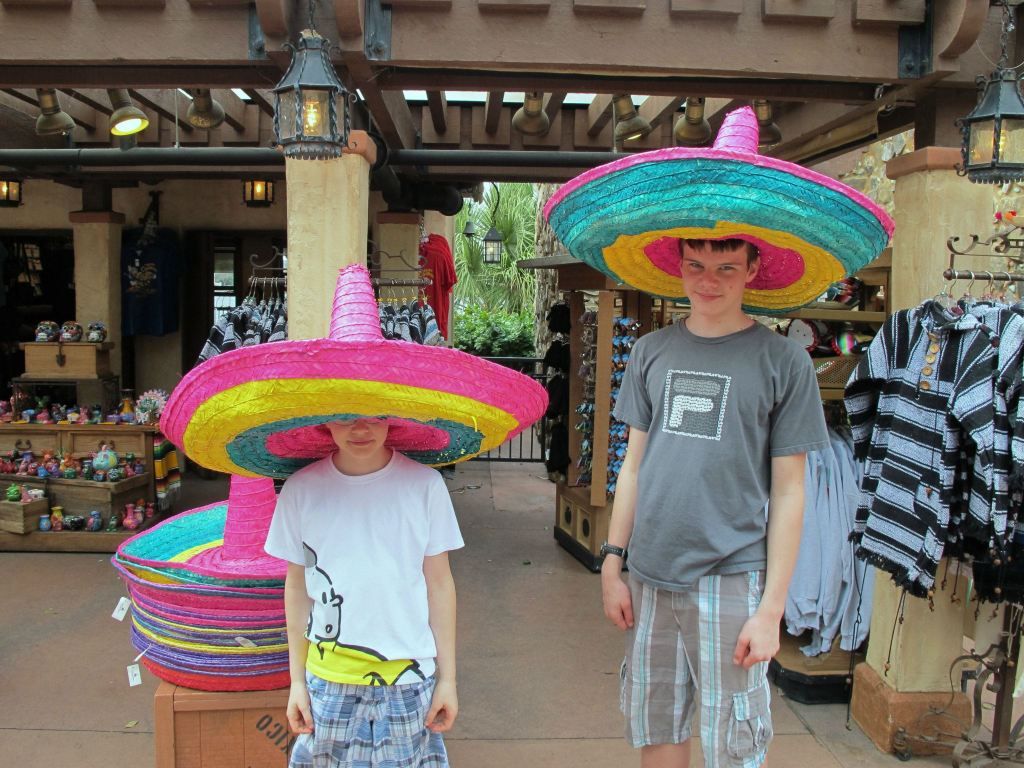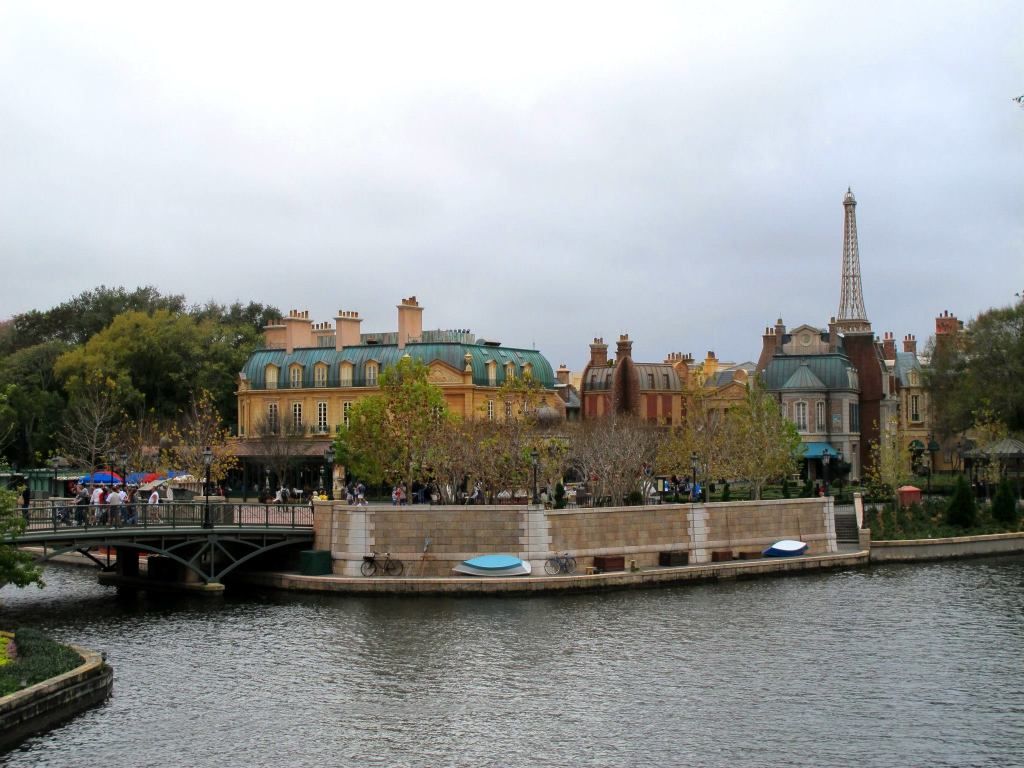 18th - MAGIC KINGDOM
Cloudy 60F, occasional sunny breaks, one shower that we missed (eating inside Columbia House).
Bumpy start! dad forgot his camera in the food court, and realized this about 3 minutes into our bus ride.. Full bus, no one willing to let him pass to get out, or turn the bus around (this we only assumed, we didn't dare try it). So he had to sweat it out until the bus got to MK, and he said to meet him by the statue in front of MK at noon, and off he went back to Pop.. We wandered over to Space Mountain, and pretty much walked right on.. It scared Svetlana silly (I'm talking bruises where she had a death grip on the armrest, screaming at top of her lungs.. So that was a mistake.. Then we did Space Ranger Spin, which was a little lame, but not as lame as Peter Pan Flight, which we did next! 20 min wait (longest we waited the whole day), and for what? Wish I'd not worried about spoiling things and U tubed the rides before we got here.. I would have seen that it was strictly for the 0-5 set.. Oh well.. After that we did Big Thunder Mountain railroad (just Daniel, Nathan and I), then we took the WDW Railroad to Main Street terminal. I wanted to go back to Space Mountain and use the Fast Passes I'd grabbed after we rode it last time, but Svetlana suggested we check and see if dad was there yet. Good thing we did, as he WAS there (11am). Dad found his camera at the Pop lost and found, thankfully.. He made it back to the Park was in by 9:30, so good we didn't wait till noon to meet him...It really started to fill up around that time, and we had a 'fun' time weaving around the zombies either texting on their phones or making duck faces at their phone cameras every alternate step.. Close second, annoyance-wise, was the double and triple-wide stroller set.. Grr.. We wanted to do Space Mountain with dad, but standby line was 60 min wait (11am), and we overheard one hard-bitten Disney guest remark "Let's go, it's ONLY (emphasis mine) 60 minutes!".. Sweet fancy MOSES! I'd blow my brains out before shuffling along in a line for that long.. We got fast passes for it, then took a break and retreated to the calm of the 2nd floor of Columbia Harbour House restaurant.. Good meal, and relaxing up there, no crowds.. Svetlana did Big Thunder Mountain Railroad with us the 2nd time, and it went alot better for her, which was good.. Nothing really stand-outish for the rest of the day.. Okay, but not stand-outish, if you savvy (oh yeah, caught Pirates of the Caribbean, which was better than I expected.. Caught a bit of an act outside Tortuga Tavern with a Jack Sparrow look-alike (looked VERY alike, was cool) and another portly fellow.. Didn't make it to Wishes (we all agreed it wasn't worth a Bataan Death March to the finish, if you've seen the fireworks displays of the Celebration of Light in Vancouver, any other fireworks display can't help but pale in comparison).. My dad was 'done', put it that way.. It was about 5:30pm, and we were back at Pop and in the food court by about 6:30.
Overall impression: Just a bit TOO kid-friendly, even for my kids (12 and 9). Yes, at least they were old enough to appreciate it and remember it, but it was also a bit too tame for them (besides for Space Mountain).
7am- wake up
8- at bus stop
8:30- at park line up
9- rope drop
9:20- Space Mountain, pretty much walked on
Buzz Light Year Ranger Spin, walk on
Peter Pan's Flight, 20 min wait, oy....
Big Thunder Mountain Railroad, walk on
WDW Railroad to Main St
11- FP'd Space Mountain (stand by 60 min)
11:15 Lunch at Columbia Harbour House
12:15 Space Mountain with Fast Pass
Philharmagic, 10 min wait
Haunted Mansion, 15 min wait
HUGE Hot fudge sundae with cookie in it at Storybook Treats
Liberty Square Riverboat, 10 min wait
Frontierland Shooting Gallery
Parade
FP'd Big Thunder Mountain Railroad
Swiss Family Robinson Tree house
(still to full from sundae to choke down the Dole Whip I wanted from Aloha Isle, unfortunately)
Pirates of the Caribbean, 20 min wait
Big Thunder Mountain Railroad with Fast Pass
WDW Railroad to Main St,
at Bus stop at Pop by 5:30ish.
19th - ANIMAL KINGDOM. Sun in the morning, then cloudy, 68-75F.
Slept the whole night last night, so that was good.. Big crowds today! Even worse than MK, amazingly, and again we wondered how anyone could enjoy the parks in the peak periods.
Overall impression: Too busy with too many bottlenecks, only one decent ride (Expedition Everest), but redeemed by the Flights of Wonder show and the Tough to be a Bug 3-D movie. The Safari was good, too. Good lunch at Flame Tree! We got seats right by the water with a view of Expedition Everest. Dinner at Raglan Road in Downtown Disney was awesome! Seated within a few minutes of our reservation, excellent food and drink (try the Guinness black lager) and outstanding service. I unfortunately couldn't finish my bread pudding dessert, and it was a shame as it was the biggest reason I wanted to eat here, but oh well.. Not worth ruining the meal by stuffing myself sick.. Should have stuck to only one beer with dinner!! The dancing girls and guys were good, but the fiddle and guitar duo was foot-stomping amazing! Definitely buying their CD (available at restaurant website). This was the highlight of the trip for my wife and I..
7am- wake up
8- at Bus stop
8:30- at park line up
9- rope drop
Expedition Everest, walk on x2.
Safari, stand by line,10 min wait.
Pangani Jungle Trek.
12 noon- Lunch at Flame Tree BBQ
Rafiki's Planet Watch, lingered in the petting zoo, that's about all.
FP for Dinosaur ride
Flights of Wonder
3pm- Dinosaur ride with Fast Pass.
Ice cream floats at Anandapur ice cream truck.
3:45- Parade
FP Primeval Whirl
Tough to be a Bug 3-D
Whirl, with Fast Pass.
Left park by 5pm.
Dinner at Raglan Road at 7:30.
20th - HOLLYWOOD STUDIOS. Sun and cloud, 68-71F.
Big crowds again, and we saw people RUNNING for the rides, which we hadn't seen up to this point, and didn't bode well.. We FP'd Toy Story, me and Daniel went on Rockin rollercoaster, then we both went to Tower of Terror. Of the 2 we liked the rollercoaster best, so we got a FP for that. Then we did Toy Story mania, which we liked better than the similar Buzz Lightyear thing in MK. Then we went and ate WAY too mush at Starring Rolls, considering our next stop was the roller coaster again.. Star tours twice, the Indy stunt show, the Lights, Motors, Action show, and Fantasmic. Lots of people in the park. Waits for ToT and the rollercoaster were 120 min+ for the rest of the day after 11am.. Toy Story FP was for 10:30 right out of the gate, and were gone by 11.. 120+ min standby waits. This park was the one we missed the most stuff we wanted to see (wanted to do the backlot tour, great movie ride, Walt Disney museum/film, Pirates of Caribbean thing), but we hit the biggies, and there were no regrets..
Overall impressions: The highlights were the Indiana Jones stunt show and Star Tours. And that combined with the other live-action shows like Fantasmic and the Stunt car show, and the decent Rockin Roller coaster and Tower of Terror put his park ahead of the rest. We didnt get around to the Back lot studio tour, the Great Movie Ride, or the Walt Disney One Mans Dream presentation. But pretty hard to get it all in one pass..
7am- wake up
8- at bus stop
8:30- at park line up
9- rope drop
FP Toy Story Mania
Rockin Roller coaster, 20 min. wait
Tower of Terror, 20 minute wait.
FP Rockin Rollercoaster
Toy Story mania with Fast Pass
Lunch at Starring Rolls
FP Star Tours
Rockin Rollercoaster with Fast Pass. Daniel AND Nathan this time
Star Tours
FP Star Tours
Indiana Jones Stunt Spectacular, 30 min wait for seating.
Star Tours with Fast Pass, different scenario this time.
Parade
Muppets 3-D
Lights, Motor, Action show
snack at Writer's cafe, Oasis Cantina
5:45- get a seat for fantasmic at 6:30, full house!
21st - MLK day. Sleep in, then Epcot. Rainy, then warm but cloudy, 75F.
It was raining hard when we got up at 9, so good thing this was a sleep in day. Couldn't have timed it better in fact.. It was over by the time we were ready for breakfast at 9:30, and this is the first breakfast we had in the food court (we'd been managing on snack credit yogurt with granola we'd brought with us up till this point. Eating in the hotel room, then to the food court for coffee and filling the water bottles). The rain really bumped up the humidity, but luckily it settled down by the time we got to Epcot at around 11am.. We agreed to go our separate ways today, as we more or less all knew our way around from our first visit, and this way we could do what we wanted, when we wanted, and at our own pace. We met up to have lunch (Tangierine Cafe again, excellent again), and evey 2-3 hours in between right up to 6pm. Then we used up the FP we got for Soarin when we arrived. Again, the feet dangling above was really distracting.. Too bad we were again at the bottom. Svetlana didn't want to hang around for Illuminations, so she went to the resort and ate there, had a dip in the pool.. We scoped out a spot for Illuminations. We tried the Cantina QS restaurant on the water at the Mexico Pavilion, but it was packed with people hip to this prime viewing real estate, and they barely had the decency to make it look like they were eating or nursing drinks.. We worked our way all the way to the Canada pavilion before we found a spot that wasn't bad.. I ran ahead and had a look at what I'd heard was a good spot, on the little island between France and the UK, but it was roped off for a private VIP thing with covered tables and buffet sections, which was lame (I was uncharitably happy to see all the smoke from the fireworks later wafting directly into this dearly bought viewing area). So while they stayed at the Canada spot I ran over to the Krigla Bakery at Norway to get us some sandwiches and of course more school bread. We ate that while we waited another 25 minutes till Illuminations started.. It wasn't really worth the wait, we thought.. It was all right, but we'd seen better (Fantasmic just yesterday, and as mentioned the fireworks of Celebration of Light in Vancouver twice). But we were relieved when it was an orderly dispersal to the buses, with no bottlenecks or jostling about. Took maybe 10 minutes for a bus to take us home, though we had to stand..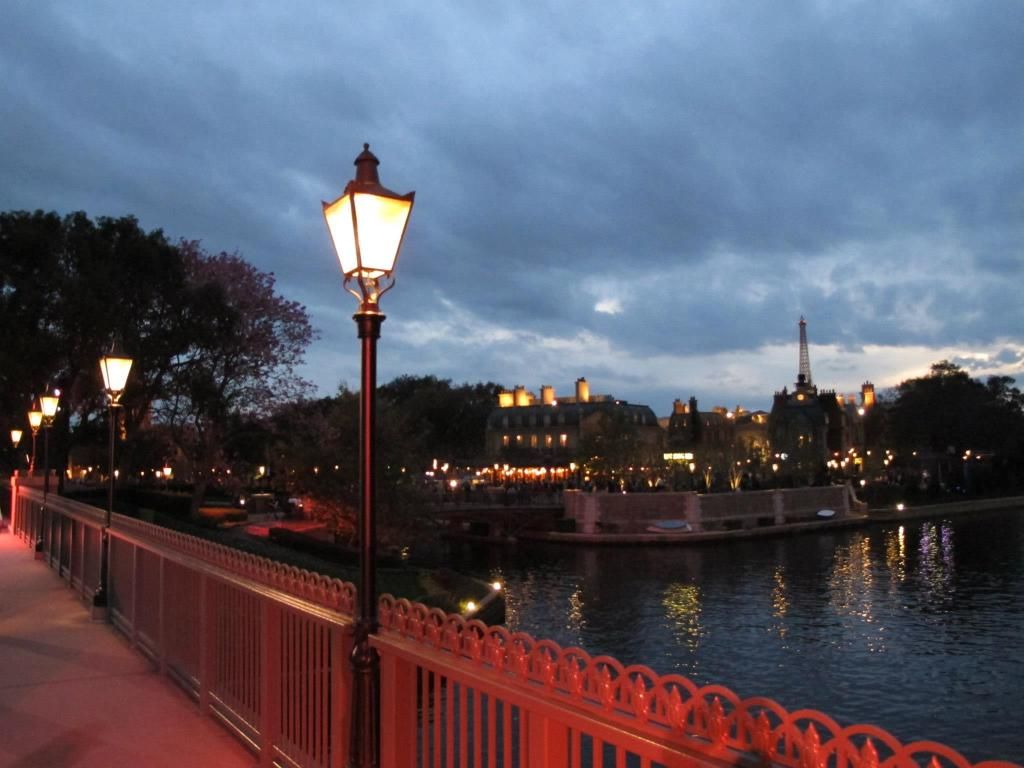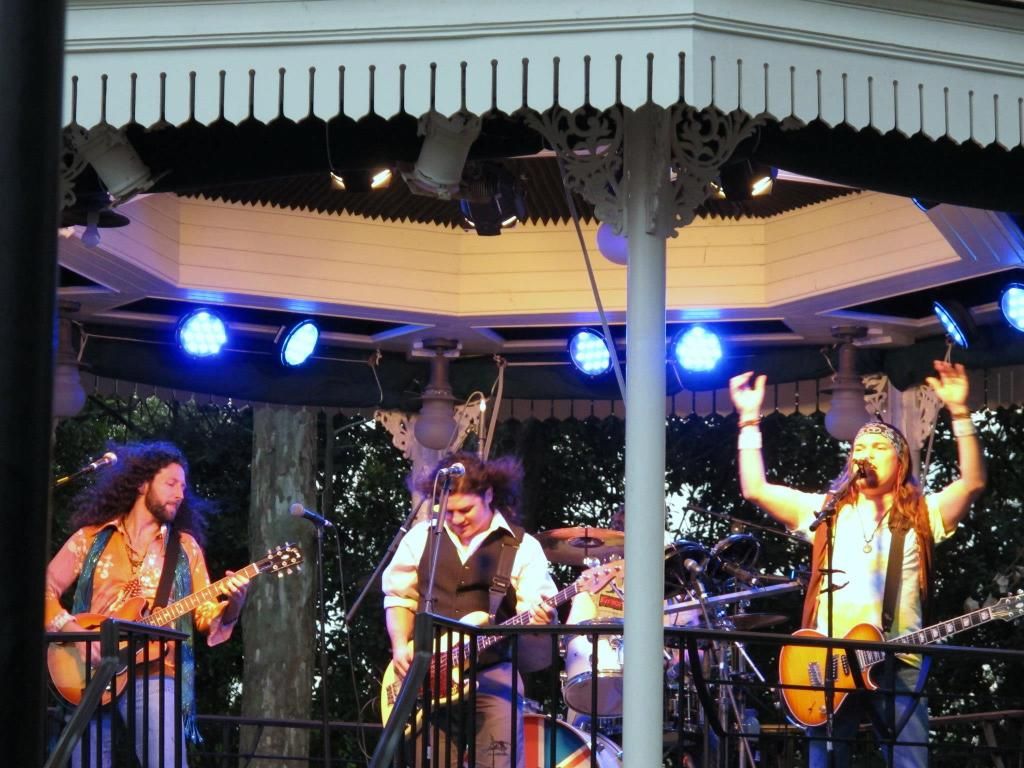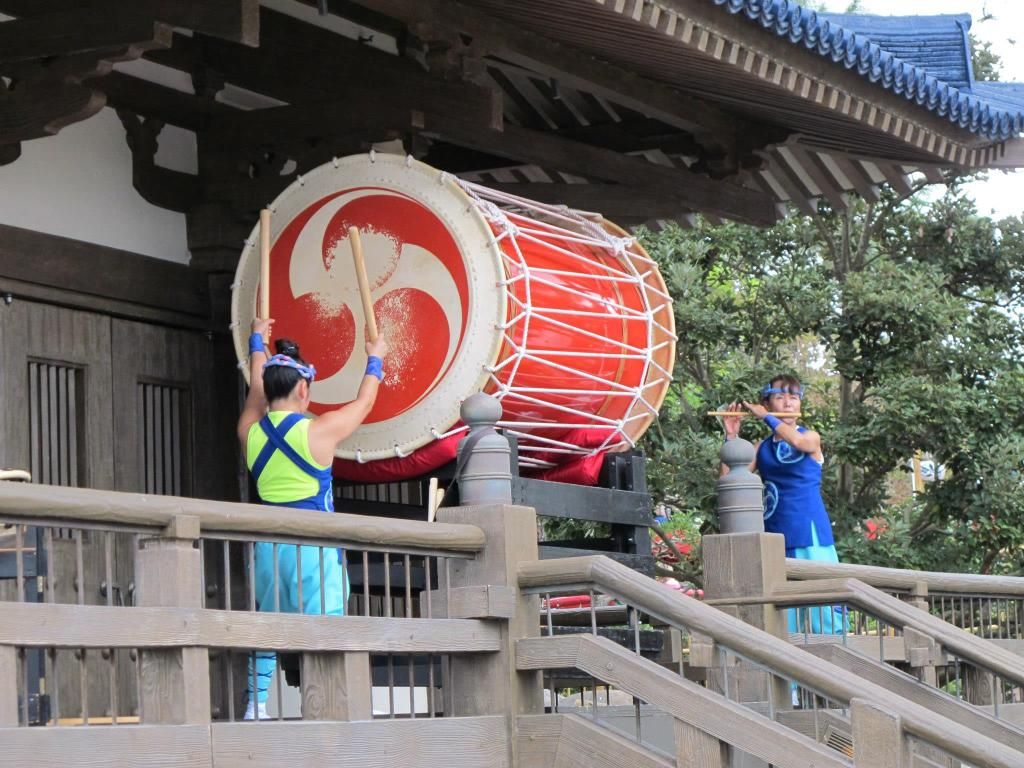 22nd. Universal, and Islands of Adventure. Hazy but warm all day, 70F.
We phoned Mears the night before and arranged a shuttle, $19 per person for round-trip transportation on a big bus. I felt bad for dad when he swallowed hard and ponied up the 600+ dollars for our Park tickets.. For all his Bon hommie and 'damn the expense' up to this point he experience some extreme sticker shock and buyer's remorse, and I don't blame him! I thought you had the option of paying $50 or so bucks and visiting just one of the parks, but no, you HAVE to get tickets to see both.. It sucked that the Harry Potter rollercoaster was down for repairs, too.. I couldn't convince Daniel to do the Rip Rocket with me.. The Rockin' Roller-coaster at Hollywood Studios was his limit, I guess.. The Hulk ride was better still, and I rode both of them twice. But overall I was disappointed with both parks.. The Terminator 2 show that I was looking forward to was rather lame (I'd forgotten how annoying Ed Furlong was, but at least his voice had changed by the time they got around to making this show), and the pre show Cyberdyne representative was super annoying (how do they keep that up 6 times a day?! They must switch them out frequently to avoid suicides), and the actual show was a bit corny.. The Mummy ride was ok, but the Twister show was bad,, The pre-show with Helen Hunt and Bill Paxton was bad (the man does not do serious and/or menacing dialogue very well at all), and the actual show was a joke. We made it till park closing at 6 (it was supposed to be 7, but again some VIP's had reserved the park (or the bit by the Men in Black ride, which we never made it onto) and they were shooing us out..
23rd, Going Home. Sunny with not a cloud in the sky.. *sigh* 80+F
We were a little sad that the sun decided to show up in earnest for the first time since we arrived, just as we had to leave.. But again, as we thought about it we really couldn't have asked for better weather for touring the parks.. It would have been more tiring if we were hot and sweaty on top of everything else.. Our flight was for 11, so we had to be on the bus at 8am. Our connection in Toronto was bumped 4 hours, so we didn't make it into Vancouver till 11pm. But at least we made it, and so did our bags ($25 a bag?! BOTH ways??!!! Geez..).
All in all a great trip that we all enjoyed and will remember forever (Well, I lie, it's a blur already! Good thing I kept a journal!).. :-)
POP CENTURY:
Excellent resort.. Couldn't have asked for better.. See my review, but in short excellent, friendly staff, clean room day after day, good food in the food court (my favourite was veggie lasagne, make sure you tell them you want marinara sauce on it!) that wasn't a hassle even on the busiest days (and the MLK weekend was quite busy.. I'd hate to see peak season levels!). The fridge (well, less than a fridge, but more than a cooler) kept everything cool enough, and it helped that we put our water bottles full of ice in there. The non-stop hot water for showers and baths was a nice change from home!
Tip: Get a room on the top floor and as far from the pool as you can if you want quiet.. It's only perhaps another 150 meter walk (2 min) to the main building than the ground floor pool side rooms. I can't imagine it's any different for any other resorts as well..
THE PEOPLE:
Luckily we experienced none of the boorish behaviour I was dreading, having heard many horror stories.. I dunno if people were more relaxed with the milder climate and crowd levels, but everyone was polite, friendly, and reserved (I'm sure it helped that we made a point of being polite and friendly ourselves, first and foremost).. All the cast members in each of the parks from the ride attendants to the cleaning staff were friendly and helpful.. None of the 'dead behind the eyes' looks I'd heard might be the occasional case..
THE CROWDS:
Worse than I was expecting.. MLK weekend (sat,sun, mon) was the worst Lots of Brazilian tour groups for some reason..
THE WEATHER:
We lucked out, really. We had sun for our waterpark day, and sun and cloud (or at worst cloud and sun) for our park days, which was actually good because it we weren't hot and sweaty on top of foot-sore and over-stimulated.. It rained one morning, but luckily that was the day we had agreed to sleep in, and it was done by the time we were ready for breakfast at Pop food court, and the rest of the day was fine (cloudy with sunny breaks, 70F). It was never warm enough in the evenings, besides our water park day, for swimming in the pool. We rolled our eyes a bit when we woke up on our travel back home day to sunny skies again (not a hint of a cloud!). But again on the whole we agreed the weather had been almost tailor-made to our circumstances on this trip, and we had no cause for complaint whatsoever..
TOURING PLANS:
We really didn't stick to these much at all (I'd gotten them from the Unofficial WDW guide, and from advice from forum members at "Easy WDW"), besides in the very loosest sense. Pretty much just did the rides and attractions very roughly in the suggested order..
DISNEY TRANSPORTATION:
Excellent. never waited more than 10 minutes for a bus at any time, bus drivers were pleasant, trips never exceeded 15 minutes, and I only saw 2-3 people in ECV's or wheelchairs on the buses.
BEST PARK (from best to least favourite):
Typhoon Lagoon
Hollywood Studios
Epcot
Magic Kingdom
Universal and Islands of Adventure
Animal Kingdom
BEST ROLLERCOASTER (in order of best to least favourite):
Hulk, Universal
Rip Rocket, Universal
Rockin Rollercoaster, Hollywood Studios
Space Mountain, Magic Kingdom
Expedition Everest, Animal Kingdom
Rocky Mountain Railroad, Magic Kingdom
BEST RIDES OTHER THAN ROLLERCOASTER (same order):
Tower of Terror, Hollywood Studios
Star Tours, Hollywood Studios
Spiderman, Universal
Test Track, Epcot
Soarin, Epcot
Mission : Space, orange, Epcot
Haunted Mansion, MK
Maelstrom, Epcot
Peter Pan Flight, MK
Twister, Universal
E.T. Universal
BEST 3-D SHOWS (same order):
Its Tough to be a Bug, Animal Kingdom.
Shrek 4-D, Universal.
Terminator 2 3-D
Mickey`s Philharmagic
Muppets 3-D, Hollywood Studios.

BEST LIVE SHOW (best to least favourite):
Fantasmic, Hollywood Studios
Indy Stunt Show, Hollywood Studios
Flights of Wonder, Animal Kingdom
British Reveloution band, UK pavilion, Epcot
Juggler/mime at Italy Pavilion, Epcot
Illuminations, Epcot
Lights, Motor, Action show, Hollywood Studios
Magic Kingdom parade
Animal Kingdom parade
Waiter/cook comedy duo, France pavilion, Epcot
Taiko drummers, Japan, Epcot
Hollywood Studios parade
Universal Studios 'parade' (lame)
BEST QUICK SERVICE MEAL:
Wolfgang Puck Express, Downtown Disney. We had the oven roasted salmon, with creme brule and cheesecake for dessert.. Excellent food, good service, and a pleasant, sit-down restaurant atmosphere.. Nice tables, dinnerware, food is brought to you.. Good, good stuff, and a shame we never made it back here.. We were just too bushed after the parks and didn't have the energy to brave another bus ride there and back, and the food at Pop food court was good enough by us..
BEST FOOD COURT MEAL:
Veggie Lasagna (Pop). I had this 3 times. Don't forget to ask for marinara sauce on it!!
BEST FOOD COURT DESSERT:
the NY style cheesecake (pop).. The tie-die cheesecake was alright, but this was better..
BEST FOOD COURT SNACK:
Cinnamon buns (Pop), close 2nd Greek yogurt.
FAVOURITE DESSERT: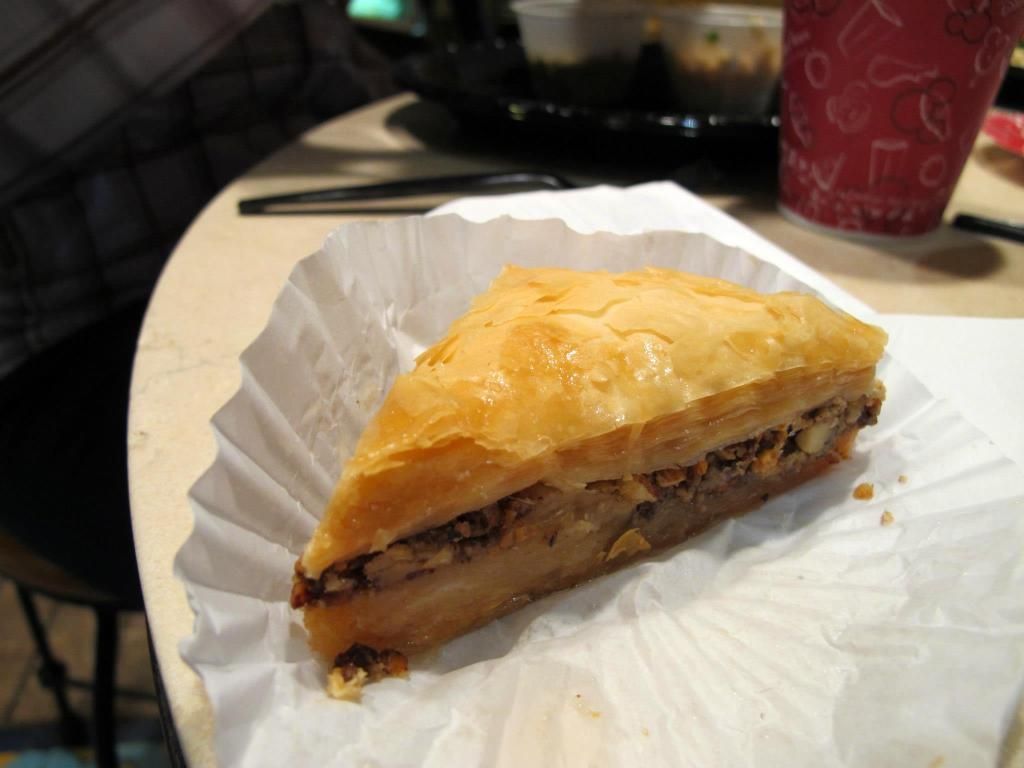 Baklava at Tangierine Cafe, Morocco, Epcot. First time I'd ever tried these, and I'm now addicted, and can only pray that I can find a recipe that comes even close to how perfect these were.. But maybe that won't be such a good thing, waist-line wise..
Close 2nd -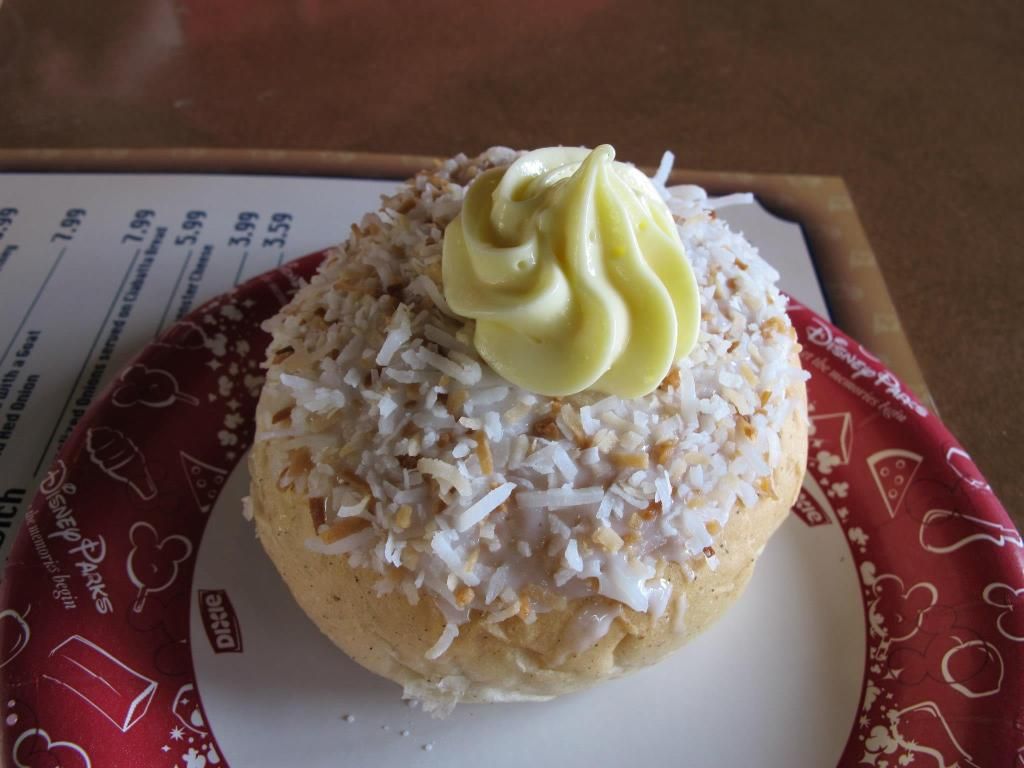 School bread, Kringla Bakeri og Café, Norway Pavillion, Epcot.
A Boston creme-filled dinner roll. Not too sweet, just right.. I could eat these all day and night..
WORST DESSERT:
Butterfinger cupcake, Starring Rolls Cafe at Hollywood Studios. . Just way,way too sugary. Like diabetic coma sweet.. Even by scraping off the butterfinger-encrusted buttercream frosting on the top, the cakey bottom is still filled with chocolate frosting.. I added little bits of the top part to my bites of the bottom. I felt a little ill after eating this, I must say.. It might have been alright if I wasnt going to be doing any walking around after, but as it was it sat uncomfortably in my stomach even though I waited a good 10 minutes for my stomach to settle before pushing on with my day.. It would have been alright to take and eat while waiting for one of the live shows to start, for example. I think lots of milk to wash it down and dilute the sweetness would have helped as well (I had cappuccino with it, which wasnt that good, and very stingy). I should have gone with the banana split mousse they had there, or played it safe with a cinnamon roll.
BEST COFFEE:
Forty Thirst Street at Downtown Disney.
WORST COFFEE:
Pop food court. Not as bad as I was expecting, but..
TIPS:
As much as we tried to be flexible and not go all "commando" through the parks, you really do have to get an early start if you want to get anything done before the crowds bog everything down. We had one sleep in day where we went to Epot at 11am, and all the rides were pretty much fast pass only.. By 11am in MK Space Mountain was 60 min + wait, and so were most other rides. The exception was Universal. All the rollercoasters were pretty much 5 minute posted waits (some took 10 minutes in actuality) all day, and all the attractions (Shrek 4-d, for example) for the little ones were 30+ minutes right out of the gate, but were walk-ons in the afternoon.
** Quick Service Plan **
If you have anyone under 9 in your group, don't feel that you HAVE to get the Kid Picks.. We were told by a nice cashier at Wolfgang Puck Express, luckily on our first day and only our second meal, that it doesn't make a lick of difference, and indeed no one ever batted an eye at any park or resort food court when we ordered a 'normal' entree for our 8 year old..
Fast Passes:
Send only one adult (who knows their way around, or can follow a map!) to get these, and let the kids and the grandparents have a seat somewhere comfortable while you run to get them.