I finally got the photobook made, pictures sorted, and everything else completed... and need to compile our notes into something resembling an actual history of the trip
I thought you all might enjoy.
A quick run down:
Cast is myself, dh, and two very active little boys. Chris turned 6 this trip and Jacob is 7. We were at WDW July 28-Aug 4. I grew up going to WDW a lot, Dh grew up with Disneyland (can't we just WALK between the parks? Uh...), and the kids in their short years have been to DL, Tokyo Disneyland, and now onto WDW!
Anyway, onto the show.... Day ONE! The Magic Kingdom on Sunday July 28th.
Yeah... we're the ones with the matching shirts. Lesson learned with iron-ons though, do NOT go out and buy the walmart ones. Because the ones I ordered on Amazon made it through the day... but poor dh lost his Mickey head by the end of the day. Whoops. On the plus side, he also got to peel off the pirate swords and is now using it as a normal tshirt. But it still looked great at the start of the day!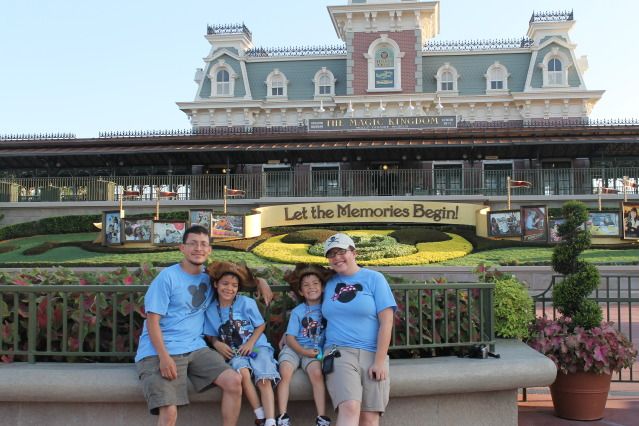 We got there about a half hour or so before RD. Apparently the toilets had gone down, so they let us all into the holding area where they normally keep everyone pre-RD. And of course as soon as we made it in there one of the boys declared he needed a potty break. So I ditched dh with the bookbag and requested to be let past the ropes to the nearest potty. On the plus side, this meant I was able to swing in and grab DS6's birthday button on the way back out to dh! Score! Anyway, we waited it out for the Welcome Show of course.
And we were all in the perfect Disney wonder at RD... and we booked it towards Frontierland. We grabbed FPs for Splash and walked onto BTMMRR.... Where the birthday boy promptly decided he didn't like coaster and screamed the entire time. Whoops. The only possible road to recovery for him was to walk all the way over to Pooh which thankfully was still a walk on. Phew. From there we hit HM and ran into Frontier Donald.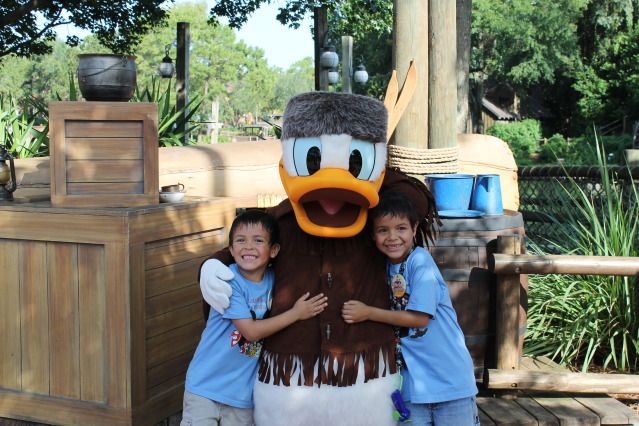 I noted the time and had us book it on over to meet Jessie and Woody at the Splash Mountain entrance. I would highly recommend being in line for Woody and Jessie *before* they come out as we were first in line... and a line of at least 30 instantly formed behind us.
Then we were well within our FP time and thankfully the birthday boy was perfectly fine with Splash Mountain, though he didn't want to ride it again.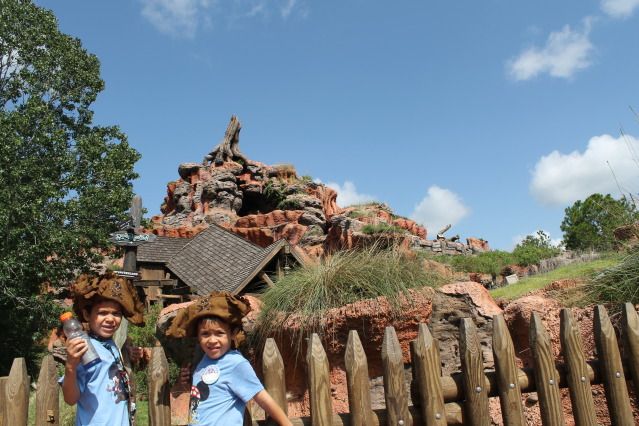 After that we headed down into Adventureland and pulled a FP for Jungle Cruise and headed off to ride PotC. After Pirates we also got to meet Pirate Goofy.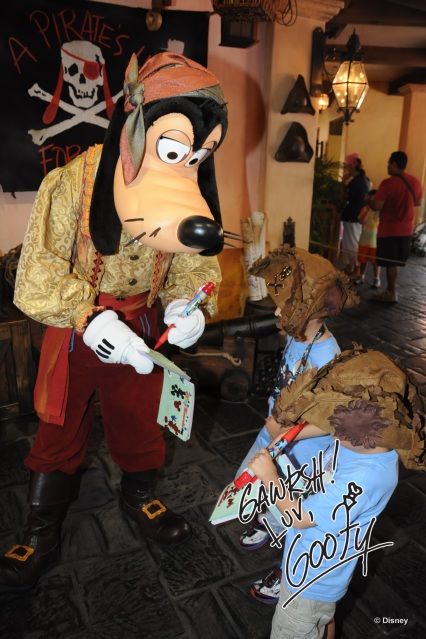 Then we grabbed some much needed lunch time at Tortuga Tavern. I loved it, dh was meh, and the kids loved the quesadillas. While the kids finished eating and then rode the carpets I went ahead and grabbed some FPs for Mickey and the Princesses. The RT was about an hour and a half hour and it spit out an extra FP for Dumbo. Then it was onto the JC for all of us.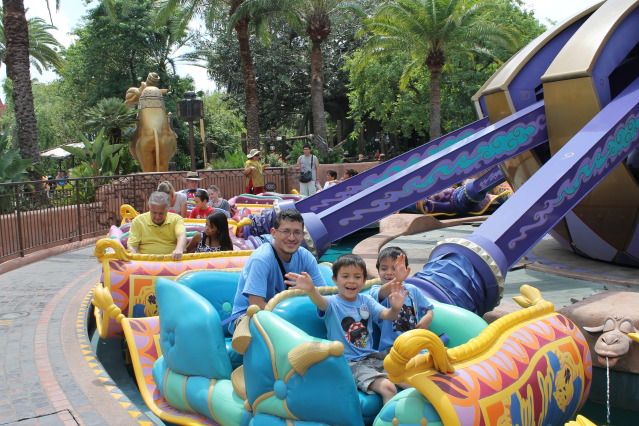 I tried desperately to talk to the kids into watching the pirate tutorial (you're wearing pirate hats!!) but alas they were more interested in seeing the Tiki Room and checking out the Swiss Family Treehouse. Can't win them all. Oh well.
By then our FPs were ready for Mickey and the Princesses. Thankfully, we hit Mickey first. There was a large family tour group in front of us that wouldn't leave despite the cast members trying to usher them out, but the boys finally made it to Mickey who was properly excited. Minnie was trying to make a bit of a move on dh though and all the boys got kisses.
After Mickey we went to see the Princesses and even with a FP ended up in a 20 minute line. The family in front of us clearly was expecting to be in and out and didn't bring anything to entertain the two year old little boy with them. I promptly dug into my bag-o-tricks and blew up a mini-beachball for him. Little boys and balls... works every time.
Finally we made it to see the Princesses and Rapunzel made quite a to-do about DS7's fan on his lanyard. So much of a to-do that dh and I were rolling eyes by the end, though DS7 kept trying to explain it to her. At one point we had all three princesses watching a fan blowing the feather on a large pen... it was entertaining!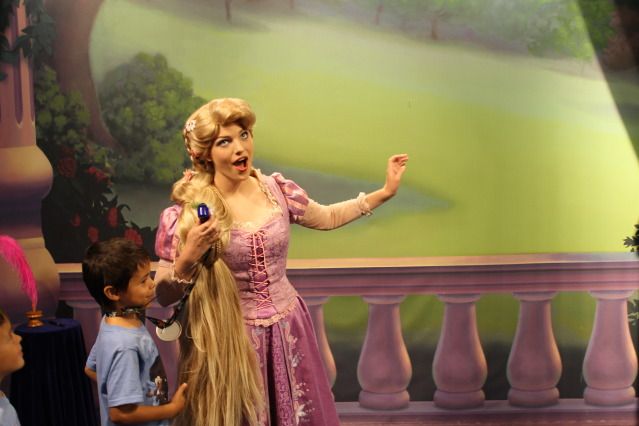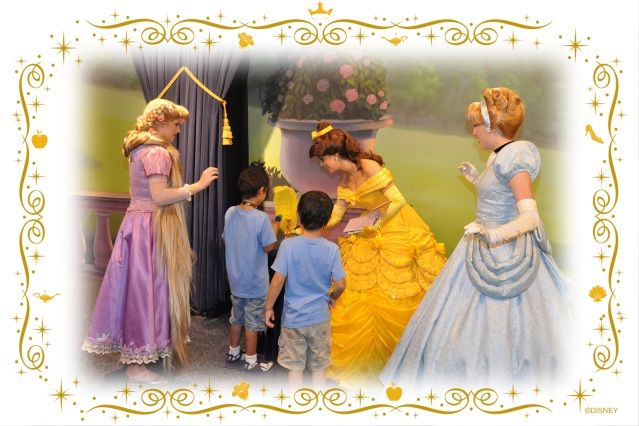 From there we booked it over to Dumbo to use our FPs, grabbing FPs for Buzz on the way. Then we waited for Goofy's coaster (the name is slipping my mind typing all of this). It was only about 15 minutes and of course after the kids saw it there was no escape.
After that we back tracked to Buzz which had an insane wait in the FP line... and the stand by wasn't moving at all. I'm not sure what happened, but I know that as we were the last car not at the unloading dock the entire ride stopped again. I guess we had good timing because at least we got to finish the ride!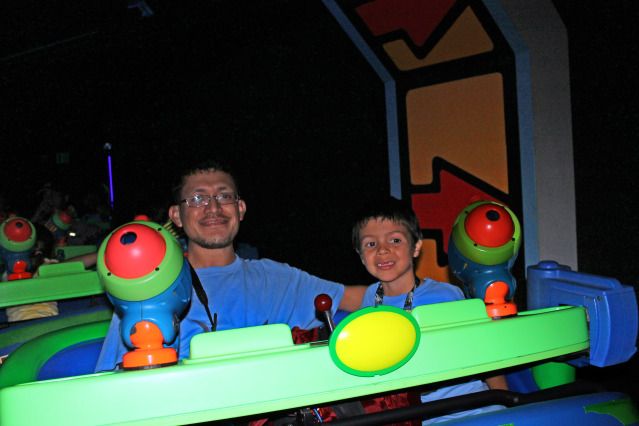 Then we waited it out for Monster's. We did have to wait through one of the shows because they were a bit backed up, but it was more than worth it for the a/c and to watch the kids giggle like mad.
Next we went over to see the Dreams show at the castle, as one of the kids had spotted it earlier was was very insistent on seeing it. Both boys liked it of course, but the heat was horrible out in the sun on that pavement. After the show we booked it over to stand in the shade and wait our turn to meet Buzz.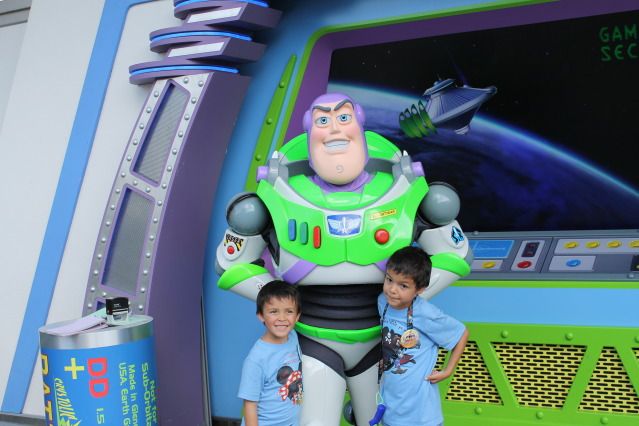 Then we were all in need of some icecream at Auntie Gravity's and a ride on the TTA (which DS6 promptly declared his FAVORITE ride). Next we headed into Fantasyland and the kids pulled us to the carousel and Small World, neither of which had waits too bad.
After that we had some of the PB&Js I had packed and some snacks for dinner over on a spot on the ground by Pinnochio's. Then we decided it was about time to go find spots for the evening parade.
And if you're thinking right now, you all just went through WDW in the summer heat all day with two kids... yes we did and yes we're nuts. But we waited it out and entertained our kids and those around us with glow sticks while waiting for MSEP to start. I remember it being longer? Am I going nuts? Given the last time I saw it was at DCA I think...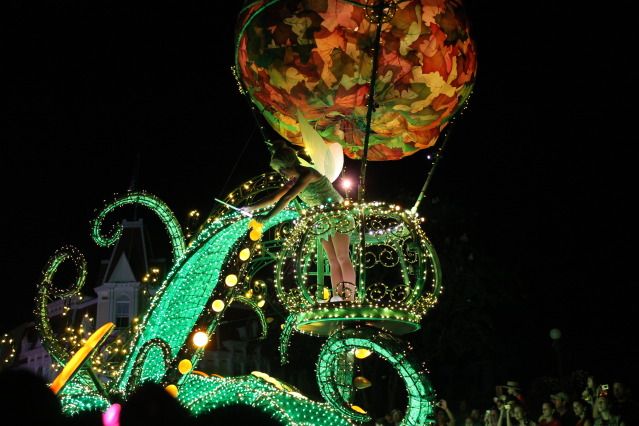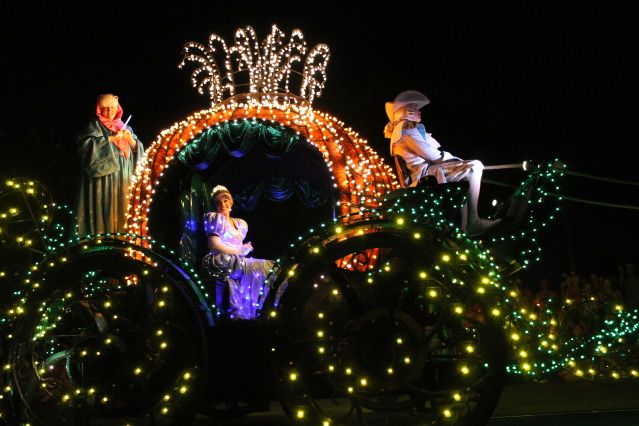 And of course we stuck around for wishes. And debated a bit about staying longer, then realized we'd just had a perfect day with no breakdowns, no crying fits, and no overly exhausted moments... and we quickly made our retreat back to the hotel (offsite). See you later MK!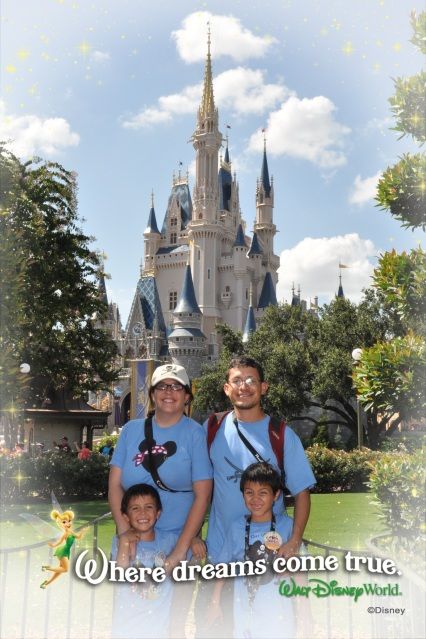 Day One Down, rest day comes next for obvious reasons we all needed it!