What a great little trip. Ok, so it had been forever since going to MGM- so now I know they are calling it Hollywood Studios. I guess I just had it in my head MGM so if you see me write MGM, just know that I'm not crazy. . . I really am talking about Hollywood Studios.
So we got up, I had everything ready to go. Got DS(4) up and we were out the door a few minutes before 7am. This allowed 2 hours to get there. I knew we would have some morning traffic on I-4, but with even a bathroom stop at the rest area right before Haines City (very clean rest stop by the way) we were pulling into park 15 till. This was great, we were parked in the 2nd row and at the end near the busses, so we cut across and avoided the crown walking up. Got in line to get our Florida res 3 day and were at the walking over to the gate as they planned the welcome music. I have to say I have not heard the welcome music too many times. We always seem to be running just a few minutes late.
We walked right in and headed for the Toy Story. We made a pit stop to get a picture with Goofy really fast as DS was so excited.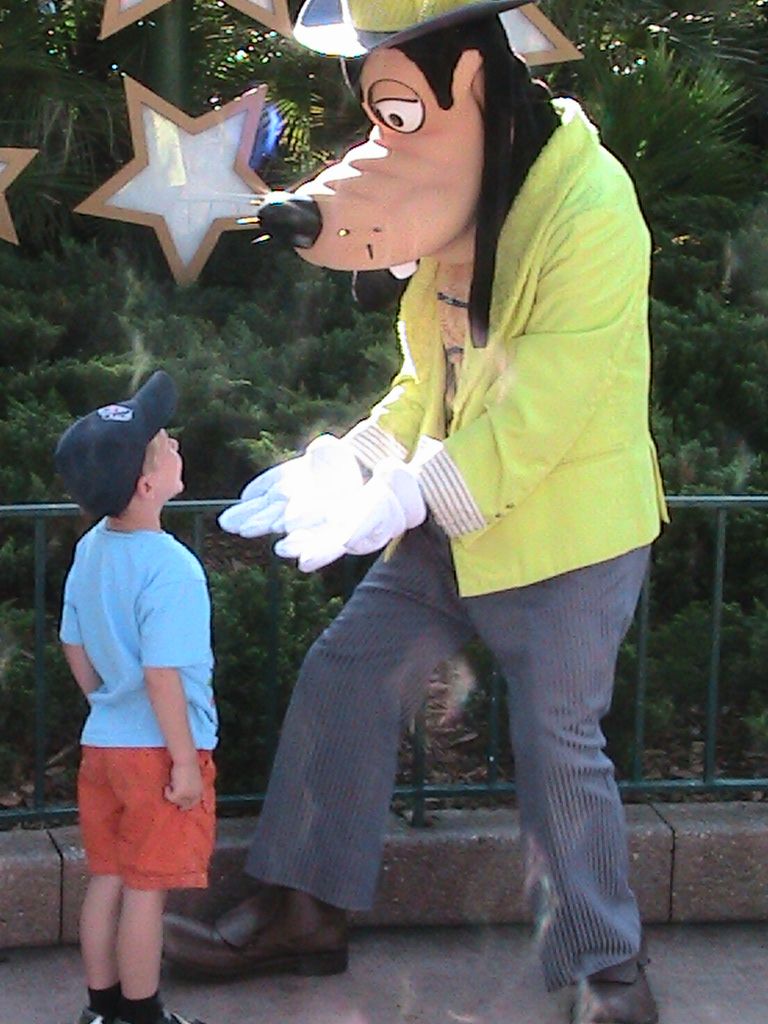 When we got to Toy Story it said it was a 25 minutes wait, but did not seem that long since we were so excited to go on the ride and since they had so many things to look at while in line. DS did the ride with me while DH was solo. OH MY!!!!! GREAT RIDE!!!!! We loved it. Great ride for all ages!!!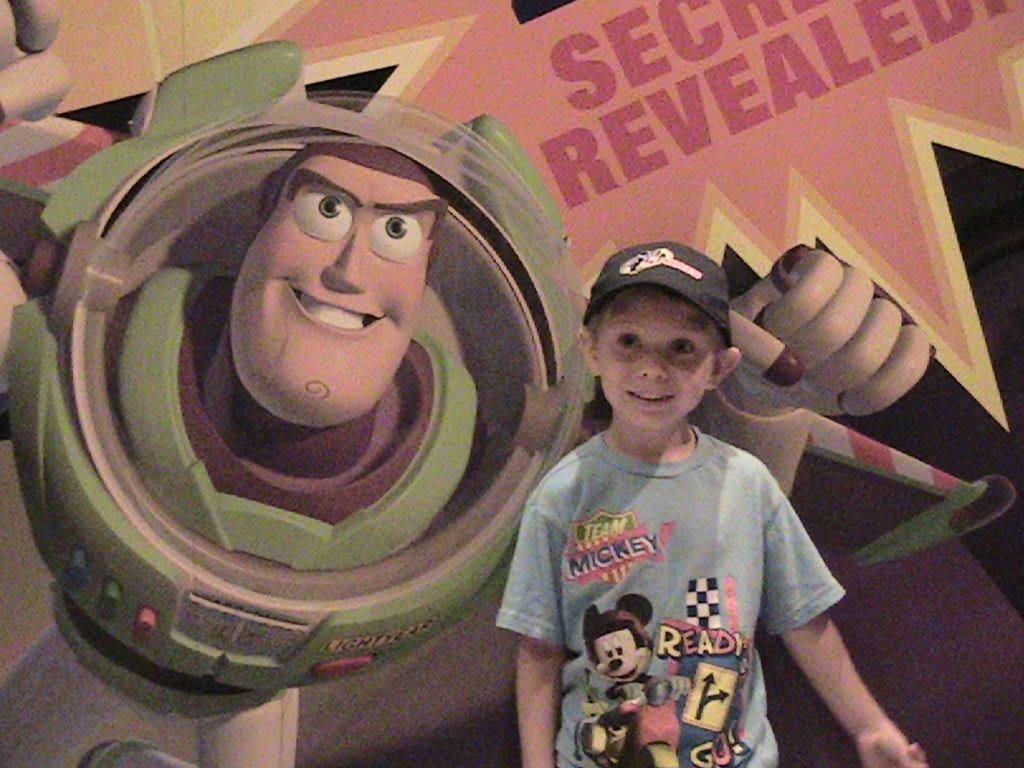 We then made our way over to see the Pirates of the Caribbean show, but it was closed- they said to come back in a hour or so. So we went to catch the Little Mermaid show. We timed that wonderfully. No line and walked right in long enough to chat a minute then the doors opened to go in and grab a seat. Wonderful show!!! DS loved the bubbles of course. While we were sitting for the show to start we looked to plan the next one or two things we were going to do. We saw the Disney Jr. show was going to start a few minutes after the Little Mermaid was over so we got in line for that. We were worried we would not get in, but the told us we would get in. I had not checked into this show before we went as I knew we would be going anyway so I did not know we would be sitting on the group. Not sure about that. Rows of seats would have been nice! Anyhow the show was great and DS loved it. Loved getting to see the new characters that he has been watching the past two years. (Mickey Mouse Clubhouse of course, but also, Doc McStuffins, Sofia, and Jake and the Neverland Pirates) Somehow we missed the picture area after the show but we made our way back later in the day.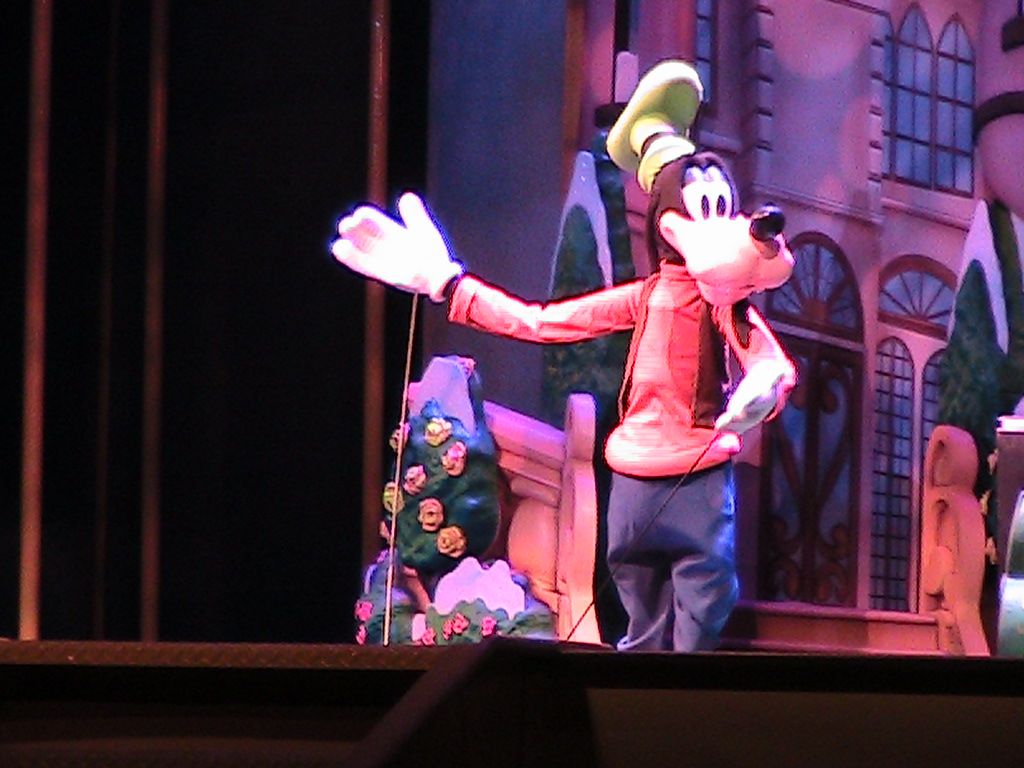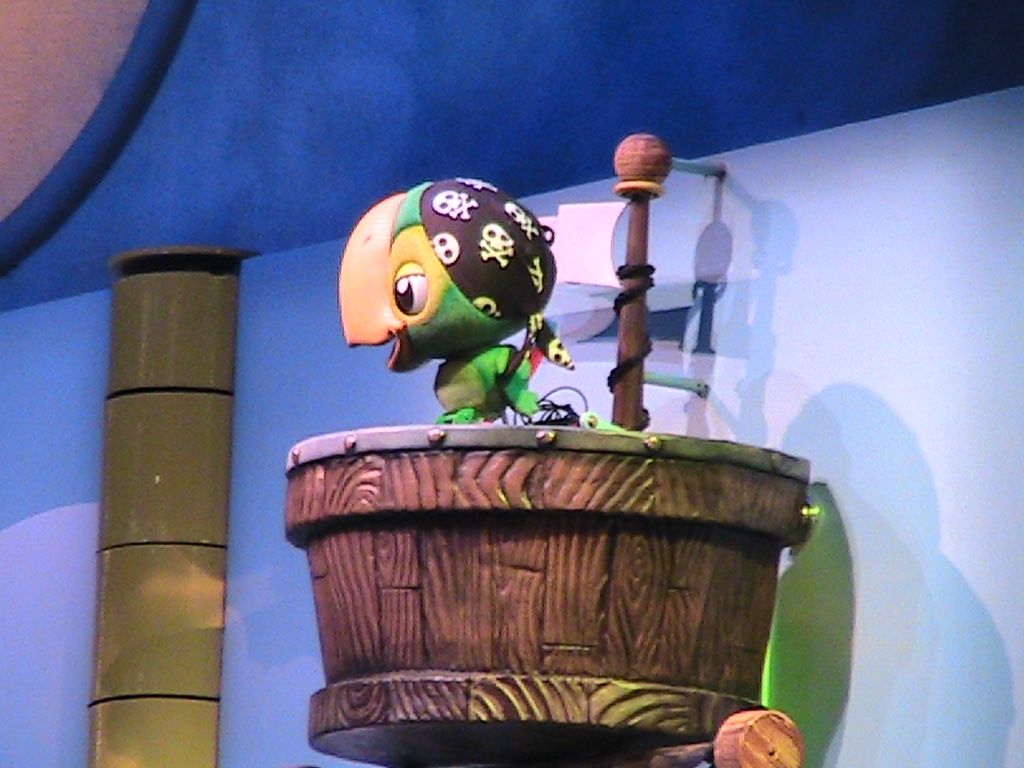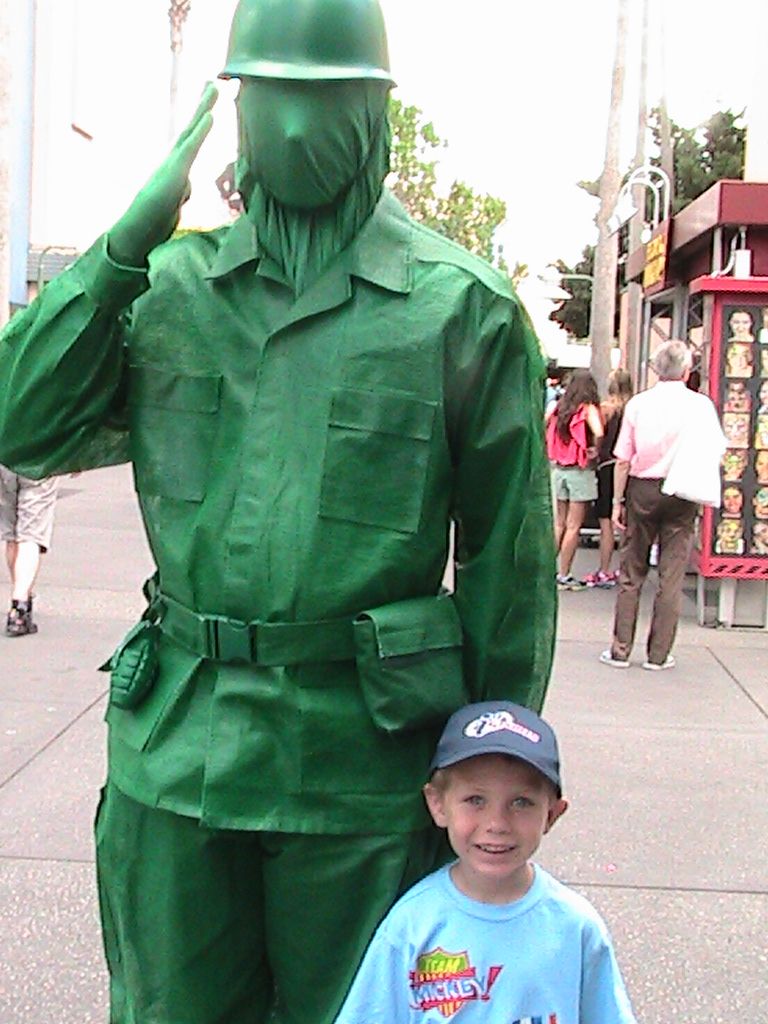 Pirate show was now open and had a 30 minute wait. DS talked about it during the entire day, but I thought it was lack luster and not worth the wait.
As we were getting the stroller a tall green soldier came out and we quick snapped a picture. We also thought it might be a good time to get a fast pass to ride Toy Story again since the wait time was starting to increase.
We then made our way over to Beauty and The Beast show. We had packed a cooler so I quick grabbed it and found a seat. While we were waiting for the show to start we had our lunch (lunchable and slice cucumber for DS and hoggie sandwiched for DH and I) Just the right about since we had early dinner reservations. Great show- we all loved it! Nice costumes – I am sure the shows on the cruise will be similar type.
Since we were on that side of the park We went to see how long the wait was for Aerosmith roller coaster. Not too long so DH took DS for ice cream while I did the single rider line. LOVED IT!!!! And only waited 5 minutes. Got in right away.
After a DS outfit change from chocolate ice cream getting all over him, DH saw someone walking with a beer- so he went on a recon mission to find the beer. Yep- BEER- $5-$7 a beer in the park depending where you get it and what kind.
We were then off to Motion Light Action. We also stopped on our way to get a FP for Star Tours. WOW what a LONG walk. They walked us over to the far side. We got a seat on the end since we were planning on leaving early to make out FP time for Toy Story. DS LOVED that Lightning McQueen was in the show. That was a new addition since I was there last (10 years ago- I think I forgot to mention that earlier). We walked past the board that tells the time of the rides on our way to Motion Light Action and said Toy Story was a 110 minutes wait. We were glad we had gotten the FP. By the time we got to Toy Story at 2pm- it was down to 60 minutes, and the fast pass return was 8pm.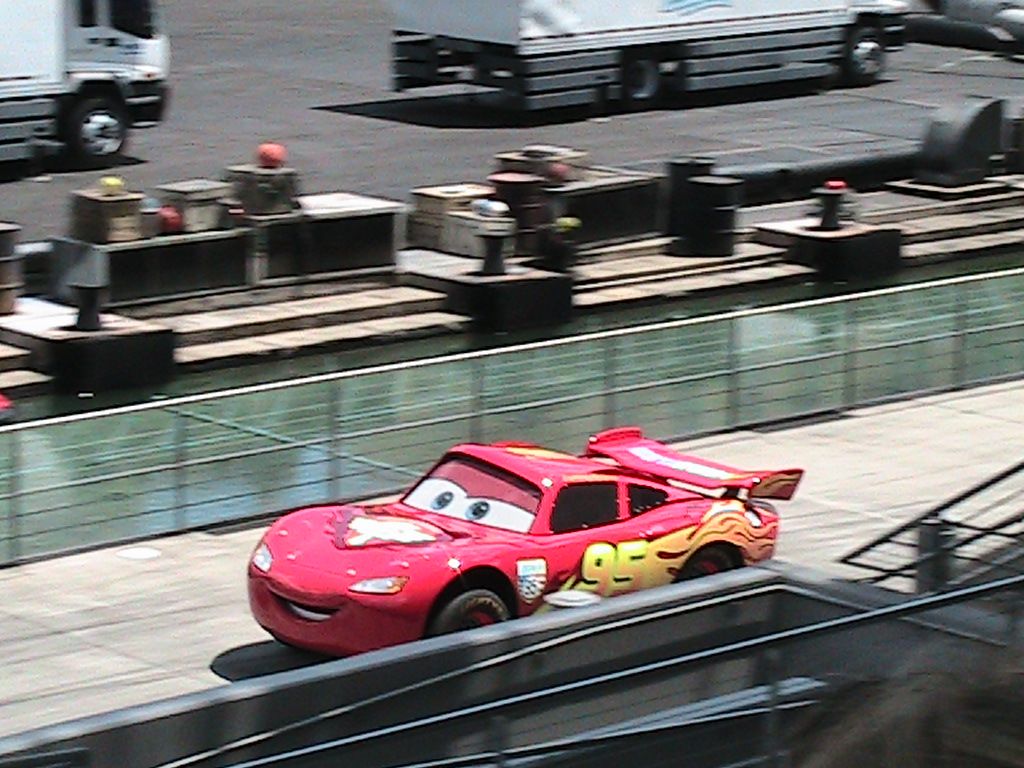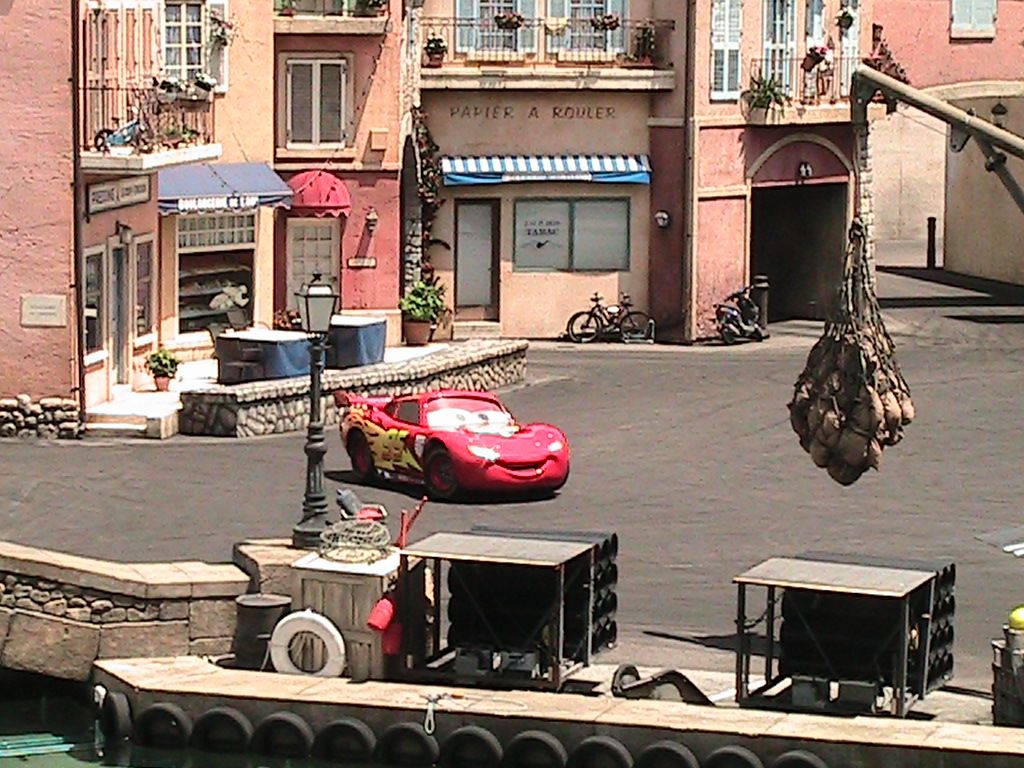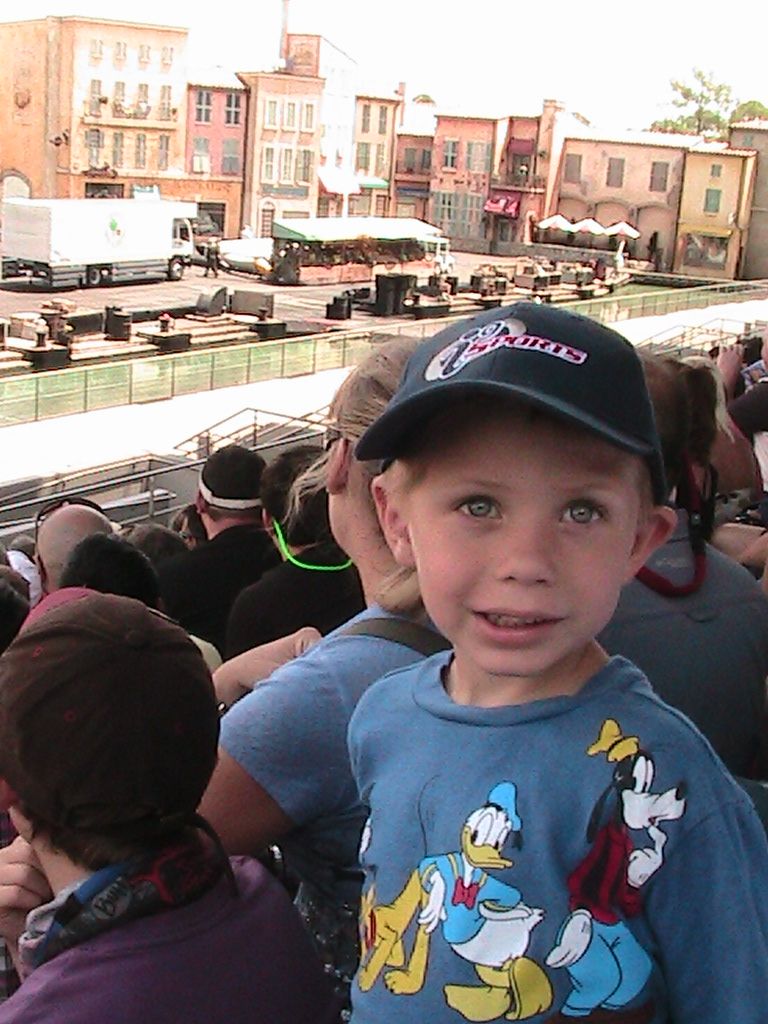 On our way to Star Tours we stopped for a picture with Lightning McQueen and Mater. Long line but cool- DS loved it!!!!
Sorry Photo Bucket is not letting me upload anything else at this point. I will have to try to figure it out. ??????????
Star Tours- we will definitely sign DS up next time first thing in the day to partake in the outside show. He thought that was so cool. Since he is only 4 – he just makes the height requirement by a inch or so (40 in or taller). I explained the ride was similar to the Antarctic ride at Seaworld so he would be prepared. He loved it, was a little scared but liked it. Took this great pic after.
We then made our way to Honey I shrunk the kids so DS could get some running around in. DH went to find another beer. 
Then off to our dinner reservations at the 50"s Prime Time. Sat in the bar area for a drink before our name was called. I remembered eating there when they first opened when I was 9. I loved it. This time was lack luster!!!! We had a guy waiter and he did not get into as like the ladies did. If ever we go again we will definitely request one of the ladies that has been there forever who knows how to really play it up.
After dinner we wanted to make sure to catch the Disney Jr. character before we saw Indiana Jones as they would be gone after the last show was over. To our surprise we got pics with Handy Manny and Jake. Oh my one of the highlights of the day was DS with Jake. He had a Jake 3rd b-day party.
We then made our way to Indiana Jones show. The highlight of the day for me was getting picked as an extra. It was cool to see DS looking at me from the stands. I loved participating!!!!
After a bathroom stop we made our way back to the car. I could have gone for Toy Story ride one more time or wait to get pics with the Toy Story Characters, but DH and DS were done.
So that was my little Hollywood Studios day trip. Will definitely do again!!!! Great park to do when you want to do a half day. There's a good amount to do but not like Magic Kingdom where I could be from sun up to sun down. I would however love to see them add another ride or two.
As a side note it was cool to see all the crafty type stuff people wore. I am sure I even saw a few DIS designs. 
Until my next entry- when I get back on track of cruise planning. . . (and my little 3 day trip in May).
Have a Disney Kinda Day!