Special Occasion - Graduation for the youngest child... I mean young man/adult/couch surfer
Booked this trip in about a month and a half, no planning no ADRs!
Monday June 3rd - Tuesday June 11th
Connecting flights both ways since flights were OUTRAGEOUS!
8 nights at our favorite Pop Century
Did I mention no plans! I don't even have our tickets yet...
Cast of Characters - All the big kids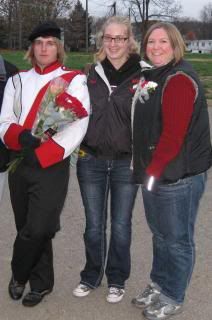 Brice the Graduate, Katie the older sibling, and me the walking ATM um I mean Mom
This is the last family picture I have of us, I plan to change all of that this trip with PP+!
This is a trip a long time in the making! Our last trip was in 2008 and it was hardly a normal trip, unless you count 75 of our favorite marching band friends and their families as normal. That trip gave me a list of things I didn't want to do again:
1. Ride a motorcoach anywhere
2. Spend the first morning in the parks with two sick teenage girls at the HS first aid and never getting to ride TSM.
3. Only getting 3 days for all 4 parks and arriving after park open and leaving before the park closes
Don't get me wrong it was a fun trip but not a vacation. Seeing my kids march down Main Street and getting to share the magic of WDW with new people was magical. But this trip is all about us and what we want! No one else is making plans for us!
In less than a week we will be winging our way to the Mouse, two graduations under our belts (Brice graduated from his vocational school last Friday and his HS graduation is Sunday), and no plans! For a WDW planner like me no plans is hard but it's also exciting to wing it. Now ask me in two weeks when we get back LOL