Day of leaving:
I woke up at 3:00 am, with my mother in law for some odd reason singing in my ear. We invited them to spend the night so we could get the show on the road by 4am. The night before we loaded up their car with some light packing. And by light packing I mean just about everything we own. I think I took the DIS advice on what to pack a little too seriously. We were packed in that car like sardines.
Ok, back to the 3am. She was too excited to sleep and figured everyone else should be too I guess. Oh well, I was up, so I got up, double checked my important stuff, and woke up Chris and Cooper. I thought Cooper would be sleepy and want his pjs. Nope, he was wide awake and wanted to put on his Mickey Mouse shirt. So we got dressed and left. After a short drive, about 2 minutes to be exact, I arrived at my sister's house to switch out Anya for Bella. After I kissed Anya goodbye and hugged her for a good 5 minutes (while all the while she was glaring at me for waking her), we finally headed out at 4:20 am. Yup, 3:00 am to 4:20 am, no packing to do, and two minutes to drive. I'm not sure what we were doing. We made it a grand total of 20 minutes down the road before I heard a sniffling from the backseat. Bella wanted to go home. I said "Nope, not happening" and quickly gave her a cup of milk. She settled right back down and went to sleep. We were driving from right outside Houston to Pensacola this day. We made it to right outside the Texas/Louisiana border in Vidor,Texas, my eyes peeled for a Starbucks that never appeared. Around that time everyone was hungry and needed to potty so we stopped at a Waffle House. Even though there are two in my town, I had never been to a Waffle House before. I thought it was pretty good. I got a cheese omelette and hashbrowns. I liked how you could add whatever you wanted to the hashbrowns.
I asked the waitress there about my beloved Starbucks and she told me the closest was in Beaumont, about 15 minutes behind us. Too bad, I would have to suffer through.
We got back on the road and drove, and drove, and drove. Actually, it was more like, drive, potty. Drive, potty. Drive, potty.I never knew a three year old's bladder was so small. Each time I was the one elected to take them to the bathroom and it was a whole rigamaro of me begging them not to touch everything, getting hands washed and dried. Ugh. If I never see another public restroom in my life it will be too soon. Louisiana passed by sloooooowly and then we passed Mississippi and Alabama pretty quickly. I was texting Andrea the whole time. She was also driving but had left the night before and was enjoying a shrimp festival in Alabama. We stopped for lunch as soon as we hit Florida at a McDonalds. I still hadn't seen a Starbucks, and other coffee just doesn't do it for me. So at this point I was dragging, and just gritting my teeth to get to Pensacola.
We arrived in Pensacola around 3 pm, and had our first misadventure. At the entrance to the town, I saw a sign on the exit for Starbucks. I started begging to go, so Chris left the highway to try to find it. We found it and I got my iced coffee bliss. We got back in the car and the gps completely turned itself around. We were following directions and when it said we arrived at our destination, we were in a walmart parking lot. Not cool. Everyone was making jokes about my Starbucks ruining our beach afternoon, but a quick reset of the gps let us know we were about 10 minutes from our destination, and we arrived soon enough.
We stayed at an America's Best Value, and this place was a DUMP. I bought it off travelocity, and was really, really unhappy. Our non-smoking rooms smelled like ashtrays, and they were dirty enough to turn our socks black. Our door had obviously been busted open at one point. There was a booger on my mother in law's bed. The "sparkling pool" was nothing more than an algae filled trash heap, and the safety fence around it was broken. The "continental breakfast" were juice boxes and Little Debbie snacks. I felt really bad, but we only had about 15 hours til we left and it was prepaid so we sucked it up. Below are some pictures of the hotel.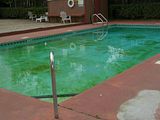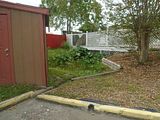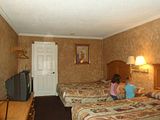 Gross, right?
Well after all this, we went to the beach, and..... couldn't find it. Second comedy of errors. The directions the desk clerk gave led to a residential area with plenty of water everywhere we could see but we COULD NOT find the beach. Stopped and asked directions and a gas station clerk told us we were 40 minutes away from the nearest public beach. I guess we got really lost. We decided to give up and just get something to eat and go to bed. We were all beat. We got Firehouse Subs. I had never had it before, but it was really good. I got a veggie sub and devoured it all. I really liked their soda machine. It was one of the touchscreen ones where you can mix all sorts of flavors in. We went back to the motel and tried to sleep through all the sirens outside.