Hi everyone! I haven't been on the site long, but everyone else's ideas and help made me think of making my own PTR & TR! With only a week to go I feel like most of the planning is done, and now I am just trolling the boards for ideas, news, and stories! Pretty much I am twiddling my thumbs and waiting for the clock to strike midnight so I can technically say we are a day closer to going to Disney!
A little about myself and my family.There is three of us. Myself, DH, and DD 4, Kaylie. DH is a Staff Sergeant in the Marine Corps, and its thanks to the great deal that Disney does for the military that we are able to do this trip right now!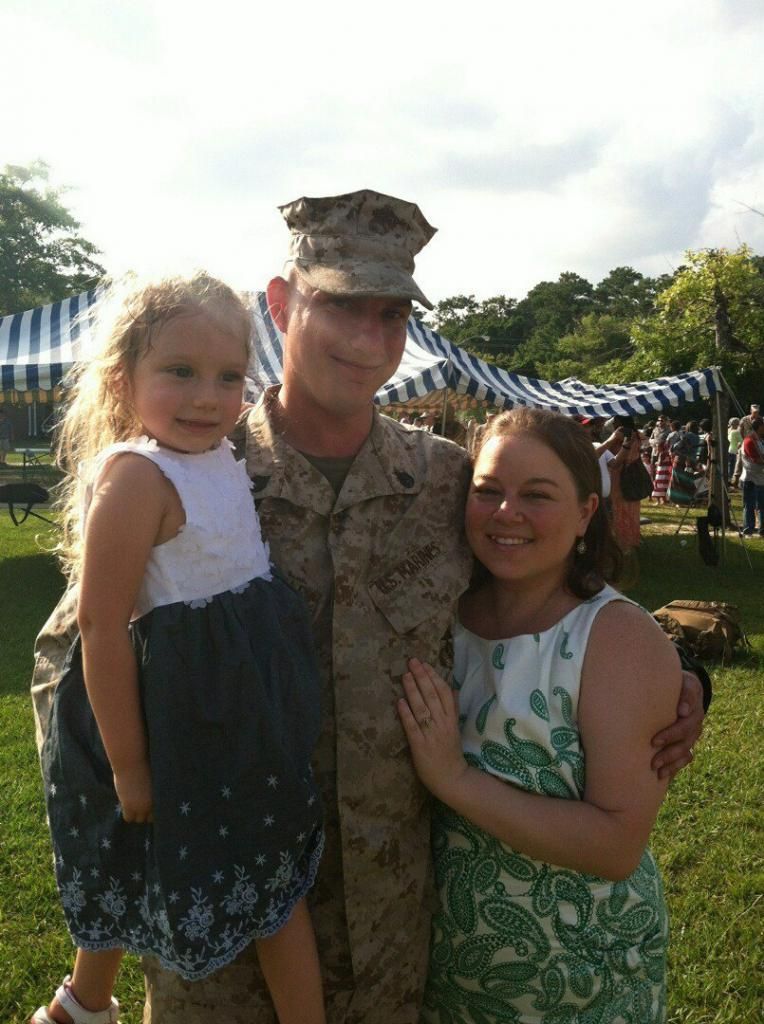 This picture was taken at his homecoming a month ago. He had been gone 7 long months to Afghanistan, and we were so happy to have him home!
Like many others here I have been a lifelong Disney fan, and my DD is getting an early start already! My favorite movie is Beauty & the Beast, I can remember my Mom taking me to see it and it was just amazing! DD loves Cinderella, and DH has had a crush on Ariel since he was little
I would love to know if anyone else's husband actually admits to this as well. This will be my third trip to Disney(Field trip in 5th grade to Epcot, and then a band trip my senior year that seemed way too short), DH's 2nd, and my daughter's first
We will be celebrating our first family vacation and DH and my Anniversary!
Also, it's not technically our wedding anniversary, but one that I really like to celebrate. We were married in September 02, but DH and I are high school sweethearts(first went out in middle school, but he broke up with me and then came to his senses a year later) and since then we have been together for 14 years! We have a great Dinner reservation that I will talk about later. It is supposed to be for my DD, but I think it is just as much for me
Around March time frame I was wanting to plan a family vacation once DH got home from deployment. It makes it hard because that far out you have no idea even the month they are supposed to be back. Originally thinking I wouldn't have enough money for a Disney trip I thought going to the Smokey Mountains and renting a cabin for a week would be a good, relaxing place to go. But then I got to researching and I realized I would have been paying about the same about, so I kind of made the decision for us all to go to Disney instead. DH is actually getting out of the military late September, so we were also on a deadline to plan a vacation, not knowing if he would be home in time, and before he got out. It looks like it worked out, so I am Happy, Happy, Happy
So around the time that DH was scheduled to come home I started noticing that I had a constant upset and sour stomach. I have never had any long term problems before, so I just tried to eat tums each night to deal with it, I thought it was just stress. DH got home about a month ago, and I was still eating tums each night, but then the pain started as well. This past week got so bad I was on a round robin of OTC medicine and had my heating pad on most of the day to deal with the pain. I finally see a second doc, and she says why don't you cut out dairy, you might have a lactose intolerance...
I knew I wanted someone to find out what was wrong with me but the idea of being diagnosed with something you had no clue you could get just on the fly, and right before a vacation is scaring the crap out of me! I love my dairy! The only thing I don't like eating is yogurt, but she made it worse when she said I needed to stay away from Chocolate as well! Disney and no chocolate????
I still have a week to go on the no dairy to see if things help, and a 9 hour car ride to Florida. I could really use some advice about this if anyone has some!
Hope everyone liked this! My next post will include our plans and some of the ideas and things we are bringing. I am banned from talking more Disney to DH until we get there so I know you all get it! What he doesn't know is I plan on bringing our Essential Disney collection cd's for the car ride!