For background info pertaining to this mini-trip, feel free to check out my PTR about our upcoming trips.
Click here for "Before the Shenanigans, Tomfoolery, & Monkeyshines"
I blame it all on my face.
My face encourages children—and other people—to talk to me, which is usually OK with me, especially when I'm spending a day all by myself at Disney.
The plan was to go to the Festival of the Masters at DTD on Saturday, then hit one of the parks on Sunday. But my plans often have minds of their own, so when I had to finish a report for work on Saturday, I wasn't surprised and amended the plan to just DTD on Sunday. My BFF called and said she couldn't go because her daughter is sick, so the plan was amended again to DTD on Sunday by myself.
I pulled into the DTD parking lot around 9:30 a.m., and it was PACKED. Even my favorite supersecret parking area was full.
Ugh.
No problem. It's my plan, and I can change it.
Again.
I considered my options, and checked out easywdw.com on my phone. (Smartphones ROCK!) Epcot, but it's the last day of F&W. DHS, but they have EMH, which means it'll be busier than a one-armed paper hanger. AK, but..well…it's AK. MK it is!
I had a 12:30 ADR at The Wave; but they let me park early, which was cool. I was feeling a little queasy, so I got a Coke and some crackers and walked around the resort a little. I love the CR! It's been my favorite since I was a kid; and I'd rather stay there than anywhere. I bought batteries for my camera, but I wasn't in a picture-taking mood. This is very rare for me…I'm referred to as "PappaLaurazzi" by friends and family. I'm not sure they mean it as a compliment.
I found a quiet place to sit and sip my Coke, munch crackers, and enjoy that special CR ambience. I considered going home. Yeah, I felt that bad. But I hadn't driven
a whole hour
just to turn around and go home, so I cancelled the ADR (no food for me!) and hopped on the monorail to MK. (They were very nice at The Wave. When I explained that I wasn't feeling well, they waived the $10 "no show" fee.)
At the Poly, we picked up a family with two little kids. The little girl was saying "Wow" at the trees…because they're DISNEY trees! I love that. We went around a curve, and she put her arms up like it was a roller coaster. Adorable! She noticed me, and said, "Who's your best princess?" So we had the princess chat. I told her Belle; she told me her favorite is Rapunzel. I asked her if that's why she was at Disney, to meet Rapunzel, but she said no, she was there to see "The boo-ti-ful castle!" The ride to MK is too short…I wanted to keep talking to her!
I got through bag check and the turnstiles in a flash, passed through the tunnel, and walked into this.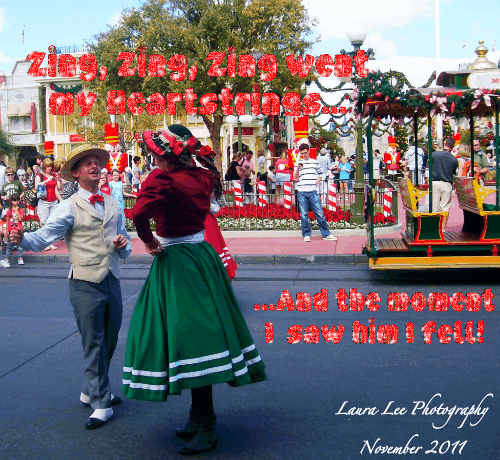 When I was considering my options at CR, it occurred to me that today might be a good dry run for the Divas at Disney trip in December, so I decided not to get an ECV and see how long my knee would hold out.
Turns out the doctor knows what he's talking about.
Go figure.
By the time I'd walked a bit around the CR and traipsed from the monorail to Main Street, I was hurting. A lot. Dwats. So, I put on my big girl panties and got the ding-danged ECV. Fifty bucks…what a racket!
I got back to Main Street just in time for the Move It, Shake It, Celebrate It! parade.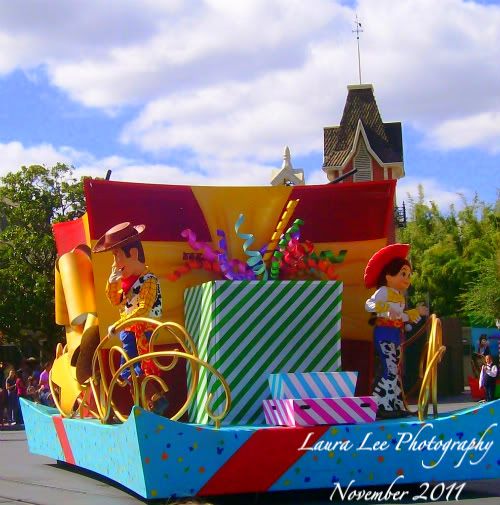 People kept getting in front of me, so I left the party and continued on towards the Castle.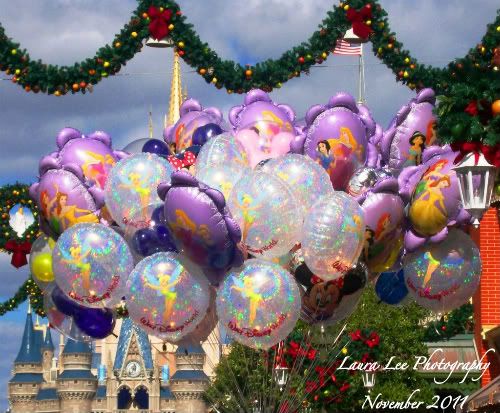 I
balloons!
The parade caught up with me. It was great…very energetic…dancing in the street…a par-tay bay-bee!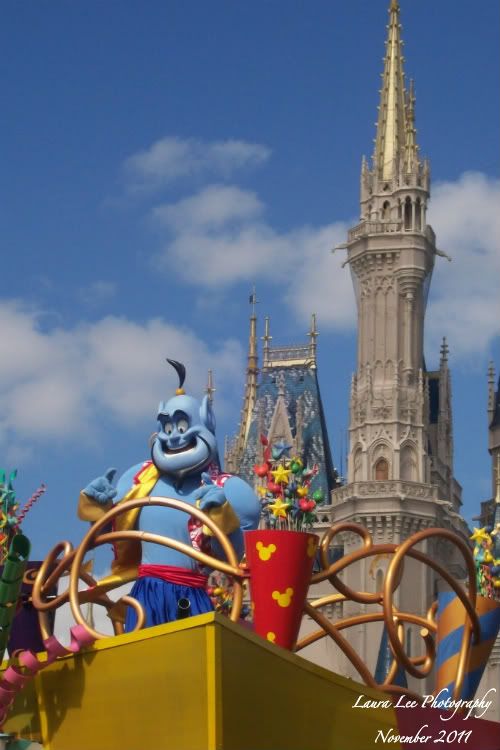 As expected, Fantasyland was a madhouse, so I headed for Frontierland. I wanted to watch the Splash boats to see if my leg could manage the ride. Unfortunately, I don't think so…not enough room to extend my leg even a little, and I can't maintain a deep bend for very long. Dwats, foiled again!
On the upside, I was feeling a little better. Yay! I got another Coke and some magical Disney popcorn…better than medicine!
I was making my way over to Liberty Square when the ECV started to die. It was sooooo slooooooow. Going uphill was a joke! I was trying to make it back to the front of the park but ended up in the Philharmagic dump shop, where a very helpful CM named Paul called the ECV folks, and they brought me a zoomin' replacement.
While I was waiting, I watched two little princesses playing. Jasmine and Rapunzel, and these were the most elaborate princess costumes I've ever seen! Jasmine spotted me and asked why I was on a scooter. I told her I had a hurt knee, and she volunteered that when her feet hurt, her Poppy pushes her in the stroller. (The grandparents were standing nearby, keeping watch.) She proceeded to tell me that Rapunzel was her twin sister, adding, "I'm the rowdy one, right Poppy?" Poppy agreed wholeheartedly. They moved on to ride Winnie the Pooh, "Cuz we have fastfasters!" Which I assume is what a three year old calls fastpasses.
Zoomin' on my new wheels, I decided to head for Tomorrowland. I'm so excited for the Fantasyland expansion…I saw the top of Beast's castle, but it was smaller than I thought it'd be.
I was feeling pretty good and decided on Cosmic Ray's after the Laugh Factory. Mike Wazowski never fails to amuse me. As I waited in the wheelchair lane, a large, loud, laughing family joined me. I loved them so much! They had me in stitches while we waited. The 12-year old daughter was in a leg cast, so we commiserated about not being able do the boat rides. She said, "Disney sucks!" and her mother replied, "Well, aren't you just a sugar muffin of love and joy?"
Which is now officially my new favorite saying. I will be saying it a lot. A lot, a lot.
The show was very good, and we filled the canister. Whew!
I don't remember why, but I still didn't get anything to eat. Instead, I watched the Dream Along With Mickey show from the Tomorrowland bridge. Not the greatest viewing spot, but good enough to get the gist of the show and not be in a swarm of people.
After the show, I took the required 10 million Castle photos. I have so many photos of the Castle that I decided to try for some different angles and close up shots.
Forward to Haunted Mansion…and it's a walk on! I loves me some Haunted Mansion and think it's the very best ride at MK, followed by Philharmagic. I love seeing the Hidden Mickey in the dining room and when the doom buggies lay down so you're on your back…just like a coffin…spooky!
Because of my knee's stability (or lack thereof), I was a bit concerned about the moving walkway, but it was no problem at all. Pixie Dust!
There was a little boy in the stretching room who kept asking his dad, "And this is really the scariest part of the ride?" I saw them at the end, and he was asking to ride it again, so I guess he liked it. Another one for our team…and that's Team HM, of course!
On the way out, I snapped this because my mom's name is Trudy, and I always intend to get a picture of it and never do. Until now!
For old times' sake, I decided to duck into the Hall of Presidents. My mom loves this attraction, and it's cool. Boring, but cool. The theater was almost empty, and I wonder if Disney will eventually do away with the hall. I hope not. I mean, I probably won't ever do it again, but it's kinda nice knowing that it's there. For most of the show, I was feeling yucky to the extreme, but it passed…again.
I have no idea what was going on with me, but I certainly didn't like it!
No day at MK is complete without Philharmagic, and there was no line and five minutes until the next show. YES! I love this show so much, and I have to make myself not reach for Ariel's jewels. The little girl sitting next to me was reaching out for everything! Oh, to be a child at Disney!
By now, I was about done. The Queasy Monster was back and with my knee throbbing and hurting from being in a bent position for so long, I decided to call it a day.
But first, photos of the back of the Castle! I actually have very few of the back, and architecturally it's amazing.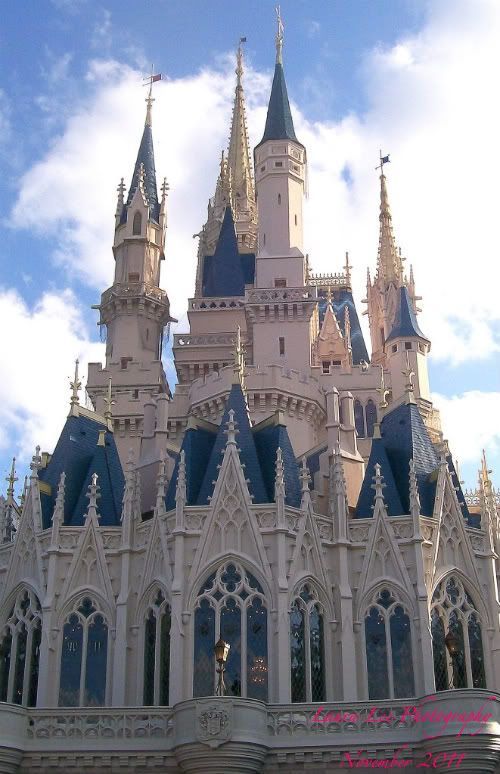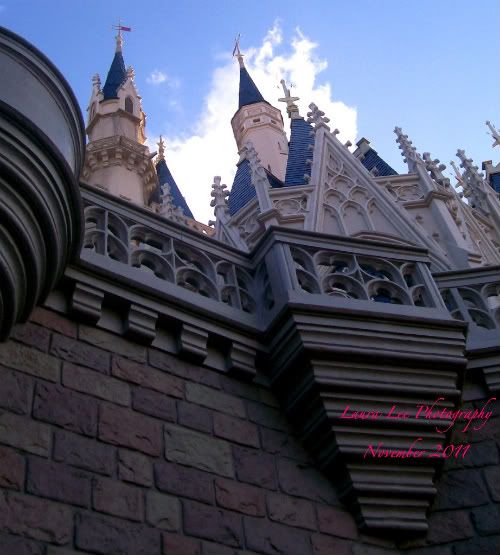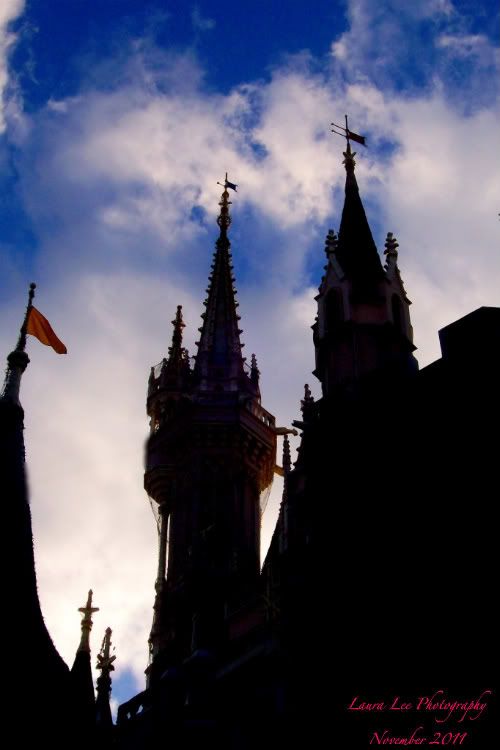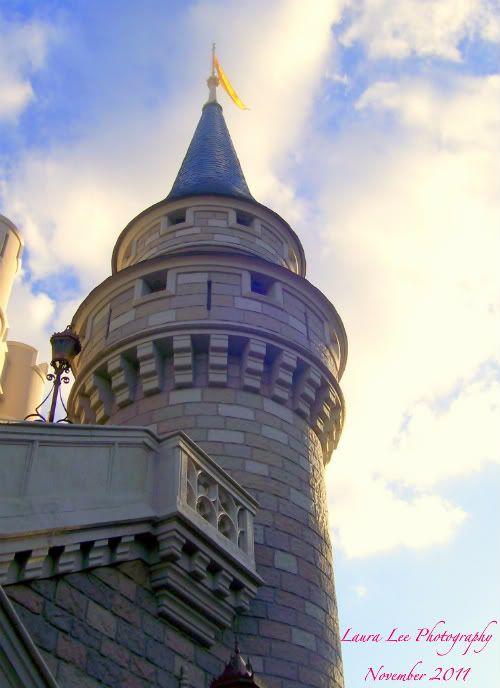 On the way back to CR, I got on the wrong monorail. Sigh. I rode it to TTC and back to MK, then transferred to the resorts route. I was so tuckered out that I rode the route twice and considered riding it three times. I kid you not.
But I did get to see the Castle draped in icicles for MVMCP as I went around...loved it!
Finally back at the CR, I seriously considered staying there for the night. I could buy PJs and a new, clean outfit…and $500 later I'd be wishing I'd just driven home. So I took a pain pill and called my sister. We talked for over an hour until it was safe for me to drive, and I bid a fond farewell to CR.
Oh, I stopped at Krystal on the way home and finally got something to eat.
Lessons learned: I think I'll be OK for the Divas at Disney trip; I just have to pace myself and stretch my knee more. But I absolutely need to get my knee fixed before the October trip!