Hello and welcome to the most action packed trip ever taken! We had the most fantastic time and did some really cool things...But I'm getting ahead of myself, first things first: introductions! I did do a pre trip report, but you don't have to read it to understand this trip, though of course, feel free to:
http://www.disboards.com/showthread.php?t=2659648
Ok, this is us:
From L-R is: DM Marion, me, Nina, DB Callum and DD Michael. Some additional info:
Where we stayed: Southern Dunes Golf and Country Club, Haines City
The Dates: 19th August - 3rd September
Mode of Travel: My godmother Liz gave us a lif to Gatwick and we flew (9 and a half hours
) to Sanford.
Day 1 - Travelling
So, my mum woke me up at about 3.30am and I went from extremely sleepy to extremely excited. We all did. In fact, we were so excited that we ended up waking up our neighbours. Who were super pleased as you can imagine...
Liz came to pick us up at about half four (I honestly think the woman is a saint) and drove us the 2ish hours to Gatwick. While waiting in the looong check in line, there were a few Thomas Cook reps doing things like singing Disney songs with a travel twist, picking people at random to babble to. I truly think it would have worked had most of the queue not been up for a good few hours already. Oh well, we went through unnoticed and got all the way up the boarding pass scanner, only to find that they had only given us three boarding passes. Thats right, they forgot to print my boarding pass
. We went all the way back and luckily it was sorted in no time. So back up we went and got up to security. As always, dad was told to step aside at the scanner and was searched. Maybe he has that kind of face? He was soon deemed innocent and we were through to the boring bit. Waiting.
Breakfast was the next thing on the agenda and we chose a small coffee shop called 'Apostrophe' and ate our fill of bacon rolls and (in Callum's case) a chocolate twist. We had a look around the shops and Callum and dad bought a few dvds in HMV.
After what seemed like a few million years we boarded and take off was at 9:45 as planned. The flight was uneventful, we watched 'Kung fu Panda 2' and read our new books and magazines. Lunch was chicken in a spicyish sauce with potatoes, crackers and cheese, grapes and melon and a small chocolate and caramel pudding. There was tea and coffee but it tasted gross. We took some pictures while flying:
She caught me with a mouthful.
Yes that is 6 HOURS and forty five minutes left.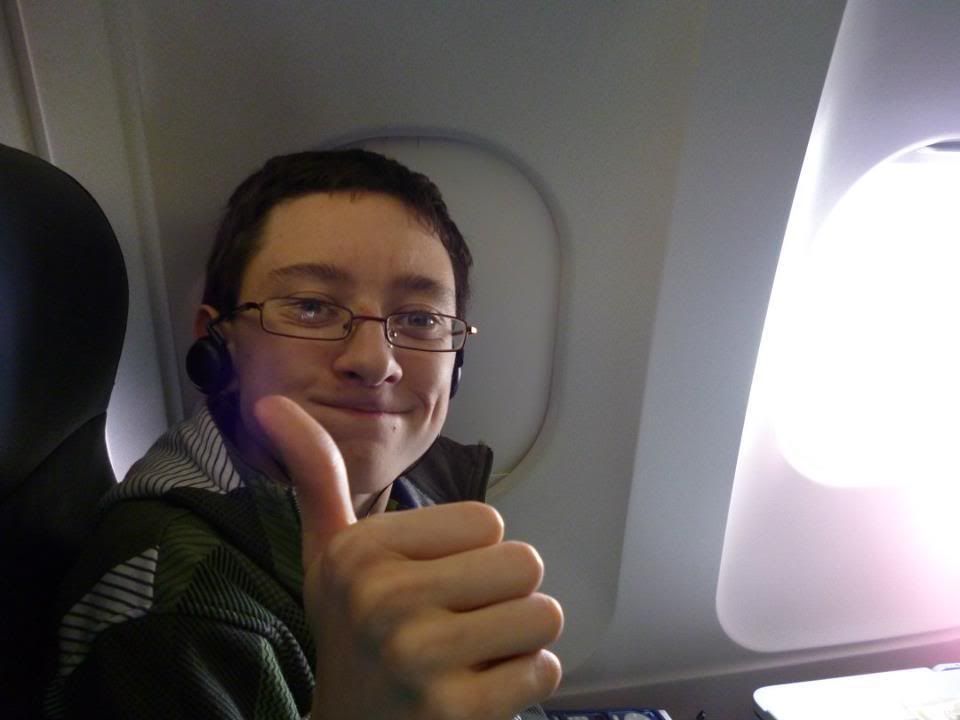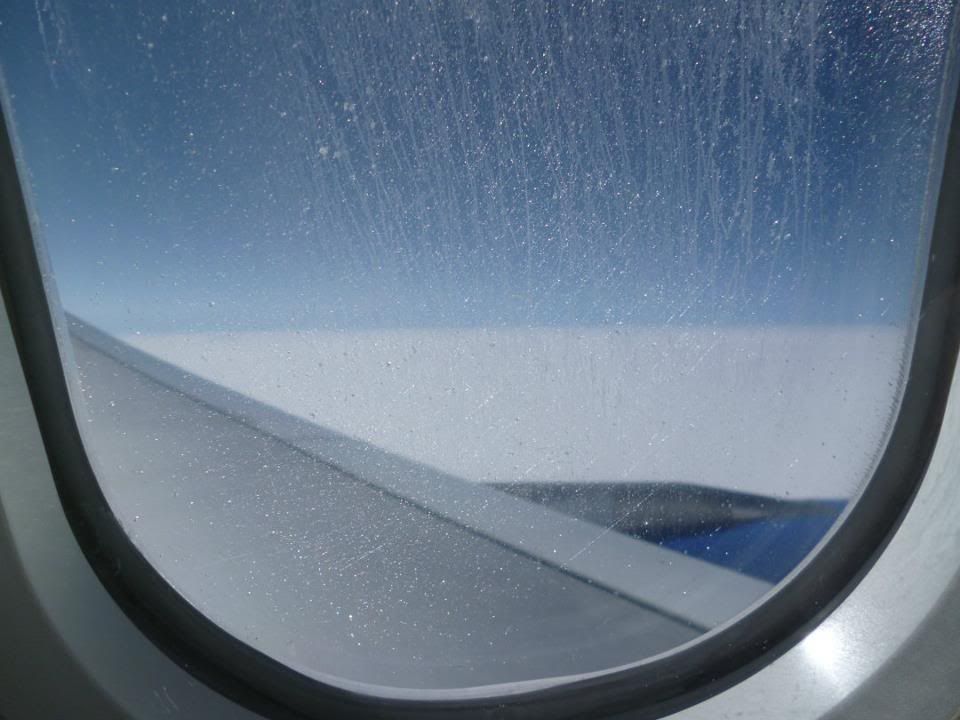 And the standard, out of the window shot.
Afternoon teea arrived a couple of hours before landing. It was a scone with jam and clotted cream and sandwiches - very British. We finally landed at about 1:45 Florida time. It was a relief to get off. Spending nine and a half hours in one place can get a bit claustrophobic. We got through security with no problems and then went to get our car: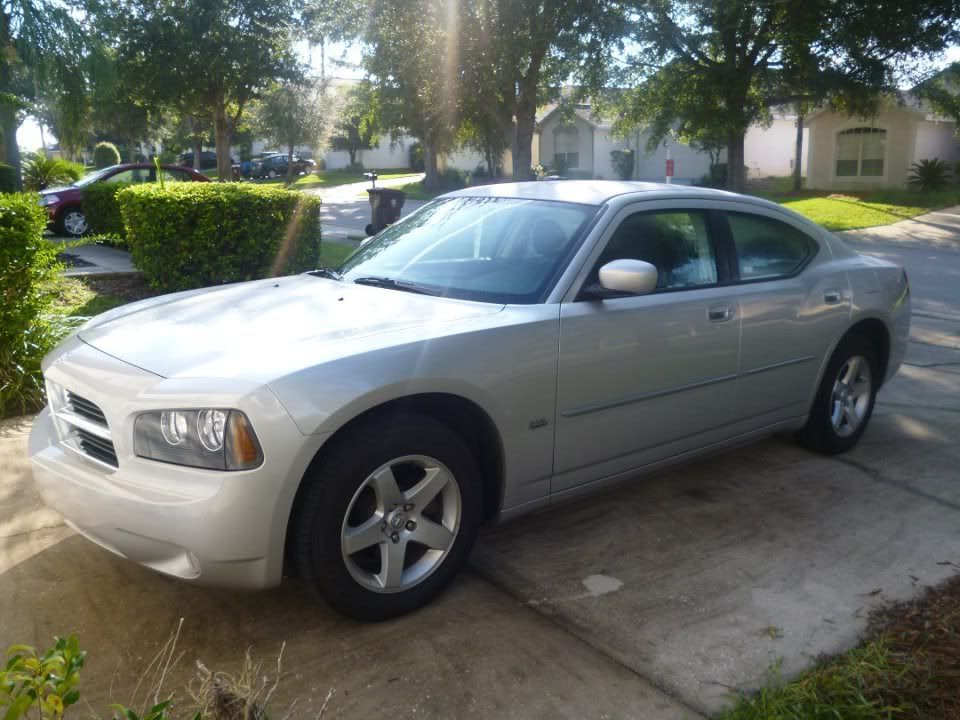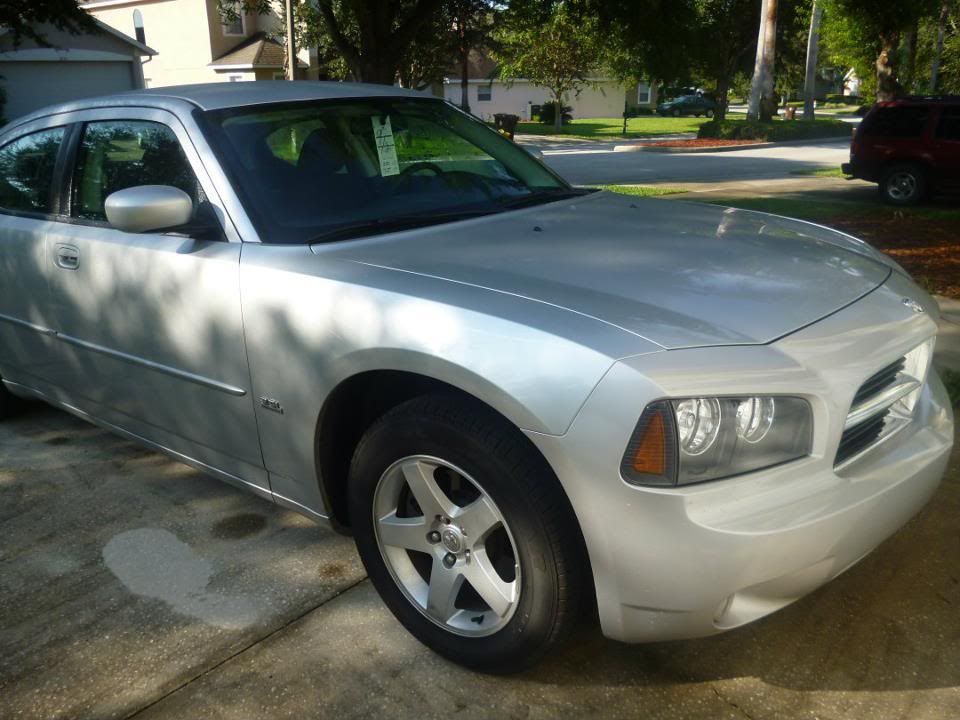 We struggled with the satnav for a bit, but got it to work eventually and we were off! We got lost a few times, mostly by turning off at the wrong exit. but we eventually made it to our home for the next two weeks at about twenty past five. We dumped our stuff and went to Walmart to get some dinner and stuff for the next day. We spent the evening eating pizza and watching TV, then I had to go to bed at about half eight. This was a decision that would definitely haunt me the next day. Stay tuned for day 2!