Hi! Welcome to my trip report! I used to do trip reports all the time but havenít done one in several years!
My husband and his family used to go to Disney World almost every year since he was little. I went 3 times before I met him and then he got me much more interested in it and Iím especially interested in the history of the theme parks and unbuilt attractions. We usually go to Disney World about once a year but havenít had a trip since August 2010. We did go to Disneyland this summer, though.
A few years we joined DVC. I had always wanted to stay at a Treehouse and I was so excited to see the introduction of Treehouse Villas to DVC. So for the third time, we were staying in a Treehouse! We decided to go at the end of January to coincide with the school winter break and the kids would only have to miss 3 days of school.
So here is our family. This is about the best picture you can get. We never seem to take a good picture all together! THe kids are Mallory, 8, Tabitha, 6, and Quinn, 3.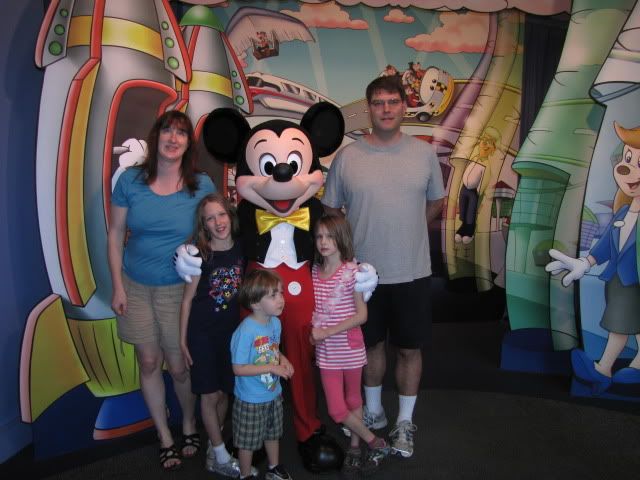 __________________
DH
Me
DD (10)
DD (8)
and DS (4)
WDW
1987, 1990, 1992-offsite Dec 1998 All Star Sports Dec 1999 Contemporary Dec 2000 Dixie Landings Mar 2001 All Star Music May 2002 Coronado Springs Nov 2004 Wilderness Lodge Aug 2006 Port Orleans RiversideDec 2006 Polynesian Aug 2007 Port Orleans French Quarter Aug 2008 Saratoga Springs/Port Orleans French Quarter August 2009 Old Key West/Treehouse Villas November 2009 Bay Lake Tower August 2010 Treehouse Villas/Beach Club Villas January 2012 Treehouse VillasThanksgiving 2012 Treehouse Villas
DL
Jun 2000 Disneyland Hotel Oct 2002 Dec 2002 May 2006 Grand Californian June 2008 Grand Californian August 2011 Grand Californian November 2011 March 2013 Grand California
Disney Magic 7 day eastern Caribbean cruise October 2010