This honeymoon was the best vacation I have ever taken! DH and I made the best decision!
We left our home in Louisville, KY soon after dinner on Thanksgiving. I gave up my Black Friday shopping so we could drive to Florida and in turn, save a bunch of money on plane tickets. Personally, I think it was a fair trade
We arrived in Florida around 9am on Friday morning. We checked into the La Quinta in Cocoa Beach and crashed for about three hours! We had not slept since Wednesday night, save for my little nap while DH drove through Georgia. When we awoke, we tried to think of something to do the rest of the day. We decided to drive an hour back up north to Daytona Beach. Here we had our first experience with Bubba Gump's. It was the best shrimp I have EVER eaten! We've been around the restaurant several times in different locations, but I was determined that we finally eat there!
Once we had finished dinner, we walked around the beach, visited some shops, and then headed back to Cocoa Beach where we went to bed early. Since we only had a few hours of sleep, the excitement of Saturday did not keep us awake!
We awoke early Saturday morning and impatiently awaited our shuttle to take us to Port Canaveral. When we arrived at the terminal, everything set in...we're on our honeymoon! We're going on our first cruise EVER!!
Once we went through security and check-in (which was quick and easy), we made our way onto the ship. The welcome in the lobby atrium was amazing, but we were soon somewhat disappointed. A few families later, a couple was announced as being newlyweds...why had we not been asked if we were celebrating anything? Should we have said we were newlyweds?
We shrugged it off and headed to Deck 9 Aft for Topsider's Buffet. Normally, I'm not big on buffets, but this was not too bad.
Once we had finished lunch, we made our way to our room. We were in stateroom number 8066, which added up to 20 or in numerology, 2! Again, the number follows us! Our previous stateroom from when we first booked also added up to 20, so it was coincidence when we were emailed that we had received an upgrade to a family-size veranda stateroom.
We explored the room for a while and then tried to think of something to do. We decided to go to the spa tour. The end result were two massages scheduled for Monday morning
There was a raffle during the tour, and yet again we felt left out. There was another newlywed couple announced.
When we booked our massages we talked about how we were newlyweds but somewhat disappointed that we were not getting acknowledged even though, after not being announced as such, we were telling everyone we came into contact with! For us, we only get one honeymoon...neither of us see this relationship ending
The woman in the spa told us to go to guest services and get our honeymoon buttons, which we did...for the rest of the cruise, we had people congratulating us left and right and even got some big recognition, which I will get to later.
After the tour, we headed back to our room to await the lovely drill. Our bags had arrived as well, so we began to unpack prior to the drill. Once the drill was done, we went up to the top and celebrated sailing away. Now, DH nor I had ever been on a Disney cruise, nor had we researched much about all the little "magic" things that happen. When that ships horn sounded "When You Wish Upon a Star", my eyes filled with tears. It was the most beautiful sound I have ever heard. There is something about the magic of Disney that gets to me. Every time I walk into the park and see the castle, I tear up...when I just think about that ship's horn, I tear up...Disney sparks something inside that cannot be explained!
Once the party was over and we were out to sea, we went back to the room to finish unpacking and dress in more "cruise casual" like attire. We had second seating for dinner, so we were able to see the first show of All Aboard! It was exciting to hear about all that was to come. Once the show was over, we did a little shopping:
and then made our way to dinner at Animator's Palate.
The restaurant was amazing in it's decor and changing surroundings, and the "show" at the end was fabulous and quite a surprise! The food was also wonderful:
My Lemon-Thyme Marinated Chicken Breast w/root veggies and mashed potatoes
DH's Penne Pasta w/turkey and prosciutto (reminded me of Carbonara)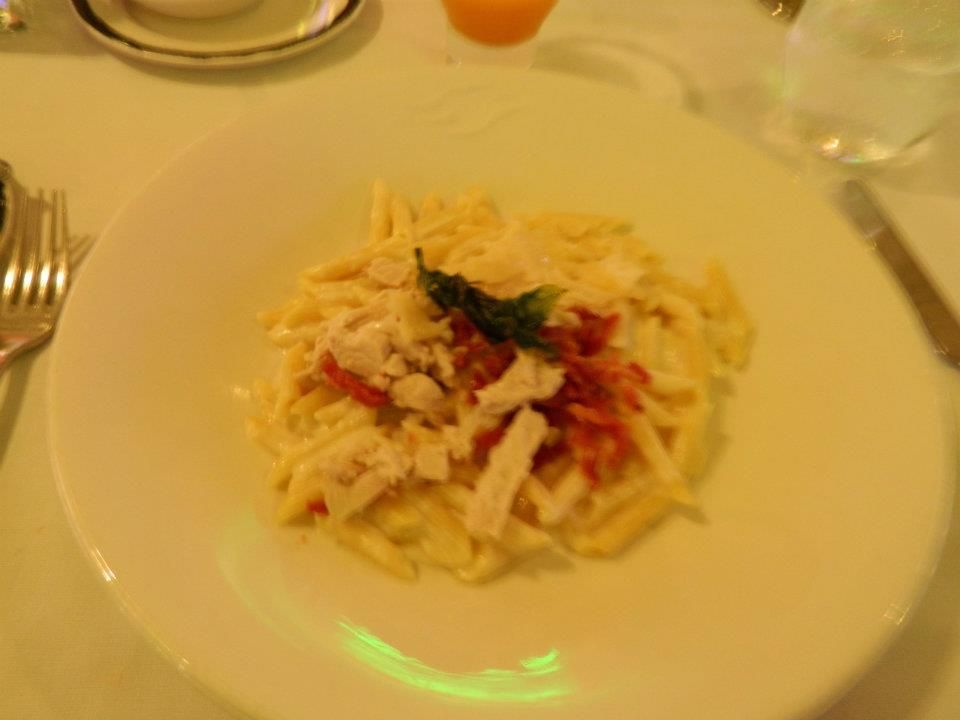 We selected our desserts and then were surprised with a second dessert! A special celebration "cake" with more honeymoon buttons! The "cake" was made of chocolate mousse, one of my favorite desserts, and ganache. We were so full but were able to eat just one more thing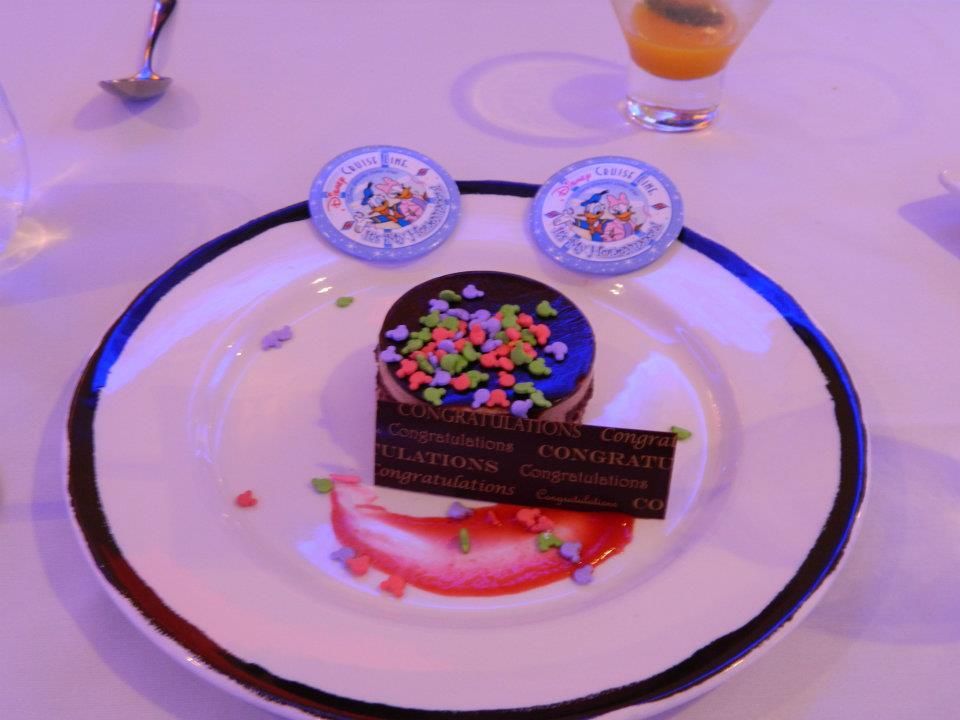 Once we were done with dinner, we headed back to the room to dress in some lounge wear and made our way back up to the top of the ship for WALL-E, our favorite Pixar, on Funnel Vision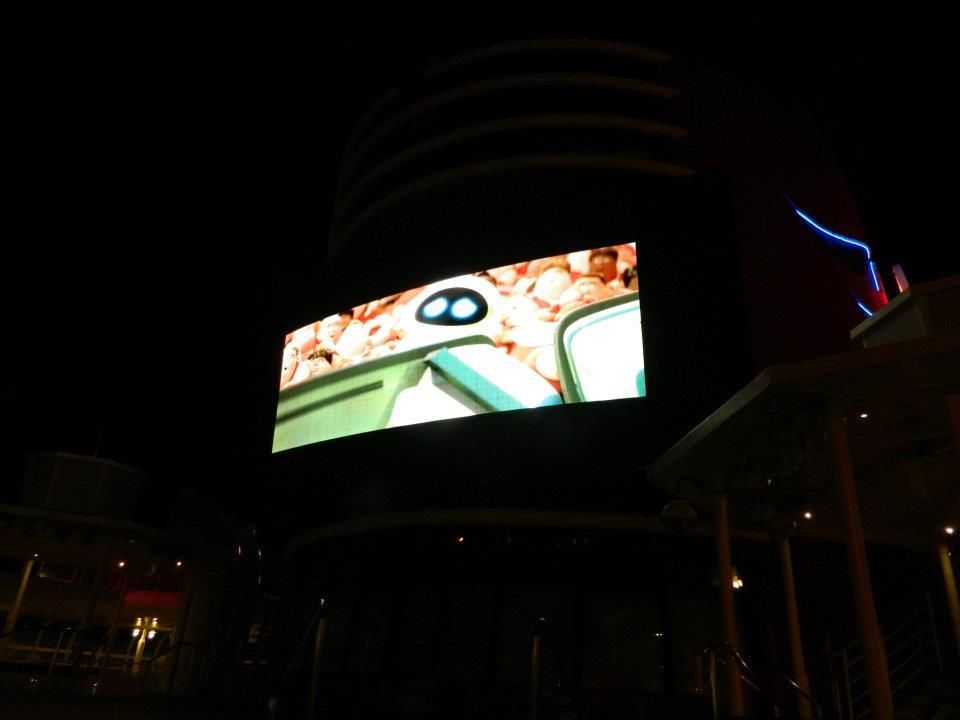 Believe it or not, during the middle of the movie, we became hungry again! So we checked out Pinocchio's Pizzeria and Pluto's Dog House. We decided to split a pizza, and let me say...maybe it's just the atmosphere, but Disney has the best pizza! Overall, we had an amazing first day and were excited for Key West and our shore excursion, Presidents, Pirates, and Pioneers!