Trip report Wednesday
Smallest had slept really badly, and really wasn't up for having an early breakfast, despite today being our earliest breakfast slot. I wasn't too fussed about Emh today as we had already done the rides in Fantasyland, and I had planned to take biggest DD back into the park after dark tonight.
Big and I went down for brekkie and took some food back for small and grandma, who were busy playing with princesses, and still both in their PJs.
We had a slow morning, aiming to be in the Studios for 9.45. That didn't quite happen but got in there soon enough and went straight for Flying carpets on smallest's request which was a walk on which we did twice in a row.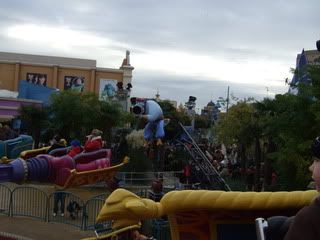 Went down to Toy Story Playland, where the queue for Parachute drop really didn't look too ferocious...little did I realize the slow loading and small ride capacity made the 'short' queue into a pretty long ordeal.
It was also my first experience of blatant queue jumping, just as we were about to get into the shed part of the queue area, a man and his son hoped over the barrier and they were clearly not just joining the rest of their family after nipping off to the loo (which I have no problem with at all). A chap with his daughter in the queue ahead of me asked if I had noticed the queue jumper, and I confirmed that I had, he also checked with another family standing near us. I thought nothing of this until we had all queued for another 40mins and were near the ride loading area. The chap then spoke to the CM and told him what had happened, and total respect to both the whistleblower and the CM, the jumper and his son were escorted out of the exit and didn't get to ride. No one was nasty about it, no one shouted, but the message was clearly sent. I thanked the brave person who stood up for what was right when I wouldn't have had the guts to. Funnily enough enough I kept seeing the queue 'hero' around the parks and he always looked like he was having a fab time, so hopefully karma sent him a great holiday!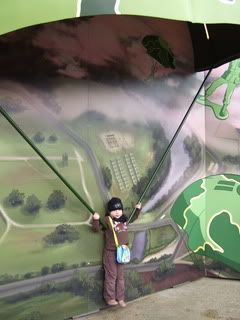 (At least Smallest is small enough for her feet to be off the ground!)
The ride itself was great, both DD and I really enjoyed it, while smallest and grandma went on Slinky Dog, then all of us went onto Cars. We then decided that we would ALL queue for Crush...i have no idea why, but grandma seeing the length of the queue decided it was a great ride, and that we should go on it - so we did! DD and I loved it, smallest DD just gave me a very serious 4 yr old stare and asked 'WHY DID YOU LET ME GO ON THAT ??????' Grandma had to sit down for a good few minutes too! We were getting a bit peckish so headed off to Blockbuster Cafe for Croque Monsiuers all round which never fail to deliver, and after that I picked up a fast pass for Rockin Roller Coaster just for me of course!!
Stars n' Cars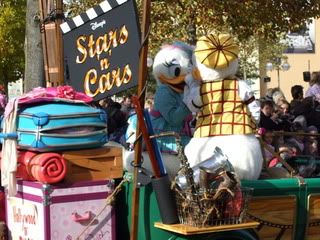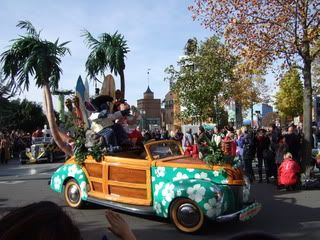 Stitch Live - We left Stars n cars early to queue for last English show, loved the show, very very funny and well done, but totally hated the queue system: orderly queue then becomes ridiculous crush with everyone jostling to the doorway, never mind if they had been first in the original queue or not, then a rush down a corridoor (had to rush as the swell of the crowd was pushing us) then into the preshow room with a rugby scrum around the next door into the actual 'theatre' space. It really upset me and my youngest DD who is just at grownups elbow height was hit in the face by a man who I ended up having to physically push away from hurting my daughter again - no apology....and no, there were no language barriers in this case...he simply ignored my polite, 'excuse me you've just hit my daughter in the face would you mind not standing so close to us'. I DID calm down enough to enjoy the show, but was slightly fed up that after being the second family in the orderly queue, we ended up on the back row of the show!!!!
Clearly I don't have sharp enough elbows and am not willing to trample other people's kids to get a good seat 9and i reckon I'll never change!
)
Rockin'Roller Coaster - excuse me....but where's the really loud music gone???????? I rode this alone, well I say alone, but I was in a carriage next to a very young french lad, who kept his mouth firmly shut all the way round, probably didn't want to be screaming next to a grownup!!! was lookin forward to loud thumping music, and all I got was quiet tinny music in my ears?? is this a fault or have they changed it??? Love the ride still, but was a bit underwhelmed tbh!!!
Cafe Mickey - this was a real surprise (thanks to my Mum) as we had not planned on eating here, but I am so glad we did. I really didn't expect that the kids would love it as much as they did, but you can see the looks on their faces that this was a really special event for them! Unlike some diners (ahem....) my 2 sat at their table and waited for the character to come to them and were rewarded for that with some really lovely interaction. Pluto played with smallest's glow necklace for ages, and really made her laugh. She got lots of tickles and cuddles too. Luckily so did Big, she's only 8 bless her but looks so much older I worry sometimes that she misses out on being treated like a kid! The food was tasty too.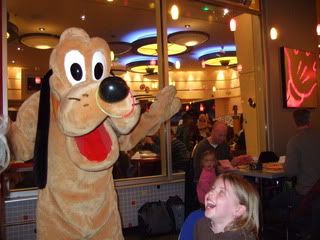 After dinner Mum took Smallest back to the hotel for bed and me and DD went back to the park - I finally got to do Pirates, one of my faves, and it had no queue at all!!!!!! Adventureland is so dark at night, we got a bit lost!!!! Then we did Pinnocchio (first time ever), Carousel, Teacups, Star Tours and finally Orbitron!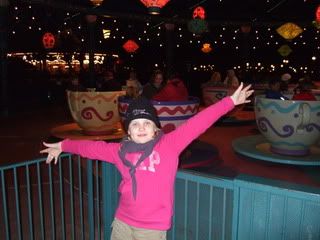 Not bad for an hour and a half...but DD did complain that her feet actually were stinging!!! We then walked back to hotel and went to the bar for a nightcap (lol a hot choc!!). I think she felt really grown up that night and it was lovely spending time with my eldest on her own.
Day 3 Firsts Count = 8
1. Parachute Drop /Slinky Dog
2. Cuddling Sully (how snuggly????)
3. Crush's Coaster
4. Stars n Cars
5. Stitch Live
6. Cafe Mickey
7. Pinnochio
8. Taking DD in the park in the dark!